After posting a picture of this dessert on Instagram, my friend Kate commented, "I'm conflicted….I want you to bake me something awesome but I am skeered you'll pack it with your zucchini!! #whoamikidding #eatallthethings".
My advice to Kate? Be afraid. Be very afraid.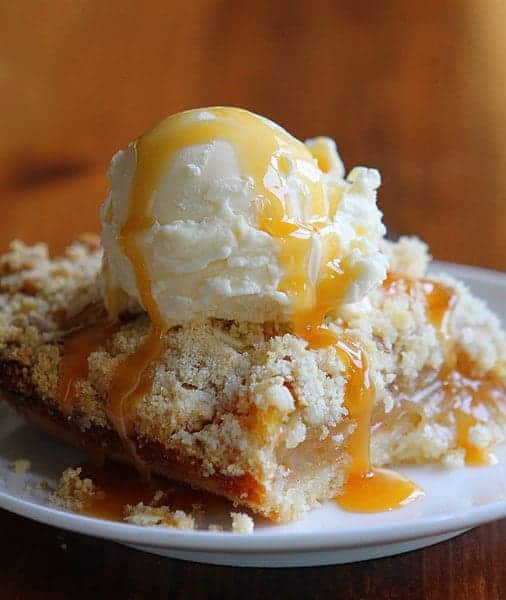 This, my sweet friends, is Zucchini Crisp. It tastes exactly, and I do mean exactly, like Apple Crisp.

MY LATEST VIDEOS
Only better. Cause it's zucchini and we all know I am a wee bit obsessed with it.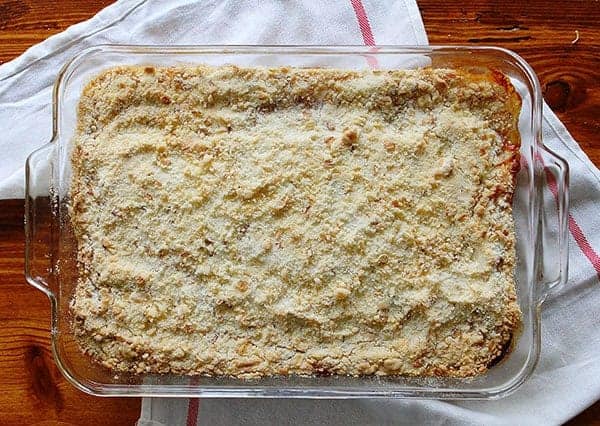 My husband came home one day and was like, "So I was chatting with the guys at work and one of them mentioned having a really delicious zucchini crisp."
Um, what's this you say?  You can your buddies sit around talking about yummy baked goods?
Well, no.  Hubby sometimes brings our extra zucchini to work and someone was thankful and offered up recipe ideas. So, uh, basically, yeah.  The boys do talk baking at the office.
Which makes me gloriously happy.  I now call him Mr. iambaker.
Anywho, after all that, I was like, "Where is the recipe?"
"He doesnt have a recipe.  He just ate a zucchini crisp he liked."
AHHHHHHHHHHHHHH.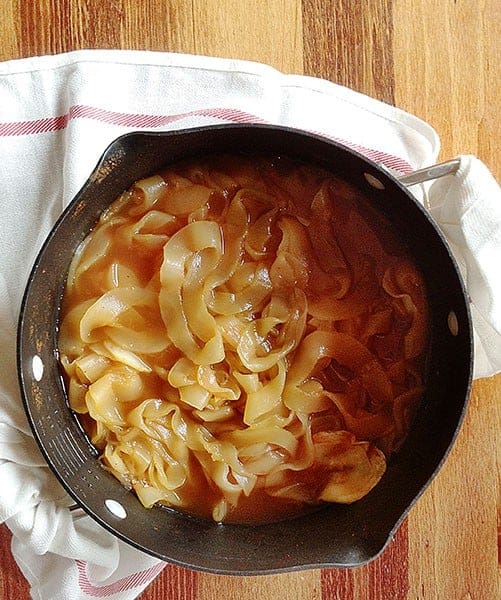 After doing some hunting online I was able to find a recipe, but I found it to be pretty vague. So through trial and error I have now found the best possible recipe for Zucchini  Crisp.
It's fool proof I tell you!
Recipe adapted from allrecipes.com.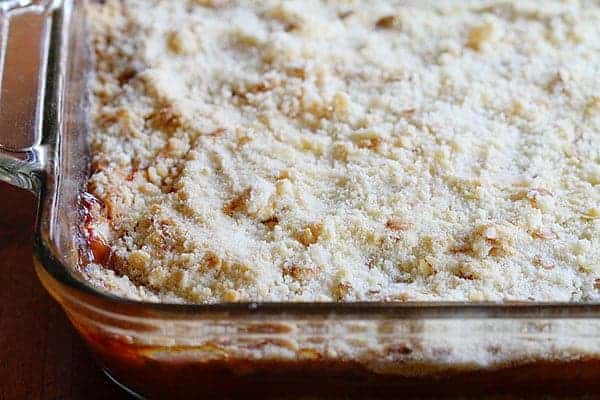 Tips & Tricks:
You can use a smaller pan, like a 9 x 13, but it may overflow. If you need to use a smaller pan I would consider decreasing the recipe size by 1/4.
Using smaller zucchini is not recommended. A smaller zucchini is more flavorful and will have a aftertaste, and may even be slightly bitter. Also, if you use a smaller zucchini you will not need to de-seed it. (But do still peel it.)
I would advise using the mandolin for slicing the zucchini.  If you do not have one and need to cut by hand, make sure to take the time and get really uniform slices.
Before cutting in the butter I dice it into small pieces. I like how Dorothy from Crazy for Crust prepares her butter; she dices it then puts it back in the fridge. This works great when you opt to use your hands to mix like I do!
There is a picture above of the cooked zucchini and as you can see there is a lot of liquid. I was nervous to pour that much liquid over the bottom layer of crust, so I decided to bake the crust first. It works like a charm! All that glorious liquid will evaporate and soak back into the zucchini while baking and the bottom layer of crust will be crispy and dry.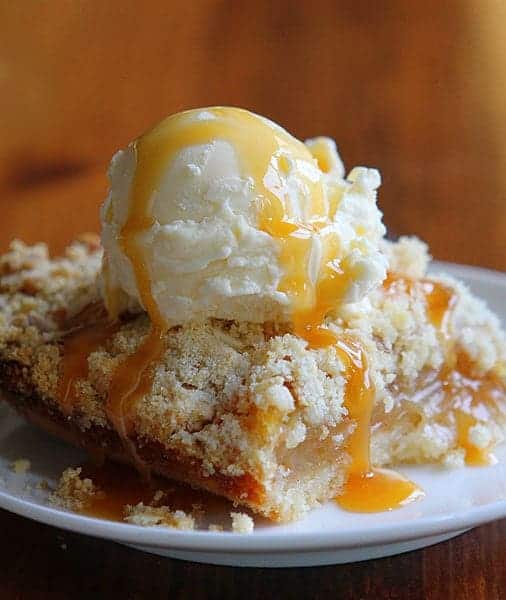 I am not kidding, this tastes so much like apple that no one would ever know it is a zucchini!
Served warm is the best option, and serving with vanilla ice cream and caramel is an even better option.