This Zucchini Crisp is "faux" apple crisp. By cooking the zucchini a certain way with specific ingredients I was able to transform the zucchini into a dessert that tastes just like Apple Crisp! It's a magical dessert that we make every summer when we have an abundance of zucchini!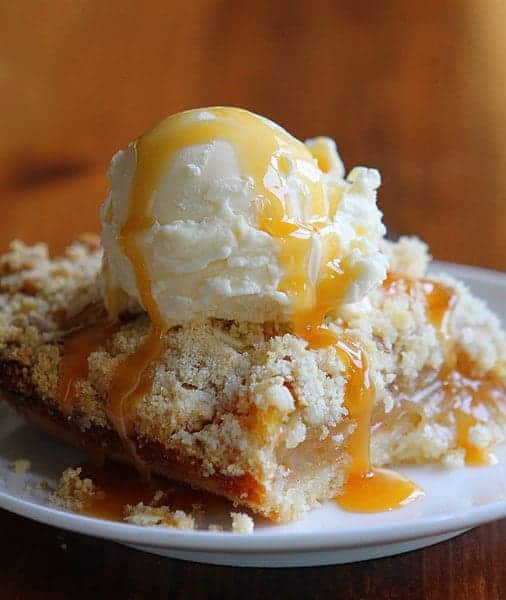 Zucchini Crisp
This, my sweet friends, is Zucchini Crisp. It tastes exactly, and I do mean exactly, like Apple Crisp.
Only better. Cause it's zucchini and we all know I am a wee bit obsessed with it.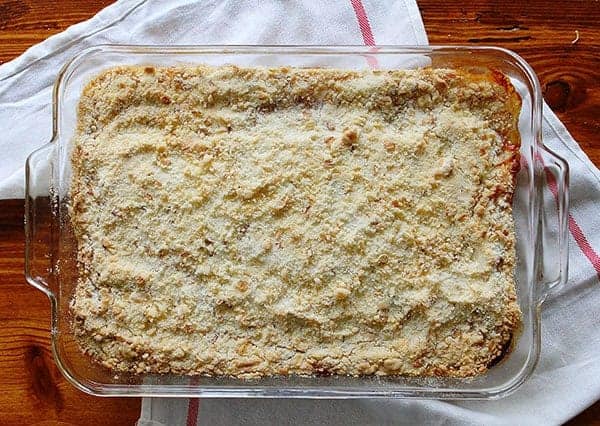 My husband came home one day and was like, "So I was chatting with the guys at work and one of them mentioned having a really delicious zucchini crisp."
Um, what's this you say? You can your buddies sit around talking about yummy baked goods?
Well, no. Hubby sometimes brings our extra zucchini to work and someone was thankful and offered up recipe ideas. So, uh, basically, yeah. The boys do talk baking at the office.
Which makes me gloriously happy. I now call him Mr. iambaker.
Anywho, after all that, I was like, "Where is the recipe?"
"He doesn't have a recipe. He just ate a zucchini crisp he liked."
AHHHHHHHHHHHHHH.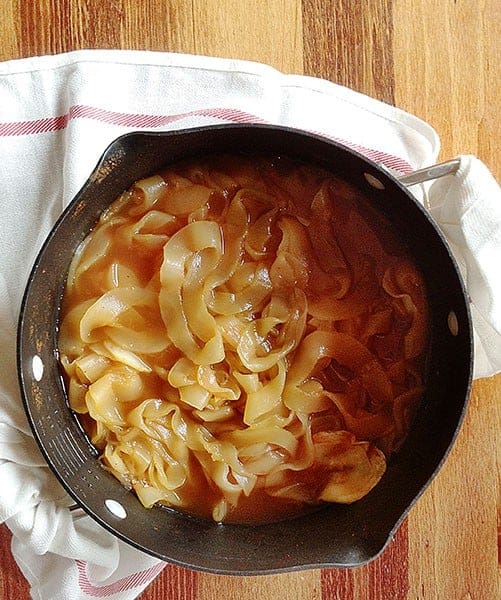 After doing some hunting online I was able to find a recipe, but I found it to be pretty vague. So through trial and error, I have now found the best possible recipe for Zucchini Crisp.
It's foolproof I tell you!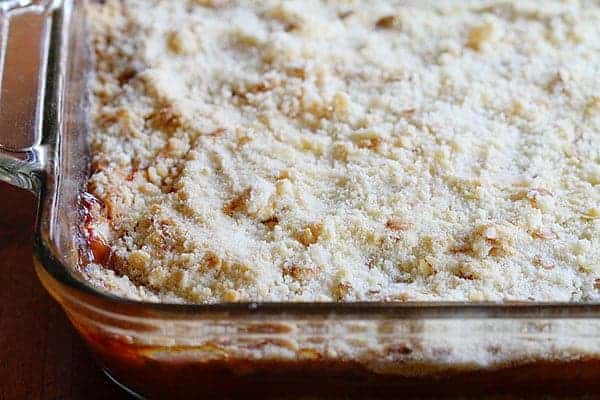 How to Make Zucchini Crisp
You can use a smaller pan, like a 9 x 13, but it may overflow. If you need to use a smaller pan I would consider decreasing the recipe size by 1/4.
Using smaller zucchini is not recommended. A smaller zucchini is more flavorful and will have an aftertaste, and may even be slightly bitter. Also, if you use a smaller zucchini you will not need to de-seed it. (But do still peel it.)
I would advise using the mandolin for slicing the zucchini. If you do not have one and need to cut by hand, make sure to take the time and get really uniform slices.
Before cutting in the butter I dice it into small pieces. This works great when you opt to use your hands to mix like I do!
There is a picture above of the cooked zucchini and as you can see there is a lot of liquid. I was nervous to pour that much liquid over the bottom layer of crust, so I decided to bake the crust first. It works like a charm! All that glorious liquid will evaporate and soak back into the zucchini while baking and the bottom layer of crust will be crispy and dry.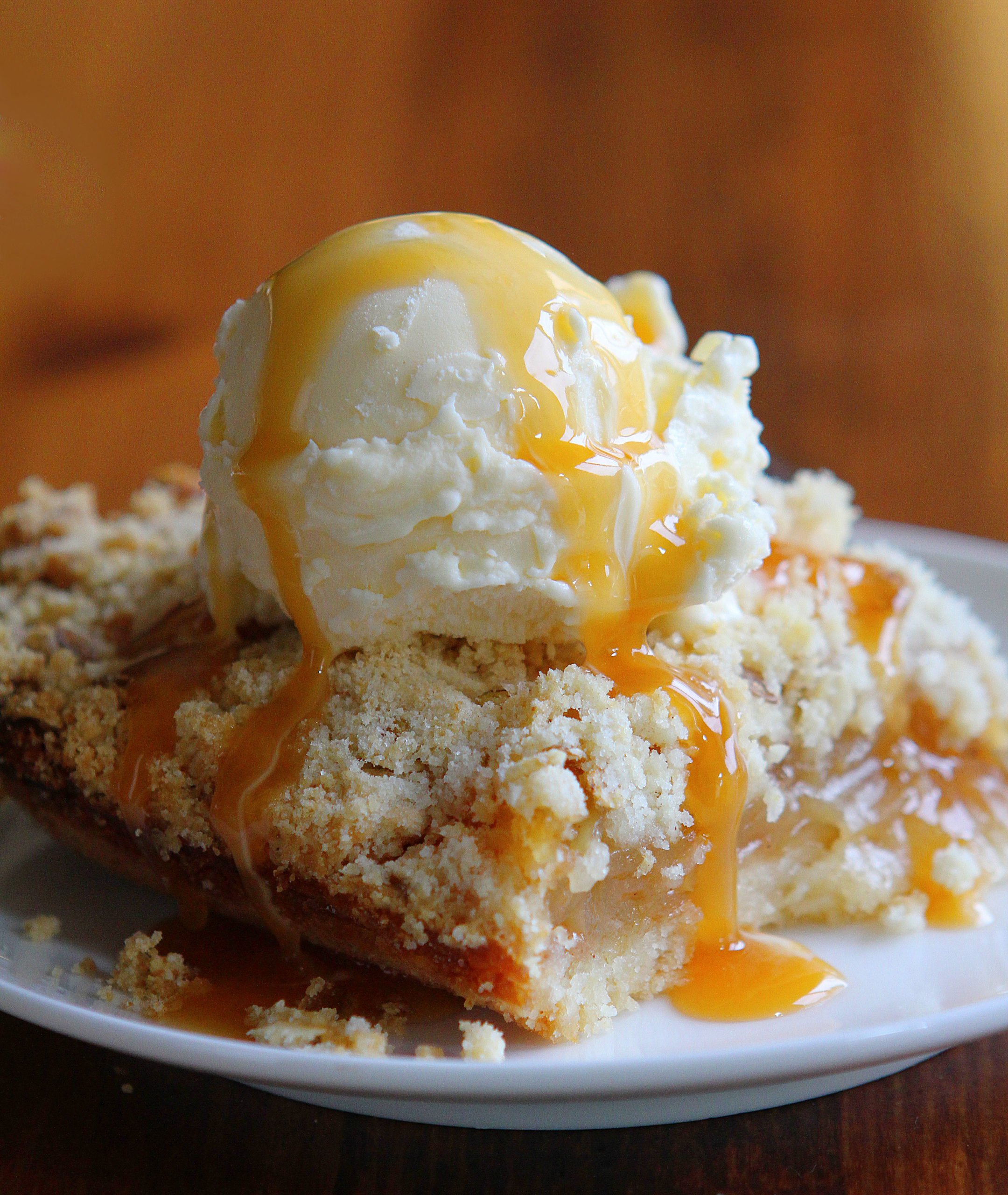 I am not kidding, this tastes so much like apple that no one would ever know it is a zucchini!
Served warm is the best option, and serving with vanilla ice cream and caramel is an even better option.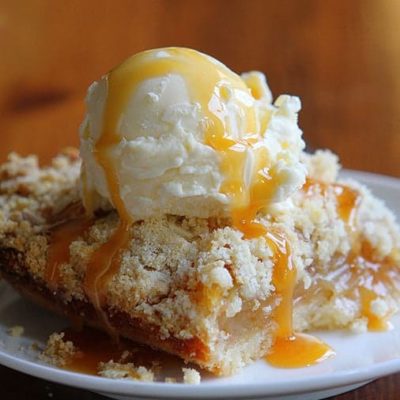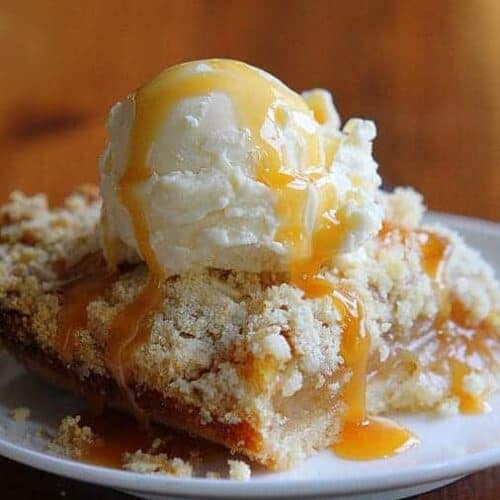 Zucchini Crisp
This awesome zucchini crisp uses of a lot of zucchini and tastes just like your favorite Apple Crisp!
Ingredients
Filling
8

cups

peeled zucchini

sliced into rings and deseeded if needed

2/3

cup

lemon juice

1

cup

granulated sugar

1/2

cup

brown sugar

1

tsp.

ground cinnamon

1/2

tsp.

ground nutmeg
Crust
4

cups

all-purpose flour

2

cups

granulated sugar

1

cup

quick oats

2

tsp.

baking powder

1 1/2

cup

butter

chilled

1

tsp.

ground cinnamon
Instructions
Filling
Choose a LARGE zucchini only (preferably 12-24 inches long and very thick). Peel the zucchini and then using a mandolin, slice the zucchini into thin slices*. Make sure all seeds are removed.

In a large saucepan over medium heat add zucchini, lemon juice, white sugar, brown sugar, cinnamon, and nutmeg. Cook for about 20 minutes or until zucchini is very soft and tender.

Remove from heat and set aside.
Crust
Preheat oven to 375°F. Prepare a 10 x 15 inch baking dish.

In a large bowl, combine flour, sugar, oats, baking powder and cinnamon.

Crumble chilled butter into flour mixture with hands (you can also use a pastry cutter) until mixture resembles coarse crumbs or pea sized butter bits.

Stir 1/2 cup of flour mixture into cooled zucchini mixture.

Press half of remaining butter & flour mixture into the bottom of prepared pan and bake for 10 minutes.

Carefully remove from oven and spread zucchini mixture over top of crust and sprinkle remaining butter mixture over zucchini.

Bake for 35-45 minutes or until top is golden brown.

Serve hot with ice cream or whipped topping.
Notes
*The easiest way to remove the seeds when using a mandolin is to cut the zucchini in half lengthwise then scoop out the seeds with a spoon. After all the seeds are removed, the zucchini should look like a large piece of celery.
Did you make this recipe?
Thank you for making my recipe! You took pictures, right? Well go ahead and post them on Instagram! Be sure to mention me @iambaker and use the hashtag #YouAreBaker.
Looking for the real deal Apple Crisp? Try this BEST APPLE CRISP!