The secret to this Puff Pastry Christmas Tree? Homemade compound butter with rosemary, thyme, and bacon!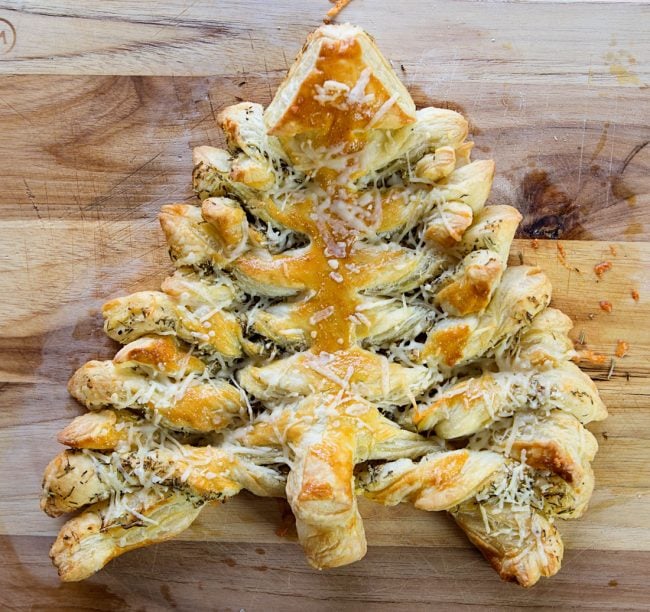 To make this you will need:
1 package Puff Pastry thawed according to package directions (2 individual pastry sheets included)
compound butter recipe (below)
1/2 cup grated mozzarella cheese
sheet pan
parchment paper
small offset spatula (or butter knife)
sharp knife
1/4 cup grated parmesan cheese for sprinkling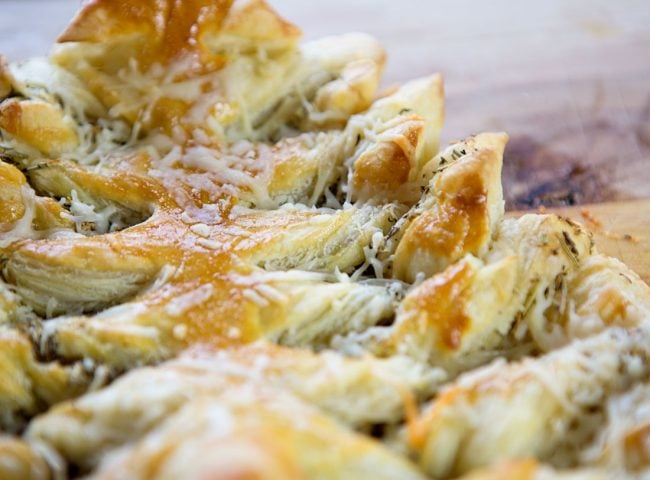 Remove puff pastry from freezer at least 30 minutes before use. It will need to be thawed before you can use it.
Place butter, rosemary, thyme, salt, and bacon in a bowl and mix together to form a compound butter. Set aside.
Place one layer of puff pastry on a parchment-lined baking sheet.
Spread butter mixture over the puff pastry in a tree shape.
Sprinkle mozzarella over top.
Place the other layer of puff pastry over the butter and flatten with your hands.
Gently with your fingers try to feel the outline of where the butter is. Carefully begin cutting along the edges with a sharp knife. Remove the excess pastry.
At the base of the tree carefully cut away two strips either side to form the base of the tree trunk. Pressing the knife blade rather than slicing, begin cutting the pastry to form the branches, following the line of the trunk and getting narrower the further up they go.
The tree "branches" are now ready for twisting. Beginning at the base, twist the pastry away from you, trying to get in at least two turns on the lower branches. Continue moving up the tree, twisting away from you as you go.
At the top of the tree, you may only get a single twist in the top branches.
Brush the star and tree with lightly beaten egg. Sprinkle parmesan cheese over top.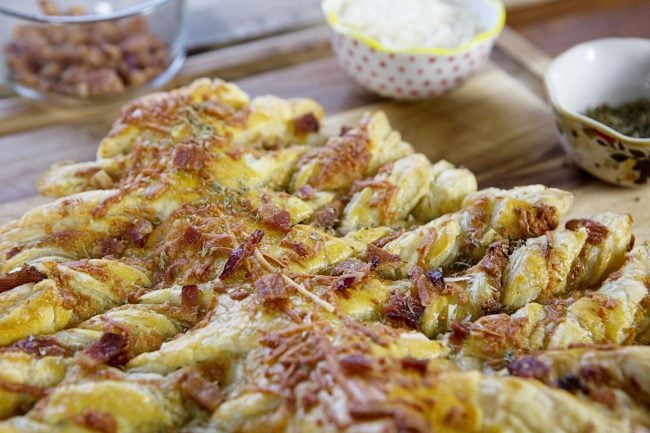 Bake in a 350 degree F oven for 18-22 minutes, or until risen and golden brown. Sprinkle more cheese and bacon over top right out of the oven.
Best if served right away.
Here is a video on how I made this!