Balsamic Roasted Brussels Sprouts are easy and full of flavor. They remind me of what you get in fancy restaurants! I also have Balsamic Cranberry Roasted Brussels Sprouts, perfect for the holidays!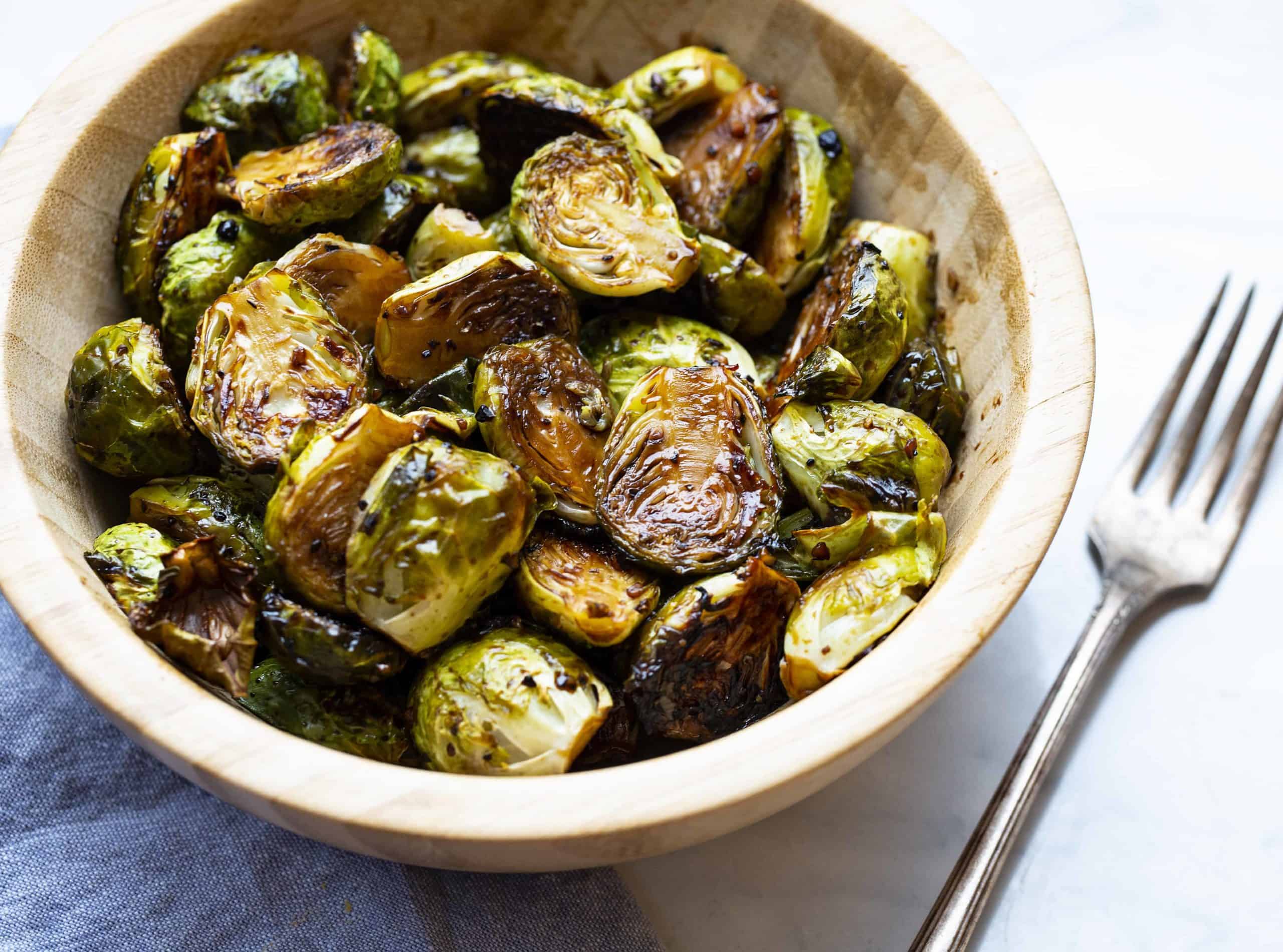 Balsamic Roasted Brussels Sprouts
Ever since I ordered Brussels sprouts from a hotel restaurant, I knew I had to replicate them. They were the most amazing Brussels sprouts I had ever had, and I spent the last few years trying to perfect the recipe at home. This is that recipe!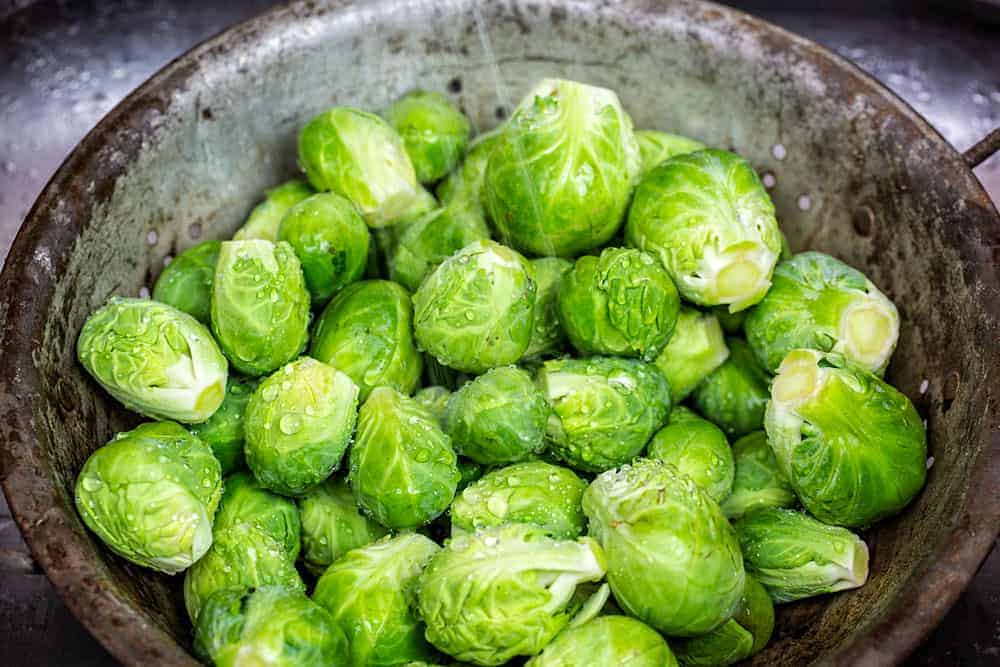 Ingredients
With Brussels sprouts the center of attention, here are some tips when choosing the vegetable:
Size– If they happen to be large, I will cut them in half before roasting. If they are smaller, like the ones we harvested from our garden, I will roast them whole. (These are also the best tasting in my opinion!)
Freshness– They should be green, not yellow, or with black spots. They should also be very firm. If you can find Brussels sprouts still attached to the stem they will last much longer if stored in a cool, dry place.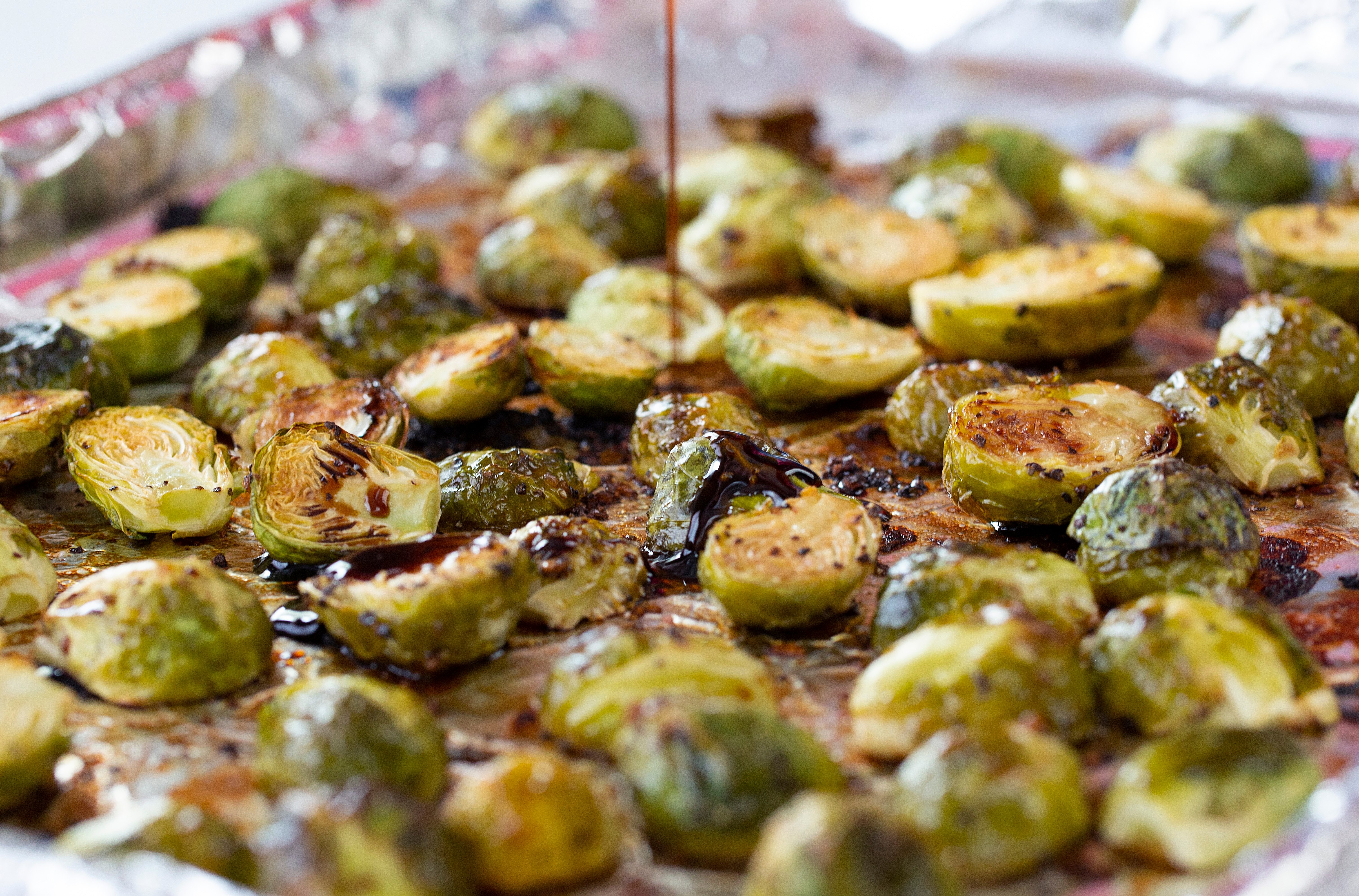 Roasting Brussels Sprouts
Roasting vegetables is quite possibly my favorite way to eat them. A beautiful caramelization of natural sugars combined with oil and a light seasoning transforms vegetables into something magical. But what is "roasting" exactly? Back in the day roasting meant there was going to be an open flame. Today, we roast things in an oven. And now, we also have air fryers, which are a perfect vessel for cooking Brussels sprouts! And I have lots of Brussels sprouts recipes like Brown Butter, Gruyere, Bacon Wrapped, Parmesan Roasted, and Brussels Sprouts in Maple Bourbon Sauce.
How to Pick Balsamic Vinegar (excerpt from Gourmet Blends)
Make sure you examine the ingredients. Does it say red wine vinegar and grape must? This is not pure balsamic vinegar — this is just what it says it is Red Wine Vinegar not Balsamic.
If it says 6% percent acid this also disqualifies it from being balsamic. It should read 4.5 percent.
Balsamic Vinegar is produced from white grapes (typically, Trebbiano grapes) and must be aged at least 12 years. This grape is grown in Northern Italy. True balsamic vinegar will have a thick pouring consistency.
Balsamic Vinegar pours thick like syrup and is so flavorful you only need to use a drizzle. The taste is so robust you will not need to use companion oils. Just a small amount expands the taste buds. You can use it on salads, meat and fish dishes, desserts, and fruits. Once you've had a taste of the real thing you'll never go back.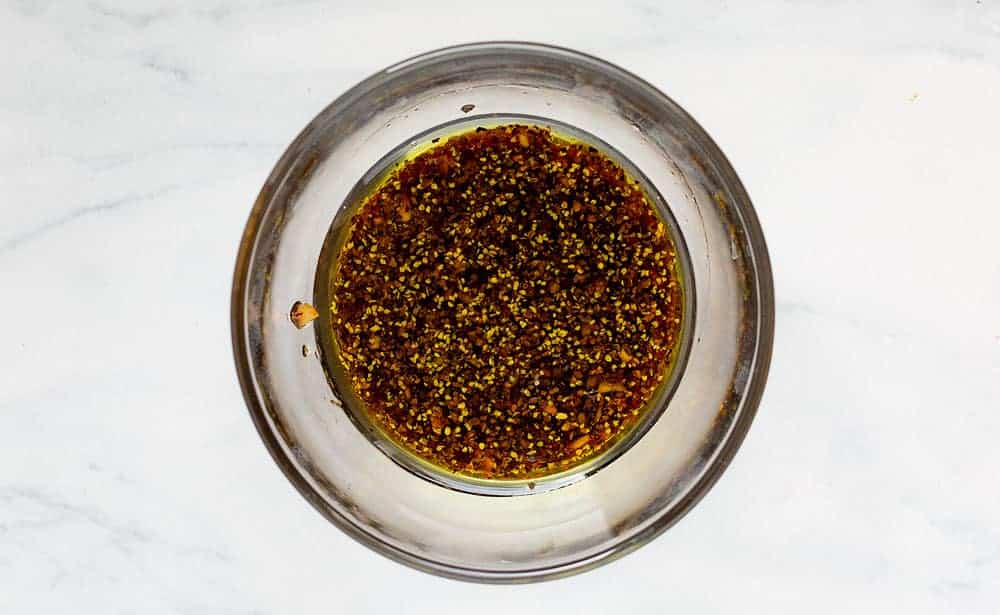 Air Fryer Balsamic Roasted Brussels Sprouts
If you don't want to use your oven, make these Brussels sprouts in your air fryer! After coating the vegetable with the balsamic mixture, place them into the basket of your air fryer. (Depending on the size of your air fryer, you may have to work in batches.) Air fry for 10-15 minutes at 375°F, or until the Brussels sprouts reach your desired crispness.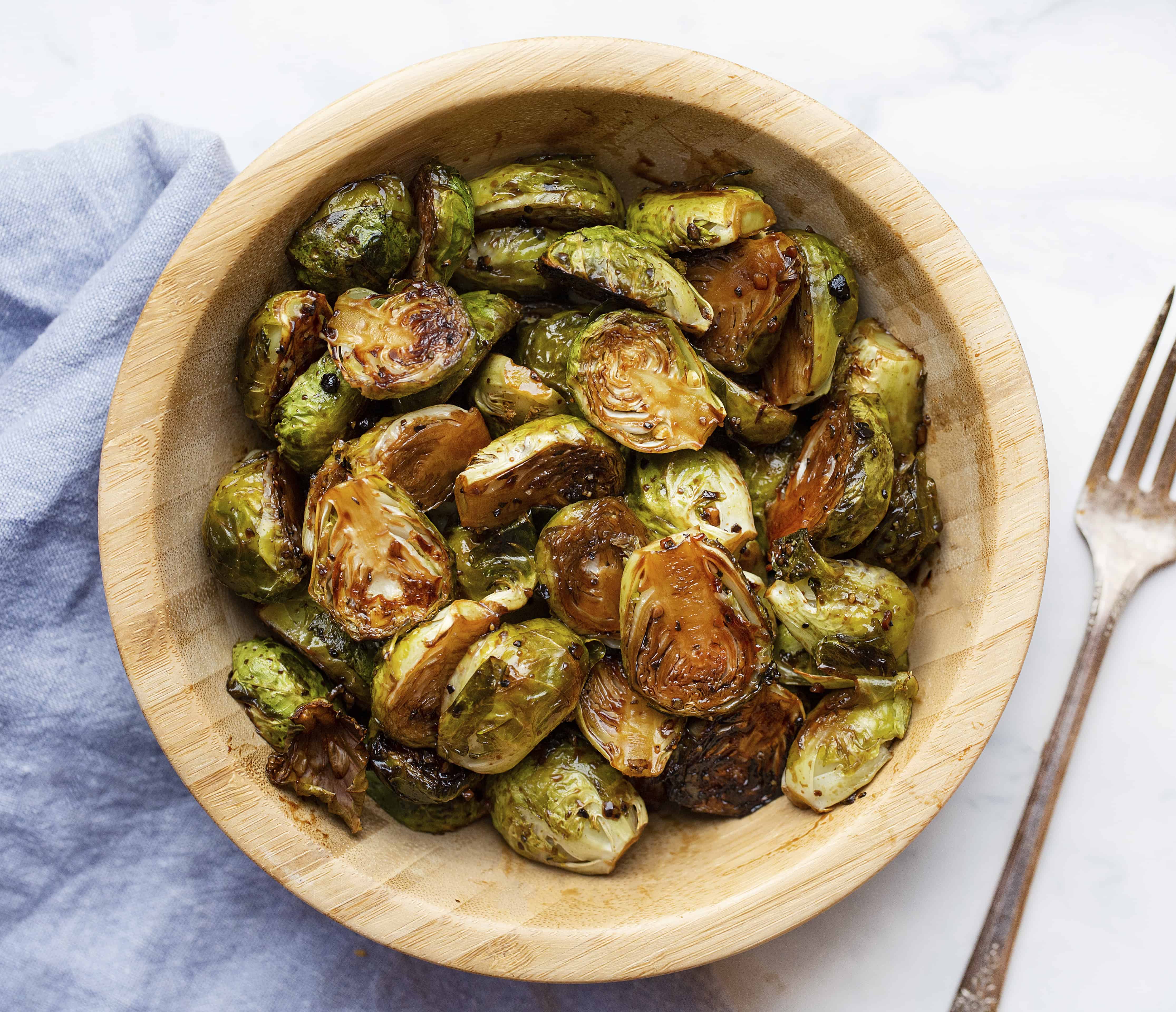 How to Store
Cooked Brussels sprouts can be stored in an airtight container in the refrigerator. They will last up to 4 days. Reheat them in the oven or air fryer.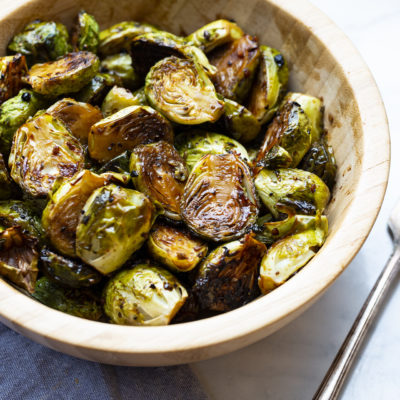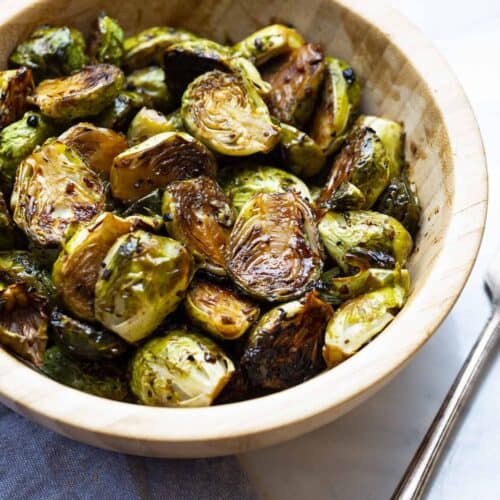 Balsamic Roasted Brussel Sprouts
Balsamic Roasted Brussels Sprouts are easy and full of flavor. They remind me of what you get in fancy restaurants!
Ingredients
1

pound

fresh Brussels sprouts

1 ½

tablespoons

olive oil

3

tablespoons

balsamic vinegar,

divided

2

teaspoons

minced garlic,

minced

½

teaspoon

kosher salt

¼

teaspoon

pepper
Instructions
Preheat oven to 450°F. Line a baking sheet with aluminum foil.

Clean Brussels sprouts in water and trim tough ends and cut them in half.

In a small bowl, whisk together oil, half the balsamic vinegar, garlic, salt, and pepper.

Spread the sprouts out evenly over the lined sheet. Drizzle the oil mixture over the sprouts, and toss to evenly coat. Spread back into an even layer.

Roast for 20-25 minutes*, or until the sprouts tender with a crisp outside.  Remove from oven.

Drizzle with the remaining balsamic vinegar, and sprinkle with salt to taste.
Notes
*See Post for Air Fryer Instructions.
Did you make this recipe?
Thank you for making my recipe! You took pictures, right? Well go ahead and post them on Instagram! Be sure to mention me @iambaker and use the hashtag #YouAreBaker.