Having this classic recipe in your recipe box is a must! These perfect Chocolate Cupcakes are paired with the most amazing Chocolate Frosting. These amazing moist chocolate cupcakes will be your new favorite!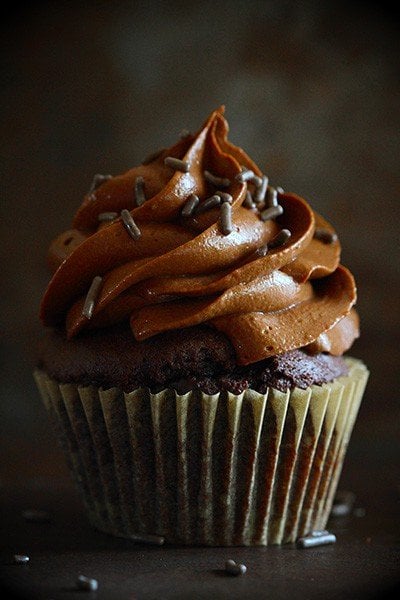 This has been a literal labor of love! I have tested recipes from every major recipe source and have not been able to find the one I considered to be perfect. My ideal recipe is one that is perfectly domed, that has the right amount of chocolate, that has a light and moist crumb.
This. Is. It.
Look no further… this is the BEST Chocolate Cupcake Recipe!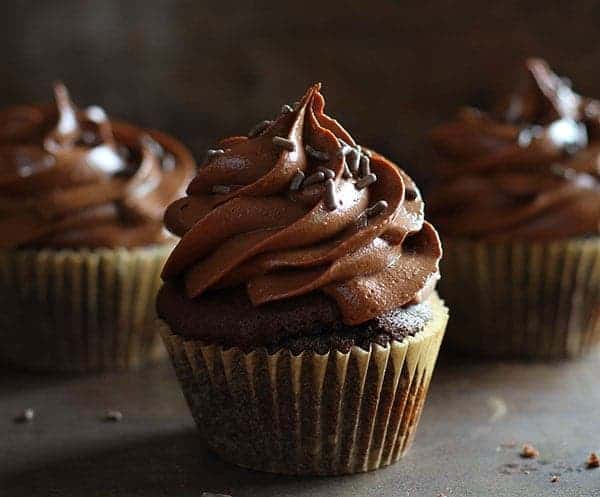 Not only is this the perfect chocolate cupcake, but I think I have found the perfect chocolate frosting. Let me tell you a little bit about why: this is a cream cheese based chocolate frosting which is a perfect compliment to a rich and decadent chocolate cupcake. You get a slightly enhanced (amplified) chocolate flavor with the frosting that is then paired with a natural and pure chocolate cupcake.
It's cupcake magic!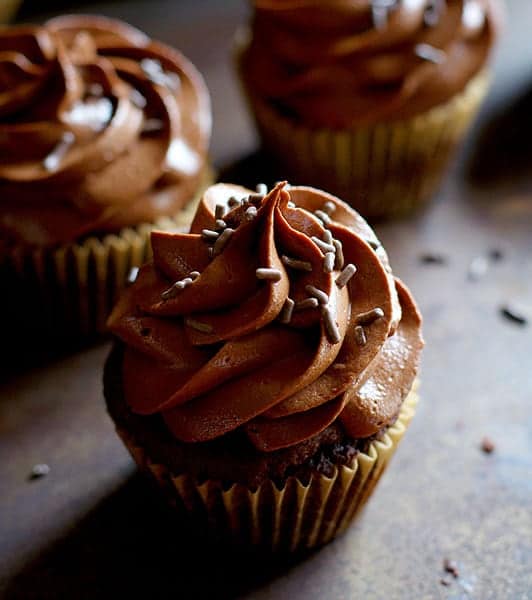 I was surprised at how well this frosting held up to being piped. It holds it shape but remains soft, light, airy, and fluffy.
Here is a little video on how I did that!
Tips and Tricks:
If you have my book, Surprise Inside Cakes,  you know that my chocolate cake recipe uses sour cream. I am a big fan of Sour Cream Chocolate Cake and love that I was able to incorporate it into cupcakes. I also love how thick it makes the batter; you can scoop it with an ice cream scoop and every single cupcake will be perfectly proportioned.
The better quality ingredients you use, the better your cupcakes and frosting will taste. Try for room temperature ingredients when making these chocolate cupcakes and chocolate frosting.
Is it the same as my Best Chocolate Cake recipe? NO! Chocolate cakes and cupcakes are different in terms of the chemistry. They bake for different periods of time in different qualities and the recipe needs to reflect and adapt to those changes. It is best to use a cake recipe for cakes, and a cupcake recipe for cupcakes.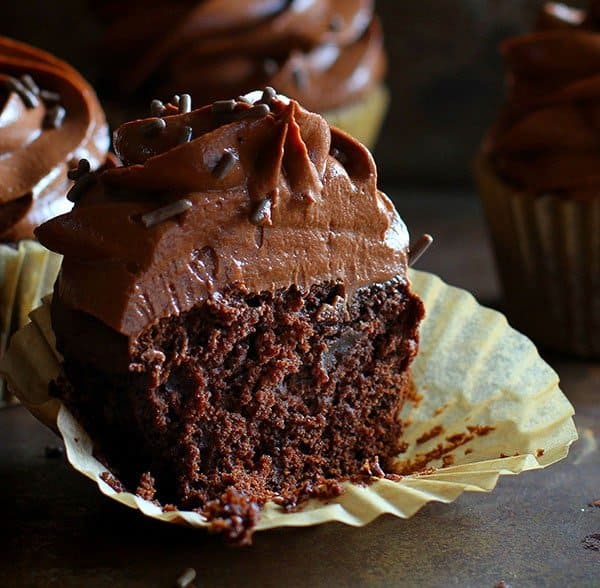 This chocolate frosting is not your grandma's chocolate frosting. There is a slightly tangy flavor… it is for that reason that I highly recommend it with this specific cupcake recipe. They truly compliment each other perfectly. If you are a true chocolate aficionado, try a bittersweet chocolate in the cupcake AND frosting. You will be pleasantly surprised at how much of that pure chocolate flavor comes through.
This Chocolate Cupcakes recipe is perfection!