Can't say enough good things about this Rhubarb Crisp! The secret to making it is a double crust… and the secret to a perfectly carmelized and crispy crust is using a skillet to make it in! If you love this crisp, be sure to check out my Apple Crisp and Blueberry Crisp!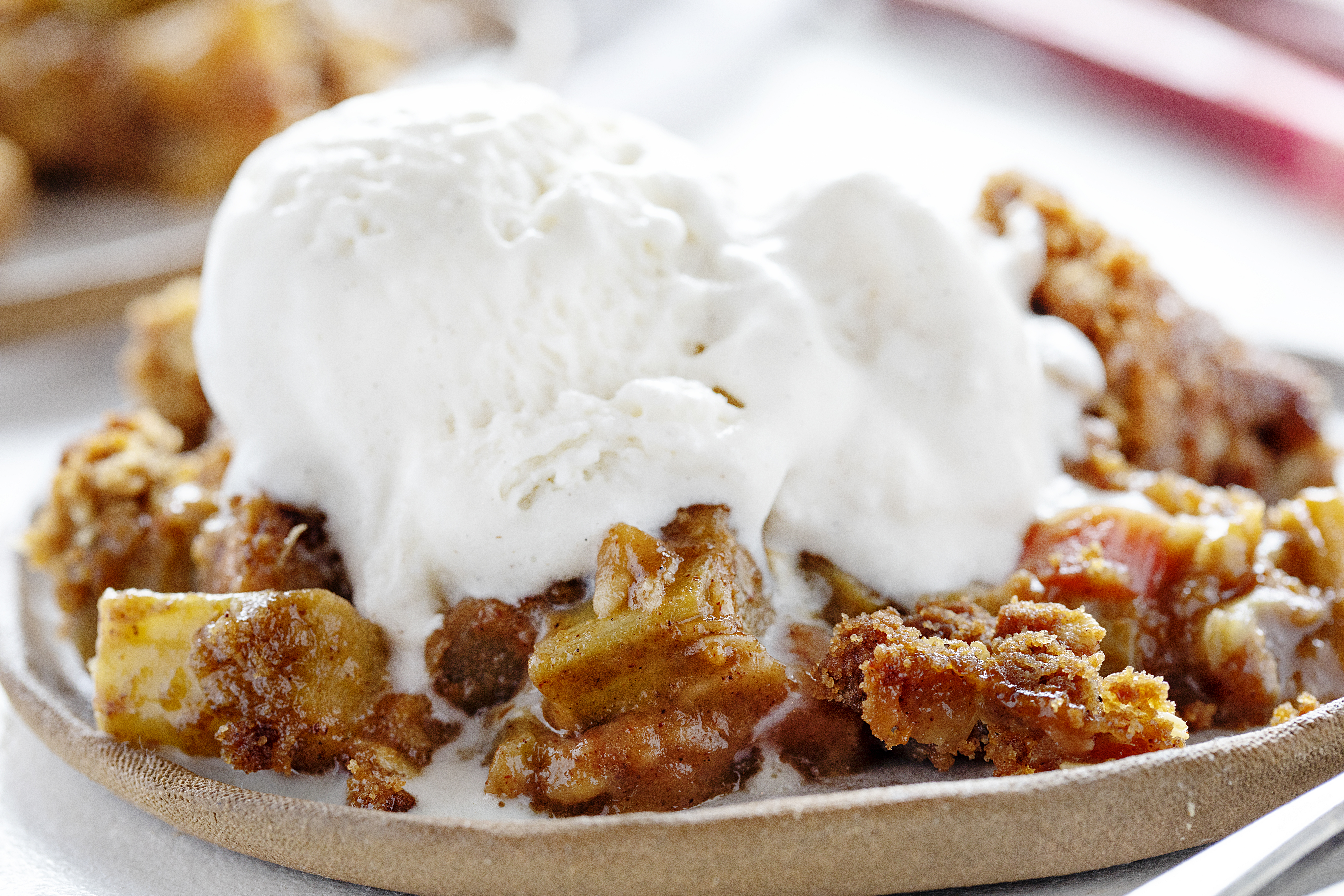 Rhubarb Crisp
Summertime in the midwest means 2 two things. There will be more rhubarb and zucchini than we know what to do with! Utilizing those ingredients in everything we make, like this recipe and my Rhubarb Cake, is a special treat and we midwesterners really know how to do it right! This Rhubarb Crisp is no exception. It is unbelievably delicious and really lets the rhubarb shine. If you have never had a rhubarb crisp, drop everything and head to your neighbor's house to get some! (Or the grocery store😉)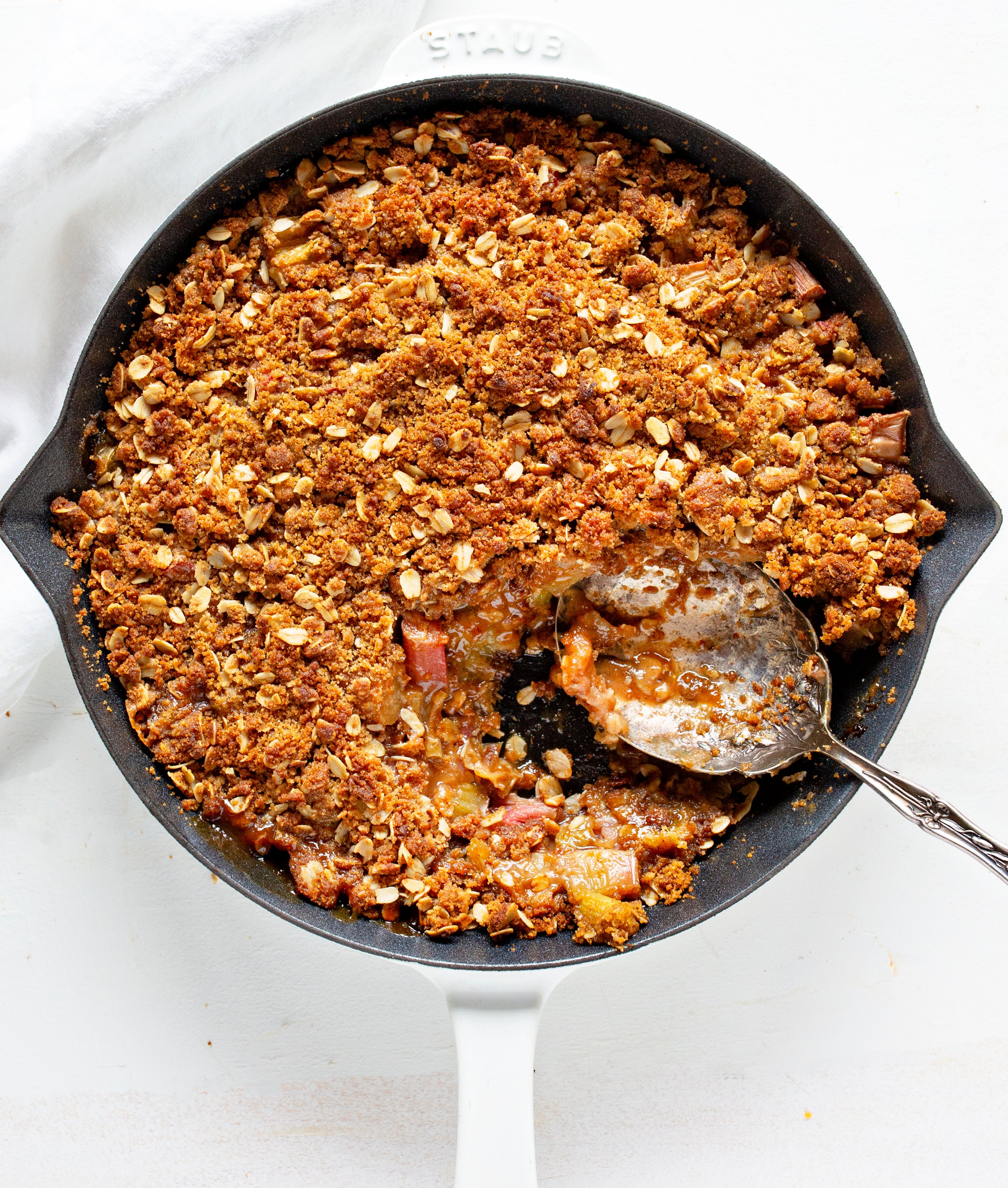 How to Make Rhubarb Crisp
This recipe is so versatile it's hard to mess up. But here are a few tips that will make sure it's over-the-top amazing!
Use a skillet. This is a double-crisp dessert and the bottom layer of crisp carmelizes so beautifully in the skillet, it really does make a difference.
Chop rhubarb bigger than you would think. I used 1-2 inch pieces and love the flavor and texture of that size.
Take your time on the crisp! Getting it right means just a couple minutes getting your hands in there and breaking up every piece of butter.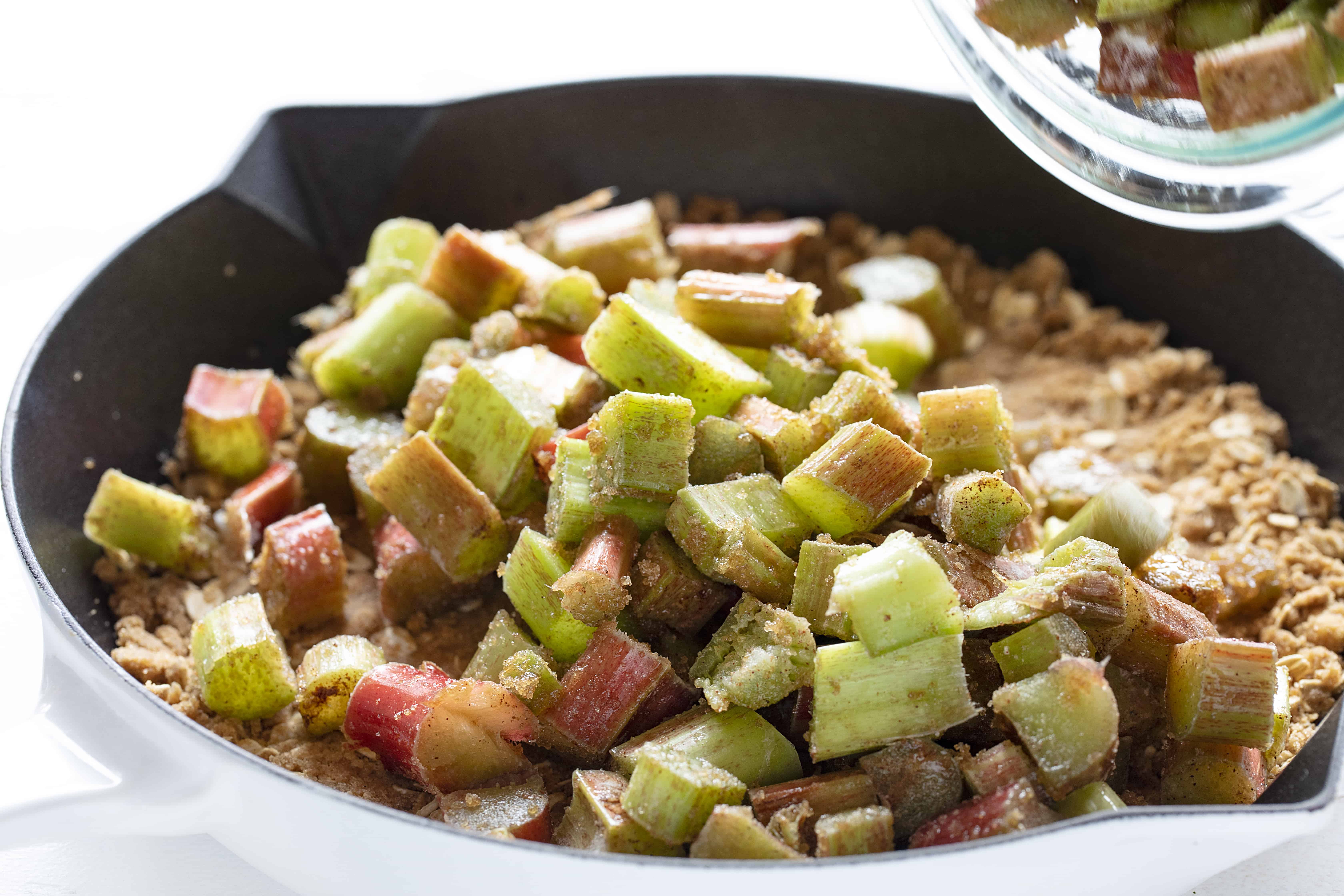 Let's Talk Rhubarb
The experts will recommend "choose stalks that are fresh looking, crisp and blemish free…look for smaller leaves, which is also an indication of a younger stalk. Avoid limp stalks and stalks with split ends." That's fine and dandy if you are aiming to be the next Martha Stewart, but not how we do it. I don't look for perfection, I don't mind a few blemishes, and there is nothing wrong with a large leaf or a split end. You cut those off anyway! I've used big huge stalks and small stalks. They all add something amazing to whatever dessert you are preparing. All rhubarb is good rhubarb is these parts.
How to Prepare Rhubarb
Wash the rhubarb well.
Trim off the leaves and ends with a sharp knife.
Slice into 1 to 2-inch pieces (only for this recipe! In typical baking you want smaller pieces.)
Set the pieces on a paper towel and gently pat dry before adding the sugar, flour, and cinnamon.
PRO TIP: Place the unused stalks in a pitcher filled half-way with cold water. They can stay this way overnight.
How to Freeze Rhubarb
If you want to freeze, it's a good idea to know ahead of time what you plan on making with the rhubarb. Freezing it in pieces works best, so you will want to know what size pieces to cut. (Generally speaking, 1 inch is fine.)
To freeze:
Clean well.
Place cut rhubarb into a freezer bag or airtight container. Remove as much air as possible from the bag or pack tightly into an airtight container. The rhubarb may expand a bit when freezing, so don't pack too tight.
Set in freezer and store for up to 12 months.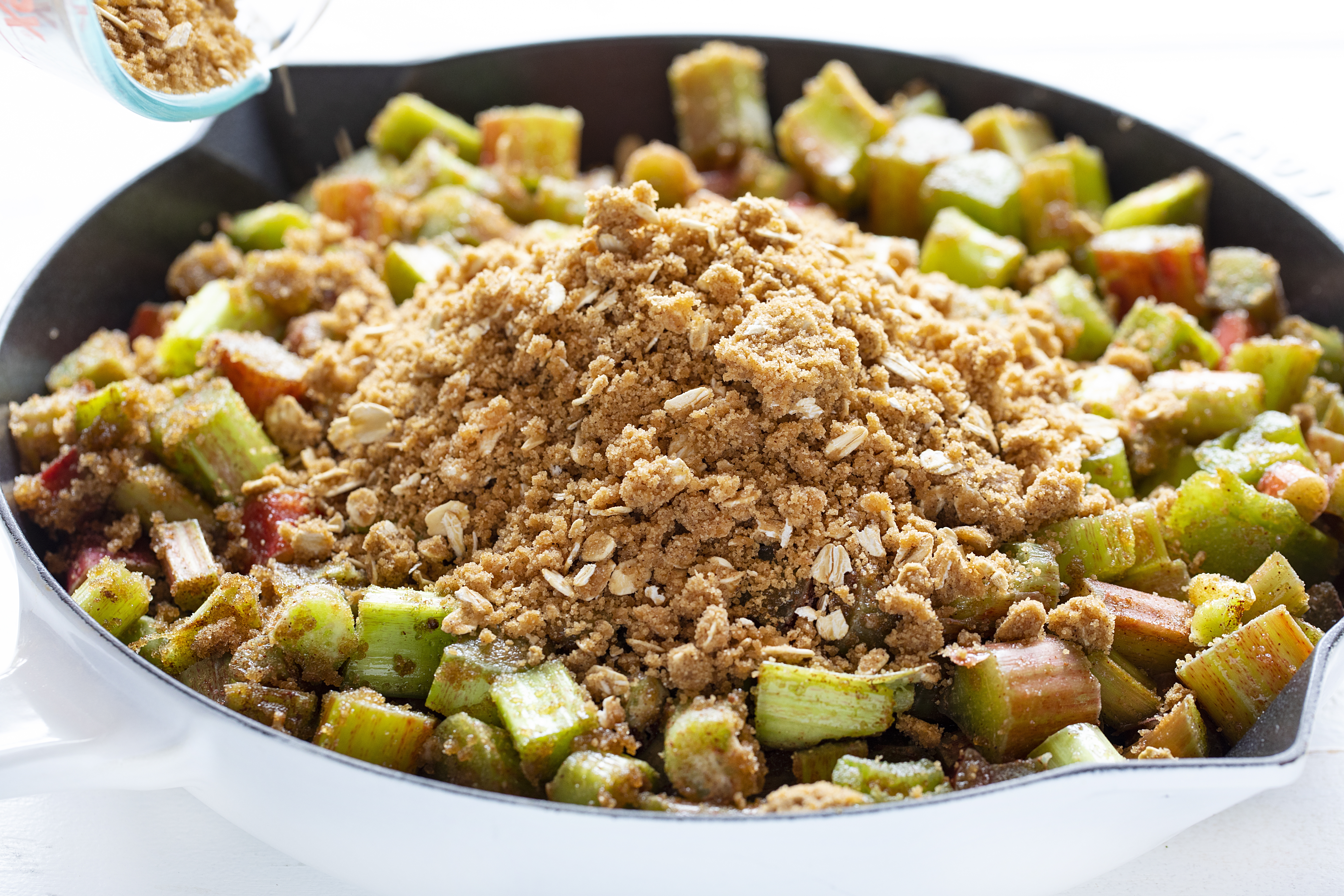 Double Crust Crisp
This is by far the best way to serve a crisp, ever. And is especially good when you use a skillet or cast iron pan. (I don't recommend aluminum pans.)
The butter should be cold and cubed. I will often cube the butter first, before I start this recipe, then place the cubed butter into the fridge until I am ready to make the crisp.
Simply add all the ingredients except the butter to a big bowl and stir. Grab the butter, wash your hands, and then dive in. I sift the ingredients together with my hands, coating the butter cubes with the flour mixture, then start breaking up the cubes with my fingers. This takes a couple of minutes to make sure every cube is broken down into pea-sized pieces, but worth it.
You should have 4 cups of the crisp mixture when you are done. Half will be used on the bottom, the other half sprinkled on top.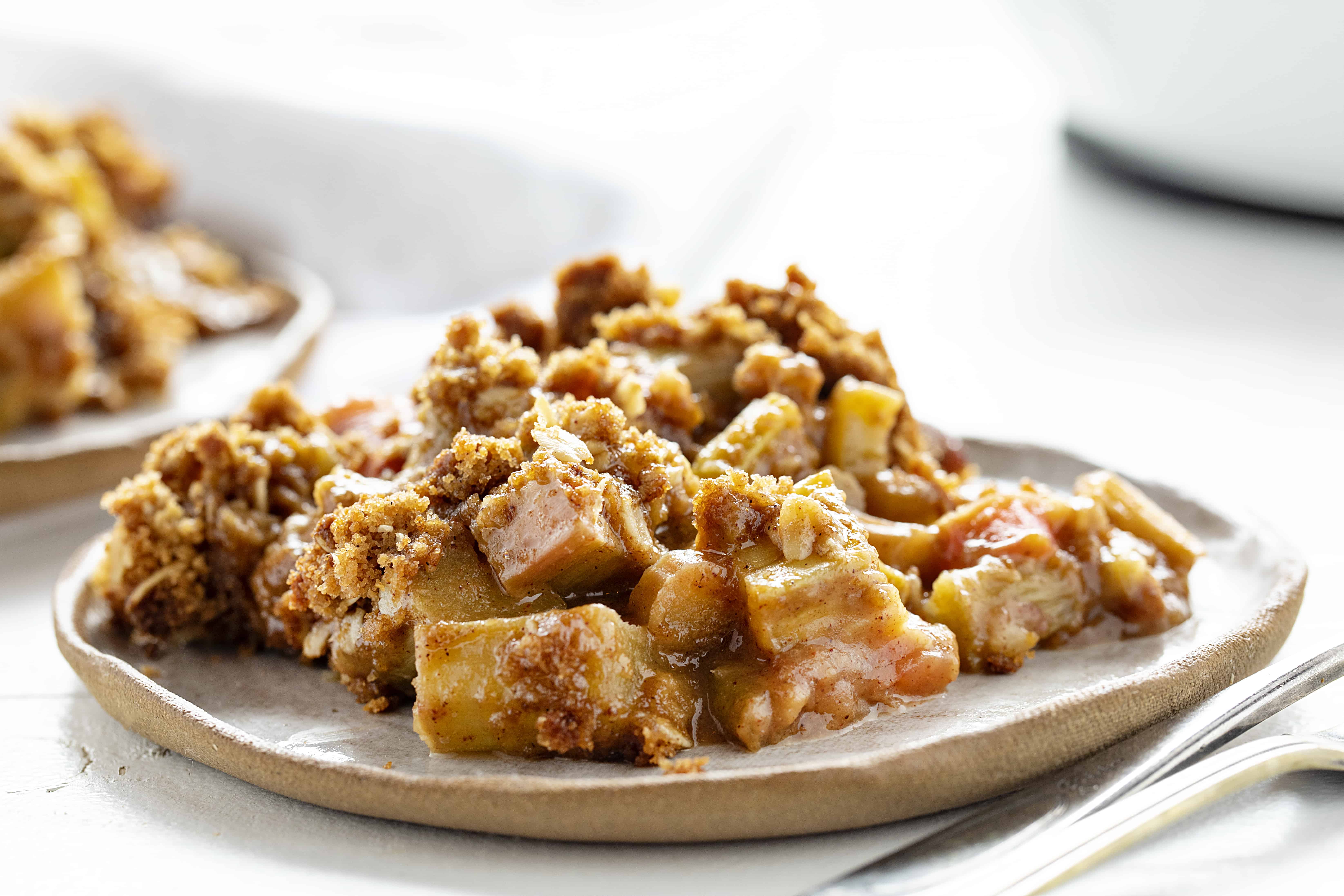 Brown Sugar Rhubarb Crisp
Did you catch that I only use brown sugar in this recipe? Most recipes call for all granulated sugar or 1/2 granulated and 1/2 brown. While these recipes are sweet, they lack the depth of flavor that all brown sugar adds. And after you try this rhubarb crisp, you will definitely understand what I mean! I used light brown sugar, but you can definitely use dark brown sugar as well. If you don't happen to have any brown sugar on hand, you can always make your own!
Homemade Brown Sugar
For light brown sugar add 1-2 tablespoons of molasses to 1 cup of granulated sugar. For dark brown sugar add 3-4 tablespoons to 1 cup of granulated sugar. I like to mix up a big batch in my food processor but you can also mix by hand if you prefer.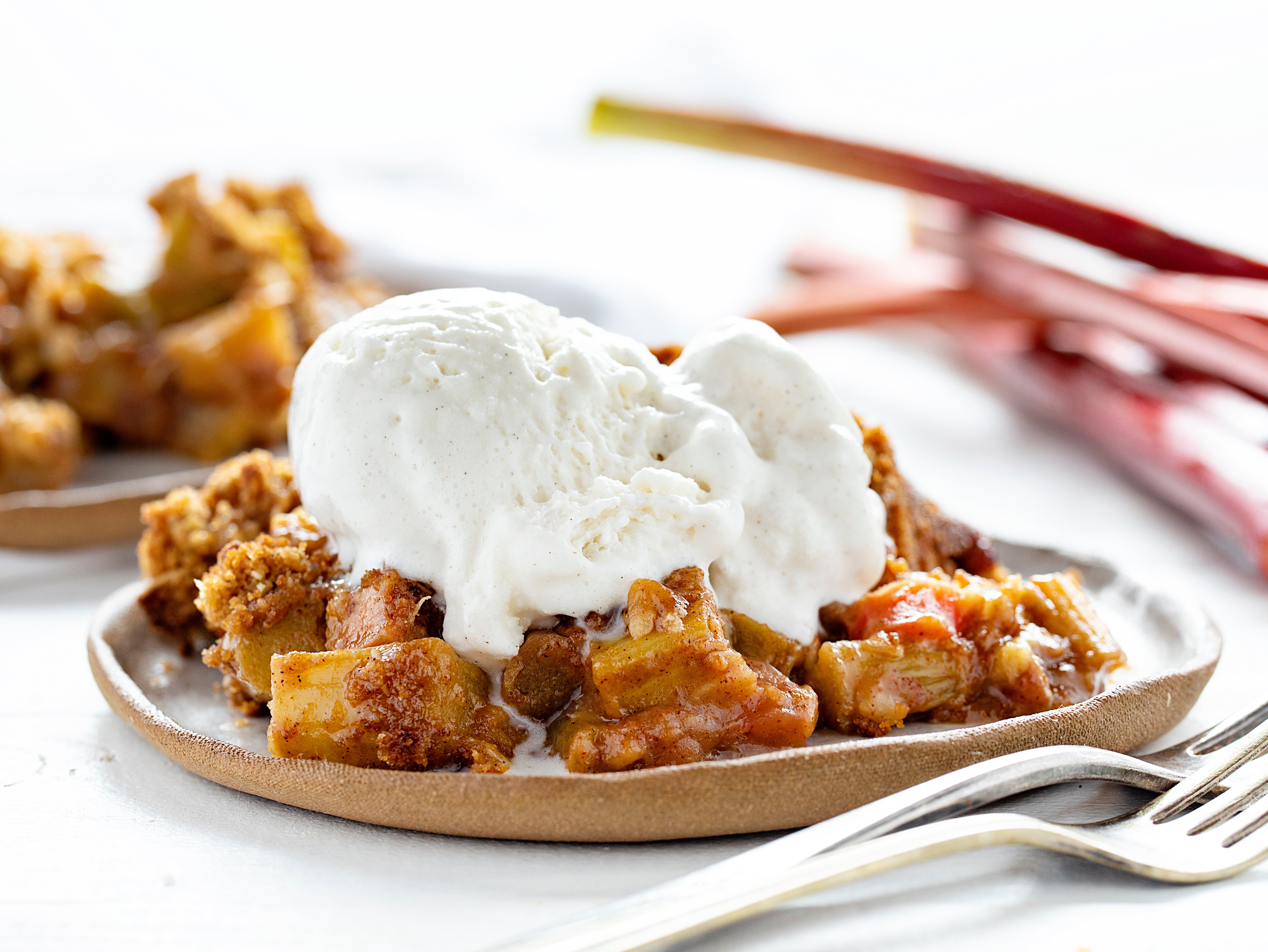 How Do You Serve Rhubarb Crisp?
We love it warm, served right out of the pan. Let the family grab a spoon and dig in! If you happen to have a little more restraint than us, grab a plate or a bowl and scoop up individual portions. This dessert is best served warm or hot.
My family was split in half on whether they liked it best with ice cream or whipped cream. I much preferred the real vanilla bean ice cream… when it melts into the warm crisp it creates this glorious soupy dessert that I can't get enough of. If you think whipped cream will be what you like best, I highly recommend homemade.
Whipped Topping vs. Homemade Topping
I freely admit that I love a big ole bite a cool whip and love how easy it is to grab some from the fridge and serve up. However, because the flavor of this rhubarb crisp is so pure and sweet, a subtle homemade whipped topping is the perfect addition.
To make whipped topping from scratch you take 1 cup of heavy whipping cream and add 1-2 tablespoons of confectioners sugar. Whip the heavy whipping cream for a couple of minutes with your hand-held mixer until you have soft peaks. Sprinkle the confectioner's sugar over top and keep mixing on high until there are stiff peaks. I do recommend using a large bowl to avoid splatter. Serve immediately.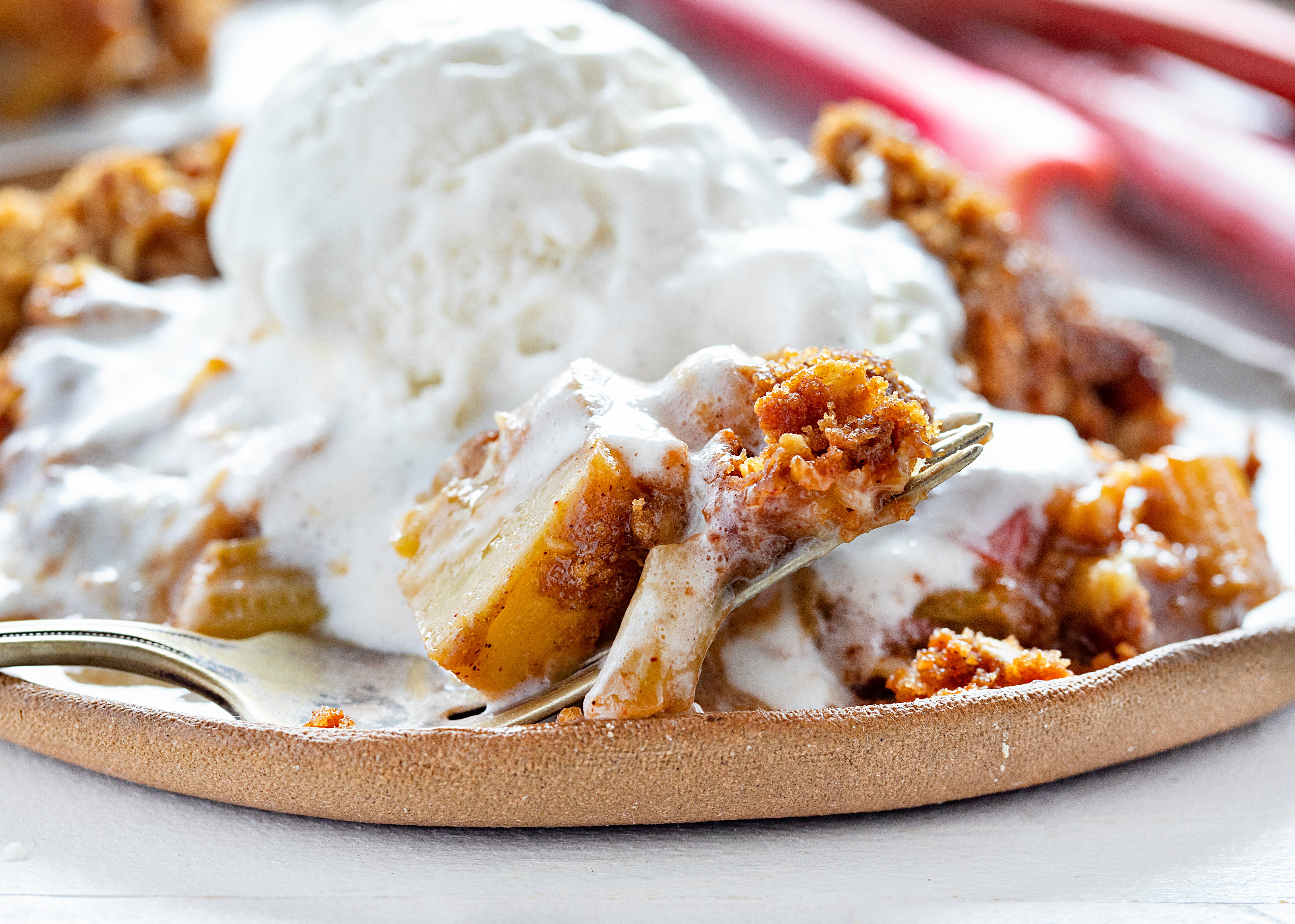 Looking for More Summer Desserts?
Blueberry Lemon Heaven Dessert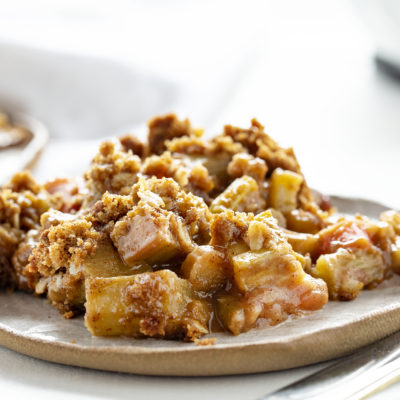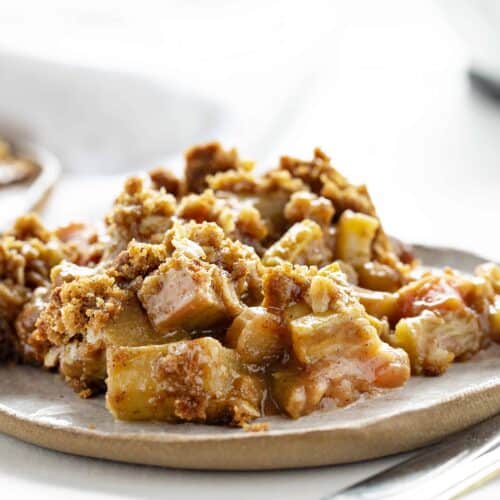 Rhubarb Crisp
Once you try this recipe you will never want another! Perfection in every bite!
Ingredients
Rhubarb Mixture
5

cups

chopped rhubarb,

washed

1/2

cup

(100g) brown sugar

1

tablespoon

all-purpose flour

1

teaspoon

ground cinnamon
Crisp Mixture
1

cup

(90g) quick-cooking oats

1

cup

(125g) all-purpose flour

1

cup

(200g) packed brown sugar

1/2

teaspoon

baking powder

1/2

teaspoon

baking soda

2

teaspoons

ground cinnamon

1/2

cup

(1 stick, 113g) butter,

cubed while cold
Instructions
Preheat oven to 375°F. Prepare a 8-inch, 9-inch, or 10-inch skillet by coating with butter.
Rhubarb Mixture
Place rhubarb in a bowl. Add brown sugar, flour, and cinnamon. Stir gently and make sure every piece of rhubarb is covered in the sugar mixture. Set aside.
Crisp Mixture
Combine the oats, flour, brown sugar, baking powder, baking soda, and cinnamon together. Add in the cubed butter and use your hands to combine. You want the butter to be pea-sized and coated entirely. You should have 4 cups. 

Spread 2 cups over the bottom of your prepared skillet and press flat. Pour the rhubarb mixture over top and press down with rubber spatula. Pour remaining crisp mixture over top of the rhubarb and bake uncovered at 375°F for 35-45 minutes. If the crisp starts to brown too quickly, place foil over top and continue baking.
Notes
If you want to make this a Strawberry Rhubarb Crisp use 3 cups chopped rhubarb and 2 cups of cleaned, hulled, and quartered strawberries. 
Did you make this recipe?
Thank you for making my recipe! You took pictures, right? Well go ahead and post them on Instagram! Be sure to mention me @iambaker and use the hashtag #YouAreBaker.