This Blueberry Crisp is heaven on a plate. If you are a fan of blueberries, this is the recipe you must try! This blueberry version was inspired by my Apple Crisp, a recipe that has been made (and loved!) by hundreds!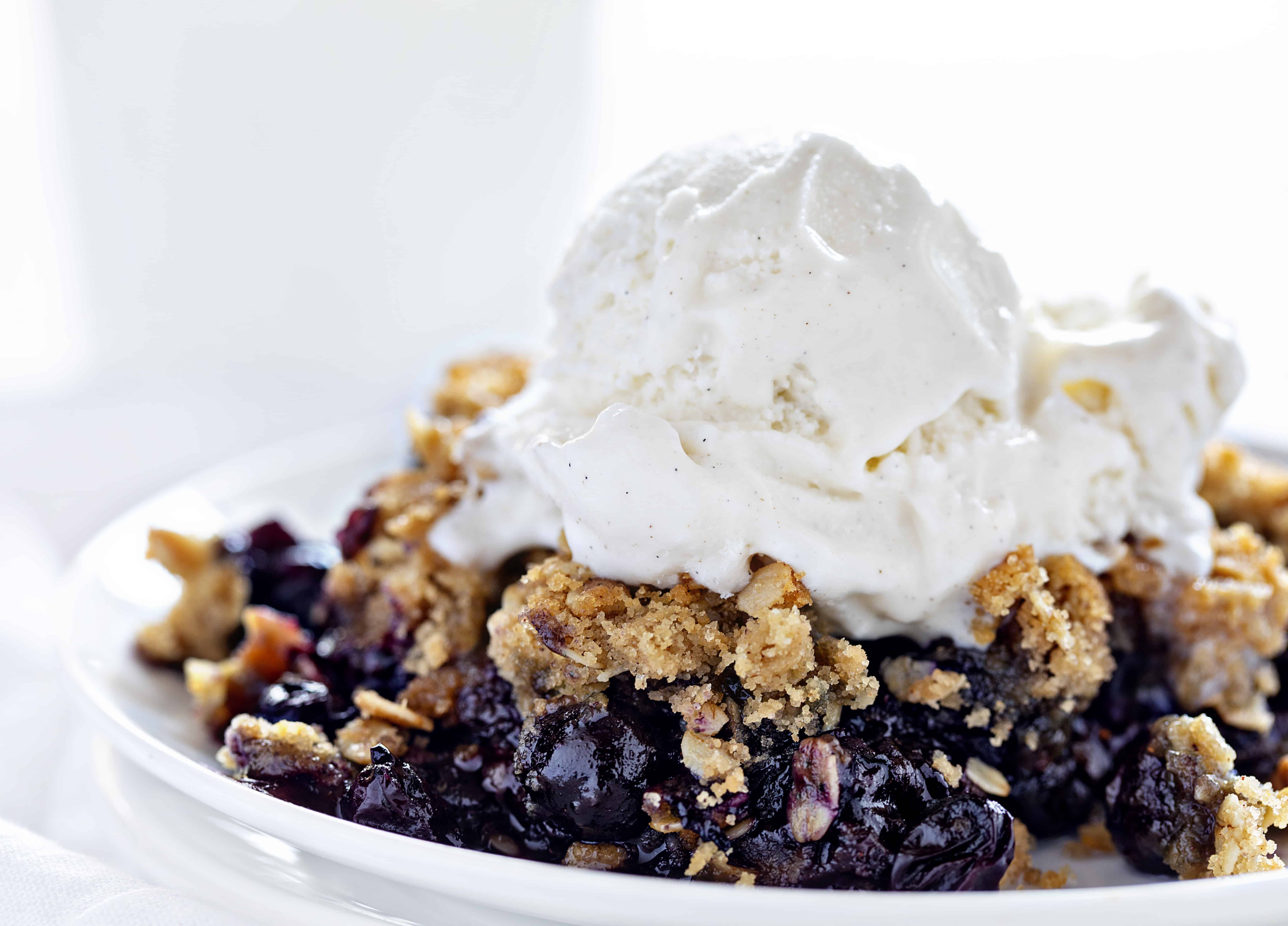 Double Crust Blueberry Crisp
You read that right. Two layers of crispy oatmeal crust perfection. I tested this recipe several times before coming back to the original. Fun fact for you… this recipe is excellent both hot and cold! It is the ideal combination of rich oat crisp paired with fresh blueberries and just the right about of buttery richness. If you are looking for the best blueberry crisp you have ever tried, look no further. I also have a Blueberry Puff Pastry Bake you will love!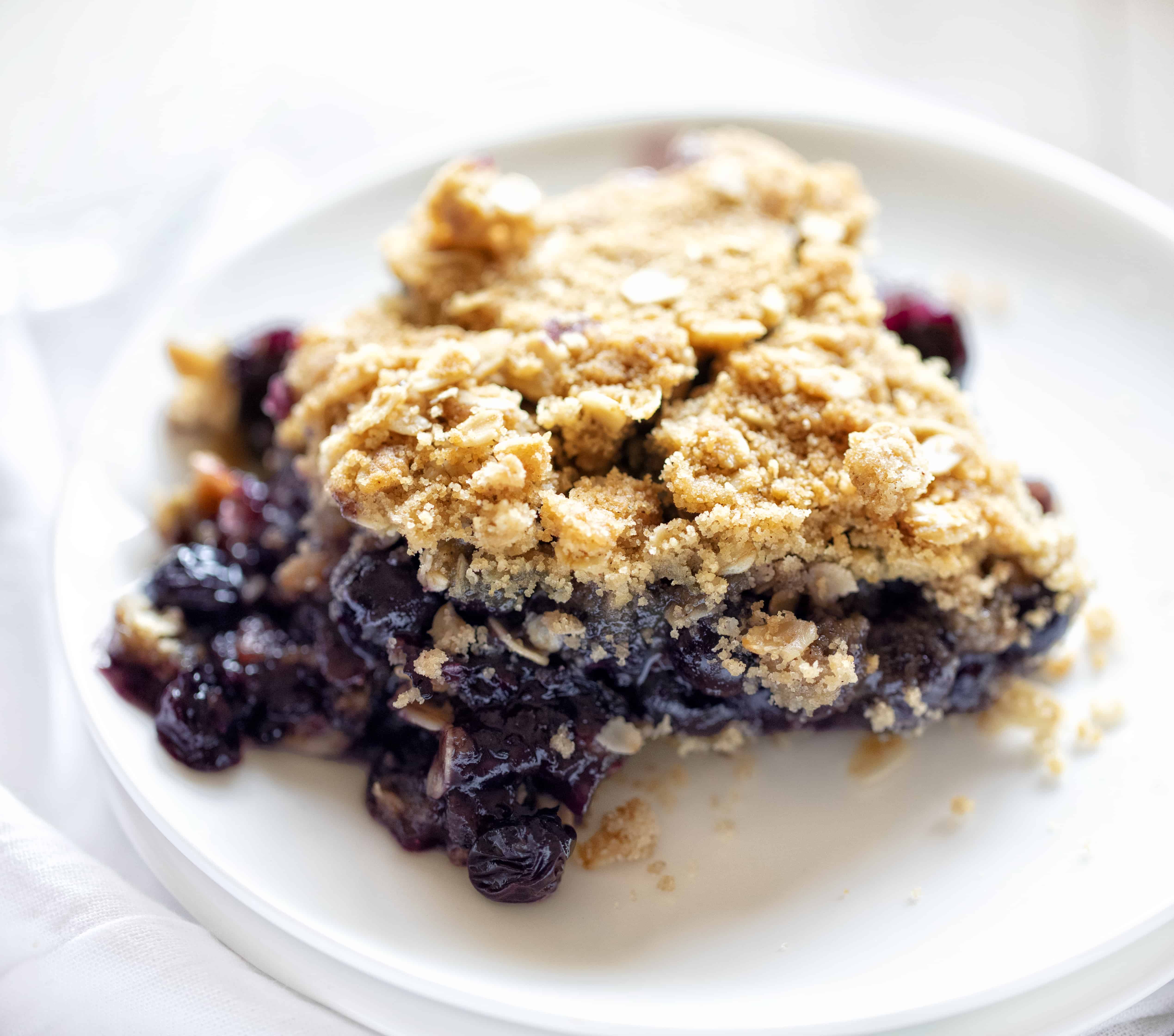 Brown Sugar Blueberry Crisp
Most recipes call for all granulated sugar or 1/2 granulated and 1/2 brown. While these recipes are sweet, they lack the depth of flavor that all brown sugar adds. And after you try this blueberry crisp, you will definitely understand what I mean! I used a light brown sugar, but you can use a dark brown sugar as well. If you don't happen to have any brown sugar on hand, you can always make your own!
How to Make Homemade Brown Sugar
For light brown sugar add 1-2 tablespoons of molasses to 1 cup of granulated sugar. For dark brown sugar add 3-4 tablespoons to 1 cup of granulated sugar. I like to mix up a big batch in my food processor but you can also mix by hand if you prefer.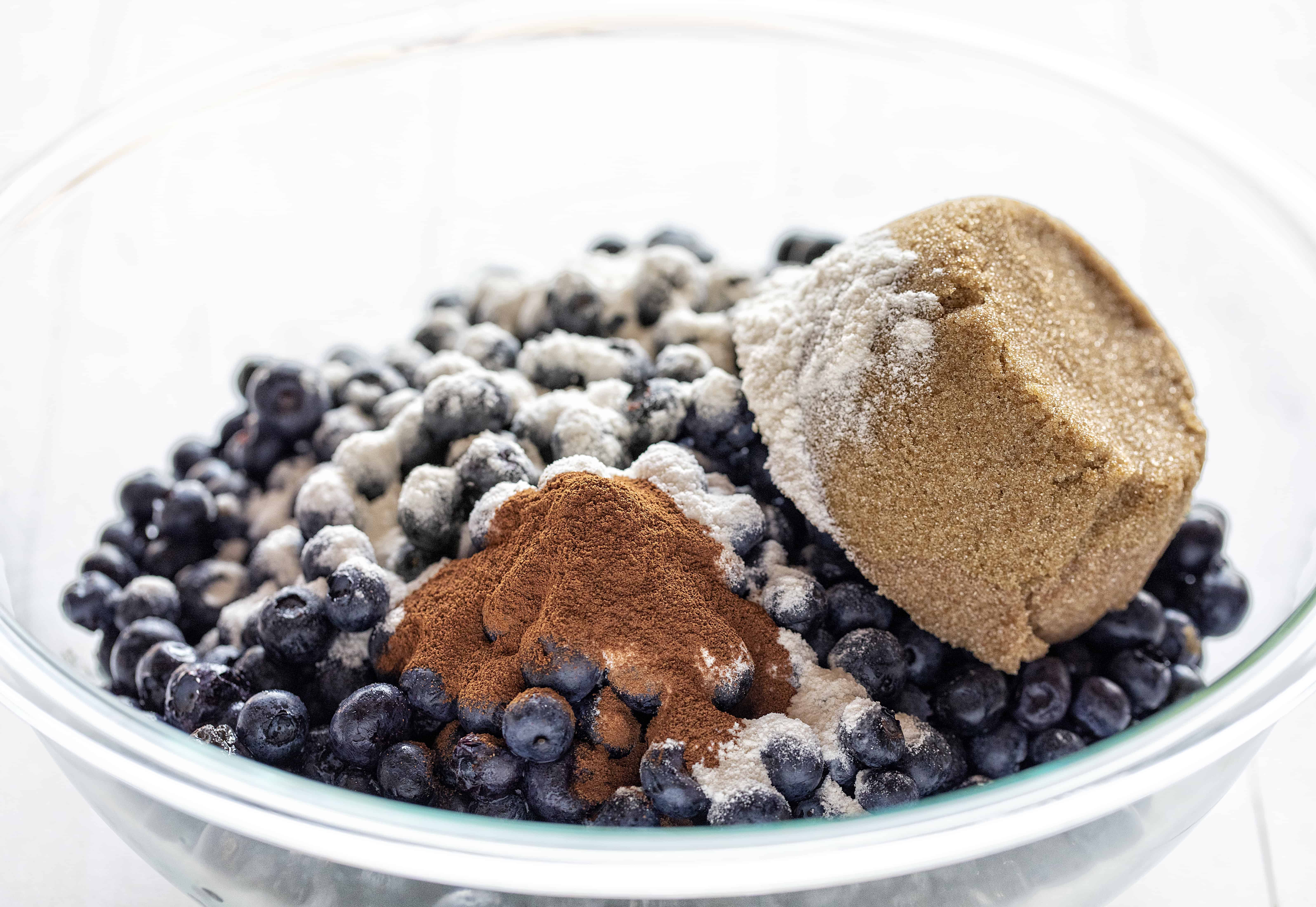 Fresh vs Frozen Blueberries
I much prefer using fresh blueberries in this recipe. They tend to stay firm and release their sweet juices just at the right time while baking. However, this recipe calls for 10 cups of blueberries, and unless you can hit the blueberry farm like we do every summer, that might get expensive.
If you want to use frozen blueberries, you will want to bake them frozen. Do not thaw. If you thaw them they will get very mushy and you won't be able to toss them in the sugar & flour mixture.
When using frozen blueberries, you will also need to bake the crisp for 15 minutes longer. I recommend adding foil to the top for the last (additional) 15 minutes so that the crisp doesn't burn.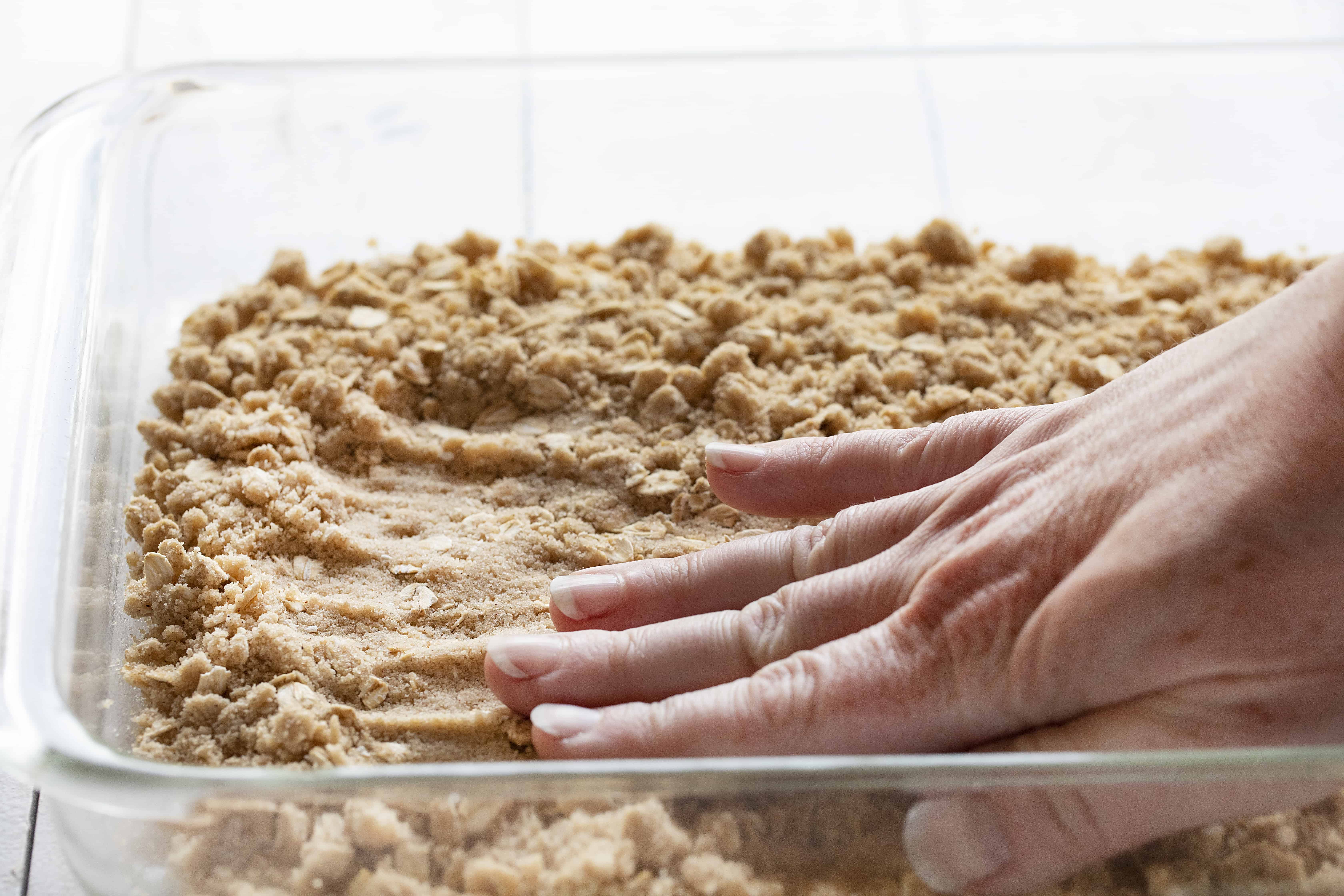 Oat Mixture for Blueberry Crisp
As you can see I use brown sugar in the blueberry coating as well as the oat mixture. But let's talk about the butter because that is equally important. I like to use good quality salted butter and like to make sure that it is cold.
The amazing thing about this double-crust layer is that it changes depending on how long you bake the crisp.
If you bake at 375°F for 35 minutes, the bottom oat mixture will be slightly caramelized and gooey while the top will be perfect crispy deliciousness.
If you bake at 375°F for 45 minutes, the bottom oat mixture will be crispy throughout. The top will be darker, but if you prefer a less dark crispy top you can add a foil tent to the crisp after 35 minutes.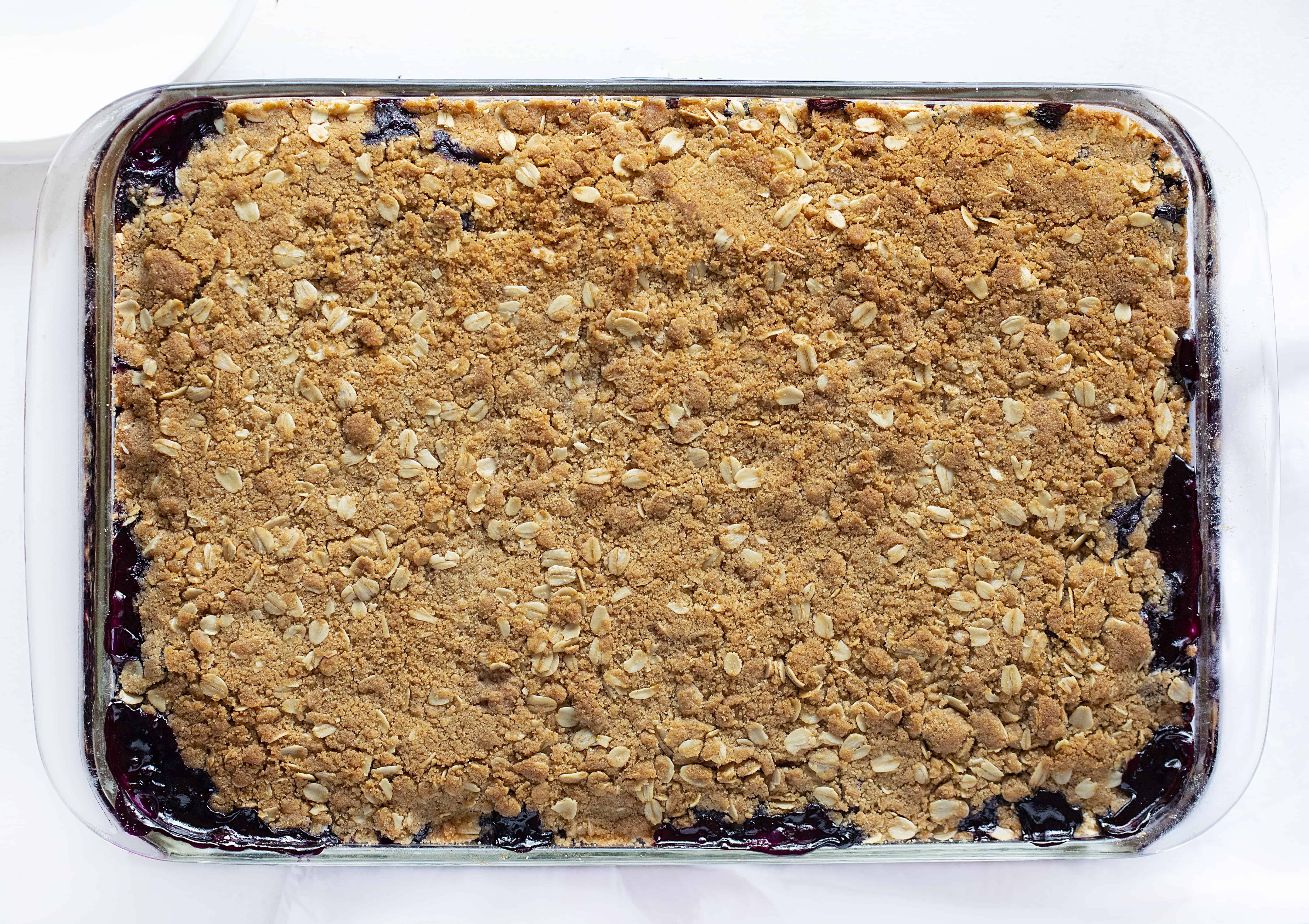 How Do You Serve Blueberry Crisp?
We love it warm, served right out of the pan. However, it is equally as good when served cold! I have never enjoyed cold crisp until I tried this blueberry version and I hope that you are able to try it straight out of the fridge too! (If you do please let me know what you think!)
My family was split in half on whether they liked it best with ice cream or whipped cream. I much preferred the real vanilla bean ice cream… when it melts into the warm crisp it creates this glorious soupy dessert that I can't get enough of. If you think whipped cream will be what you like best, I highly recommend homemade.
Can I Halve This Recipe?
Yes, absolutely, it makes a lot! Most of the ingredients are straightforward in halving, with the exception of baking powder and baking soda. I would simply remove those from the crisp portion if you are making this in an 8×8, 9×9, or skillet.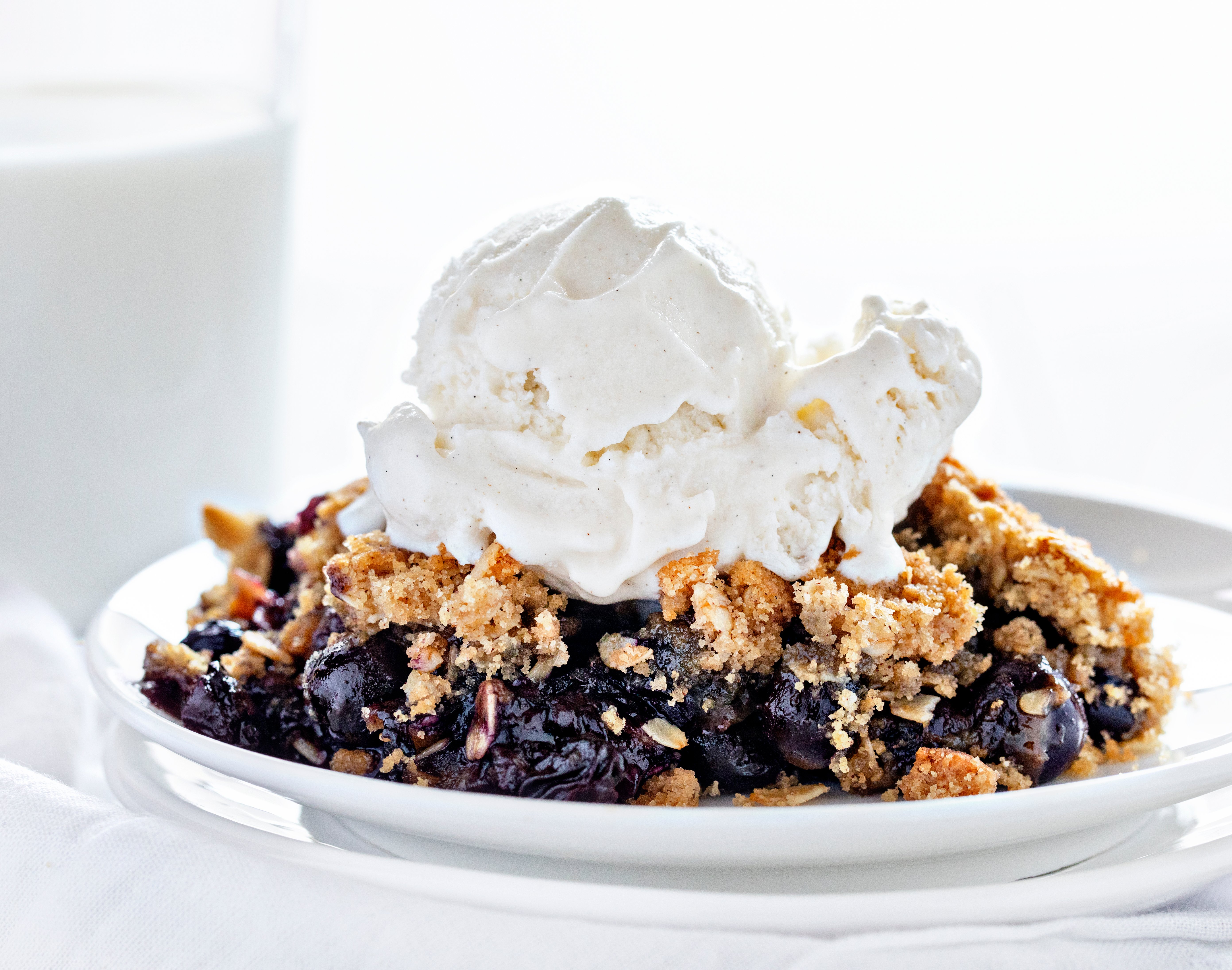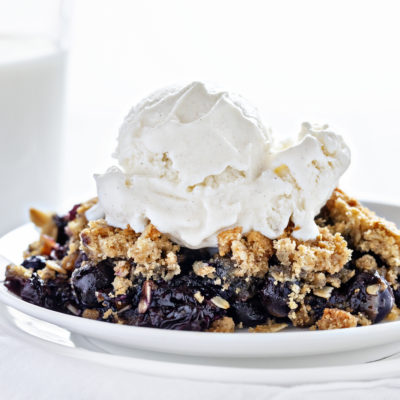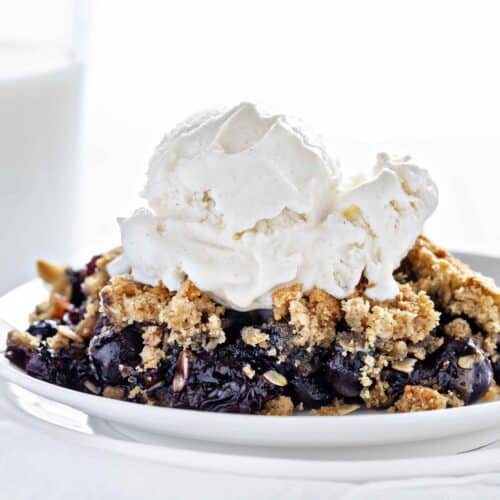 Blueberry Crisp
Once you try this recipe you will never want another! Perfection in every bite!
Ingredients
Blueberry Mixture
10

cups

fresh blueberries,

washed

1

cup

(200 g) brown sugar,

packed

1

tablespoon

all-purpose flour

1

teaspoon

ground cinnamon
Crisp Mixture
2

cups

(180 g) quick-cooking oats

2

cups

(250 g) all-purpose flour

2

cups

(400 g) brown sugar,

packed

½

teaspoon

baking powder

½

teaspoon

baking soda

2

teaspoons

ground cinnamon

1

cup

(2 sticks / 227 g) butter,

cubed while cold
Instructions
Preheat oven to 375°F. Spray a 9×13-inch pan with baking spray or coat with butter.
Blueberry Mixture
Place blueberries in a bowl. Add brown sugar, flour, and cinnamon. Stir gently and make sure every blueberry is covered in the sugar mixture. Set aside.
Crisp Mixture
Combine the oats, flour, brown sugar, baking powder, baking soda, and cinnamon together. Add in the cubed butter and use your hands to combine. You want the butter to be pea-sized and coated entirely. You should have 6 cups.

Spread 3 cups over the bottom of your prepared pan and press flat. Pour the blueberry mixture over top and press down with rubber spatula. Pour remaining crisp mixture over top of the blueberries and bake uncovered for 35-45 minutes.
Notes
Be sure to read the blog post if you are using frozen blueberries! Your baking time will change.
There is also information on how to halve the recipe.
Did you make this recipe?
Thank you for making my recipe! You took pictures, right? Well go ahead and post them on Instagram! Be sure to mention me @iambaker and use the hashtag #YouAreBaker.