Blender Eggnog is a smooth and creamy eggnog, with just the right amount of spice, that can be made with or without alcohol. Plus, using a high-powered blender actually 'friction boils' the eggs (cooks them) so you won't have to worry about consuming raw eggs! That's pretty cool if you ask me! Try my Cinnamon Apple Moonshine if you love making your own adult beverages at home!
Blender Eggnog
Eggnog has been around for hundreds of years, and it is debatable as to when it became a symbol of the holidays. But, here we are, and when I mention eggnog, either people love it or hate it! If you buy it from the store, it seems to be made mostly of milk and not many eggs. However, Blender Eggnog uses four large eggs in the recipe!  KitchenAid's high-powered blender blends the eggs with such power that they heat up a bit. Have some around for making Rumchata Eggnog, Mini Eggnog Cheesecakes, and Eggnog Fudge!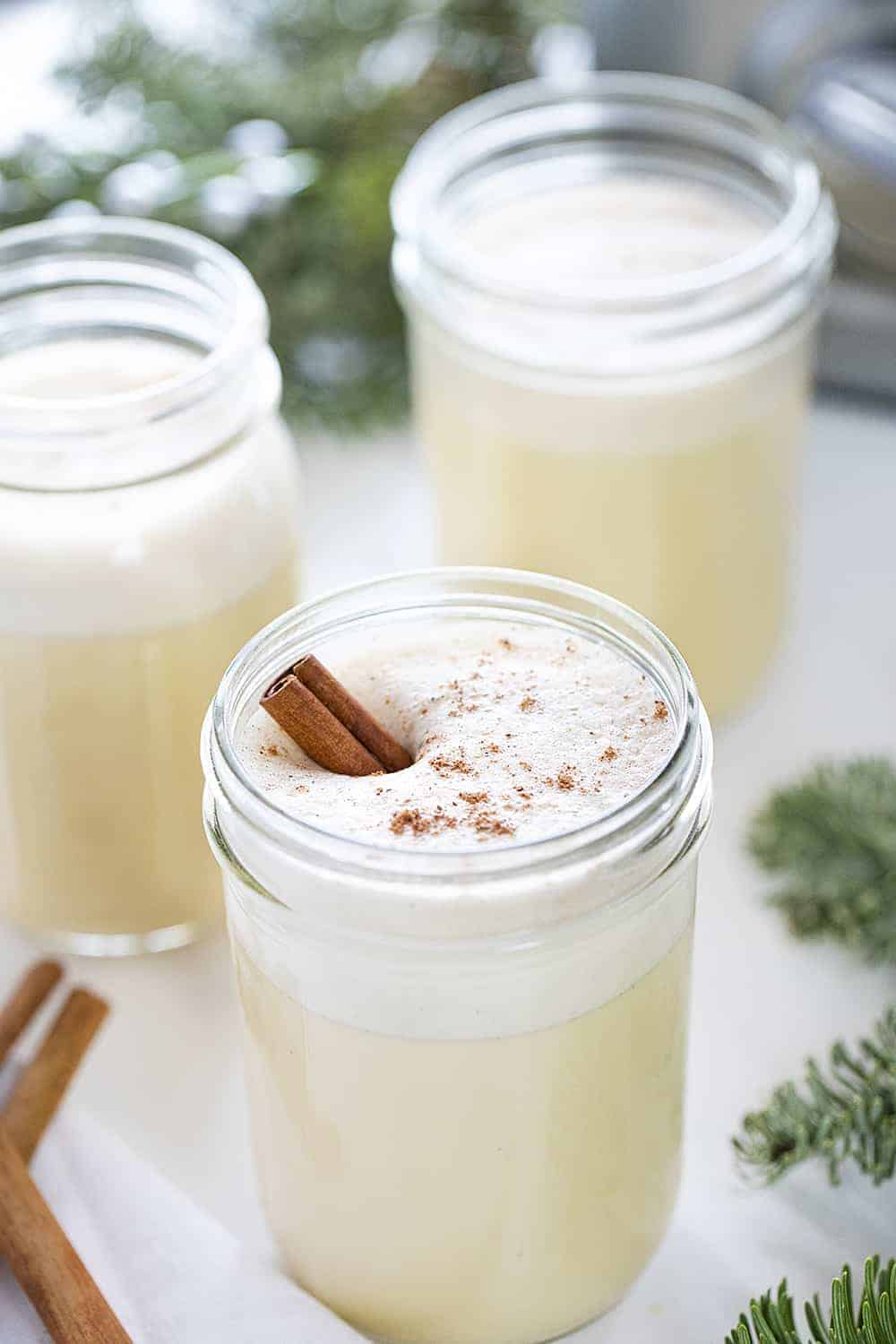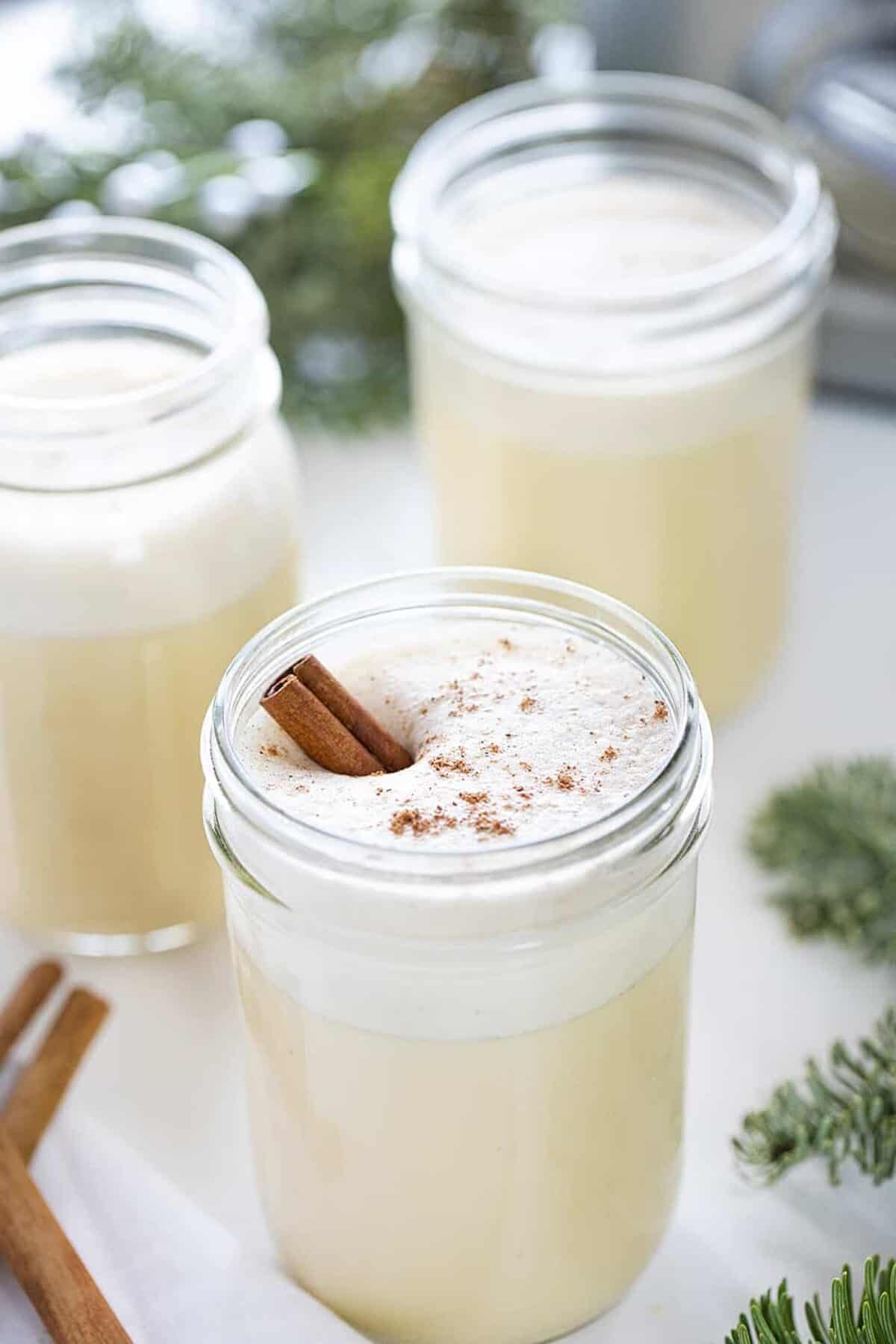 How to Make Blender Eggnog
There are two ways to make Blender Eggnog–with or without alcohol. There is a bit of tweaking to the recipe, depending on which way you make it. The only difference between the two is the amount of nutmeg in the recipe. If you are using the brandy, use 1 teaspoon nutmeg. If you are not adding brandy (or any alcohol) use only 1/2 teaspoon of nutmeg.
To make Blender Eggnog as written (meaning with the brandy), it's all about that KitchenAid Blender! Begin by whipping the eggs and sugar for about 4 minutes. If you don't trust me on the eggs cooking during this time, stick a thermometer in the blender (while it is OFF) and watch that temperature rise!
After it has blended for a bit you will notice a thick custard forming, add then the milk and nutmeg. Blend on medium for the first 3 minutes, followed by high for 2 additional minutes. If you are adding the brandy, add and blend for one more minute on medium power. Chill it for a few hours before serving. For an added holiday touch, throw in a cinnamon stick for garnish.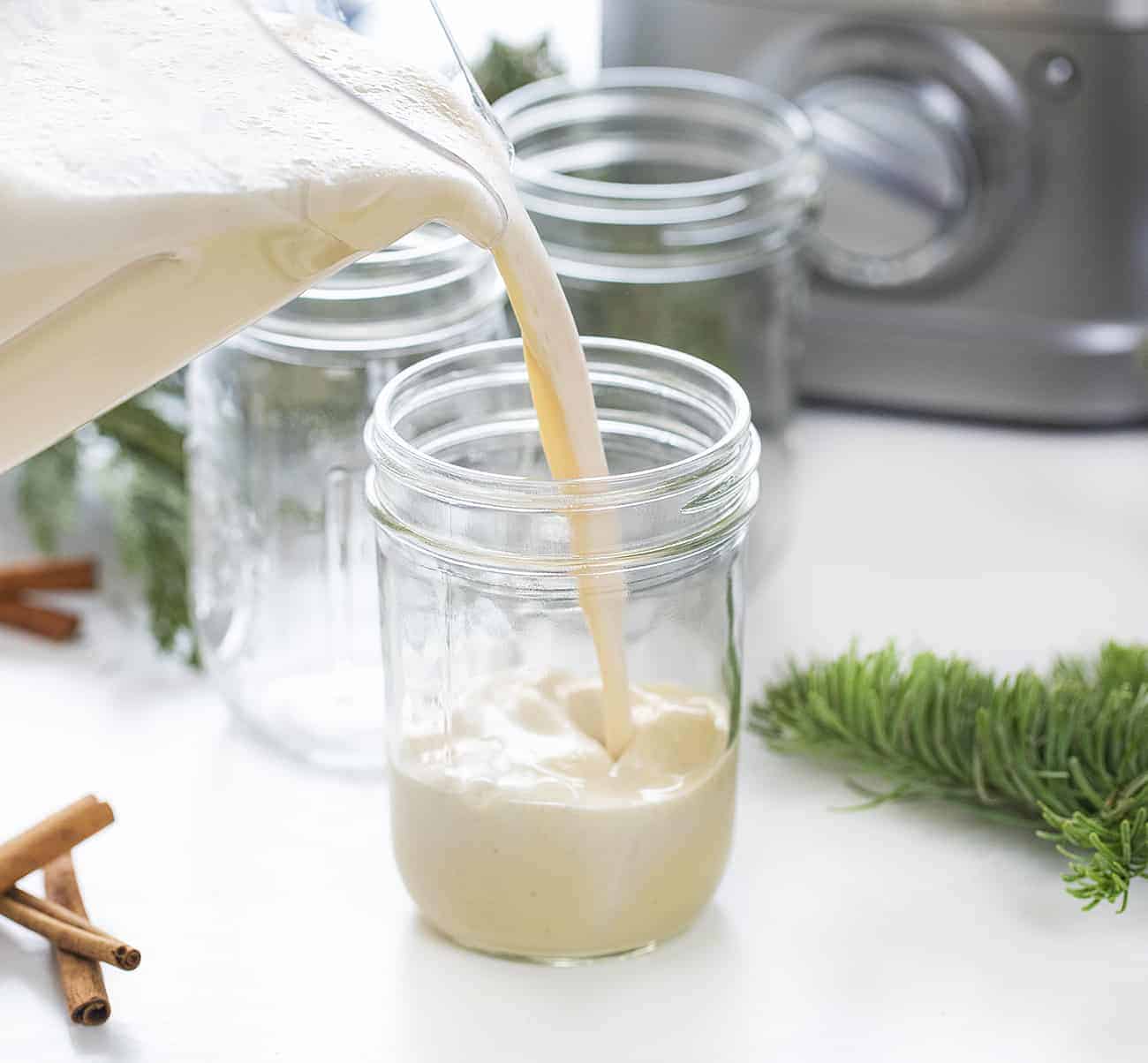 How Long will Blender Eggnog Last?
Typically, Blender Eggnog will last 2-3 days. For it to stay fresh, keep it stored in the back of the refrigerator, not in the door of the fridge. This way, the eggnog stays as cool as it can. (Store-bought eggnog lasts a few days longer than homemade.) It really comes to your senses whether or not your eggnog has gone bad. Obviously, if it smells bad or is lumpy, get rid of it! It's easy enough to make another batch of Blender Eggnog.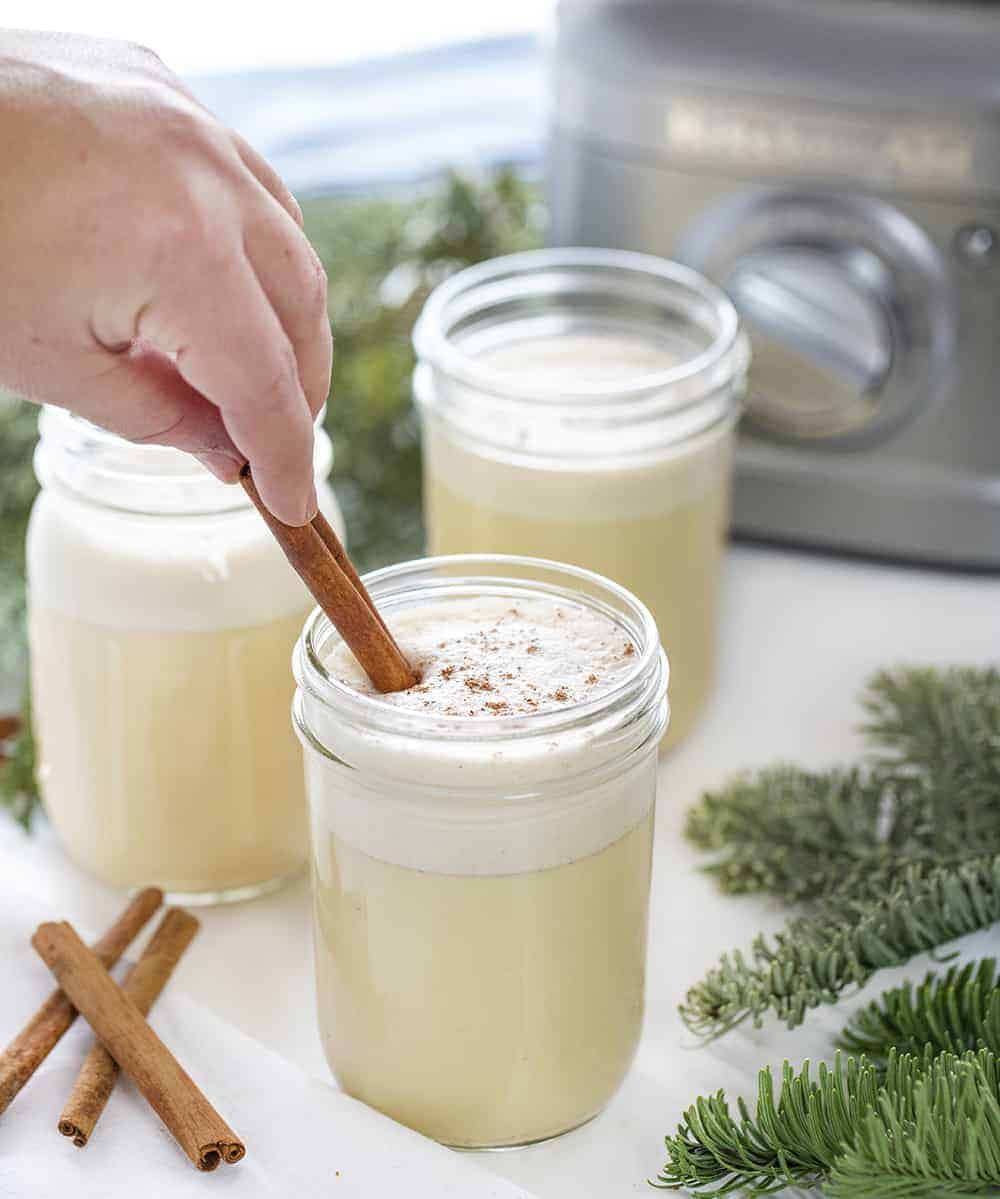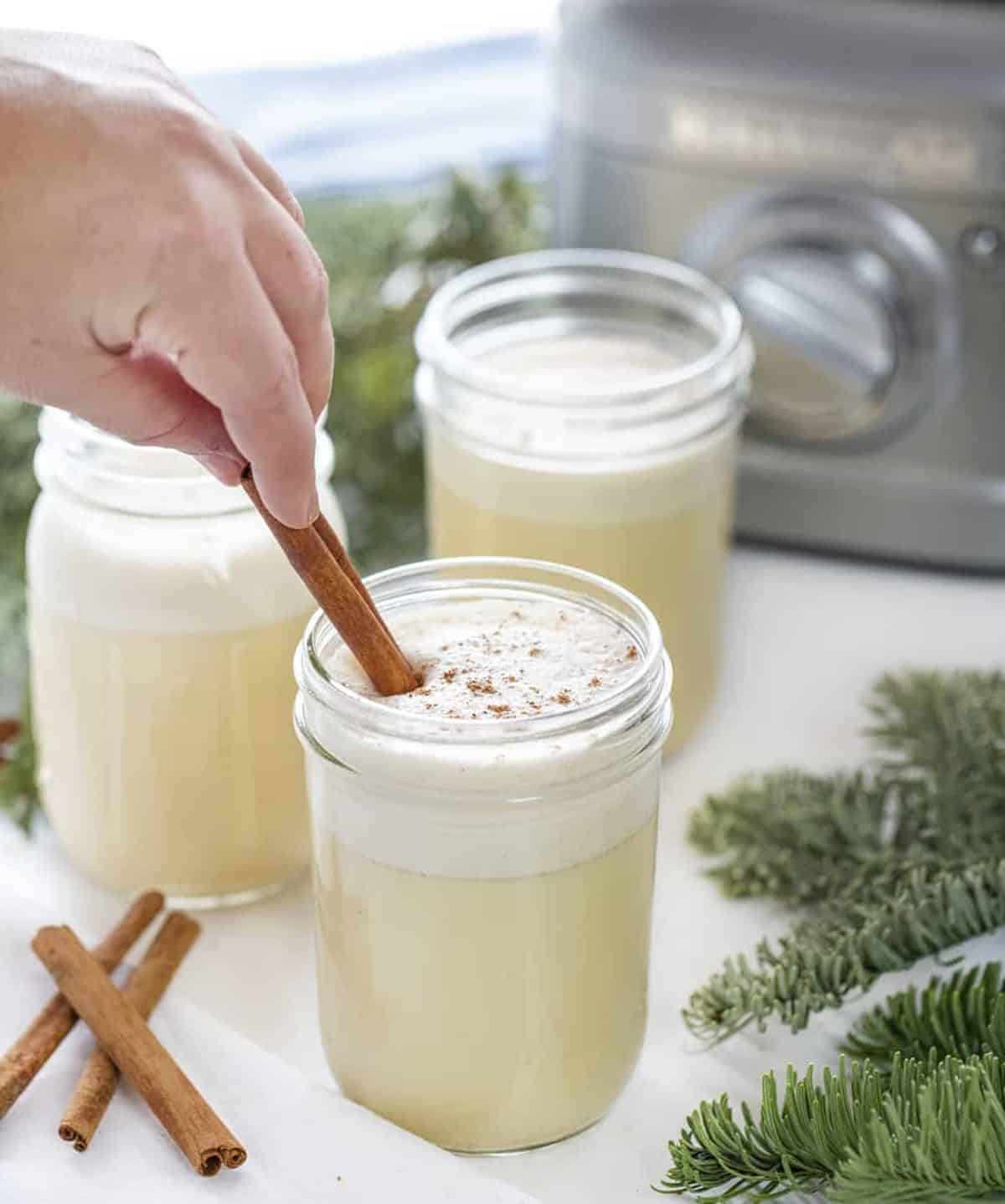 What Alcohol goes best with Eggnog?
I prefer brandy in this Blender Eggnog, but many people swear by rum or cognac. If you want more of a boozy eggnog, try adding bourbon to the recipe, which will offset the sweetness of the drink. I have also seen it made with whiskey and scotch. Finally, to really get into the holiday spirit (as if eggnog wasn't enough), add some peppermint schnapps to the mix! Cheers, and happy holidays!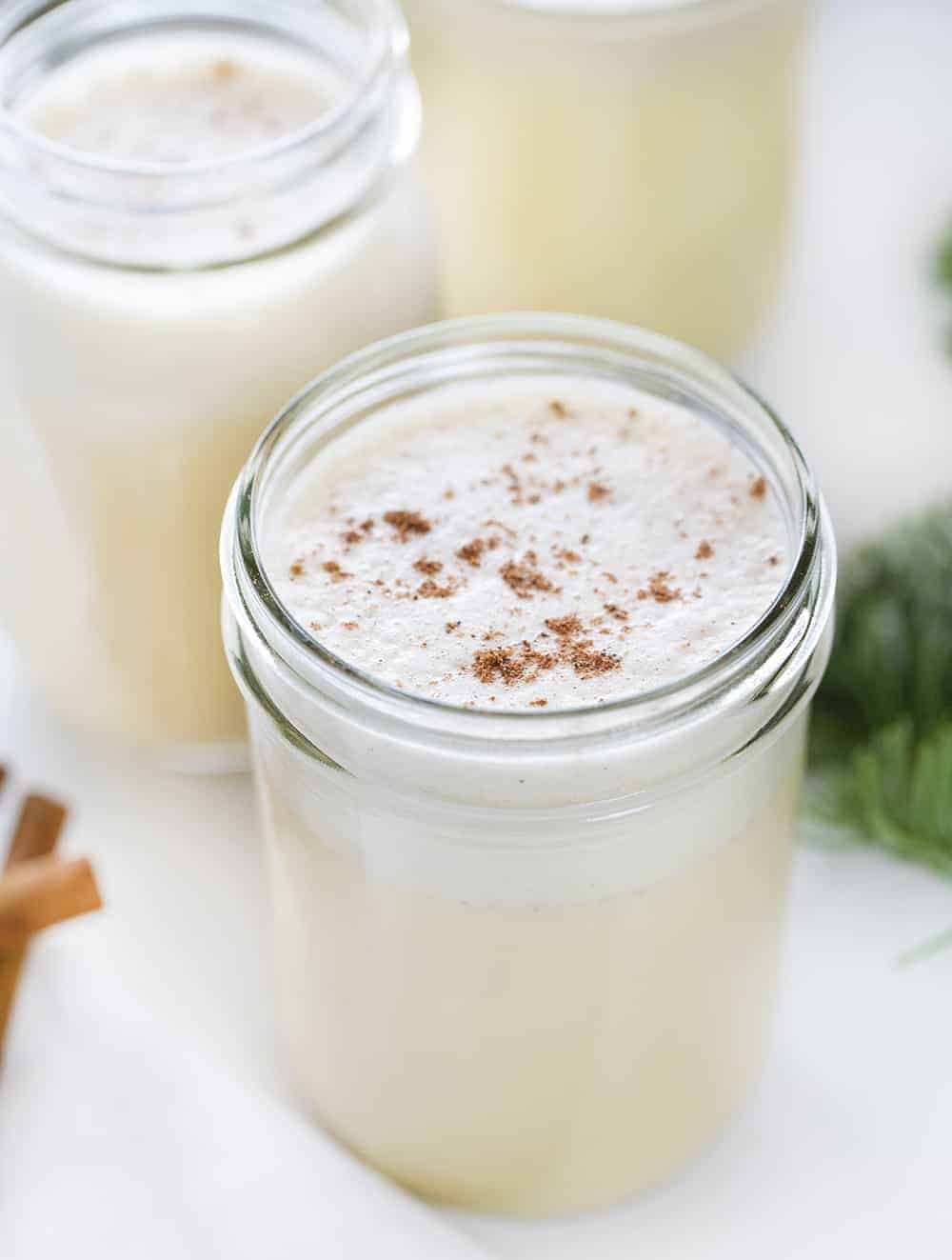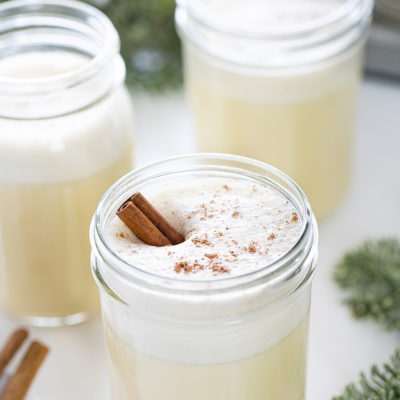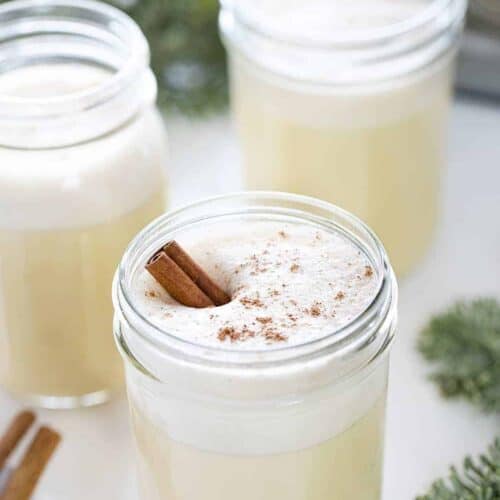 Blender Eggnog
Blender Eggnog is a smooth and creamy holiday drink with just the right amount of spice.
Ingredients
4

large

eggs

½

cup

(100 g) granulated sugar

4

cups

(1008 g) evaporated milk

1

teaspoon

ground nutmeg

1

stick

cinnamon,

for garnish

½

cup

brandy,

optional
Instructions
Whip the eggs and sugar in a high powdered blender until thick custard forms, about 4 minutes. (Make sure the eggs are very warm)

Pour milk and add nutmeg to the custard, blending on medium until well-mixed, about 3 minutes. Increase speed to high for 2 additional minutes.

If adding brandy, add it now and mix for an additional 1 minute at medium speed.

Chill the eggnog in the refrigerator for 4 hours before serving.
Did you make this recipe?
Thank you for making my recipe! You took pictures, right? Well go ahead and post them on Instagram! Be sure to mention me @iambaker and use the hashtag #YouAreBaker.