Eggnog Fudge is a no-fail fudge recipe that tastes just like an eggnog drink with added white chocolate for a creamy and dreamy treat! It's the perfect finger food to serve at your upcoming Christmas party! And, you can even use my homemade blender eggnog recipe or traditional eggnog recipe.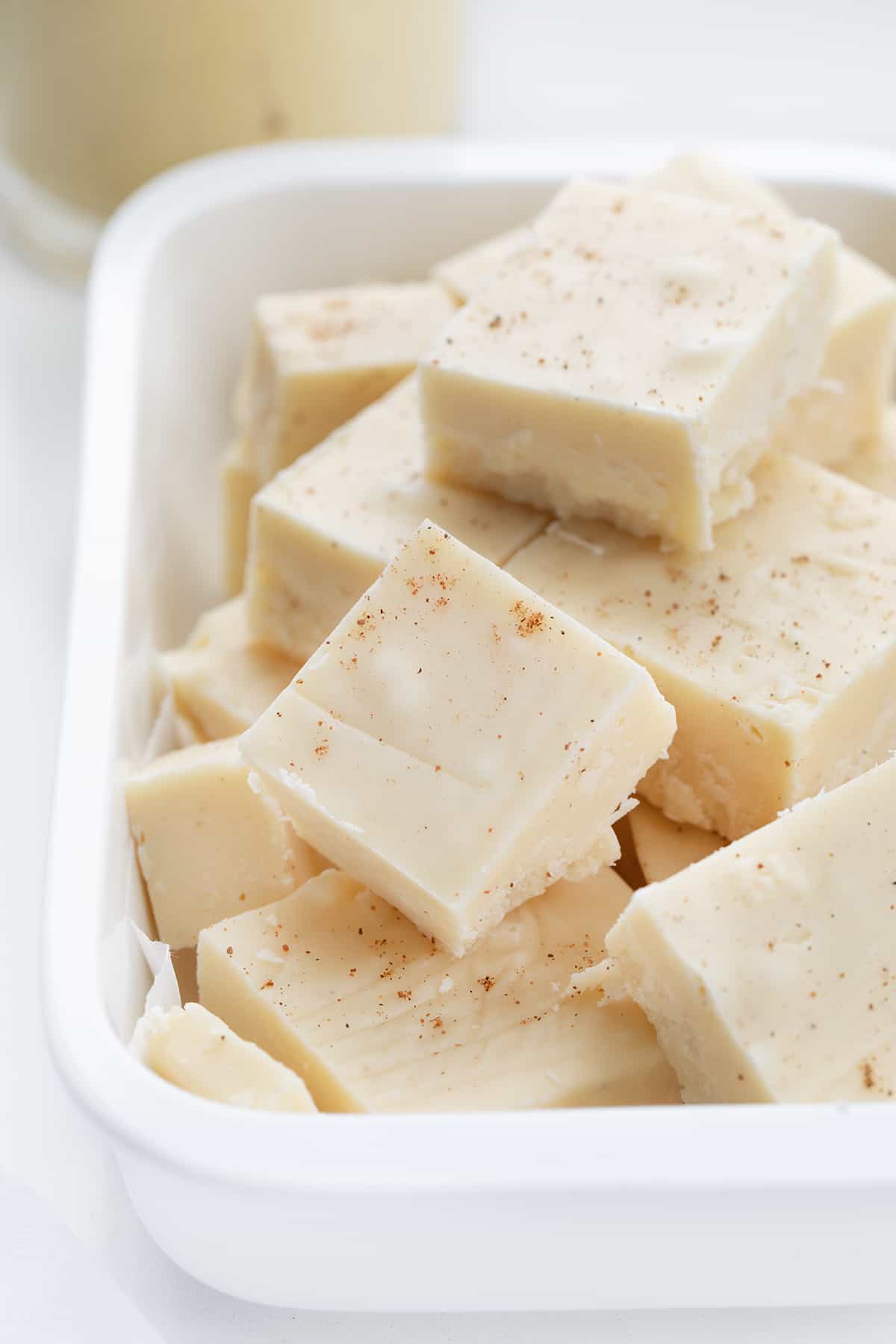 Eggnog Fudge
Once you see how easy this eggnog fudge recipe is, you will want to make other varieties! And, with eggnog as one of the main ingredients, it's a must for your New Year's Eve celebrations. In addition, with the popularity of Christmas dessert charcuterie boards, pieces of this fudge would be a perfect addition to the board! Try my Sugar Cookie Fudge for another treat perfect for the holidays!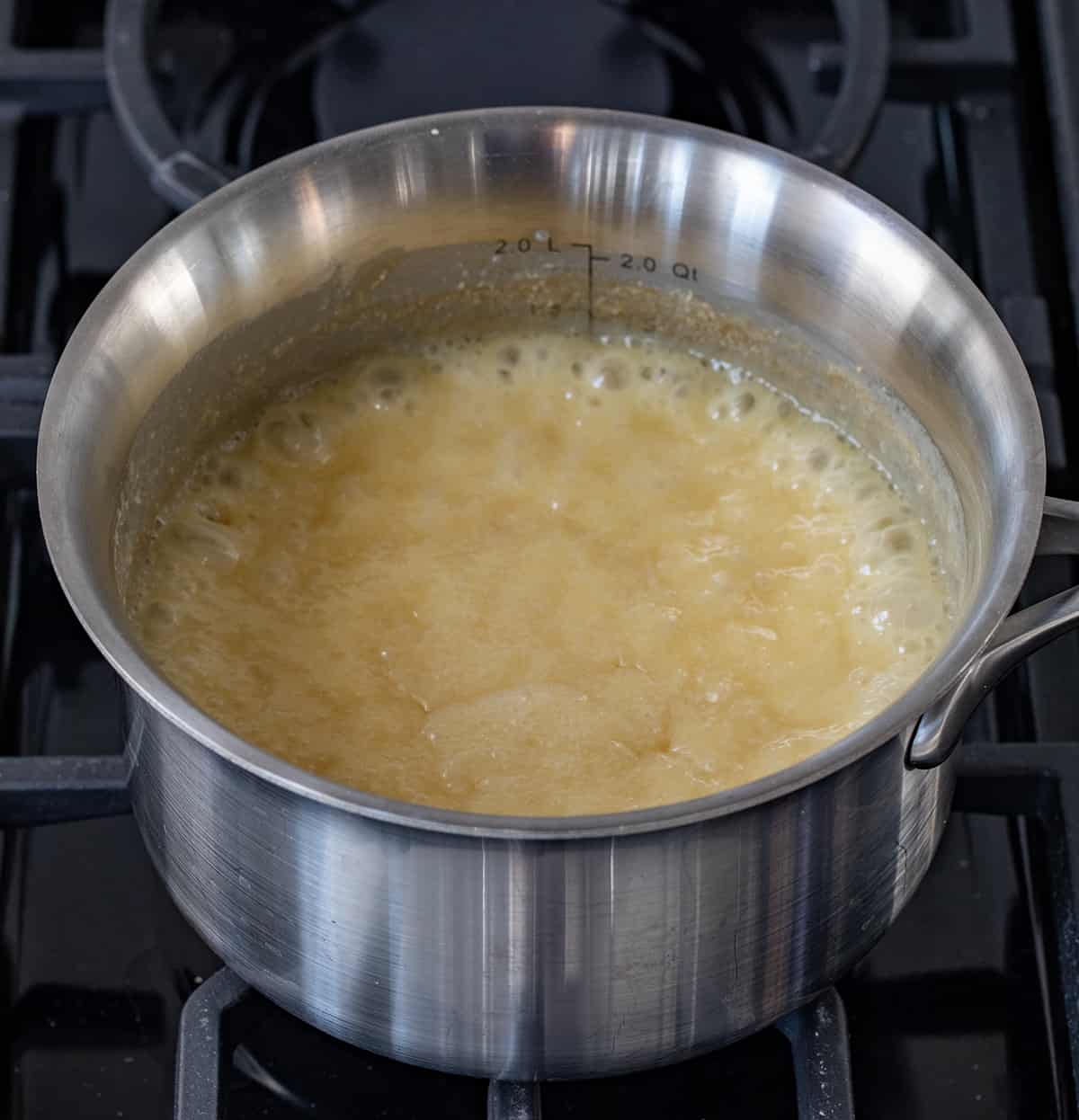 Ingredients & Substitutions
Eggnog: You could use homemade eggnog (my preference) or store-bought. In both cases, it is up to you if you add alcohol to the eggnog or not.
Rum Extract: If you don't have any rum extract on hand or are making this fudge completely alcohol-free, you could substitute vanilla extract. Or, just omit it from the recipe altogether.
Nutmeg: Nutmeg is a popular spice when it comes to holiday desserts. Add some to the fudge, as well as sprinkle a little on top of the fudge when ready to serve.
White Chocolate Chips: Look for high-quality white chocolate chips for best results. You could also use a bar of white chocolate, broken up into pieces.
Marshmallow Fluff: Marshmallow fluff, or marshmallow creme, helps make this fudge easy and a no-fail recipe. In fact, a recipe for fantasy fudge was originally on the back of a jar of Marshmallow Fluff. Make your own marshmallow creme if you don't have any on hand.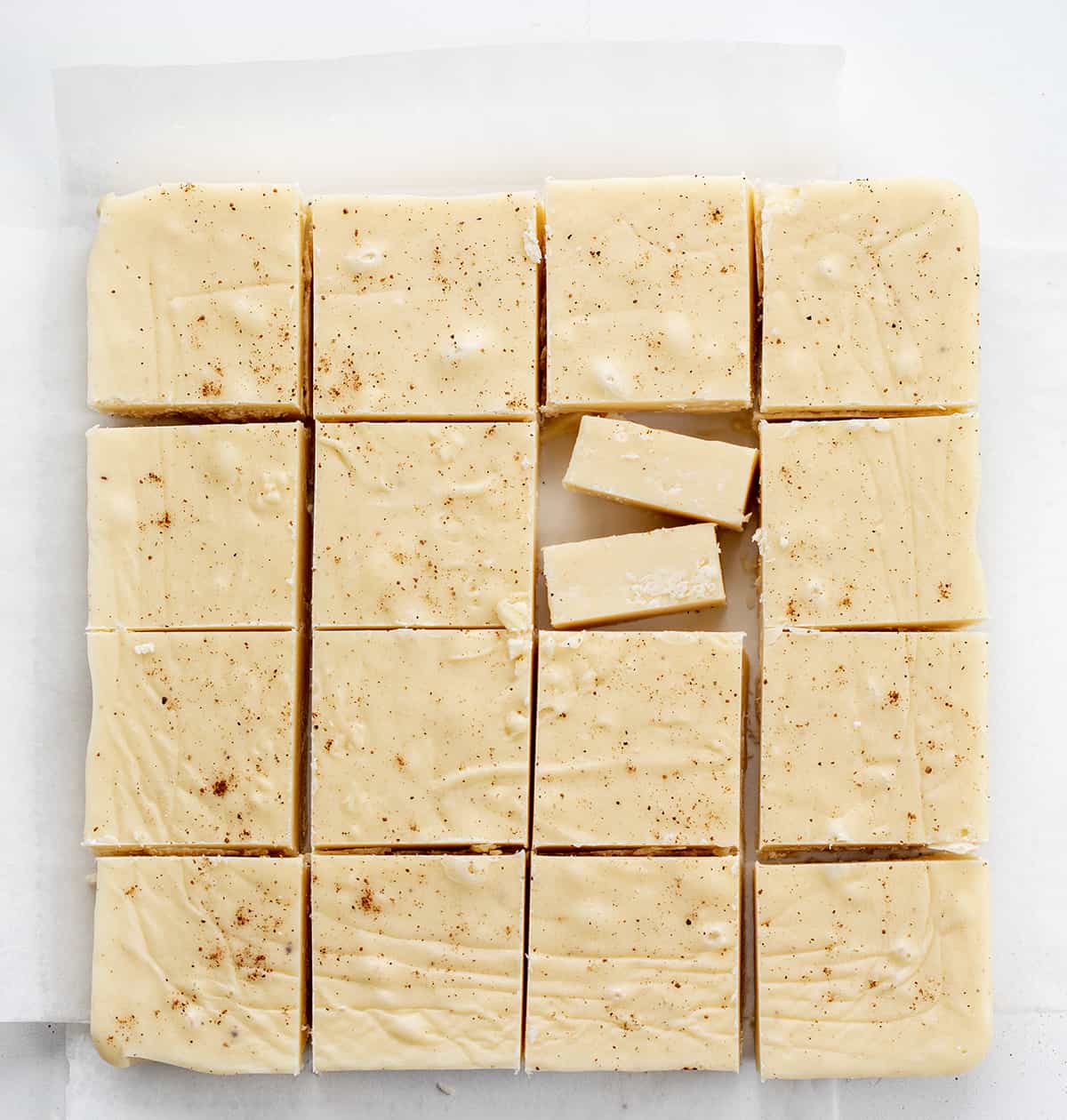 Can I Make this Without a Candy Thermometer?
If you are going to be making more fudge or sugary recipes, a candy thermometer can really save you from your fudge failing. However, you can still get this recipe made without one.
Heat the mixture as directed. While it's coming to a boil, set a medium-sized bowl of ice water and a small metal spoon (your everyday silverware spoon) next to the stove. When the mixture has been bubbling for a few minutes, do your first test.
Dip the spoon into the mixture and coat the tip. With one hand, dip the coated spoon immediately into the ice water and then grab the cooling sugar mixture with your other hand. Remove from the water and roll it around between your fingers and thumb and see what it feels like. If you're looking for the "soft-ball" stage, it should form a ball that holds together but still feels a little squishy and can be flattened when you press on it (like a gooey caramel).
This process will take a few tries at least, but you can see (and feel!) it moving through the stages to give you an indicator of how close you are. This is just a really fun science experiment in your kitchen!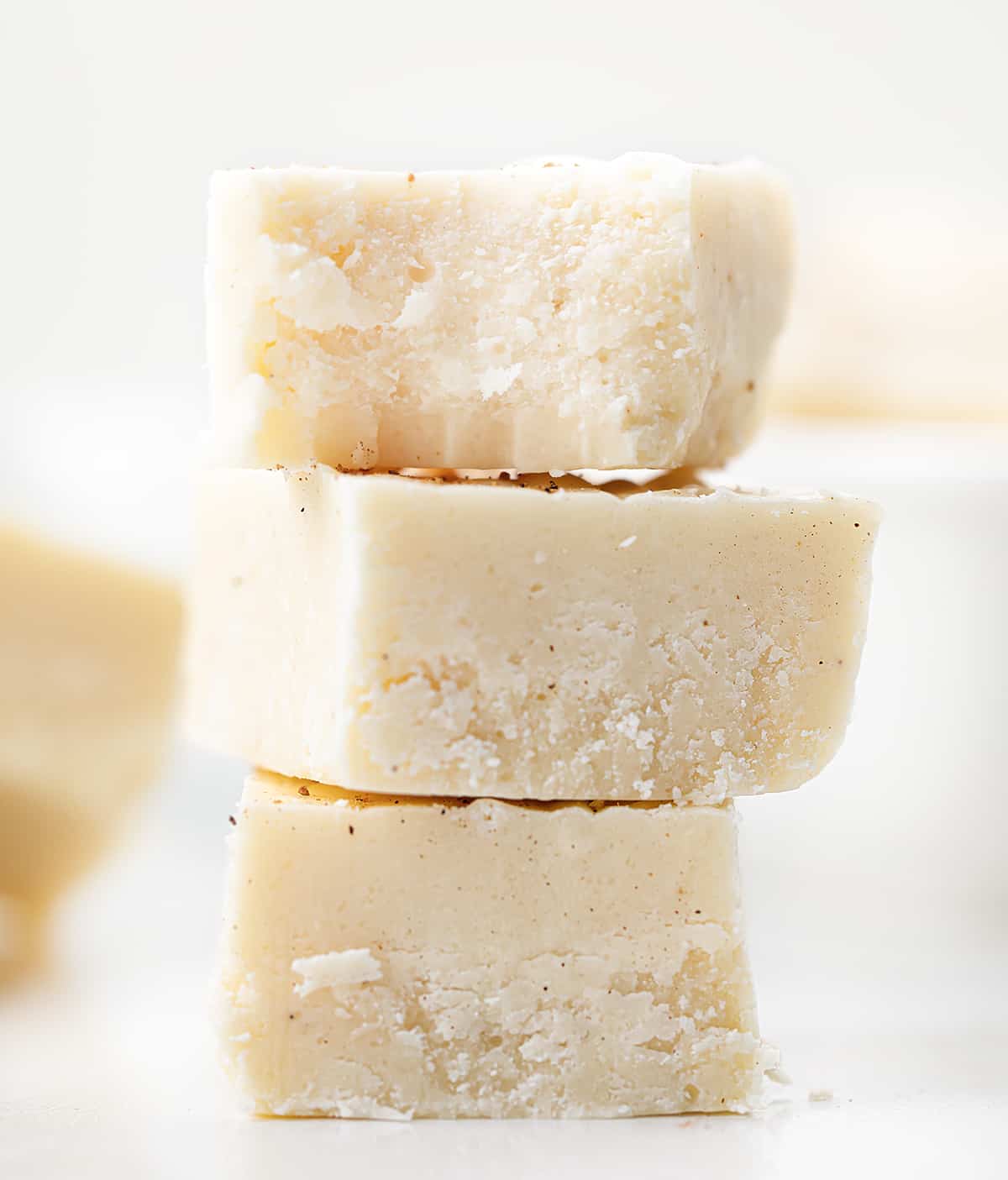 How to Store Eggnog Fudge
Eggnog Fudge should be stored, covered, in the refrigerator. It will last up to 5 days.
Can I Freeze Eggnog Fudge?
Yes! If you are not going to be able to enjoy the fudge within a few days, freeze it. To freeze the fudge, first, wrap it in plastic wrap. Then, store it in a freezer-safe container for up to 3 months. When ready to enjoy, let it thaw in the refrigerator.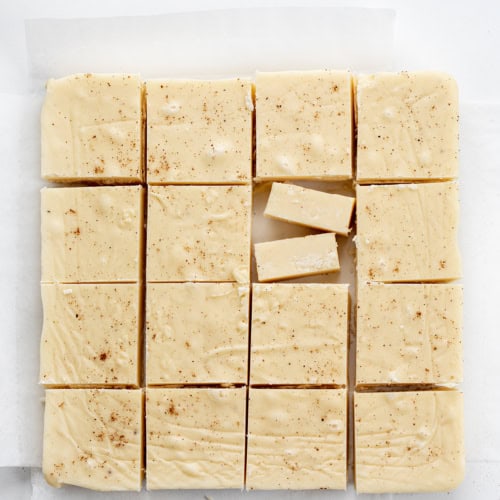 Eggnog Fudge
Eggnog Fudge is a no-fail fudge recipe that tastes just like an eggnog drink with added white chocolate for a creamy and dreamy treat!
Ingredients
3

cups

(600 g) granulated sugar

⅔

cup

(169 g) eggnog

2

tablespoons

heavy cream

1

teaspoon

rum extract

¼

teaspoon

ground nutmeg

1

package

(12 ounces) white chocolate chips

1

cup

(85 g) marshmallow fluff

ground nutmeg,

for dusting
Instructions
Line an 8×8-inch baking dish with parchment paper.

In a large, heavy saucepan over medium heat, add the sugar, butter, eggnog, and heavy cream.

Bring the mixture to a boil. Leave on heat, stirring constantly until the mixture reads 234°F-238°F on a candy thermometer (about 5 minutes).

Once the temperature reaches 234°F, remove from heat. Stir in the white chocolate chips, marshmallow fluff, rum extract, and nutmeg until smooth.

Pour the mixture into the prepared pan. Transfer the fudge to the refrigerator to chill for at least 2 hours before slicing and serving.
Did you make this recipe?
Thank you for making my recipe! You took pictures, right? Well go ahead and post them on Instagram! Be sure to mention me @iambaker and use the hashtag #YouAreBaker.