Blueberry Lemon Heaven Dessert is as easy as it is delicious. I made my own Angel Food Cake, but you can certainly by store-bought to save yourself time! Want the best desserts for your get-together? Try my Piggy Pie Dessert, Banana Split Fluff, or Peanut Butter Oreo Dessert!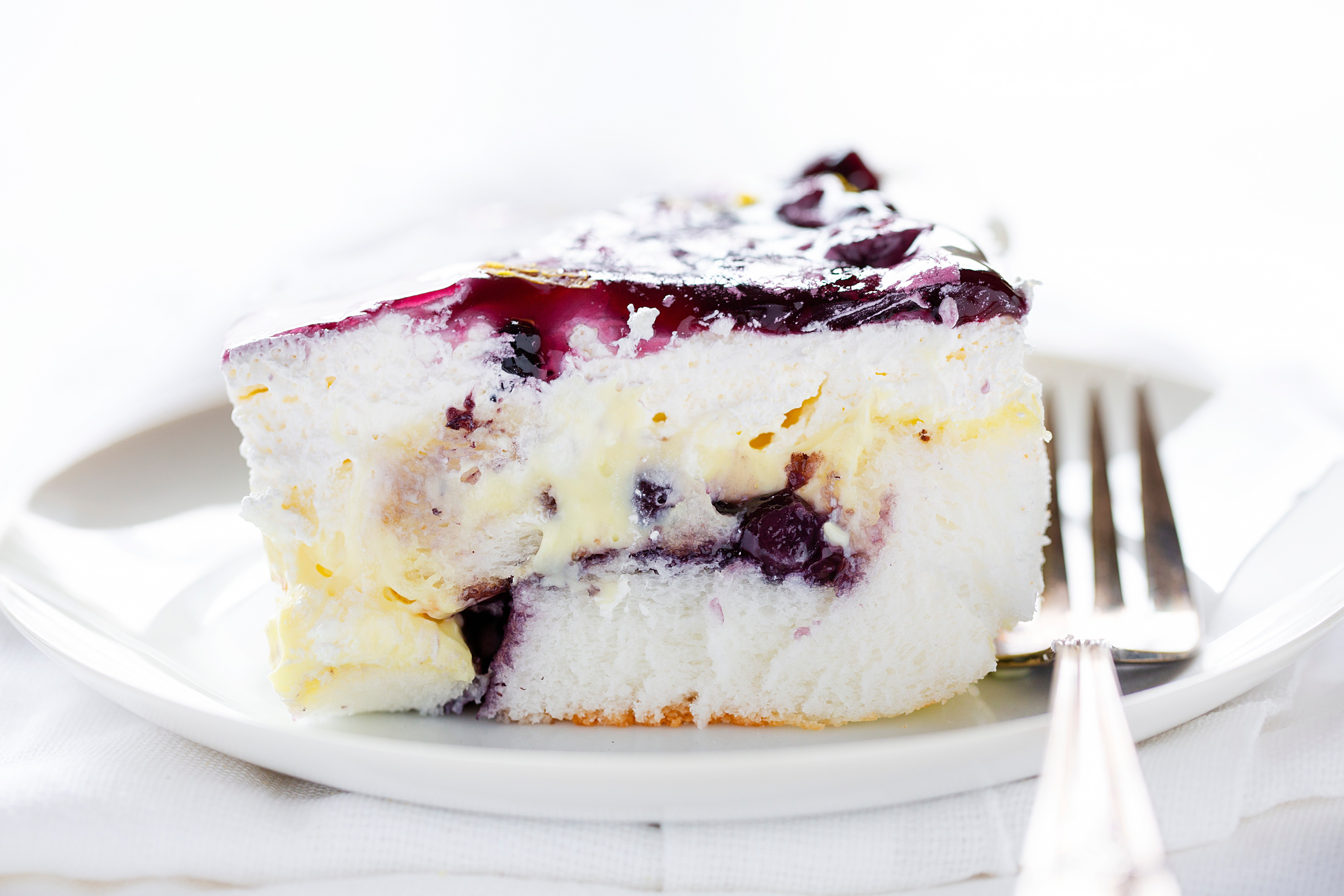 Blueberry Lemon Heaven Cake
Moving forward, any dessert that used angel food cake can call itself heaven. Can I get an amen? 😂This dessert couldn't be easier and tastes pretty darn good. I decided to show you step-by-step how I put it together, just in case you are a visual learner like me. 🙂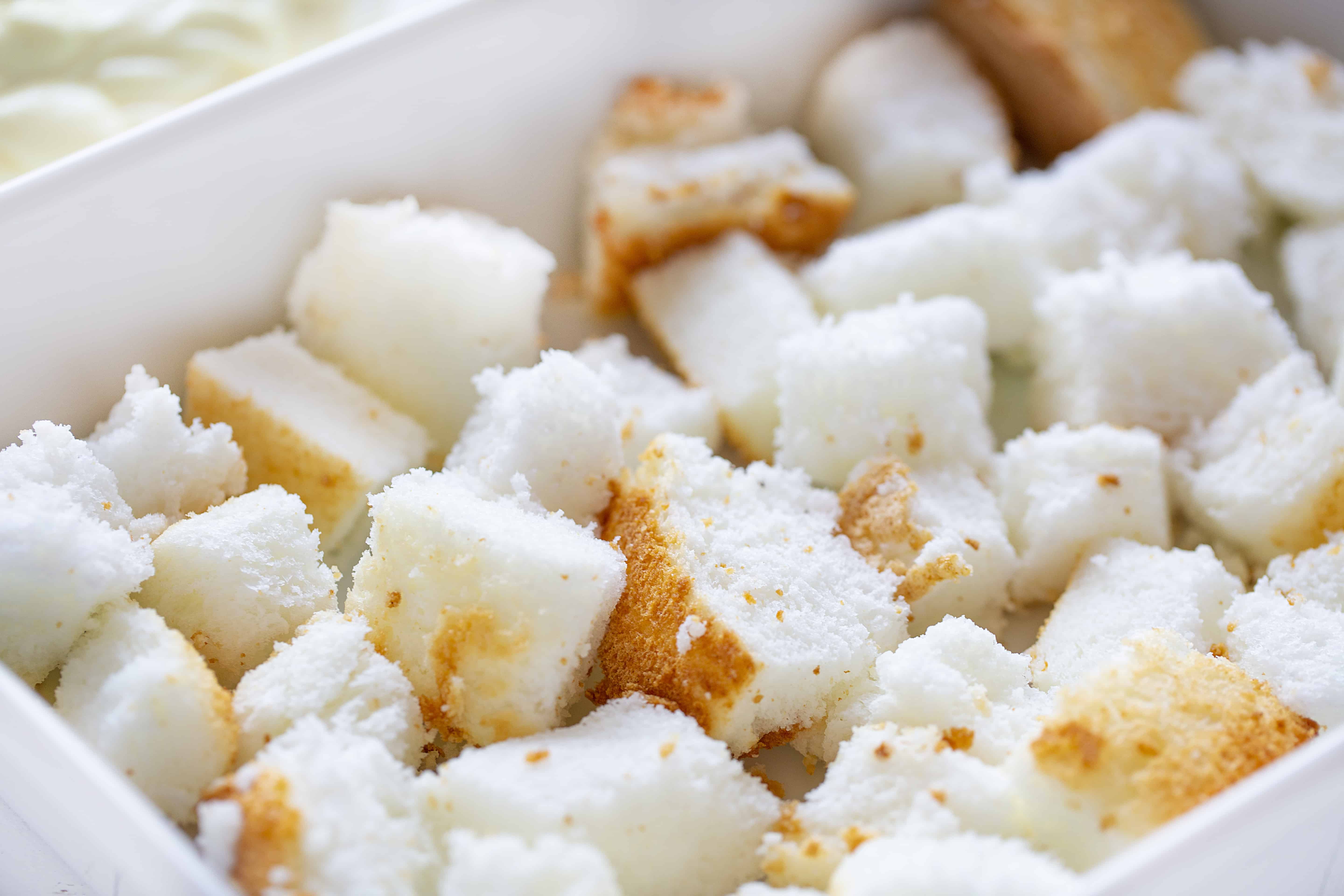 How to Make Blueberry Lemon Cake
Start by cutting up your angel food cake into cubes. This can get messy as those glorious crumbs like to stick to everything, so just take your time and try to cut uniform pieces. Prepare your lemon pudding, open a can of blueberry pie filling, and open a container of cool whip. You are halfway done at this point!
Place half the angel food cubes into a 9×13 casserole dish. No need to spray it with non-stick spray.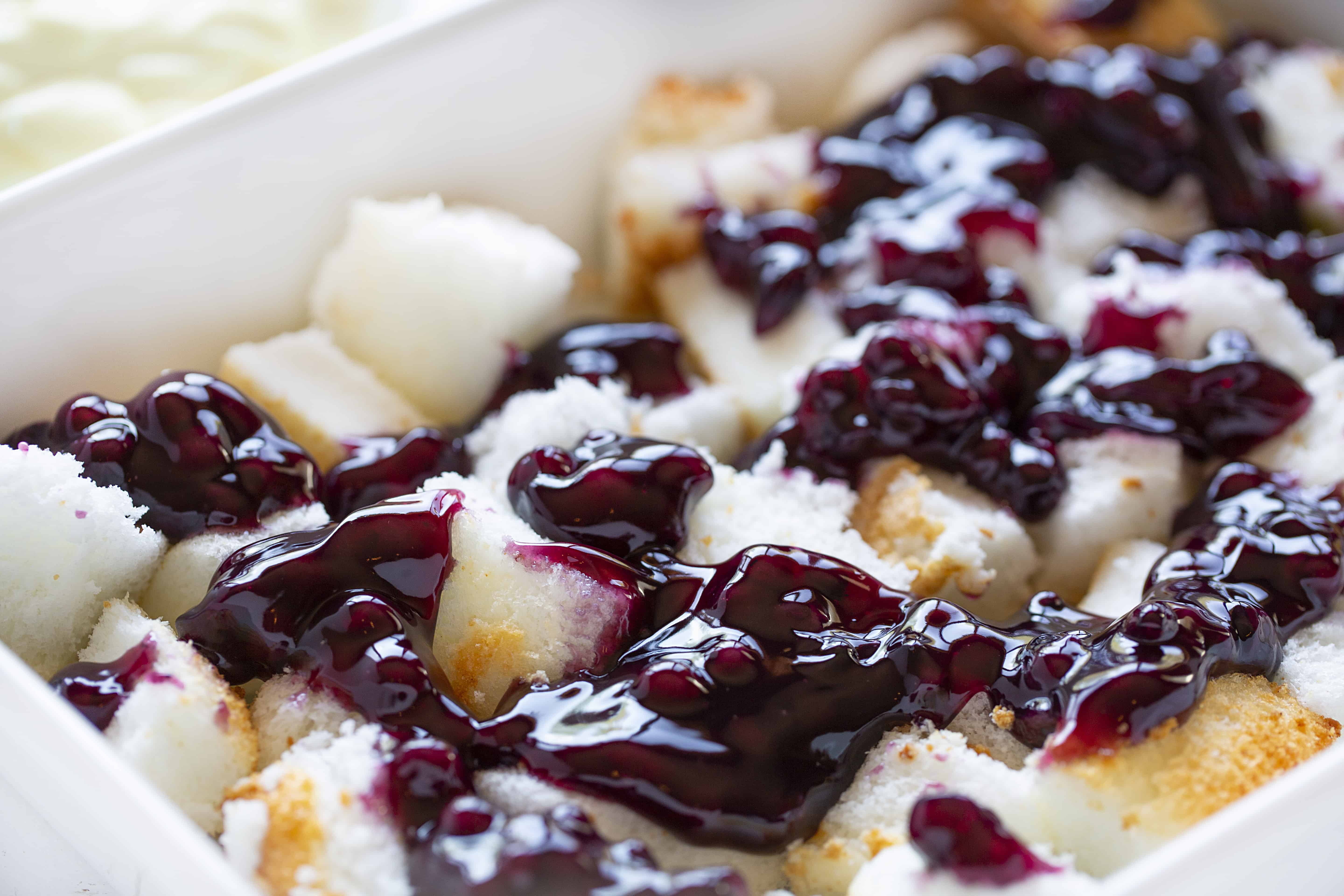 3. Now take half if your blueberry pie filling and drop dollops over the angel food cake cubes. Take a small offest spatula and spread out the blueberry pie filling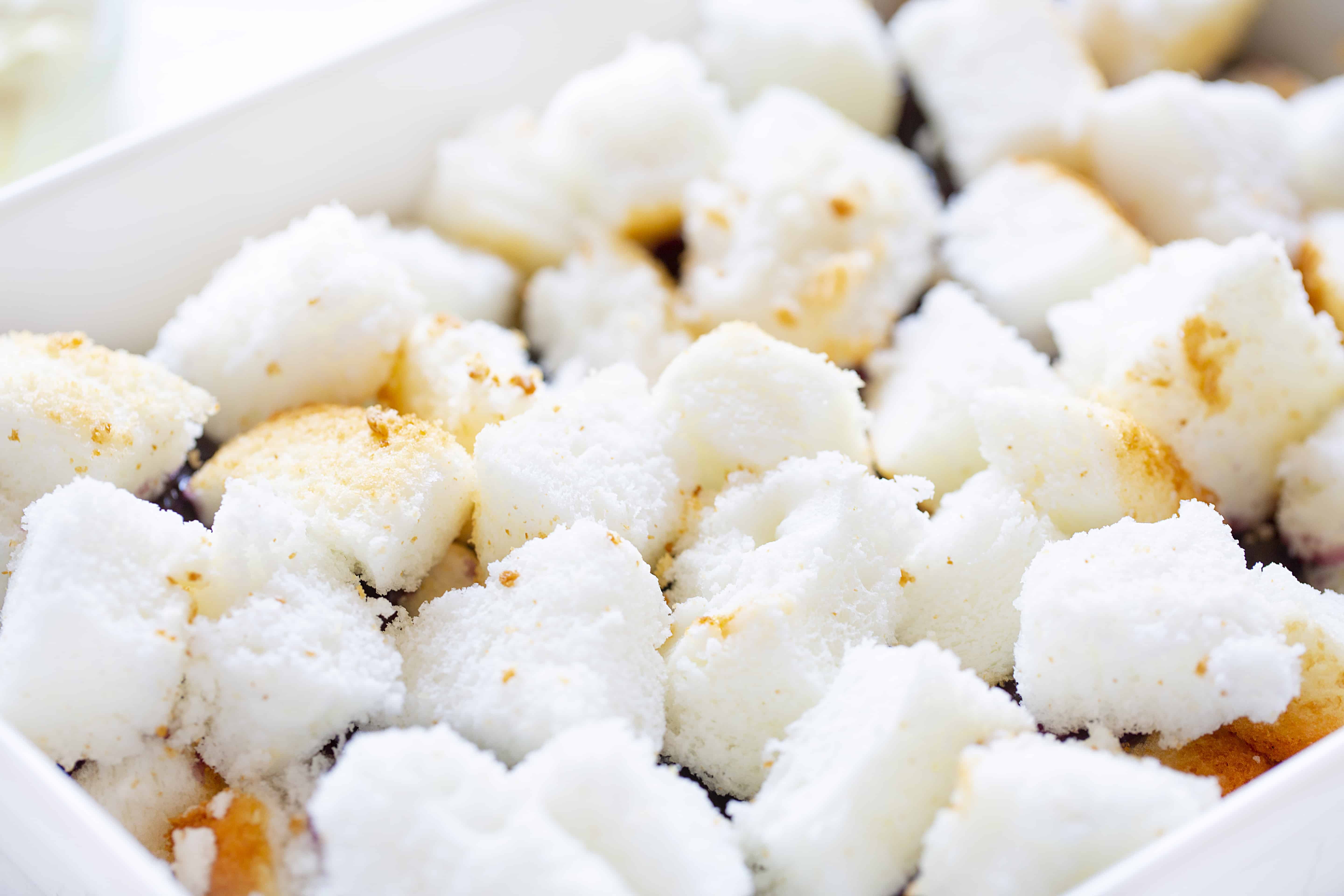 4. Place the remaining angel food cake cubes on top of the blueberry filling. Try to get an even layer.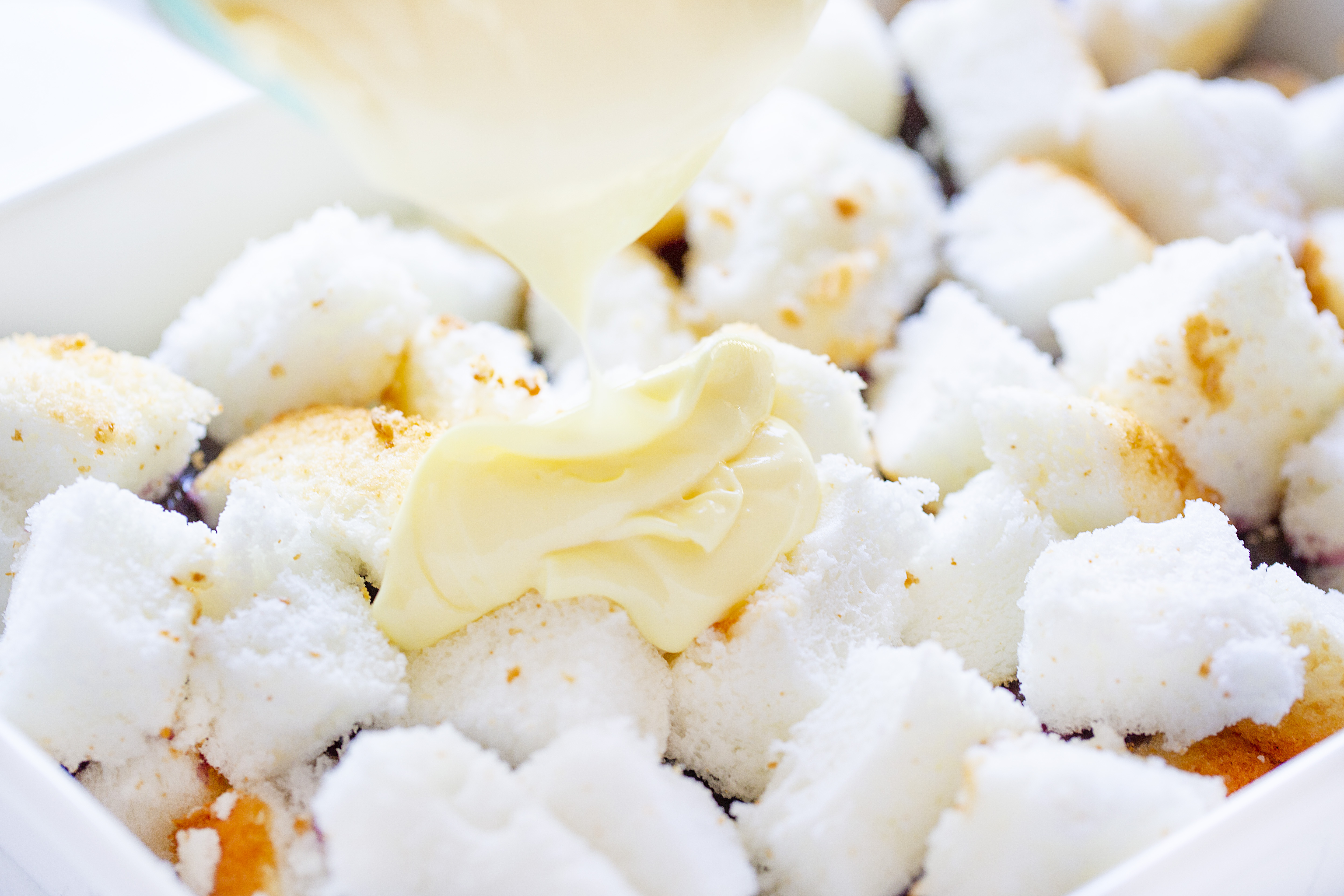 5. Spread the lemon pudding over top of the angel food cake.  Spread it out as evenly as you can with a small offset spatula.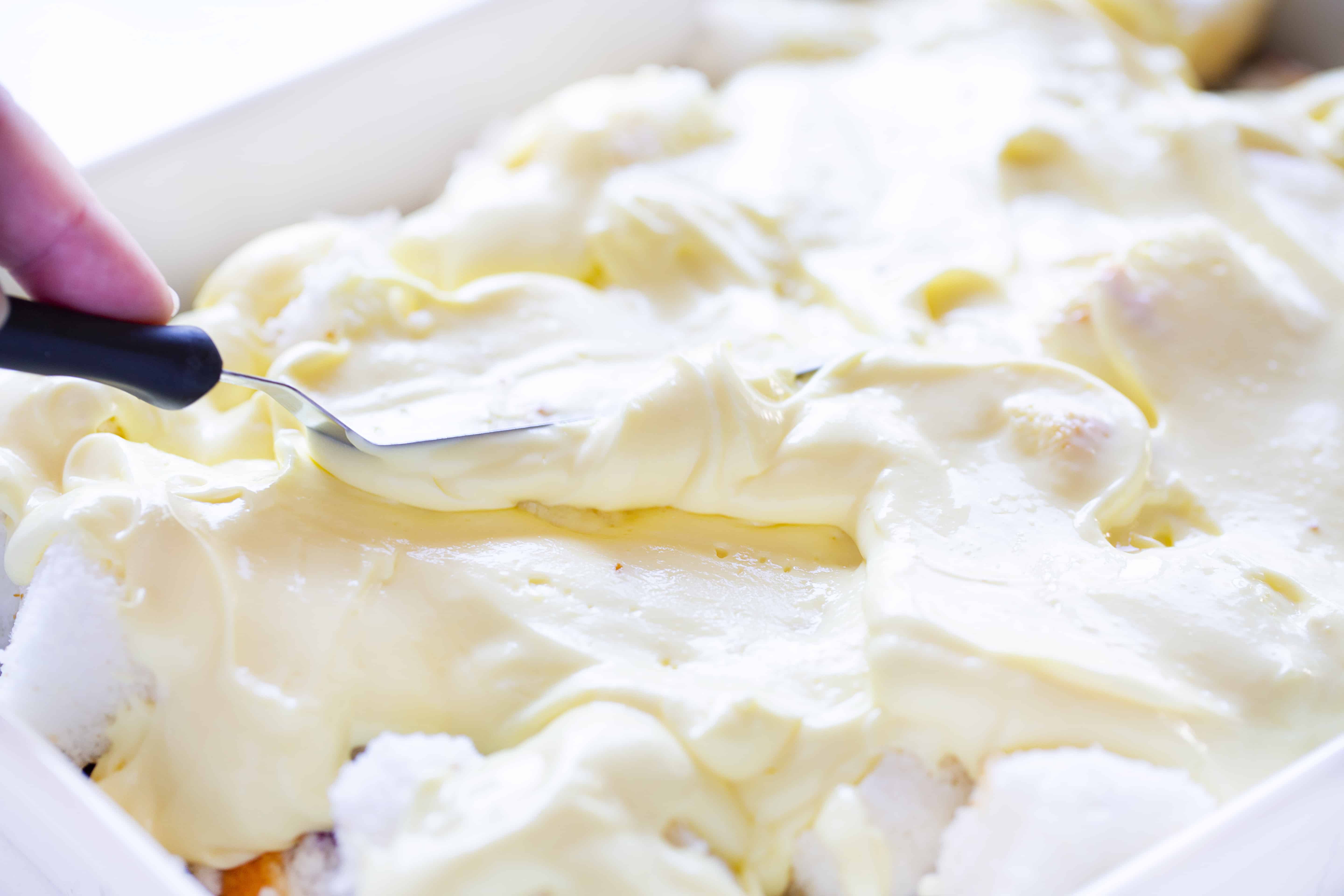 6. Now cover the pudding with the whipped topping. I did the "dollop" method again so that I could try and get an even layer as possible.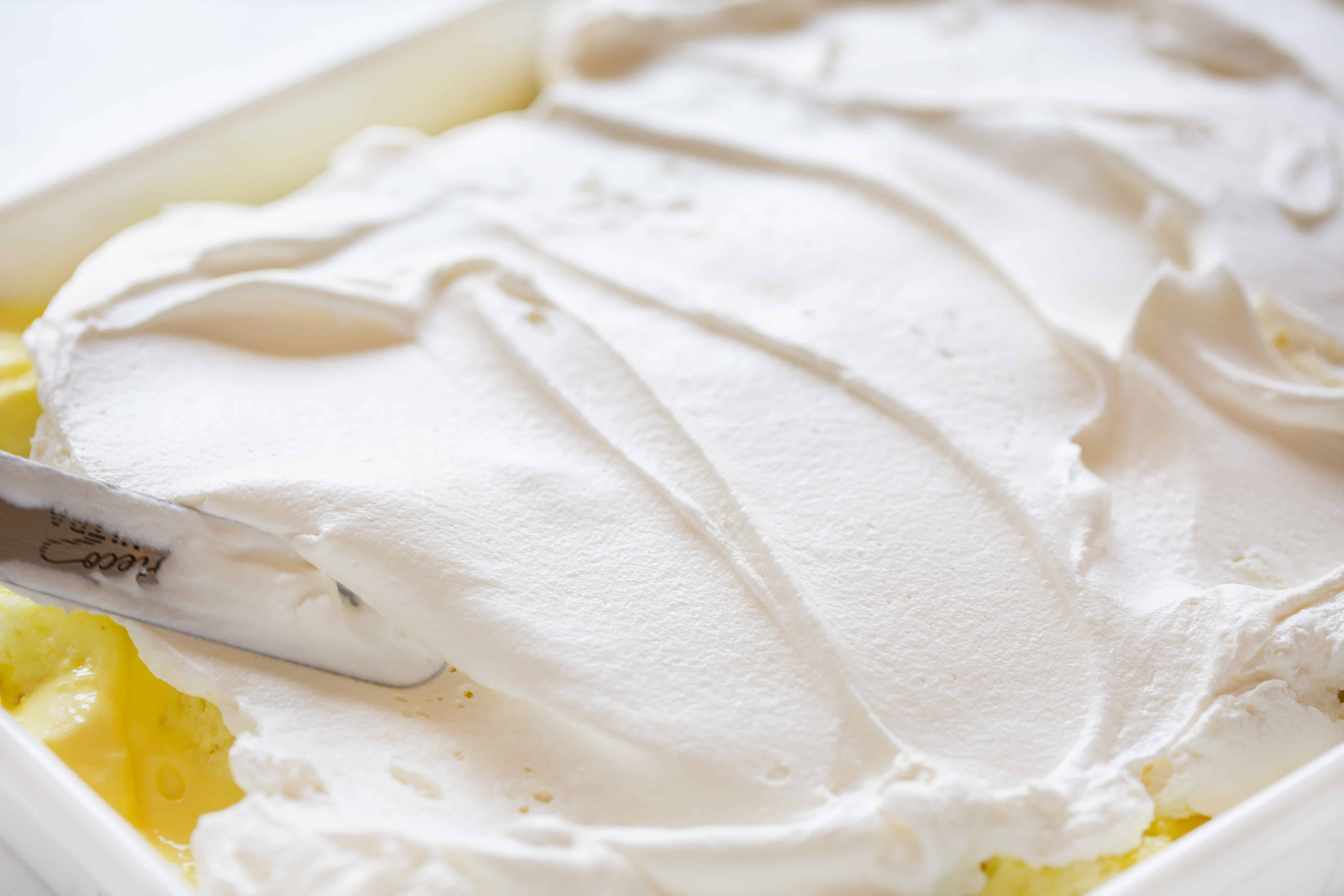 If you want to make a homemade whipped topping, feel free. However, when I am making a dessert with store-bought pudding mix and store-bought pie filling I find that the subtle beauty of a homemade whipped topping can get lost. So cool whip it is!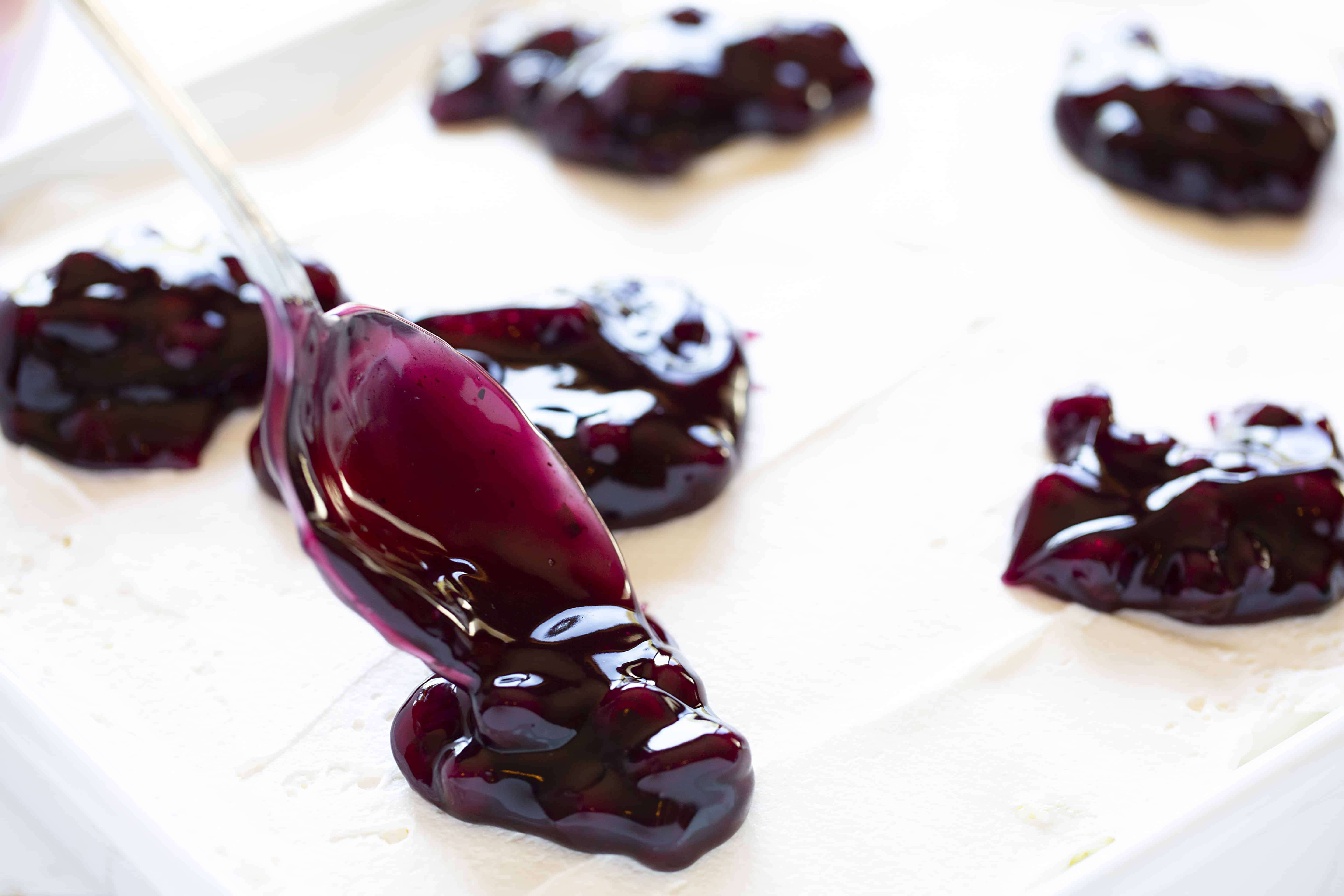 7. Take the remaining blueberry pie filling and make dollops on top of the whipped topping. Using your offset spatula again, spread it out as evenly as possible. Pop it into the fridge for a few hours and you are done!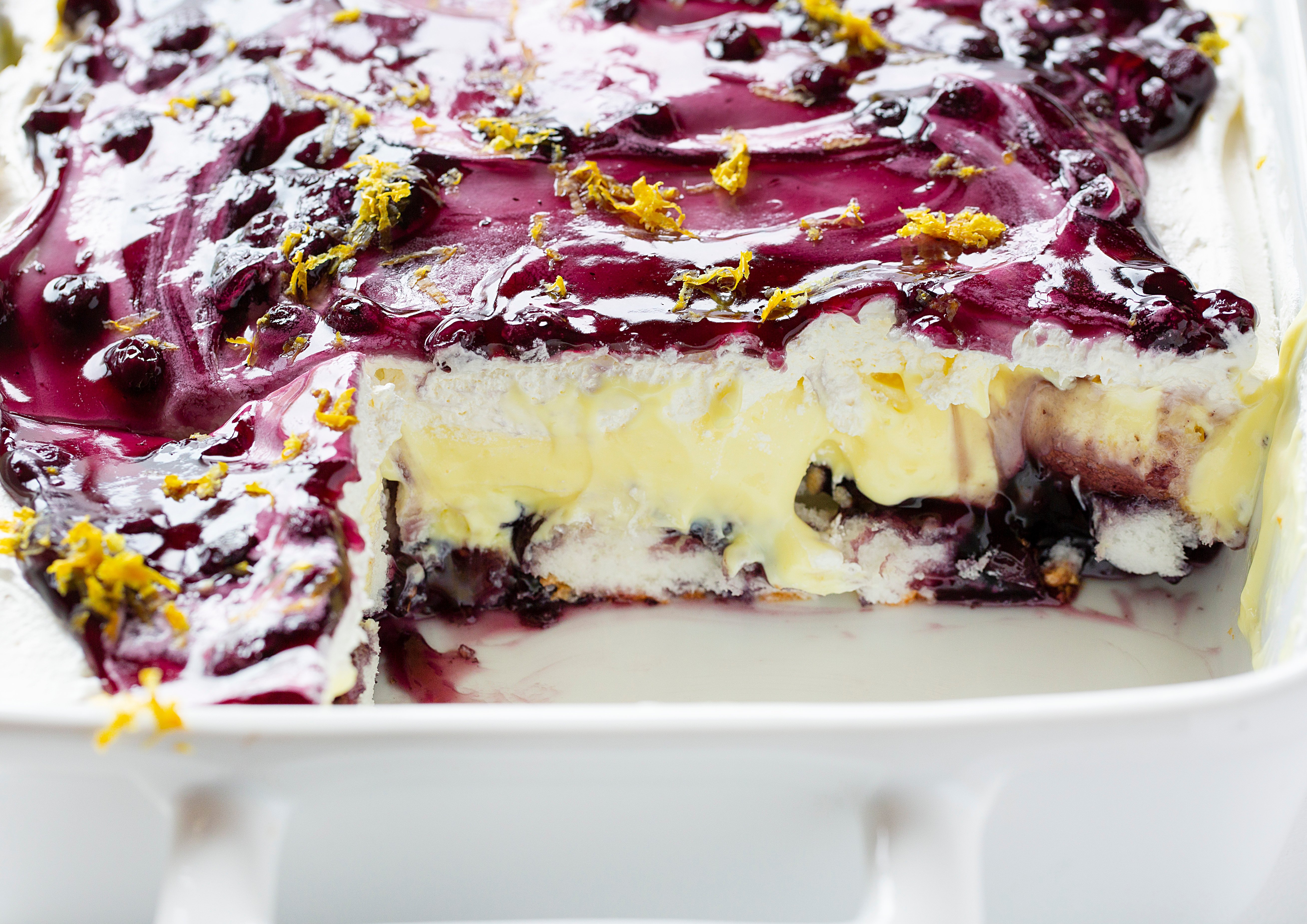 As you can see I added some fresh lemon zest to the top of the dessert. I didn't like the sharp citrus zing that it brought to this dessert, but my husband did, so I left it as an "optional" ingredient.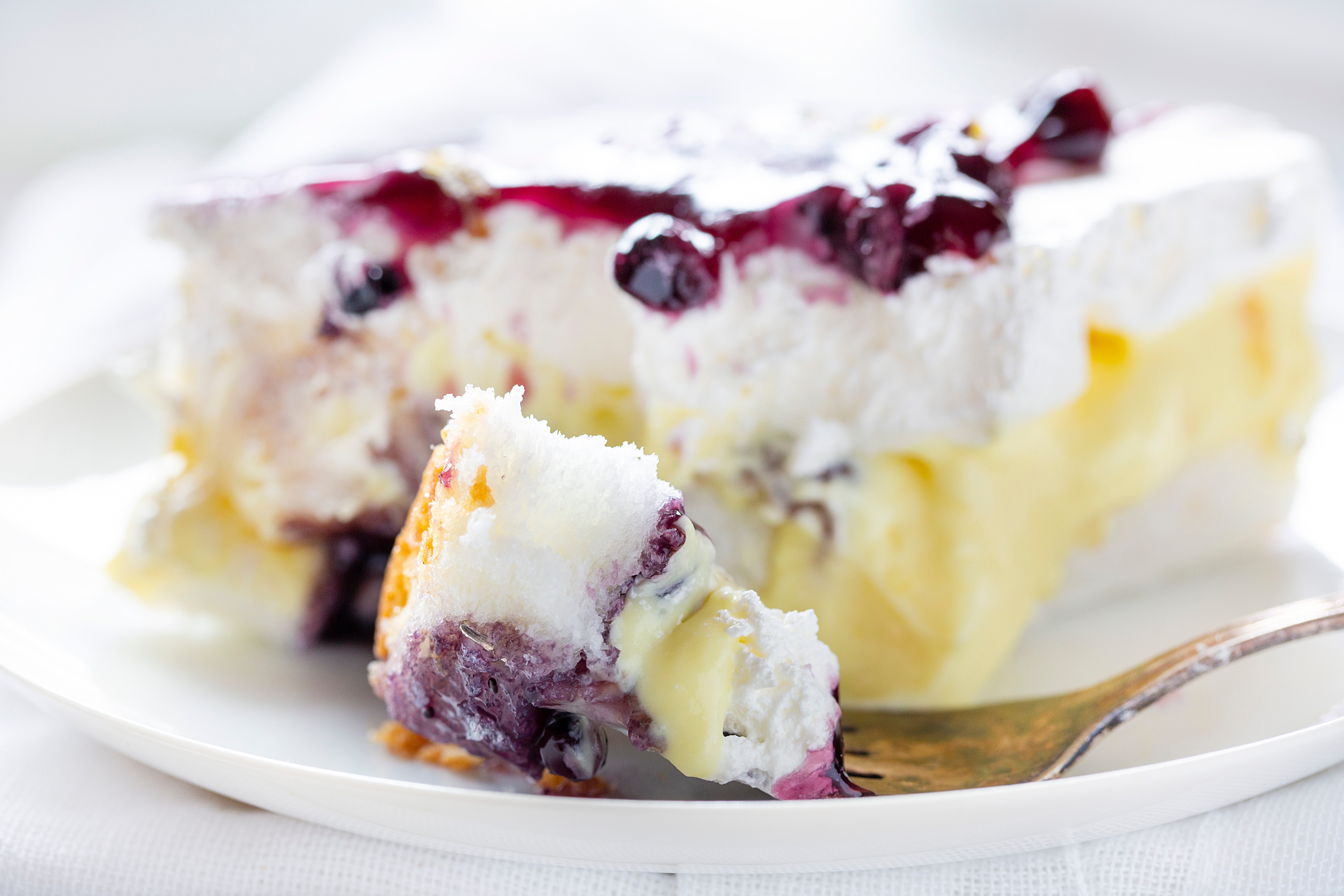 How to Blueberry Lemon Dessert Taste?
Just like you would imagine. 😂It's soft and creamy. It tastes like angel food cake in one bite, blueberry pie filling in the next, and lemon pudding in the next! If you love desserts with blueberry and lemon, you will definitely like this easy option.
More Amazing Dessert Recipes
Pistachio Fluff (Watergate Salad)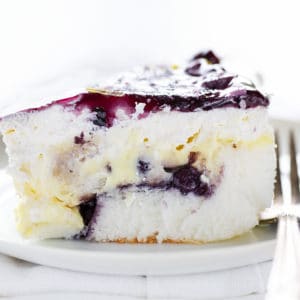 Lemon Blueberry Heaven Dessert
Keyword:
Lemon Blueberry Heaven Cake
Ingredients
1

whole

Angel food Cake

(Click the link in the Notes for from-scratch Angel Food Cake)
Lemon Pudding
1

package

(3.4 ounces) instant lemon pudding

1 1/2

cups

milk

1

cup

sour cream
Toppings
1

can

(21 ounces) blueberry pie filling

8

ounces

whipped topping,

such as Cool Whip

Lemon Zest,

optional (for garnish)
Instructions
Cut angel food cake into cubes. (This was by far the most time consuming part of the entire recipe. Take your time and use a good serrated knife!)

Lemon Pudding
In a large bowl combine lemon pudding, milk, and sour cream. Using a hand-held mixer, beat on medium-high for 2 minutes. Set aside.

Assemble the Dessert
In a 9x13 baking dish, arrange 1/2 of the angel food cake cubes in a layer.

Drop half of the blueberry pie filling over top of the angel food cake cubes.

Cover the blueberry filling with the remaining angel food cake.


Spoon lemon pudding over cake and spread evenly.


Drop with whipped topping in dollops over pudding layer. Using an offset spatula, spread into an even layer.

Carefully spread the remaining blueberry pie filling over the whipped topping.

Garnish with lemon zest. (optional)

Place in the refrigerator for 3-4 hours. Serve cold.