Love chocolate and brownies? These just might be your new favorite cookie! Packed with brownies (literally) and loaded with mini chocolate chips, these cookies are a wonderful chocolate overload! Next time be sure to try another of my cookie recipes and my homemade brownies recipe!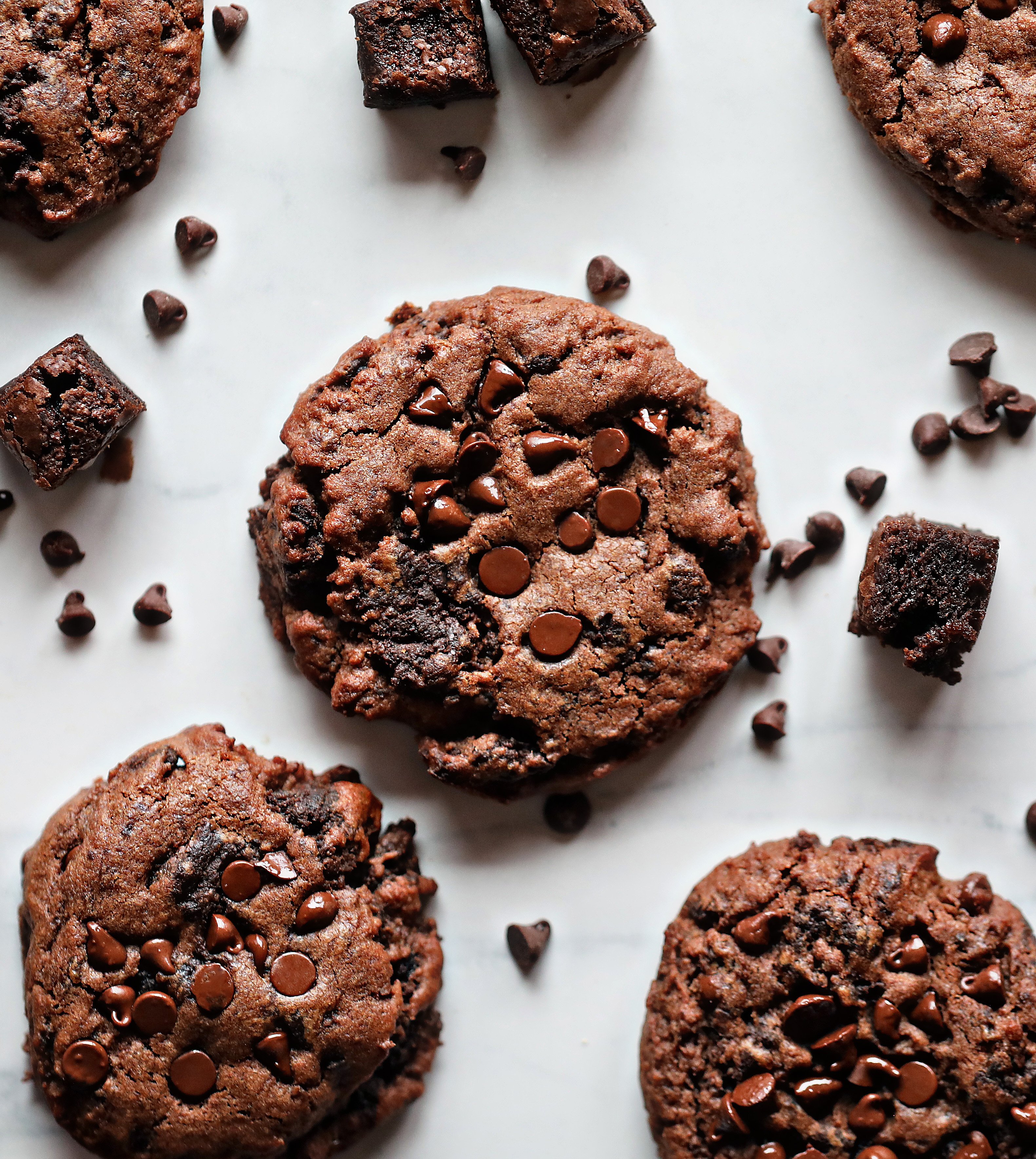 Brownie Cookies
I went a different route than a 'traditional' brownie cookie (have they been around long enough to be traditional? ha!) and actually added brownies right into the batter of a chocolate cookie. The inspiration came from an ice cream I was enjoying while Netflix binging one evening. I loved the texture of the soft brownie bites as well as the flavor punch they added. So why not attempt the same thing with a chocolate cookie?
The end result is pretty amazing. The chewy bits of brownie are the perfect addition to cookies and I fully plan on adding them to many more recipes in the future!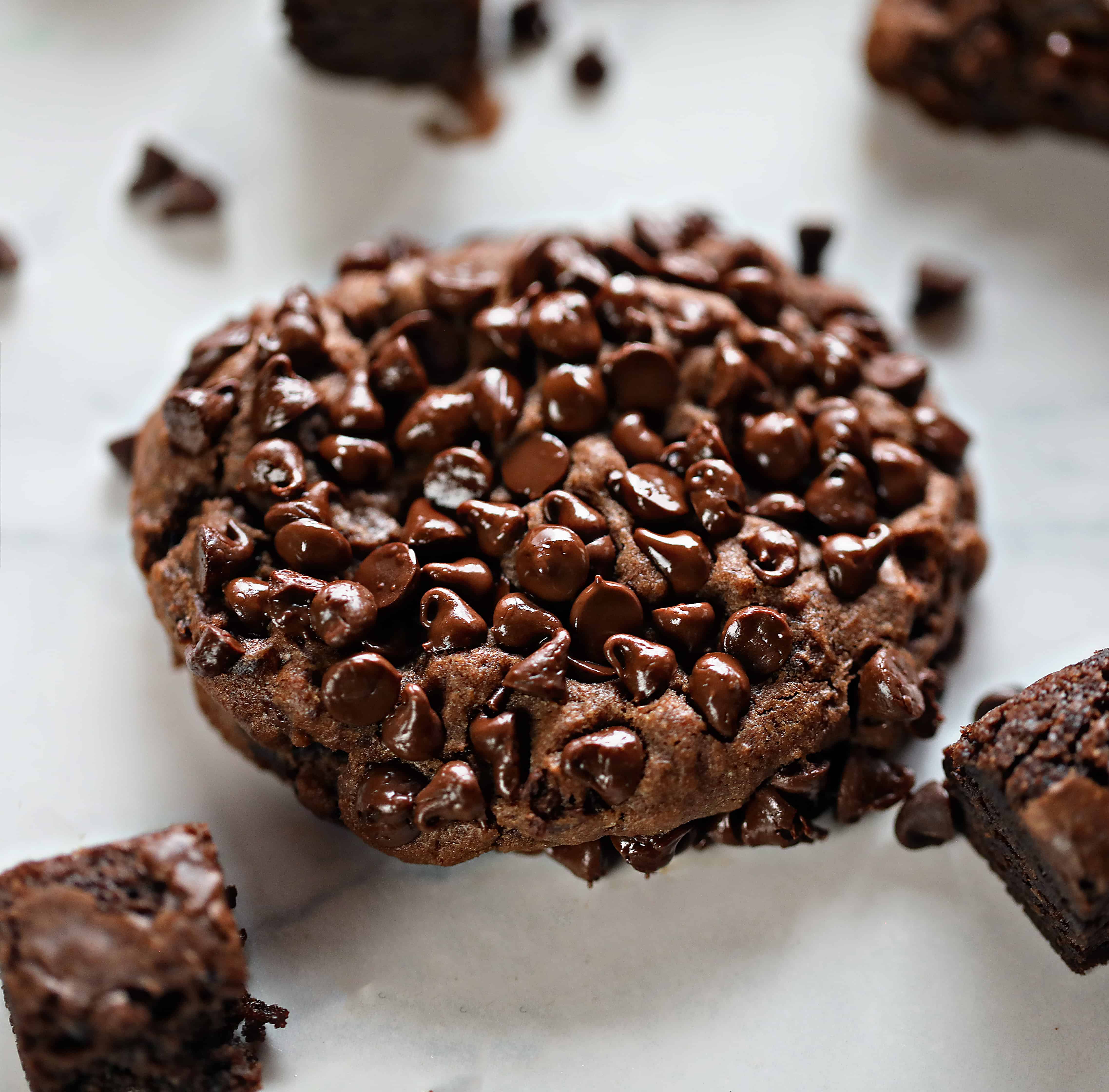 The Best Brownie Cookies
The interesting part about this recipe is that I used two really solid recipes (that stand up well on their own) and then added them together. Brownies and Chocolate Cookies.
I did some experimenting with the chocolate chip flavor (semi-sweet and milk chocolate actually tied as best with my taste testers), size, and amount. In the end, we settled on a cookie covered in mini semi-sweet chocolate chips. While this is an optional way to serve them, (you can certainly just add all the morsels to your cookie dough) we could not have loved it more. It's fun seeing a cookie absolutely loaded with chocolate morsels!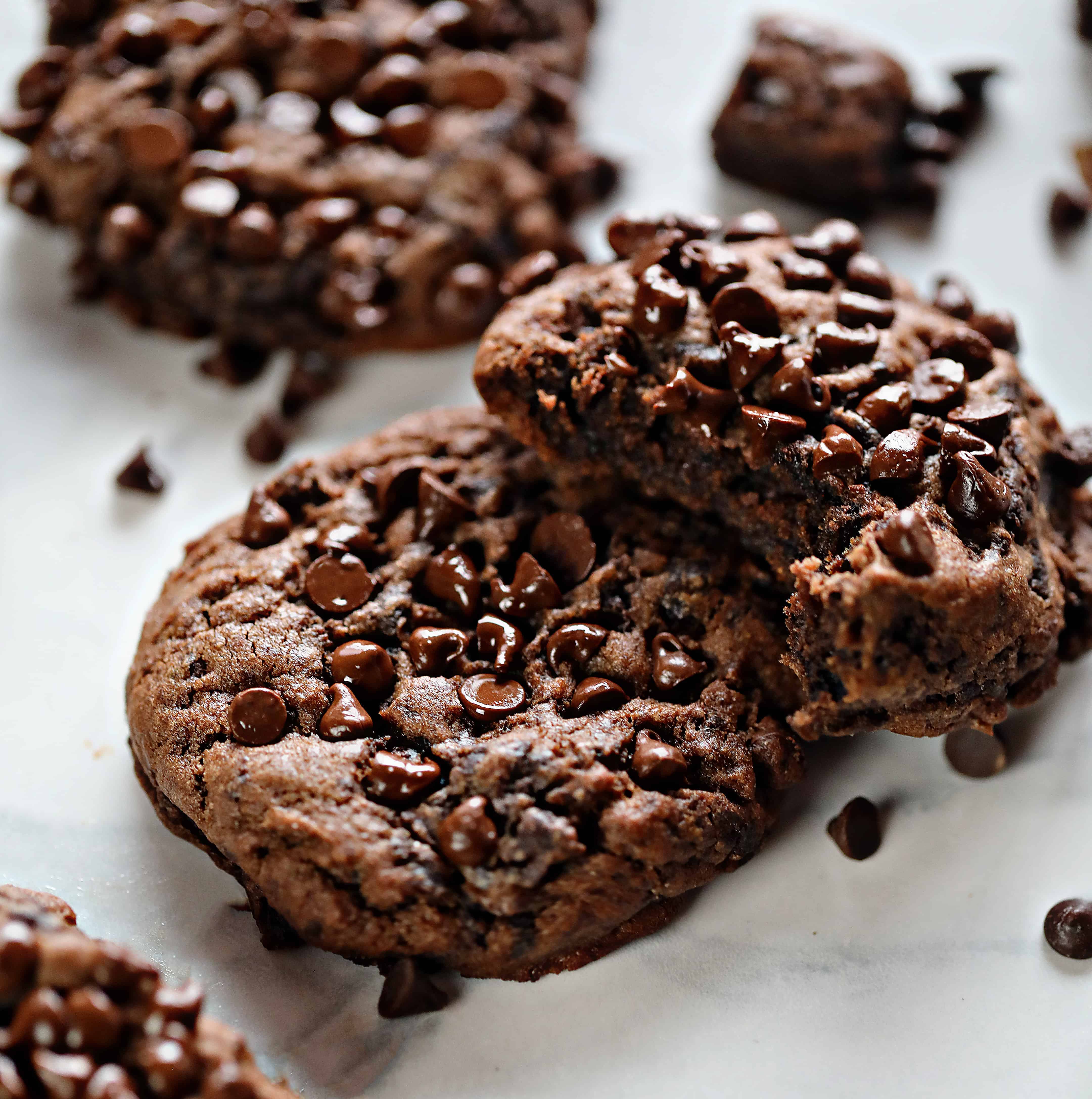 How to Make Brownie Cookies
Start with the Brownies
Prepare brownies in a 9×13 pan and bake according to the recipe below. (They will be thin, so be sure to start checking them at 15 minutes.) If you want thicker brownies you can use a 8×8 pan and cook for 22-25 minutes. Remove brownies, allow to come to room temperature, and then chill the brownies for about 30 minutes in the freezer. I found that not only does this lock in flavor, but it is easier to cut chilled brownies.
Prepare the Chocolate Cookies
Follow the recipe to make the chocolate cookies. A few things to note, I listed a total amount of 1 1/2 cups of mini semi-sweet morsels. Only 1/2 cup goes into the batter, the remaining is placed in a bowl and used to cover the cookies before baking.
Once the batter comes together is when you want to add in the cubed brownies. The cookie batter is quite thick so I recommend adding the 4 cups of brownie cubes and then gently incorporating with a spatula. I liked a few big chunks to remain in the final cookie so only stirred the cookie dough until mostly incorporated.
How to Get Shiny Chocolate Morsels
These cookies will come out of the oven with those beautiful glossy morsels. If your cookies are cooled or have been sitting out for a couple days, you can easily achieve that glossy look again by placing some cookies on a cookie sheet, popping into the oven set to low broil, and heating for 30-45 seconds. (Or the microwave)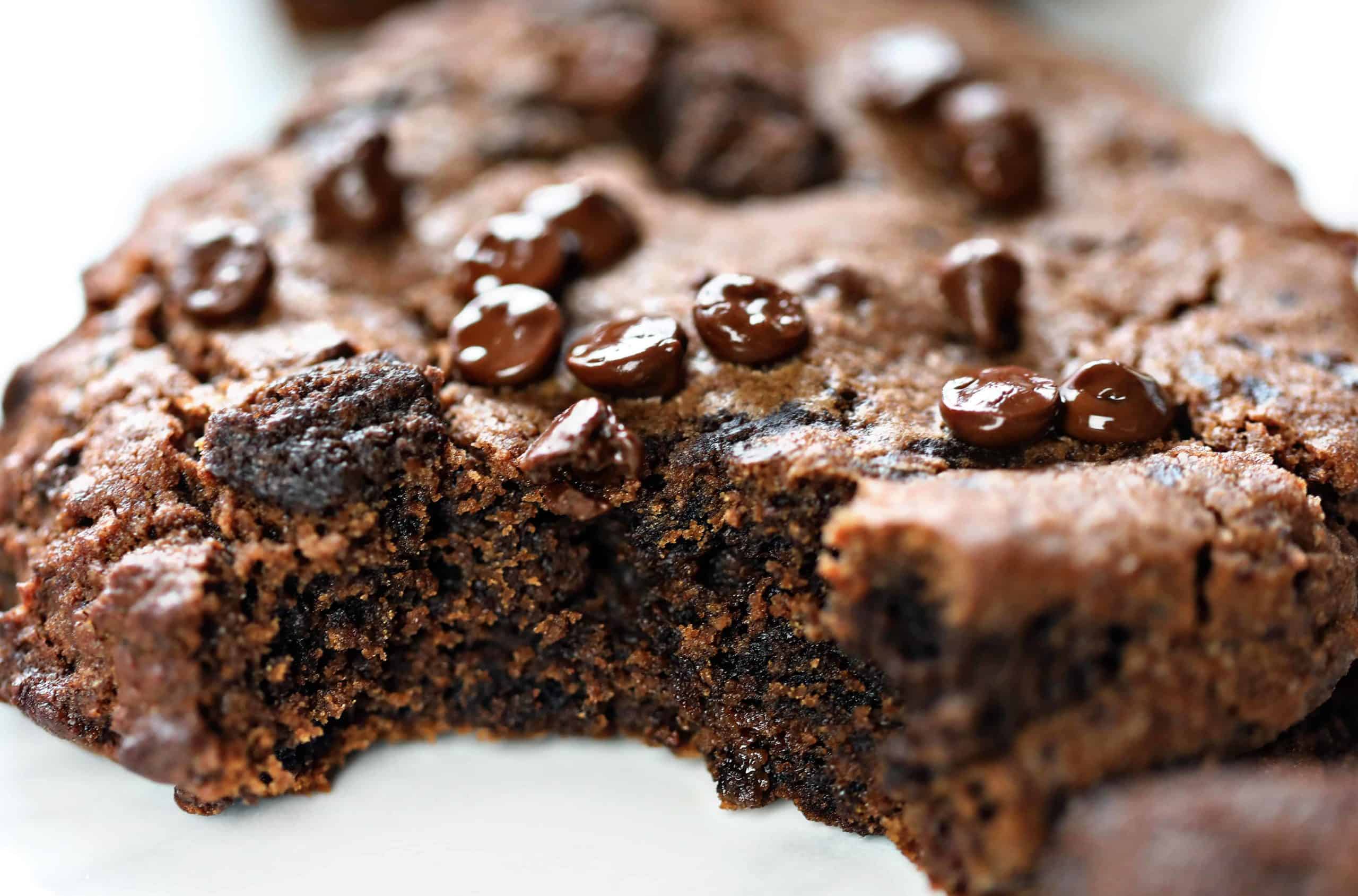 Variations for Brownie Cookies
Start With a Box Mix: You can absolutely use store-bought brownies or a box mix to save yourself a step here. You can also use frozen brownies if you happen to make extra and freeze for later. Just let frozen brownies sit on the counter for about 30 minutes and then make your brownie cubes.
Skip the Brownie: I mentioned that these cookies are great all on their own. Essentially, you could make the cookies and they are rich enough that they could pass for a "brownie" cookie. One option would be to remove a 1/4 cup of the dough before you add the brownie bits and bake up 2 cookies just to see how they taste. I find the recipe to be delicious, but not as chewy as the version with brownie bits added.
After testing a number of recipes I found that making Brownie Cookies this way was the best way. It tastes like a brownie because there is actual brownie in it!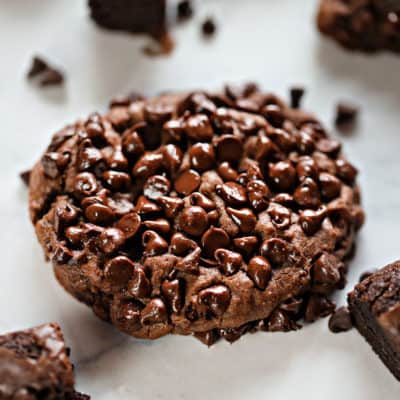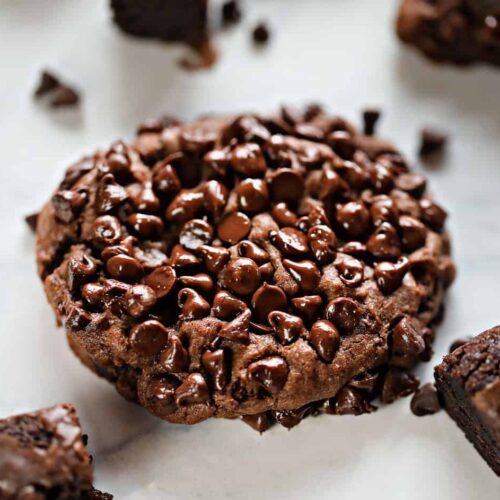 Brownie Cookies
Love chocolate and brownies? These just might be your new favorite cookie!
Ingredients
Brownie
½

cup

(113 g) butter melted,

then cooled

1

cup

(200 g) granulated sugar

⅓

cup

(40 g) unsweetened cocoa powder sifted

½

cup

(64 g) all-purpose flour

¼

teaspoon

kosher salt

¼

teaspoon

baking powder

2

eggs room temperature

1

teaspoon

vanilla extract
Chocolate Cookie
2 ½

cups

(320 g) all-purpose flour

½

cup

(64 g) cocoa powder

2

teaspoons

corn starch

1

teaspoon

baking soda

½

teaspoon

kosher salt

1

cup

(226 g) cold butter, cut into cubes

1

cup

(200 g) brown sugar, packed

½

cup

(100 g) granulated sugar

2

large eggs

1 ½

cups

semi-sweet mini chocolate chips,

divided
Instructions
Brownie
Melt butter and set aside to cool.

Sift together all dry ingredients.

In a medium bowl, beat two eggs with the vanilla. Add in and gently stir dry ingredients. Pour the melted butter into brownie mixture and mix until just incorporated.

Spread batter in a prepared 9×13 pan and bake for 15-20 minutes at 350°F.

Use a toothpick to test the brownies and note that they will be thin. (I have removed them right at 15 minutes before.) If when removed a few crumbs remain but there is no wet batter, the brownies are done.

Set aside to cool.
Chocolate Cookies
Heat oven to 350°F.

In a medium bowl, sift together the flour, cocoa powder, cornstarch, baking soda, and salt and set aside. Don't skip this step!

In the bowl of a stand mixer, cream together the butter and sugars until incorporated. There may be some small butter cubes and that is ok.

Add in eggs one at a time and mix until incorporated.

With the mixer on low, add in the dry ingredients. Mix until combined. (about 30 seconds) Cookie dough will be thick.

Remove bowl from stand mixer and fold in ½ cup of semi-sweet chocolate chips.

Flip brownies onto a cutting board and cut off hard edges on all sides and discard. (or have a little snack!)

Cut the brownies into small bite-sized pieces. I found that about ½ inch across and wide was the perfect size. (I used 4 cups total which was about ¾ of the brownies.) Fold into batter. 

Prepare cookie sheets with parchment paper.

Using a scoop that holds about 2 tablespoons of batter, scoop out cookie dough onto baking sheet.

Pick up each rounded cookie and dunk into a bowl with the remaining mini chocolate chips. Press the dough cookie into the bowl to flatten it and fully cover the cookie.

Set the dough cookie on the sheet and repeat with remaining cookies. (You should be able to fit 8 on one sheet as the cookies do not spread too much.)

Bake for 8-10 minutes. Allow cookies to rest on pan for at least 5 minutes.
Notes
I do recommend testing your first batch of cookies for doneness. I tend to take them out of my oven at 8 minutes and then let them cool on the baking sheet. You don't want the cookie to fall apart (be raw) but you don't want them to be overbaked either.
Did you make this recipe?
Thank you for making my recipe! You took pictures, right? Well go ahead and post them on Instagram! Be sure to mention me @iambaker and use the hashtag #YouAreBaker.