Bunny Butt Cupcakes are lemon-flavored white cupcakes topped with adorable bunny butts and feet sticking out on top. The cute decorations are made with buttercream, white chocolate, and marshmallows. They are almost too cute to eat, but they will definitely be the best treat shared at Easter! I also have a Bunny Cake that is as decorative as it is delicious.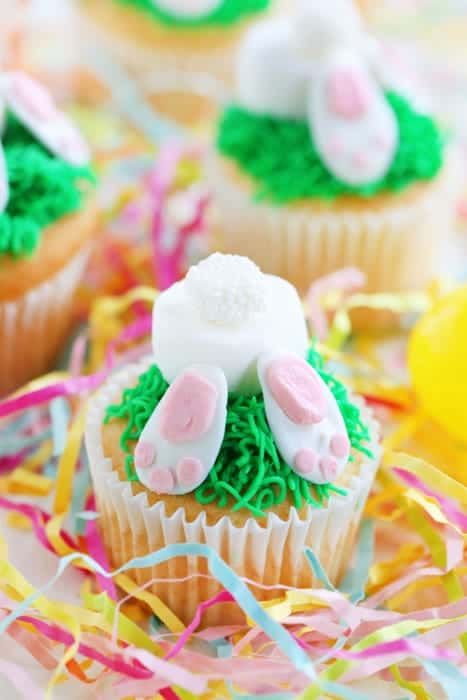 Ingredients & Substitutions
Cupcakes: Grab a box of white cake mix, following the instructions on the box to make 24 cupcakes. Or, choose your favorite cake mix.
Lemon Extract: I added lemon extract to the cupcakes for a lemon flavor, but you could certainly leave that out if preferred.
White Chocolate Chips: Melted white chocolate chips will be melted and hardened for the bunny feet sticking out of the buttercream 'grass'.
Food coloring: You will be dividing the buttercream, coloring half with green food coloring for the 'grass', and some with red (or neon pink) for the pink 'feet'. The rest will remain white.
Marshmallows: Use 12 large marshmallows, cut in half for the 'butt' of the bunny. Make homemade marshmallows to make this treat extra special!
Nonpareil Sprinkles: If you don't have any sprinkles to roll balls of buttercream for the tail, just use mini marshmallows instead.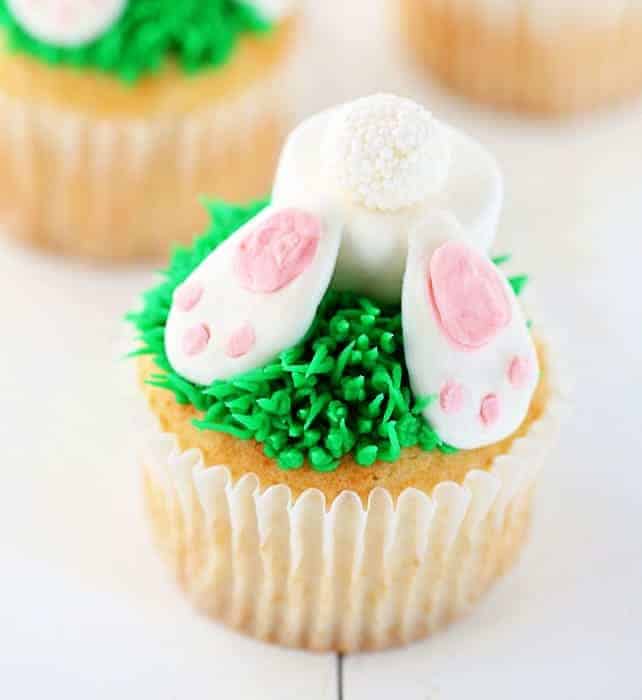 What are Nonpareil Sprinkles?
Nonpareil sprinkles are tiny round candy decorations that are often used to add color and texture to desserts such as cakes, cupcakes, and cookies. They are made of sugar and come in a wide range of colors, including red, blue, green, yellow, and more. Nonpareils are usually about 1-2mm in diameter and have a smooth texture. They can be found in many grocery stores, baking stores, and online.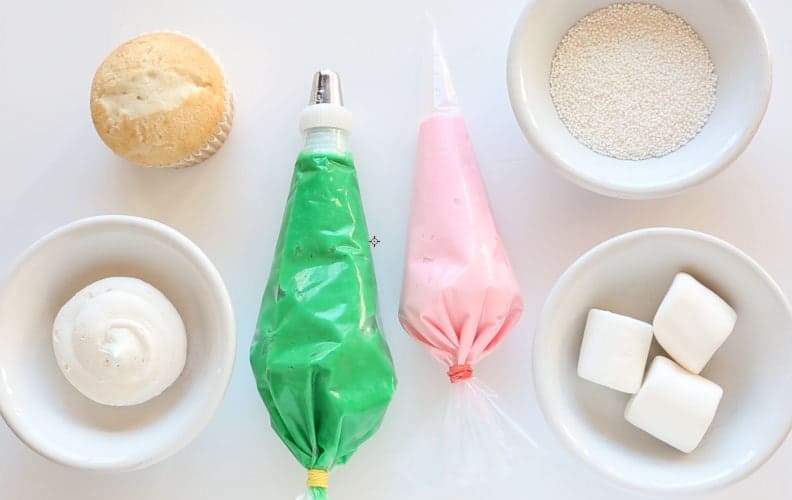 Can I Use Different Flavored Cupcakes?
Definitely! The base for these charming cupcakes can be your favorite flavor of cupcakes. Try them with classic chocolate or vanilla, or choose your favorite from my variety of homemade cupcakes.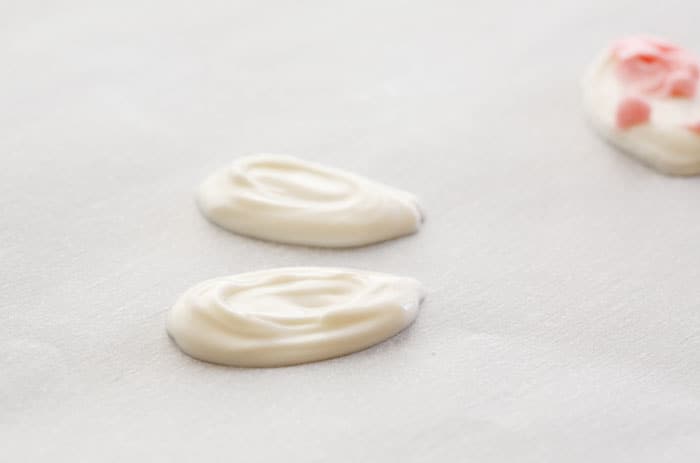 Can I Make Bunny Butt Cupcakes Without a Grass Tip?
Yes! Don't give up on these darling bunny butt cupcakes just because you don't have a special grass tip. Instead, spread the tops of the cupcakes with green buttercream and fluff it up with a fork. This will give the frosting a grass-like appearance!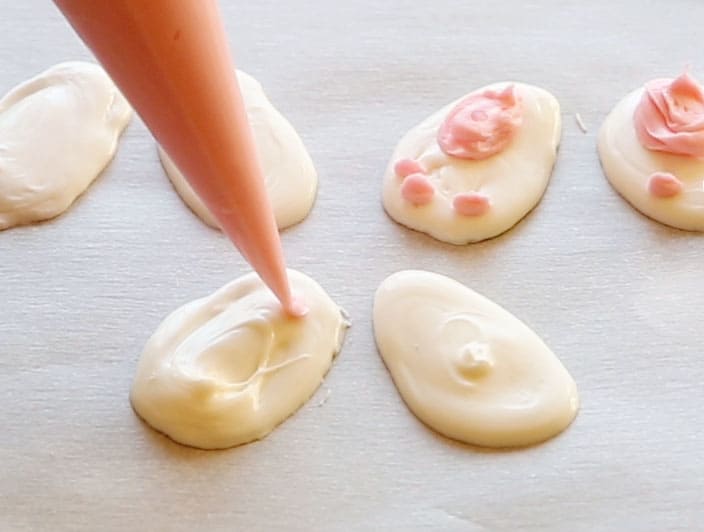 How to Store Bunny Butt Cupcakes
After the cupcakes have been decorated, store them in an airtight container at room temperature. They are best enjoyed within 2 days.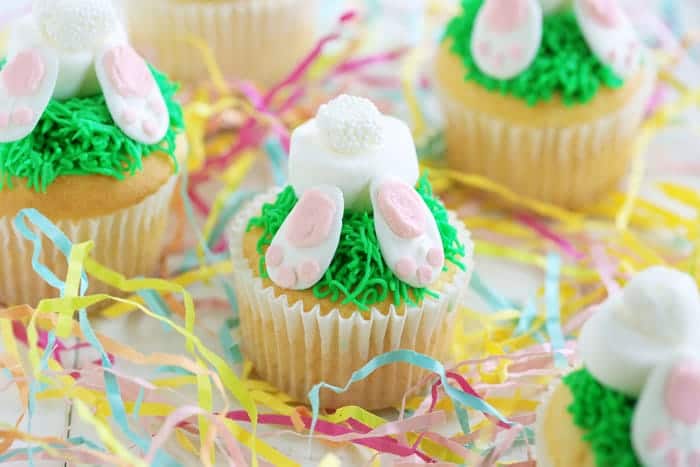 Is There a Video Tutorial?
Yes! To make this as easy as possible, watch the video that is in the recipe. Scroll down past the recipe and instructions until you see the video. I hope that helps!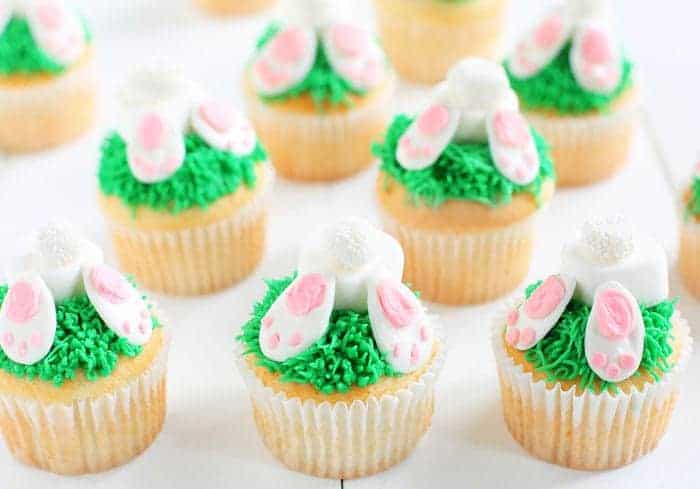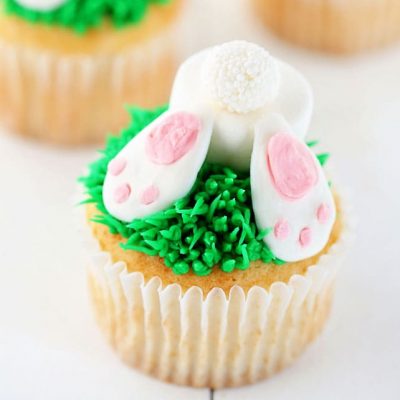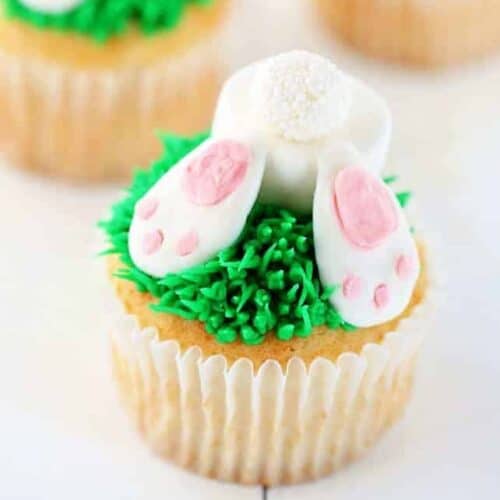 Bunny Butt Cupcakes
Bunny Butt Cupcakes are lemon-flavored white cupcakes topped with adorable bunny butts and feet sticking out on top. The cute decorations are made with buttercream, white chocolate, and marshmallows.
Ingredients
White Cupcakes
1

box

white cake mix

1

tablespoon

pure lemon extract
Bunny Feet
½

cup

white chocolate chips
Whipped Vanilla Buttercream
2

tablespoons

vanilla extract

1

bag

(16 ounces) confectioners' sugar

2

tablespoons

whole milk

10

drops

green food coloring

1-2

drops

red food coloring
Assembly
12

large

marshmallows,

divided

white

nonpareil sprinkles,

or mini marshmallows
Instructions
Cupcakes
Line cupcake tins with liners.

Prepare cake mix as directed on the package, adding 1 tablespoon of lemon extract.

Spoon approximately 3 tablespoons of batter into each of the lined muffin cups.

Bake as directed for cupcakes. Transfer to a wire rack to cool.

As you bake the cupcakes, melt the white chocolate for bunny feet.
Bunny Feet
Line a baking sheet with parchment paper.

In a microwave-safe bowl, melt the white chocolate chips for 30 seconds. Stir and continue to heat in 10-second increments until melted and smooth.

Spoon the melted chocolate into a pastry bag or a sealed plastic bag. Cut a tiny portion of the corner of the bag and begin to pipe out the melted white chocolate onto the lined baking sheet. Try to make pairs of feet that are the same size. You will want to make 24 pairs (48 feet). If you have any remaining white chocolate, pipe out more sets just in case of breakage. It is a good idea to have a toothpick nearby to smooth out any bumps or rough edges. Allow the chocolate to harden (2 minutes in the freezer or 15 minutes in the refrigerator).

Place the pink buttercream into a pastry bag and cut off a very small portion of the tip. Pipe out three toes and the padding of the bottom of the bunny foot. Once the frosting has set (about an hour) you can go back and gently press down on the pink frosting with your finger. This can help create a smoother, cleaner look.
Whipped Vanilla Buttercream
In a large bowl, beat butter and vanilla until light and fluffy.

Gradually add confectioners' sugar, beating well after each addition and scraping sides and bottom of bowl frequently.

Add milk. Beat until light and fluffy. If the frosting is too thick to spread, gradually add additional milk until the buttercream reaches your desired consistency.
Bunny Butt Cupcake Colors
Remove half of the frosting and place into a medium bowl. Add 10 drops of green food coloring. Mix until combined and then place into a pastry bag.

Of the remaining frosting, remove half and add 1-2 drops of red food coloring. You want a light pick. Mix until combined and then place into a pastry bag.

The remaining white frosting will be used for the bunny tail.
Decorating Bunny Butt Cupcakes
Place the green frosting into a pastry bag fitted with a grass tip (#233). Pipe green grass onto the cupcake, covering the tops of the cupcakes completely.

Take a large marshmallow and cut it in half lengthwise. Place the cut side down onto the upper portion of the cupcake. (You want to make room for the bunny feet to stick out.)

Take a very small dollop of white buttercream (about the size of a dime) and drop it into a bowl of white nonpareils. Roll the buttercream around until it is completely covered in nonpareils. Dab some pink (or white) buttercream onto the marshmallow and gently place the nonpareils tail onto the marshmallow.

Place one of the bunny feet against the base of the marshmallow. Finish the Bunny Butt Cupcake by placing the final bunny foot on the cupcake.
Did you make this recipe?
Thank you for making my recipe! You took pictures, right? Well go ahead and post them on Instagram! Be sure to mention me @iambaker and use the hashtag #YouAreBaker.
It was an absolute delight to create these Bunny Butt Cupcakes with McCormick. Thank you so, so much for supporting the brands that support this blog. I only work with the best, and am thankful that McCormick is willing to partner with me! <3