I love butterscotch. I love cake. And that is the inspiration for this Butterscotch Peanut Butter Cake! If you want more Cake Recipes, I've got you covered.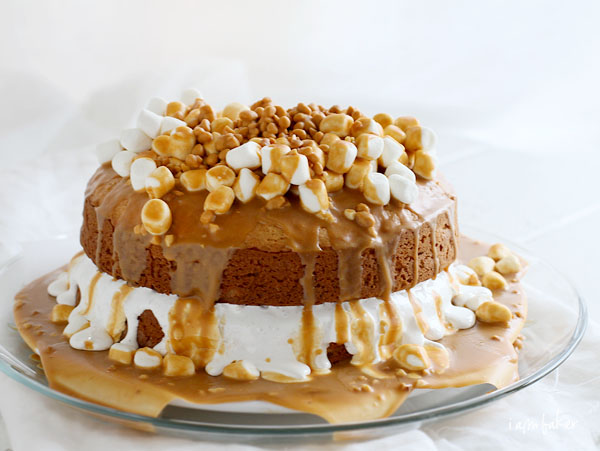 Peanut Butter Cake
I made a peanut butter cake. It's a GOOD peanut butter cake! Soft and moist and full of peanut butter. The ingredients are simple:
butter
chunky peanut butter
vanilla extract
eggs brown sugar
flour
baking powder
baking soda
salt
buttermilk
All of that sugar and buttermilk and eggs guarantee that you will have a moist and flavor-packed Peanut Butter Cake! These are BIG layers of cake. You could also make this is 3-layer cake using the same 9-inch cale pans. Just make sure to evenly disperse the batter between the pans. You will also want to check baking time to make sure they are not over-baked.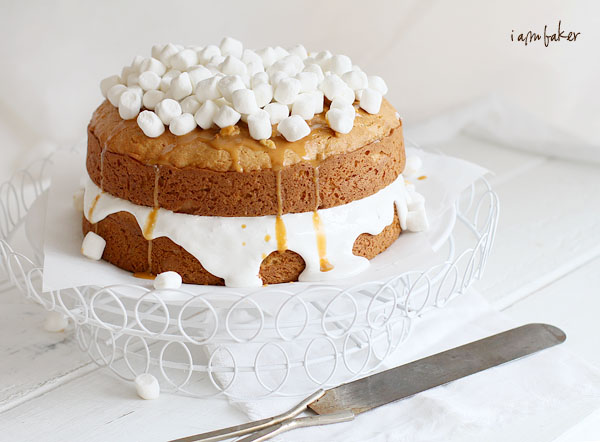 How to Make a Butterscotch Peanut Butter Cake
Bake cakes and let them cool. Place one cake on cake stand and spread an entire 7ounce jar of marshmallow fluff. Place the other layer on top. Marshmallow will ooze out the sides.
This is good. Very good.
Next, make the butterscotch sauce. (recipe below)
Put a thin layer of the sauce on top of the cake. (This is to help the mini marshmallows to stay in place) Then disperse mini marshmallows all over the top of the cake. (I used about half a bag)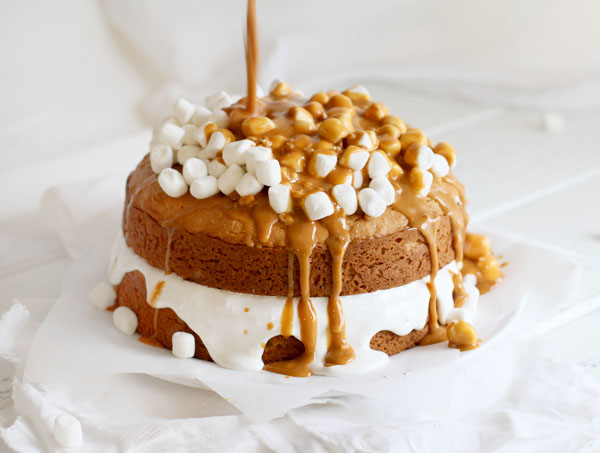 Pour more sauce over cake. Now, at this point in the picture, I had poured about half the mixture. This is plenty for the cake. The remaining mixture you can put in an 8×8 pan and make butterscotch bars! (Just make sure you mix in the remaining marshmallows first)
I highly recommend you do that instead. Or you could just half the recipe. I mean, whatever works for you.
But I did not do that.
I kept pouring. And scooping out the chunky bits. And pouring. And I made a HUGE mess.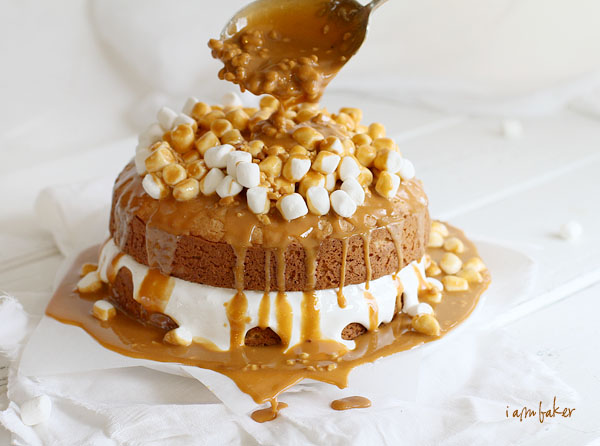 I just couldn't stop.
Don't be like me.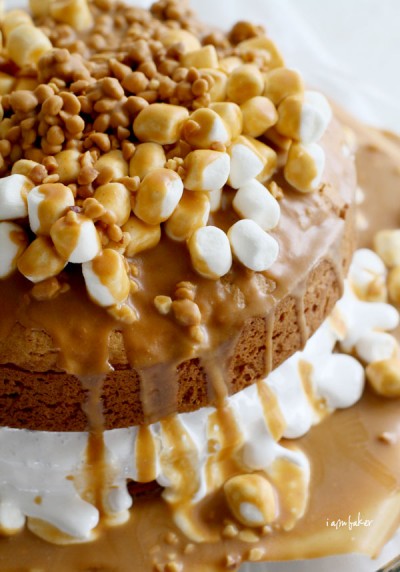 But do grab some of those butterscotchy peanut butter chunky bits from the bottom of the pan and spoon them over the top of your cake.
Then, out of seemingly nowhere, I had visions of butterscotch hot chocolate with mini marshmallows but did not want to do that if it was 75 degrees outside. Maybe on the next nice cool day, I could. And then the temperatures went from 75 to 30 in one day and I actually made myself hot cocoa. And then I felt bad and figured I caused the cold temperatures so I didn't tell anyone. Except now I am telling you. Don't be mad. It will get warm again. I think. I mean, I can't say for sure. I live in Minnesota. We are known for weird weather. So yeah.
Moving on.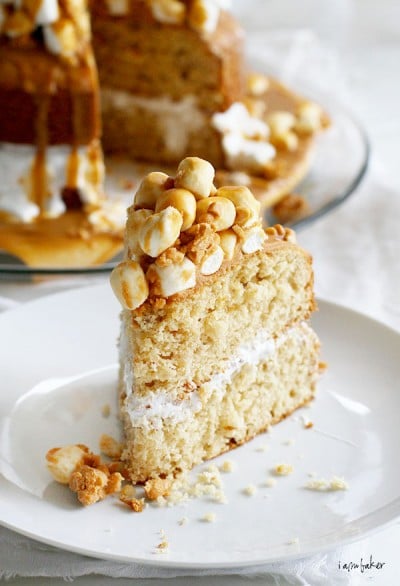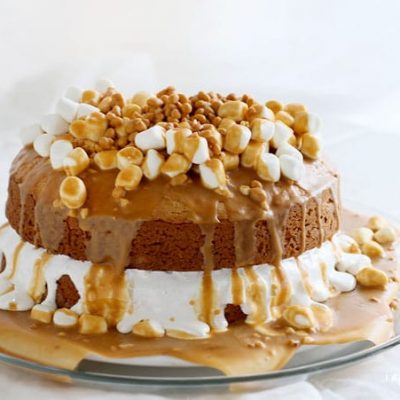 Peanut Butter Cake with Butterscotch Topping
I love butterscotch. I love cake. And that is the inspiration for this Butterscotch Peanut Butter Cake!
Ingredients
Peanut Butter Cake
3/4

cup

(12 tablespoons) unsalted butter,

room temperature

1

cup

chunky peanut butter

1

tsp.

vanilla extract

4

large eggs,

room temperature

3

cups

brown sugar

2 1/2

cups

all purpose flour

1

tsp.

baking powder

1

tsp.

baking soda

1/2

tsp.

salt

1

cup

buttermilk
Butterscotch Topping
1/2

c

chunky peanut butter

1 1/2

sticks butter

1 1/2

bags 11 oz butterscotch chips
Instructions
Peanut Butter Cake
In the bowl of a stand mixer with paddle attachment, cream together room temperature butter, peanut butter, vanilla, eggs (one at a time) and brown sugar in mixer.

In a separate bowl, sift together flour, baking powder, baking soda, and salt.

Add the flour mixture to the sugar mixture, alternating with buttermilk. As in, add 1/3 flour mixture then 1/2 cup of buttermilk, another 1/3 of the flour mixture, remaining buttermilk, then remaining flour.

Bake in two prepared 9-inch round cake pans at 350°F for 25-35 minutes.
Butterscotch Topping
Melt butter and peanut butter in medium saucepan over medium-low heat.

Once they are fully melted and combined, add in butterscotch chips. Stir continually until mostly melted. There will be chunks in the bottom of the pan, this is ok.
Did you make this recipe?
Thank you for making my recipe! You took pictures, right? Well go ahead and post them on Instagram! Be sure to mention me @iambaker and use the hashtag #YouAreBaker.
Or save some of that awesome sauce and drizzle it over a slice. I wish I could say that I had thought of that before pouring rich thick butterscotch sauce all over my white linens and table.
Did I mention I made a big mess?
It was sorta worth it. This cake is delicious.
You may also like these amazing cakes: