If you have ever tried Cactus Bread, you are a lucky soul. It is a sweet, soft, slightly spiced dessert pizza that folks who go to Pizza Ranch make a special point to get! I also have an Apple Cactus Bread if you want a little extra flavor! Just in case you love desserts, don't miss my Piggy Pie Dessert and Blueberry Lemon Heaven Dessert!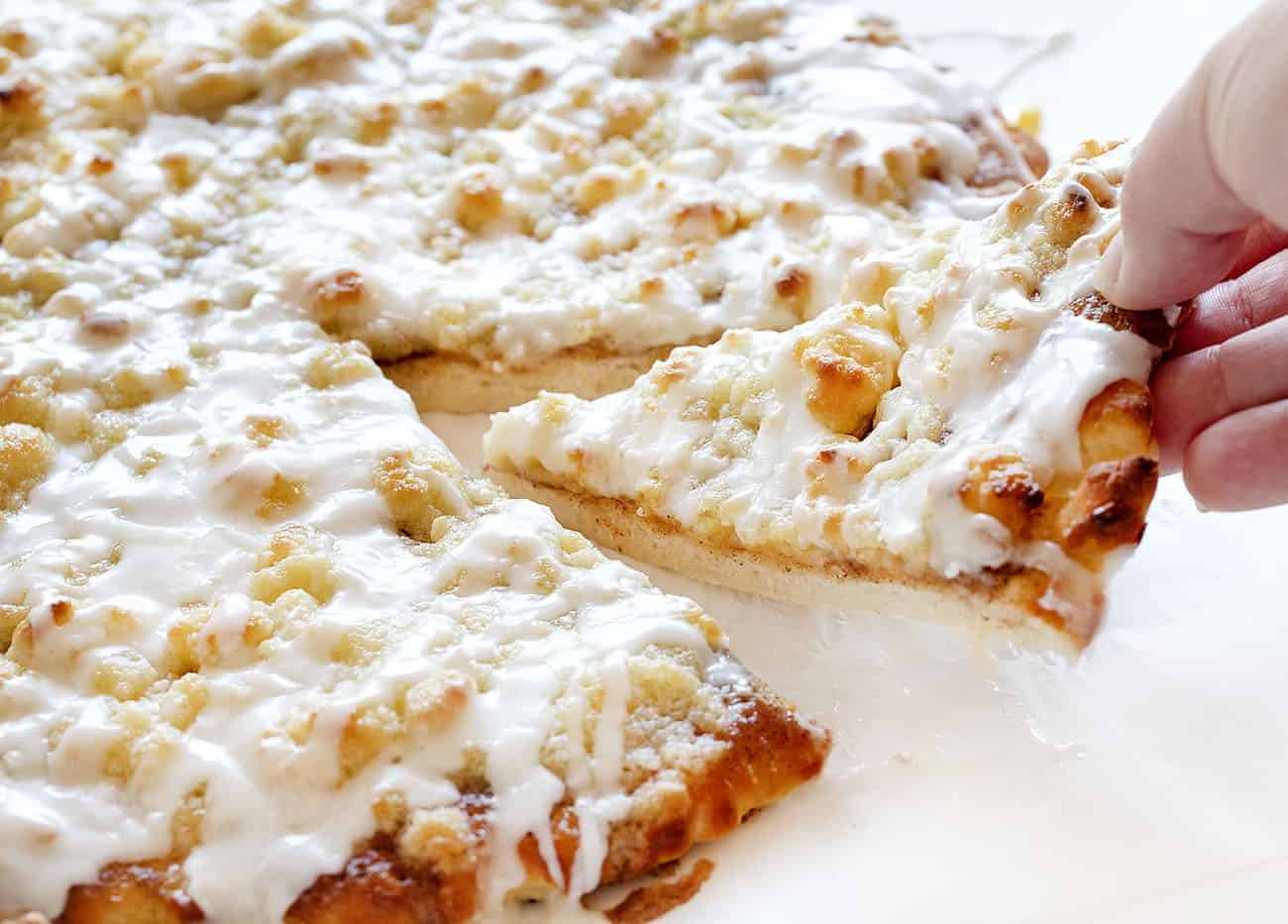 What is Cactus Bread?
Cactus Bread is the name given to the cinnamon-sugar glazed dessert pizza found at The Pizza Ranch restaurants. The actual Pizza Ranch recipe is a closely guarded secret, but I think I have cracked the code. I spent an entire day making different versions and trying out several varieties of crusts and toppings. I am confident in telling you that this is the best homemade version you will EVER try!
Cactus Bread is broken down into 4 main components:
Pizza Dough
Cinnamon Butter Topping
Crumble Topping
Glaze
While the actual pizza only takes about 20 minutes to make (total!) I want to break it down so that you are able to fully understand each technique before starting.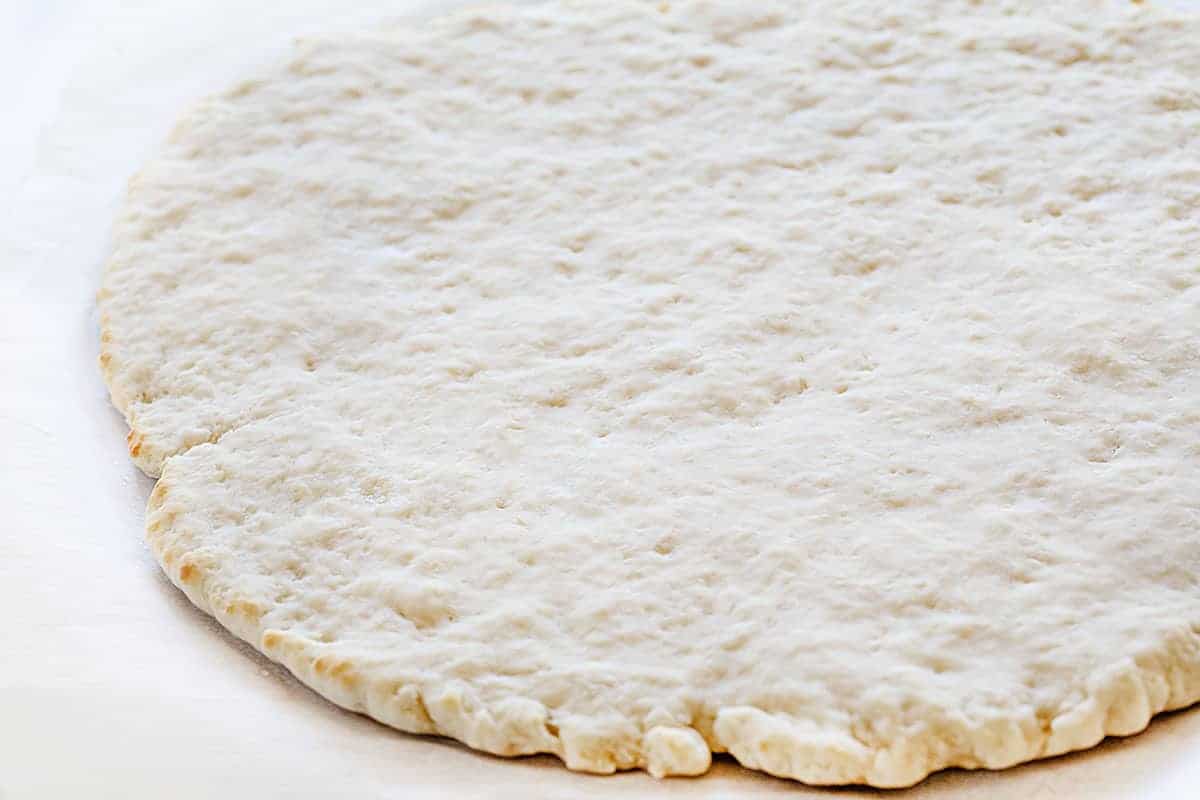 Pizza Dough
I have to tell you, I tested 5 different homemade pizza dough recipes before settling on this one. Why did this one end up winning?
it has 2 ingredients
it is softer, a bit denser, which holds up well to the sweet
it requires no rising time
So let me break it down. The dough is made up plain greek yogurt and self-rising flour. You mix those together in a bowl until mostly combined. Pour it out onto a clean countertop and start kneading. This only takes about 5 minutes, you are basically trying to get a smooth consistency to the dough. After having made this so many times, I can tell you how to problem solve!
Dough too Dry?
Add in more greek yogurt 1 tablespoon at a time. Knead it in until combined and see if it is a perfect consistency.
Is dough too Wet or Sticky?
Add in more self-rising flour, 1 tablespoon at a time. Add it during the kneading phase and knead until it is fully incorporated.
Roll out the dough to the size of a pizza stone. It will be about 1/2 inch thick, and that's perfect. Place on a pizza stone in the oven for 5-6 minutes. You want the dough to not look wet in the middle and for the edges to just start to brown. Remove and top with cinnamon topping.
PRO TIP: You can also make this dough in a stand mixer with the dough hook attachment.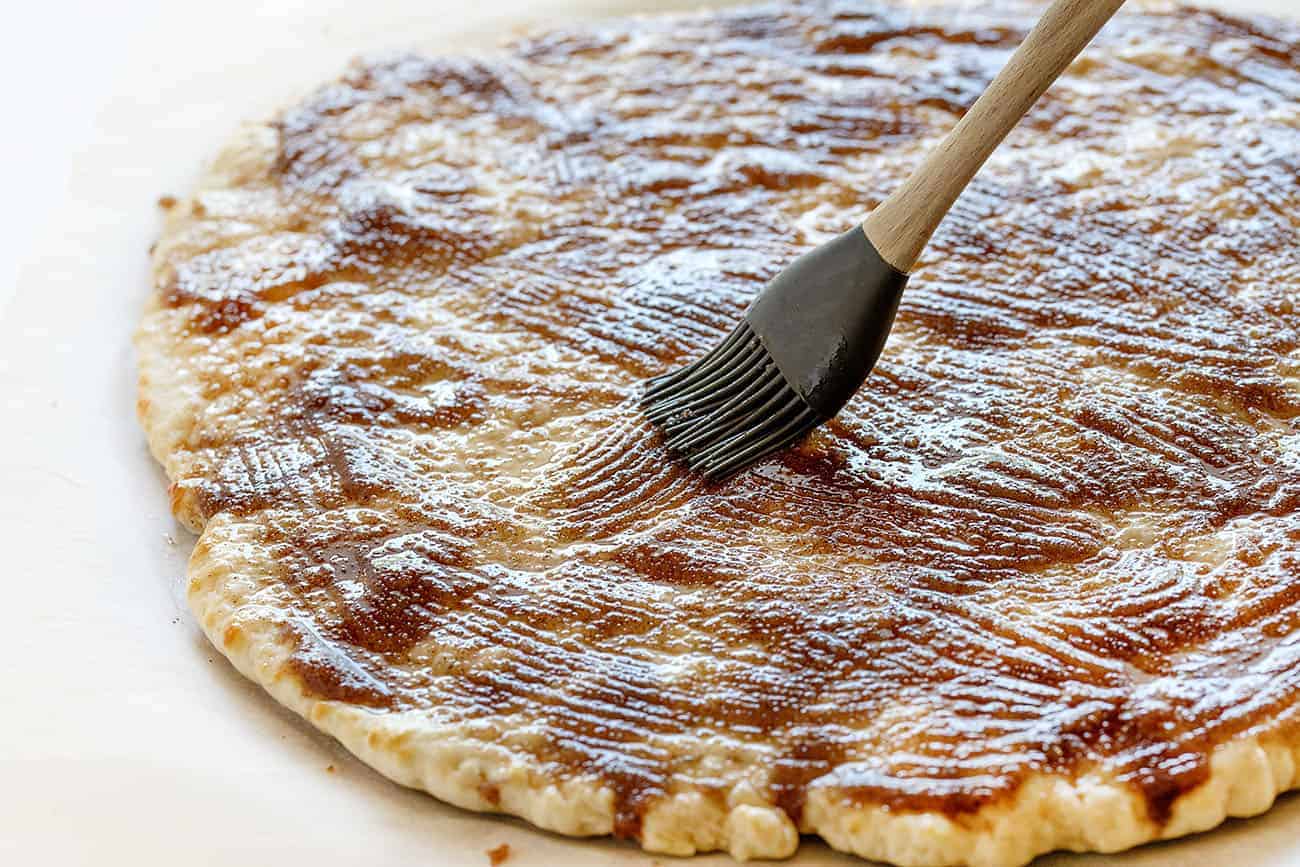 Cinnamon Butter Topping
This couldn't be easier. Take butter, granulated sugar, and cinnamon and put into a microwave-safe dish. Heat for 20-30 seconds then stir. Using a pastry brush, get an even layer all over the semi-baked pizza dough. You may think that the layer looks a little thin, but trust me, it's enough.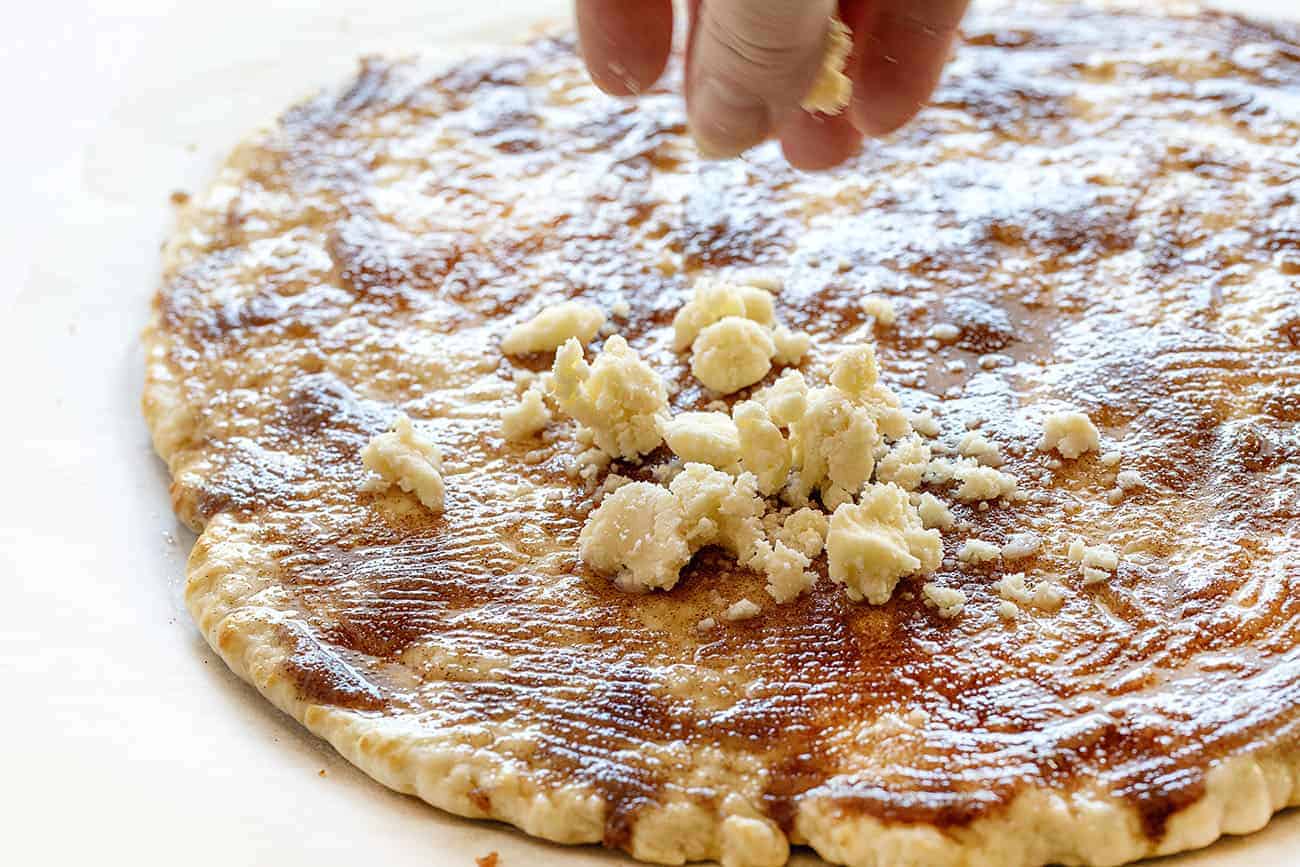 Crumble Topping
Arguably, this is my favorite part of cactus bread and what I spent the most time perfecting. I settled on the same crumble that I use for my Lemon Cream Cheese Coffee Cake. It's perfect and goes perfectly with this recipe.
Grab these ingredients:
butter
flour
confectioners sugar
The butter should be cold and cut into small cubes. Add all ingredients to a bowl and using a fork or your hands (I prefer hands, and often let the kids help out with this step) and combine all ingredients, making sure the butter is broken down and no larger than a pea when you are done. That's it!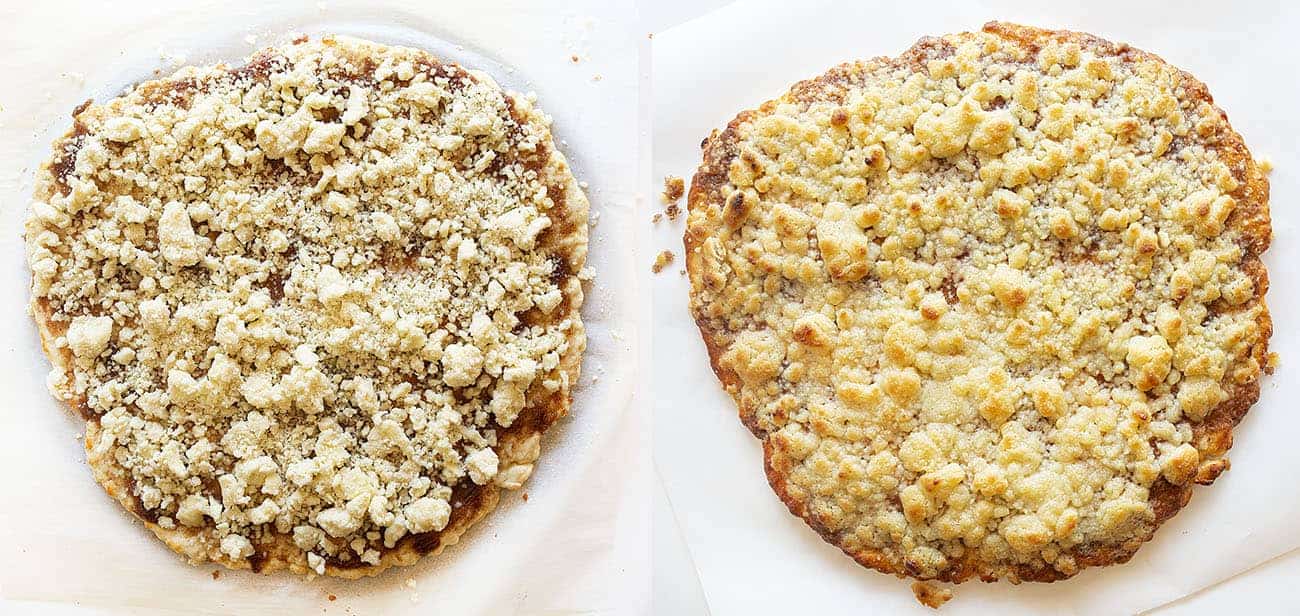 There is no shortage of crumble on this pizza and that is exactly how it should be! Once you get the toppings on the semi-baked crust, you can do the final bake. Pop it back into the oven for 6-7 minutes, or until the crumble is just starting to turn golden brown. The pizza should rest for about 5 minutes before adding the glaze.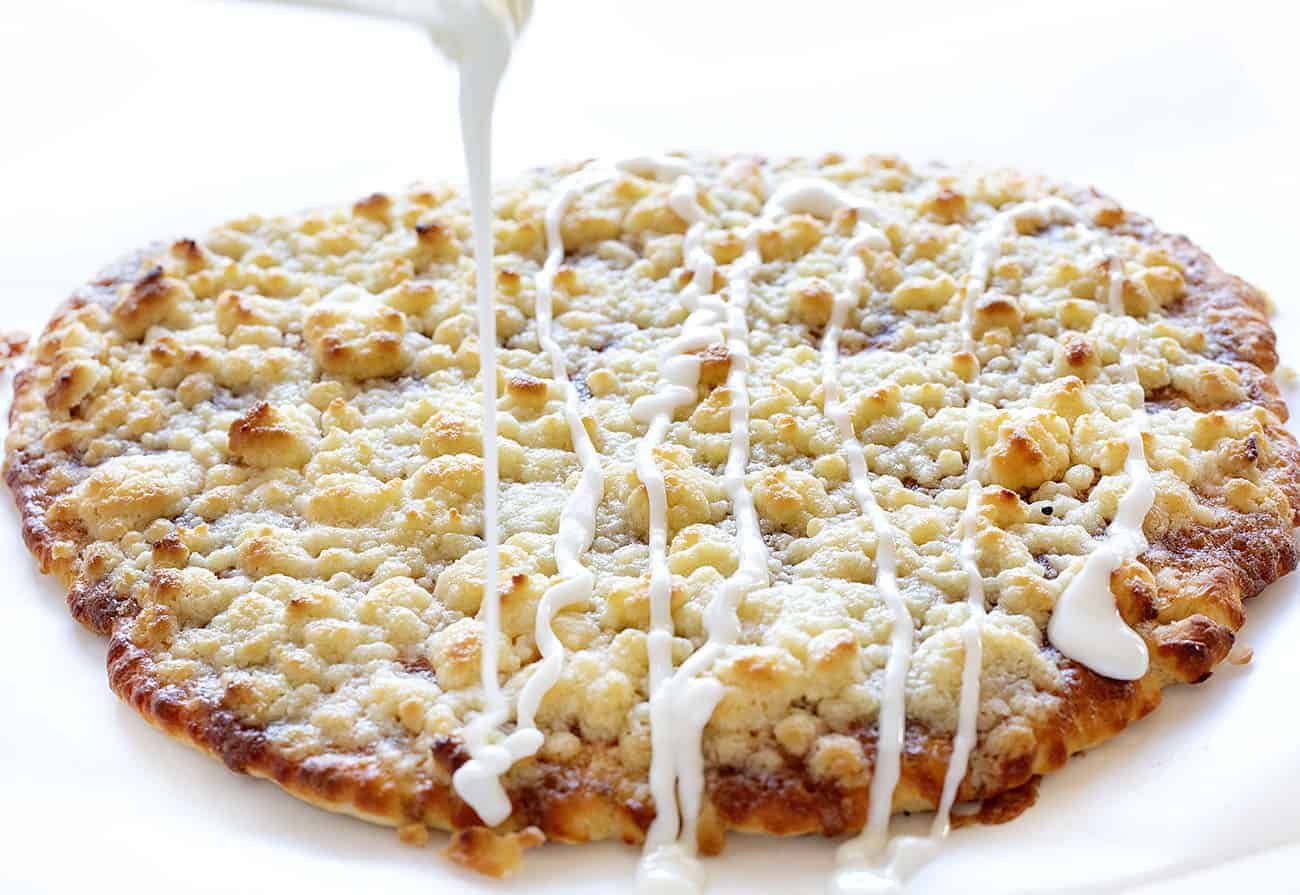 Easy Glaze
Ok, so I know this might be controversial, but I kept the glaze as SIMPLE as possible. It is simply confectioners' sugar and milk. You take 1 cup of confectioners' sugar and 1-2 tablespoons of milk. (I prefer whole milk.) Start with 1 tablespoon then add more milk as needed to reach a loosed consistency. Pour the glaze over the warm cactus bread. You are now done and ready to serve!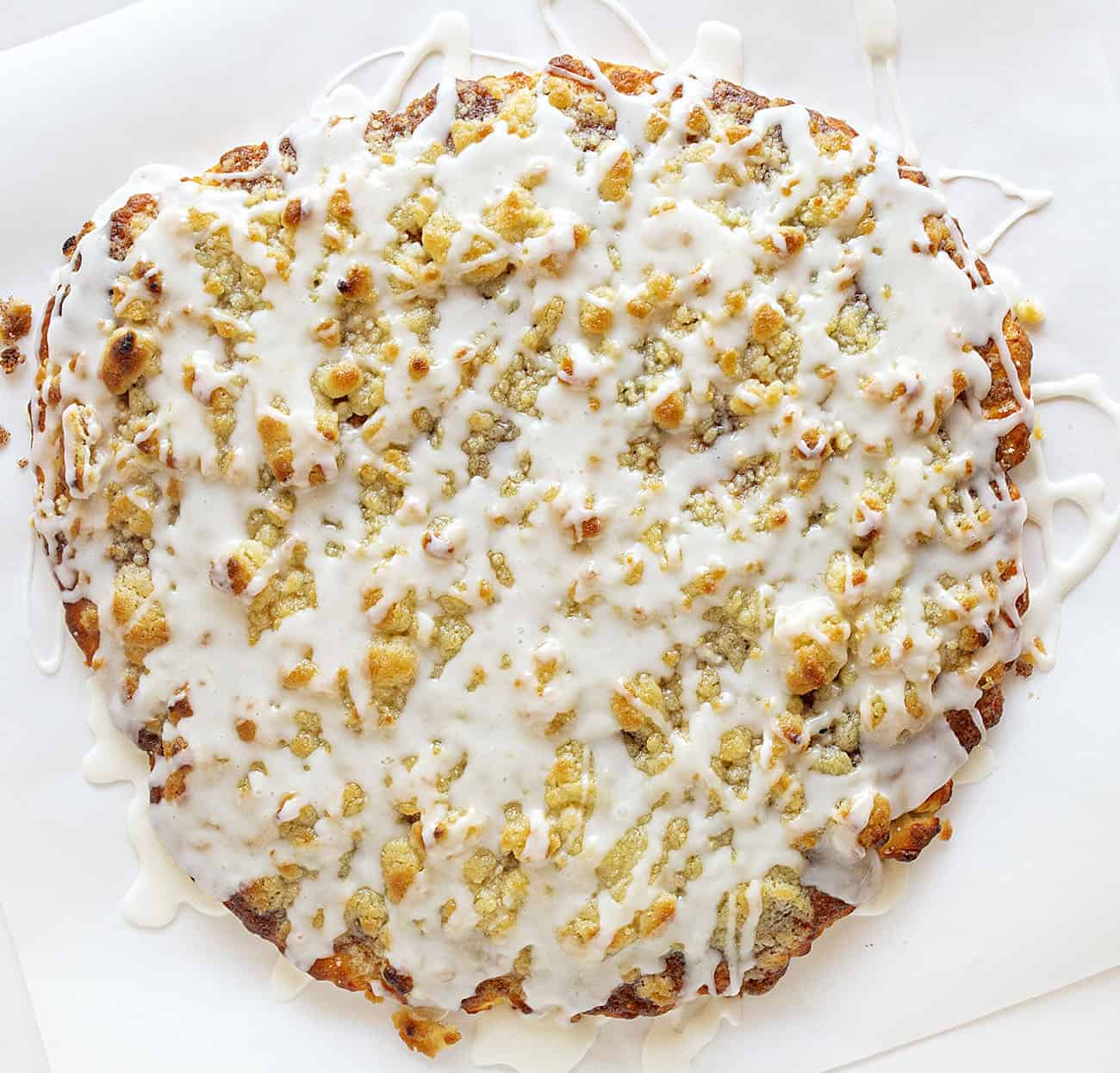 BAM! That looks almost as good as it tastes! My mouth waters just thinking about it.
Tips & Tricks for 2-Ingredient Pizza Dough
Can you make this dough ahead of time?
Sure! Just make the dough and knead it to a smooth consistency. Wrap it in plastic wrap and store in the refrigerator until you are ready to use, up to 3 days.
What can you use instead of self-rising flour?
If you don't happen to have self-rising flour on hand, you can make your own! The recipe is simple. I like the recipe I saw on King Arthur Flour's website years ago.
2 cups all-purpose flour
3 teaspoons baking powder
1/2 teaspoon salt
Just whisk everything together in a bowl and use for this recipe. (Ingredient amounts are for making 2 cups of flour, which is what you need for this recipe.)
Can you use flavored yogurt?
I don't recommend it for this recipe. You certainly don't need any more sweetness (trust me, it has enough!). Plain greek yogurt is preferred, the brand name is not as important.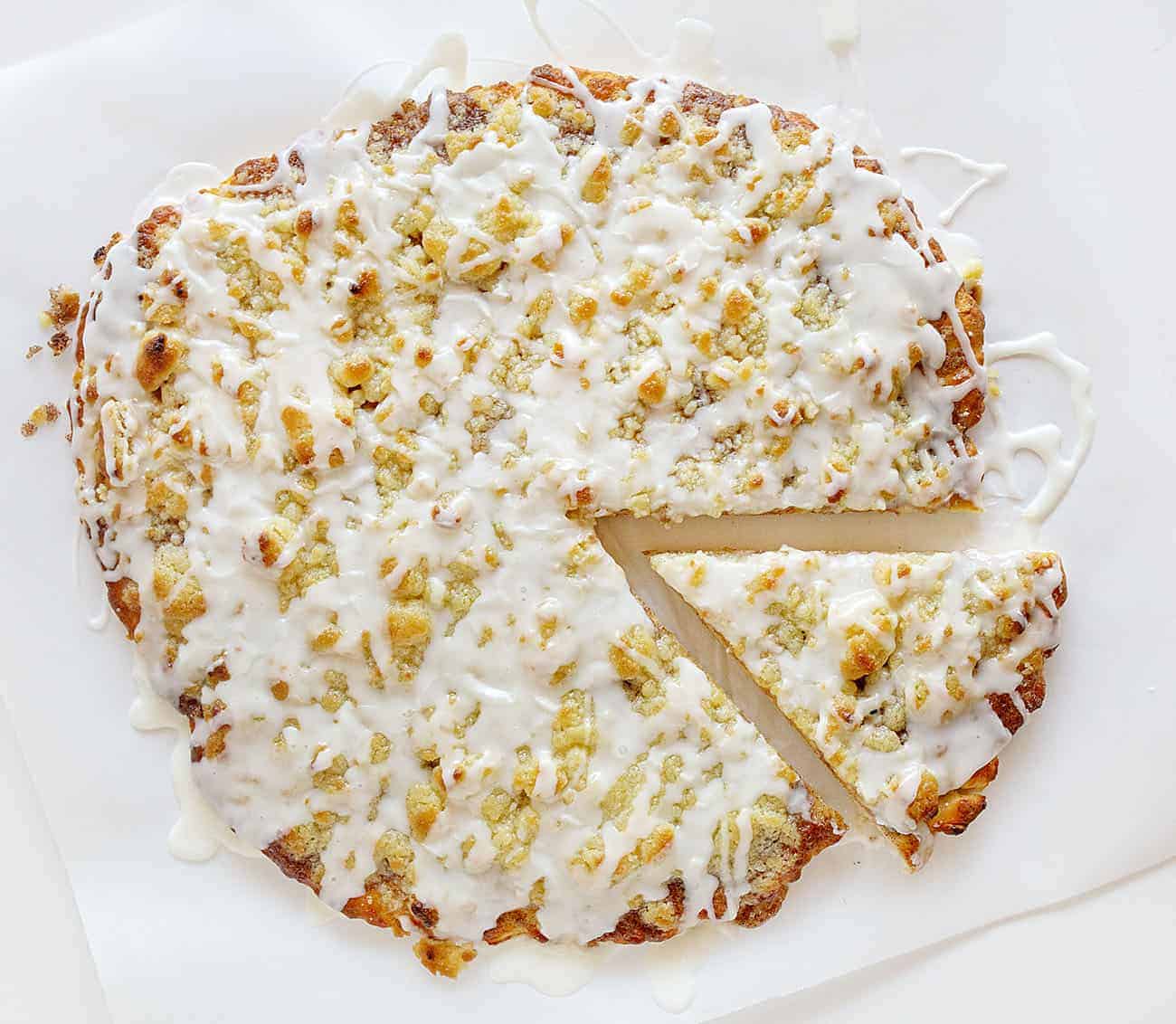 Can I use Store-Bought Pizza Dough?
Yes! If you have pizza dough to use, line a 9×13-inch baking dish with the dough. Bake the dough for 6 minutes at the oven temperature suggested on the pizza dough packaging. Next, remove it from the oven and add the toppings. Put the baking dish back in the oven to bake for an additional 12 minutes (or until the pizza crust is cooked). Let the bread sit for a few minutes before drizzling the glaze.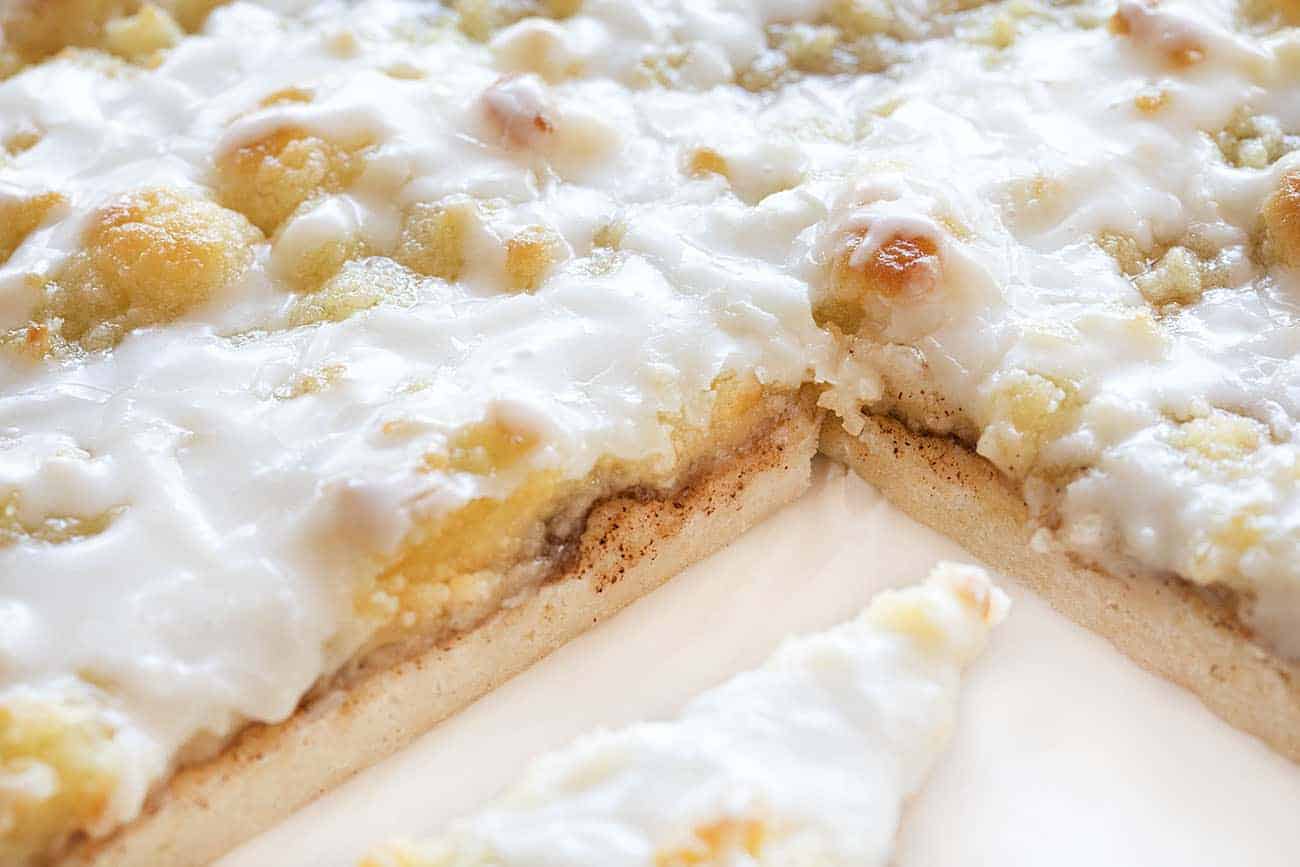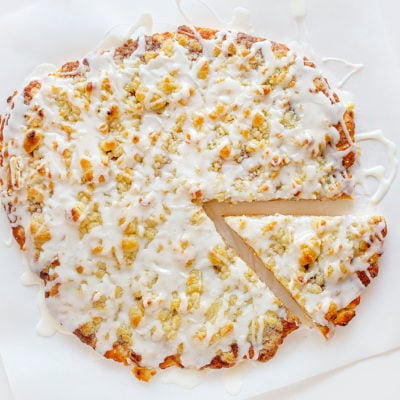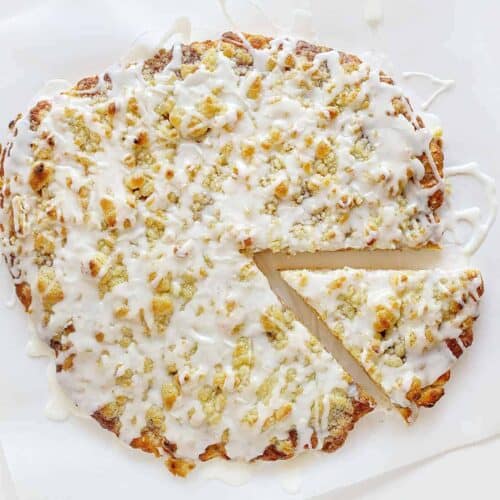 Cactus Bread
Cactus Bread is a sweet, soft, slightly spiced dessert pizza that folks who go to Pizza Ranch make a special point to get!
Ingredients
Crumble Topping
½

cup

(1 stick / 113 g) cold butter,

cubed

¾

cup

(94 g) all-purpose flour

⅓

cup

(42 g) confectioners' sugar
Bread Dough
3

cups

(375 g) self-rising flour

2

cups

(490 g) plain greek yogurt
Cinnamon Butter Topping
3

tablespoons

butter

3

tablespoons

granulated sugar

1

teaspoon

cinnamon
Glaze
1

cup

(125 g) confectioners' sugar

1-2

tablespoons

milk
Instructions
Crumble Topping
In a medium bowl, add the cold cubed butter, flour, and confectioners sugar. Using your fingers, sift the flour mixture over the butter and then start breaking down each cube into pea-sized pieces. When done, every ingredient should be well incorporated. (It is ok to have a few chunks.) Place in the refrigerator until ready to add the crumble.
Bread Dough
In a large bowl, add the self-rising flour and yogurt. Use a spoon to mix together as well as you can, then switch to your clean hands. Mix with hands until ingredients are coming together and then turn out onto a clean surface to knead for about 5 minutes. If the dough is too dry (crumbly), add a tablespoon of yogurt. If it is too wet, add a tablespoon of self-rising flour.

Once the dough is kneaded and smooth, roll it out into a 10-12 inch circle. It should be about 1/4 inch thick.

Place dough on a parchment-lined pizza stone or a parchment-lined baking sheet. Bake for 8-10 minutes, or until the edges just start to brown. Remove from oven. (It will bake again once toppings are added.)
Toppings
While the dough is baking for the first time, melt together butter, sugar, and cinnamon in microwave for about 30 seconds. Stir.

In a separate bowl, mix confectioners' sugar and 1 tablespoon milk until smooth and creamy. If too thick, and in another tablespoon milk. Set aside.
Assembly
After the dough has been removed from the oven, brush the cinnamon butter over the dough in a thin layer, covering the entire surface.

Sprinkle the cold crumble topping over the cinnamon butter, getting out to the edges.

Place back into the oven for 6-8 minutes, or until the crumble no longer appears wet and is starting to turn golden brown.

When done, remove from the oven and let sit for about 5-10 minutes.

After it has cooled down a little bit, drizzle with all of the glaze. Serve immediately.
Did you make this recipe?
Thank you for making my recipe! You took pictures, right? Well go ahead and post them on Instagram! Be sure to mention me @iambaker and use the hashtag #YouAreBaker.