Blueberry Lemon Loaf is a moist cake-like loaf loaded with fresh blueberries and lemon flavor, topped and baked with a crumble topping. Then, the loaf is drizzled with a sweet glaze to make this a perfect breakfast, snack, or dessert. This is a copycat of the viral Costco Blueberry Lemon Loaf and dare I say, even BETTER! If you would like to try it without added lemon flavor, I also have a delicious Blueberry Bread you will love!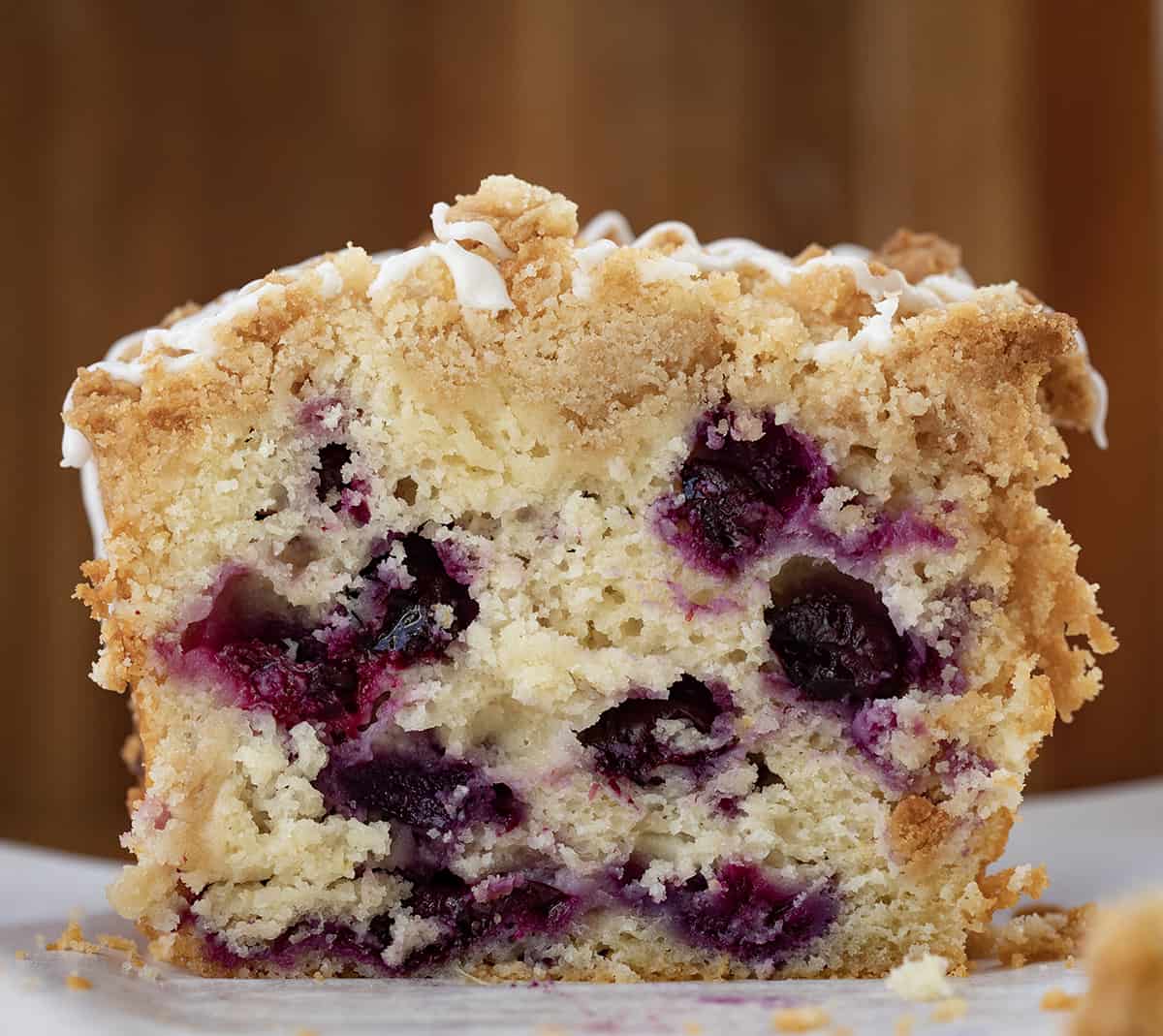 Ingredients & Substitutions
Room Temperature Ingredients: Room temperature ingredients (specifically butter, sour cream, egg, and milk) are important here to prevent lumps in this quick bread.
Egg: Out of eggs? Here are a few egg substitutes you could try.
Lemon: You will need one lemon for this recipe. First, zest the lemon until you have 2 teaspoons. Then, juice the lemon for 2 tablespoons of freshly squeezed lemon juice.
Blueberries: Fresh blueberries are best in this recipe. However, you could also use frozen blueberries. Be sure to reserve about 1/4 cup to reserve for the topping before baking the loaf.
Crumble Topping: The crumble topping is easy to make, but really adds something amazing to this blueberry lemon loaf. It's the topping I added to my Double Blueberry Muffins, which was so perfect, I had to use it again!
Glaze: The simple confectioners' sugar glaze is made with just two ingredients, confectioners' sugar (also known as icing sugar or powdered sugar) and water. Add water as needed to get the glaze to your desired consistency. The bread is also delicious without the glaze if you prefer to leave that off.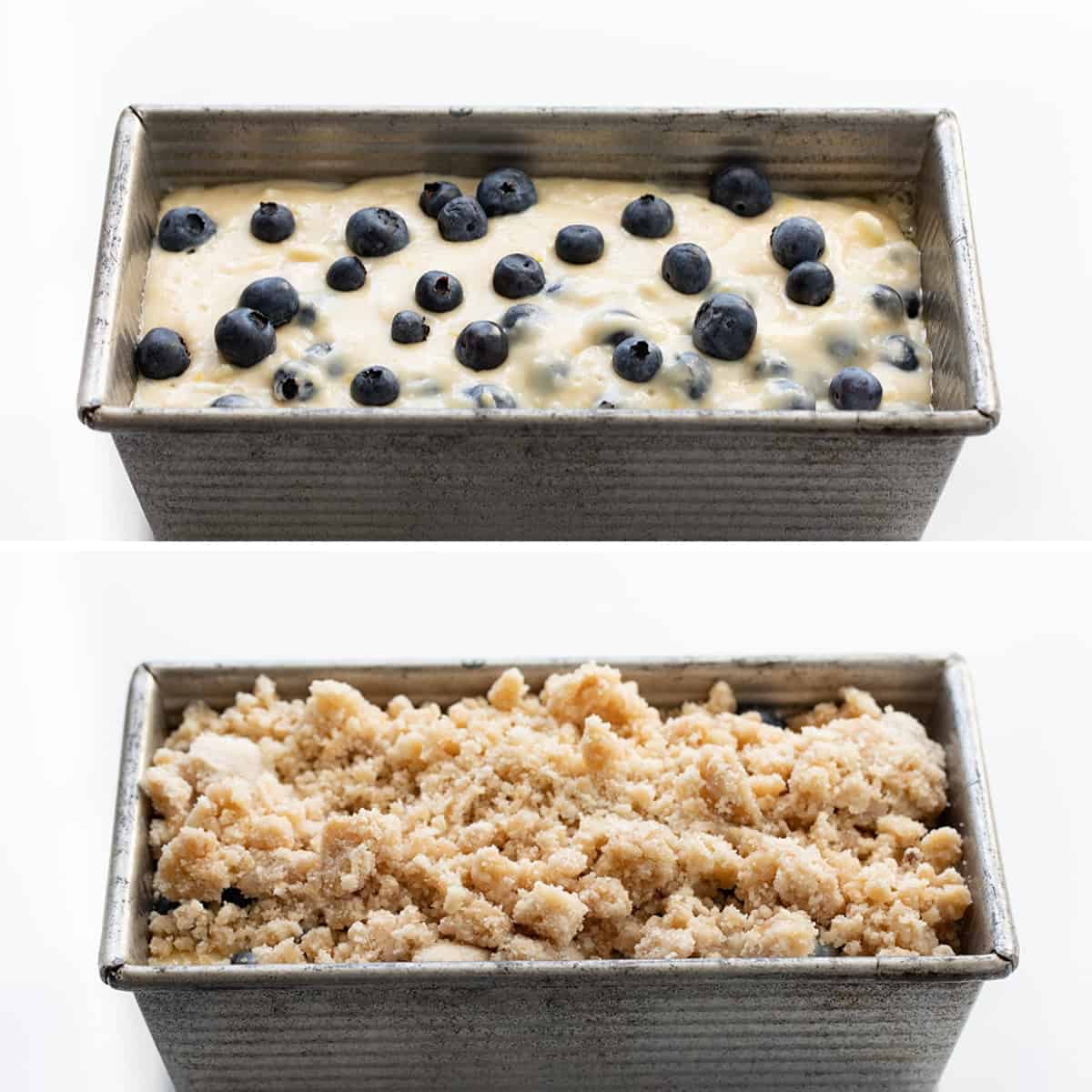 Can I Make This Loaf Into Muffins?
Sure! If you prefer blueberry lemon muffins (this is the recipe!), fold all of the blueberries into the batter (without reserving any for the top). Fill 12 lined muffin cups with about 3/4 cup of the batter. Top with crumble and bake for about 20 minutes.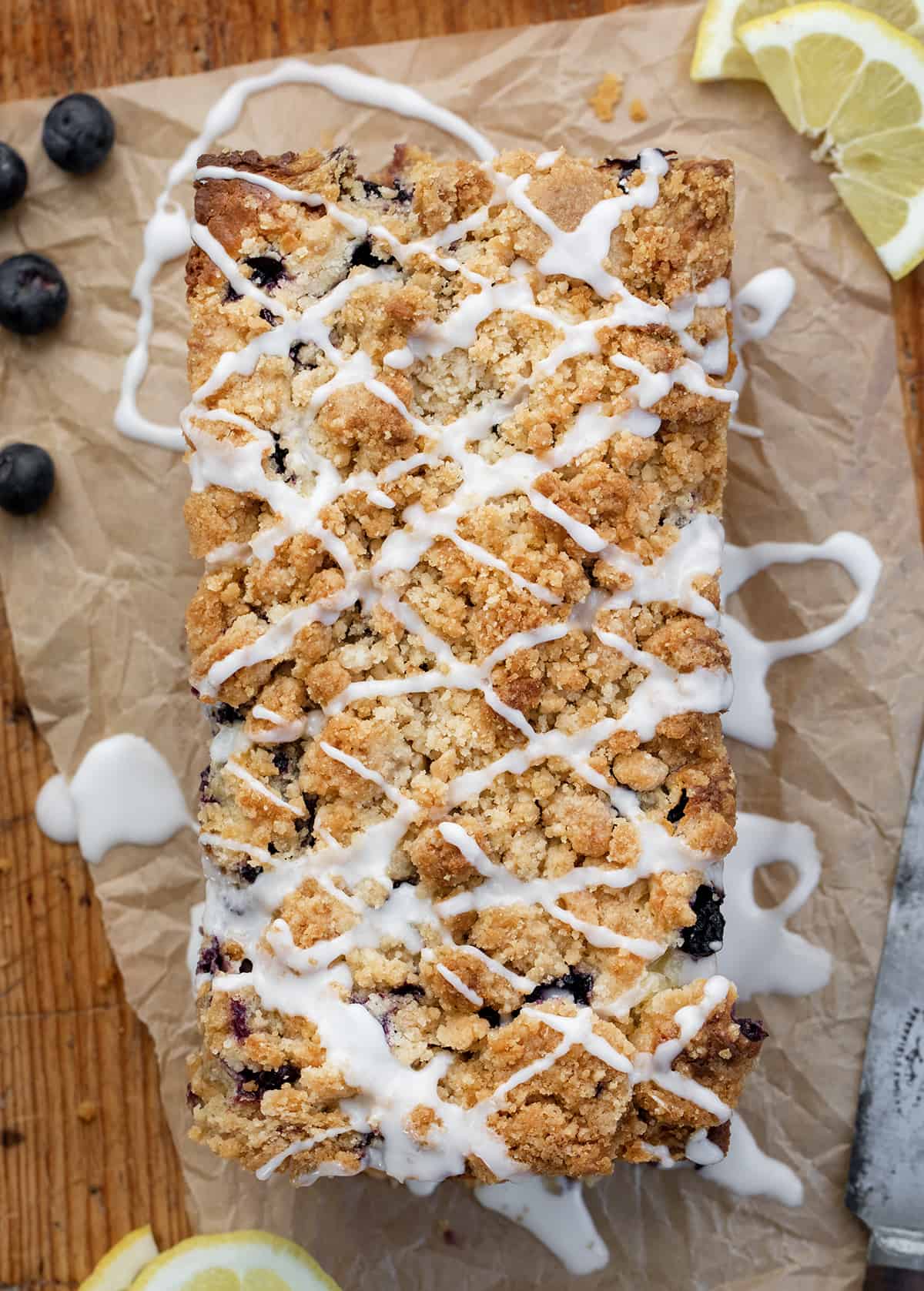 How To Store Blueberry Lemon Loaf
Room Temperature: Wrap the bread in plastic wrap. It will last for up to five days at room temperature.
To Refrigerate: (This is not the recommended method since storing bread in the refrigerator can dry it out faster.) Place in a sealable plastic bag or airtight container and then place into the refrigerator. It should keep for up to 5 days. To reheat, remove from refrigerator and pop a slice into the microwave for 10 seconds or just allow the loaf to come to room temperature naturally, about 15 minutes.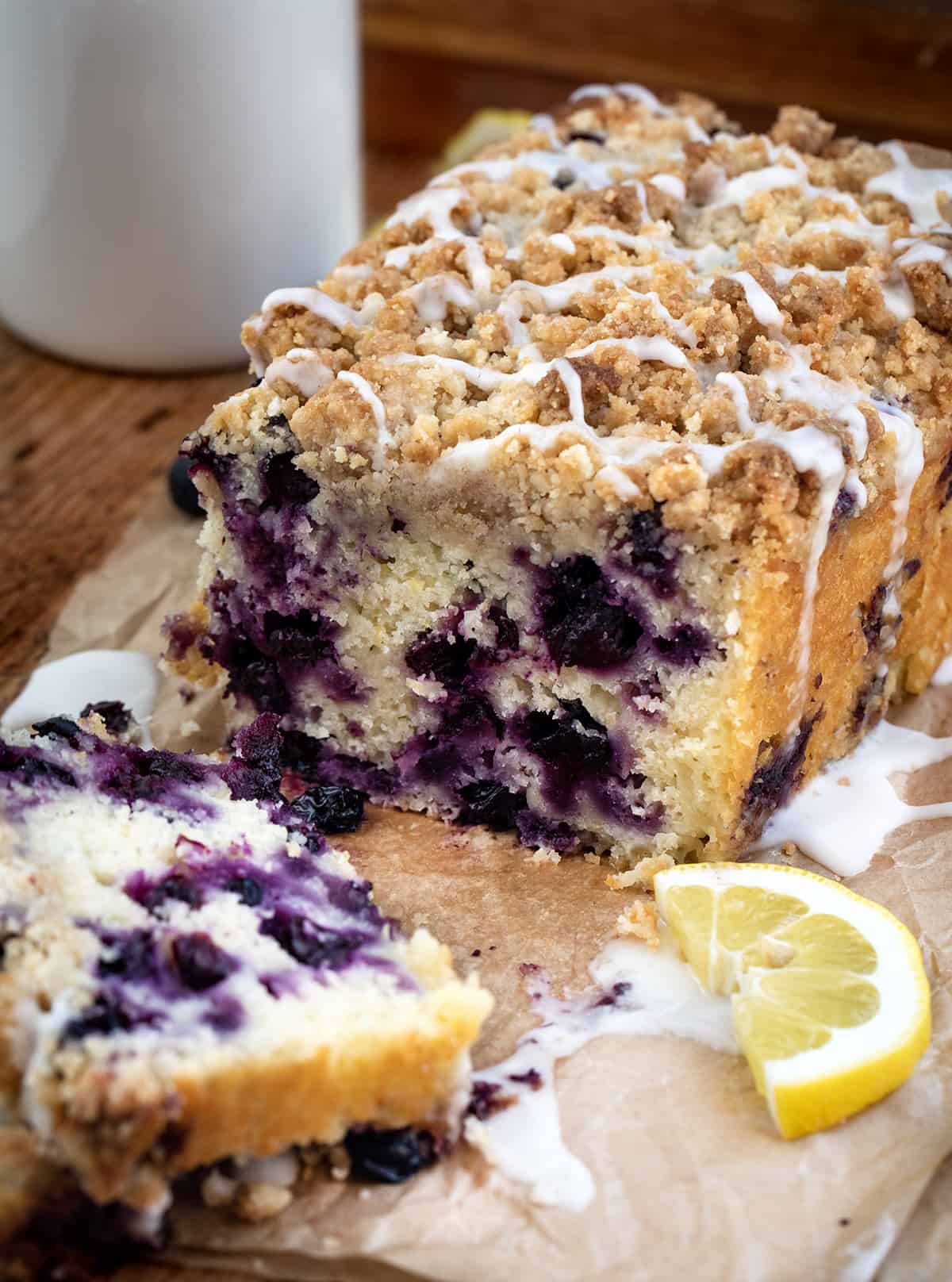 Can I Freeze Blueberry Lemon Loaf?
Yes! If freezing the loaf, you will want to make sure you allow it to cool completely. Wrap the blueberry lemon loaf tightly with aluminum foil or plastic freezer wrap and place it in a heavy-duty freezer bag. If you prefer not to use foil directly on your bread, wrap it tightly with parchment paper, then place that into a sealable plastic bag. Label it with the date; it will last for two to three months in the freezer. To thaw bread, take it out of the freezer and set it on the counter. Allow it to reach room temperature before you take it out of its packaging; it will re-absorb some of its moisture this way.
More Blueberry Lemon Treats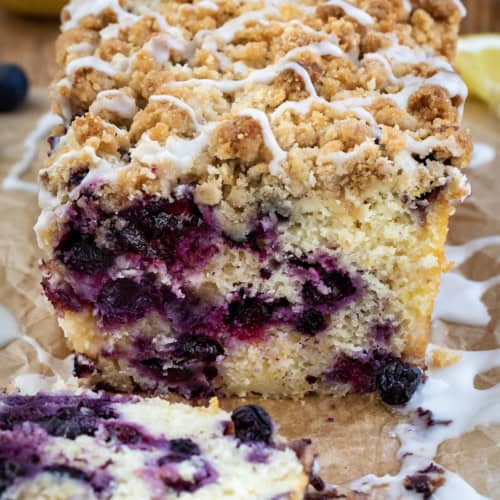 Blueberry Lemon Loaf
Blueberry Lemon Loaf is a moist cake-like loaf loaded with fresh blueberries and lemon flavor, topped and baked with a crumble topping. Then, the loaf is drizzled with a sweet glaze to make this a perfect breakfast, snack, or dessert.
Ingredients
Blueberry Lemon Loaf
¾

cup

(150 g) granulated sugar

¼

cup

(½ stick, 57 g) unsalted butter,

room temperature

½

cup

(115 g) sour cream,

room temperature

1

large

egg,

room temperature

2

tablespoons

fresh lemon juice

2

teaspoons

lemon zest

1 ½

cups

(187.5 g) all-purpose flour

2

teaspoons

baking powder

½

teaspoon

kosher salt

½

cup

(122.5 g) whole milk,

room temperature

2

cups

(296 g) fresh blueberries,

divided
Glaze
1

cup

(125 g) confectioners' sugar

2

tablespoons

water,

room temperature
Instructions
Blueberry Lemon Loaf
Preheat oven to 375°F. Spray an 8½ x 4½-inch loaf pan with nonstick cooking spray. Set aside.

To the bowl of a stand mixer with a paddle attachment, add the sugar, butter, sour cream, egg, lemon juice, and lemon zest. Beat until creamy. (You could also use a handheld mixer.)

In a separate bowl, whisk together flour, baking powder, and salt.

With the mixer on low, alternate between adding the flour mixture and the milk, beginning and ending with the flour mixture.

Gently fold in about 1 ¾ cups of blueberries, reserving ¼ cup for the topping.

Pour the batter into the prepared loaf pan and top with the reserved blueberries.
Crumble Topping
To make the crumble topping, mix together the flour, granulated sugar, brown sugar, salt, and melted butter in a small bowl.

Top the batter with the crumble.

Bake the loaf for 65 minutes. The bread is done when an inserted toothpick comes out with a few crumbs, but no wet batter. Let the loaf cool before adding the glaze.
Glaze
In a medium bowl, whisk together the confectioners' sugar and water. Add more water until the glaze reaches your desired consistency.

Drizzle the glaze over the cooled loaf. Slice and serve.
Did you make this recipe?
Thank you for making my recipe! You took pictures, right? Well go ahead and post them on Instagram! Be sure to mention me @iambaker and use the hashtag #YouAreBaker.
What the Test Kitchen had to say about this recipe: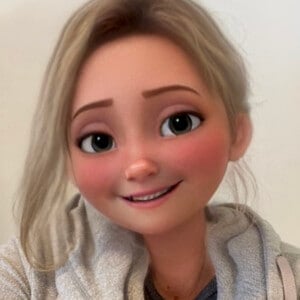 Autumn
Holy cow, this loaf is AMAZING! I have always been a big fan of blueberry and lemon but this one is probably my new favorite. You might be tempted to scale back and use fewer blueberries. Don't, I say! 2 cups is the perfect amount!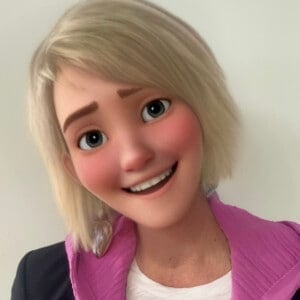 Elizabeth
This loaf was moist and full of blueberries! I appreciated just a hint of lemon flavor since I am not always a fan of blueberry lemon treats. The crumble topping made this extra amazing!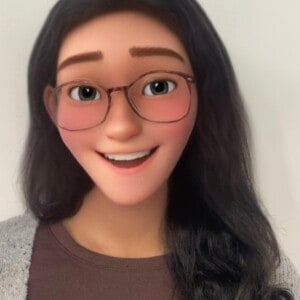 Bella
Lemon and blueberries go so well together, in my opinion. There are sweet and tart flavors. This is a moist loaf with juicy sweet blueberries. Everything about it is incredibly tasty.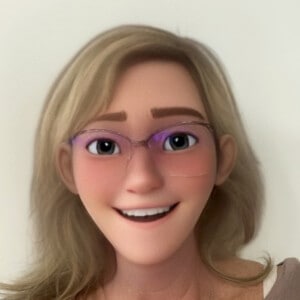 Christine
If you love the flavors of spring, this is it! Plump, juicy blueberries, in a fantastic lemon flavored loaf with a crunchy crumble on top is out of this world!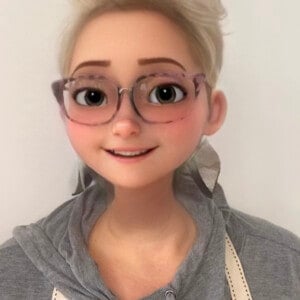 Selena
Blueberry overload!! If you love blueberries and moist bread, this is it! The hint of lemon and crunchy crumble on top is just perfection.