Check out my Candy Corn Peanut Butter Scootcheroo Bars! This totally Original recipe is sure to become a family favorite!
Can we talk about candy corn for a second? And in the sake of transparency, I am talking about it from the perspective of being absolutely obsessed with it. Like, addicted to the stuff.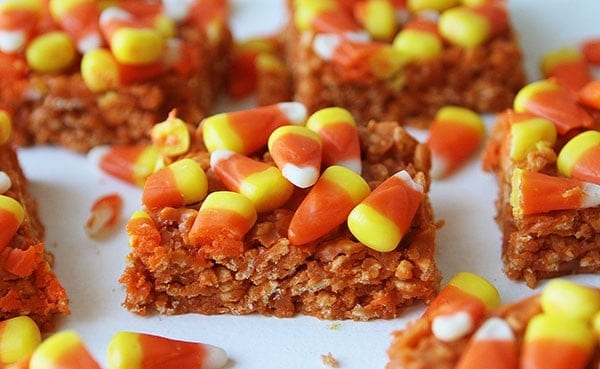 I really can't keep it in my home because I will just eat it. All. Eat it all. All of it. At once. I have no control.
So I just don't buy it.
Except when I do.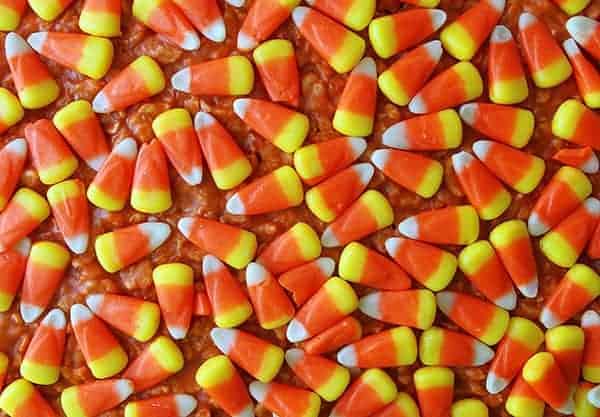 This dessert is definitely an ode to candy corn. There are three bags in this one pan.
Developing this project was a labor of love/hate. Love because I love candy corn. #da Hate because I had to buy so many bags of the stuff and sample so many varieties and re-test the recipe so many times that I must have eaten the entire Minnesota supply.
All for the sake of finding you the perfect Candy Corn Scootcheroo.
#ilovemyjob
#ihatemyjob
#justkidding
#ionlyloveit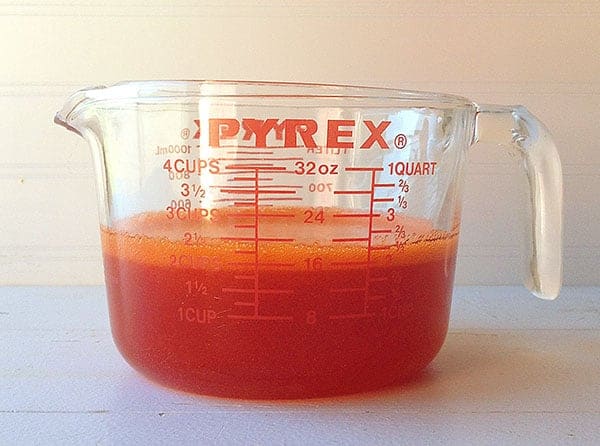 Most of the trial and error went into finding the perfect consistency of candy corn mixture.
An original recipe of scootcheroo's (like my Snickers Special K Bars, to DIE for) calls for 1 cup of corn syrup and 1 cup of white sugar. When I was looking at the ingredients of candy corn the main ingredient is corn syrup. So a bell went off in my brain, and I thought, "Why don't I just substitute candy corn for the sugar and corn syrup?"
So I did.
But here was the problem: If it was too thick it was impossible to spread over the cereal. If it was too thin it was candy corn cereal soup.
I think the final, and best, consistency is similar to whole milk. Runny, but sturdy.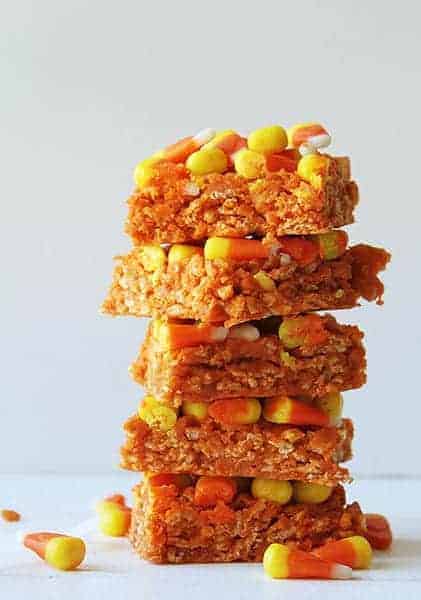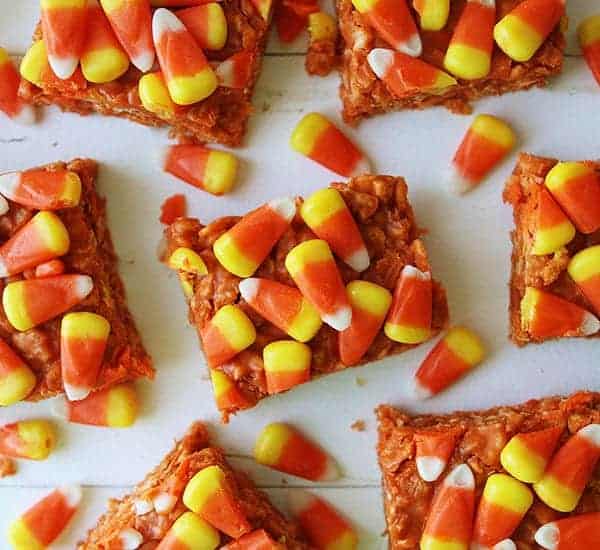 Final consensus? Hubby thought there was too much peanut butter. Parker thought they were best without candy corn on top. Colton added more candy corn to the top of his.
Me? I love the final product just as it is. But be warned, they are addicting, so I advise giving away as many as possible!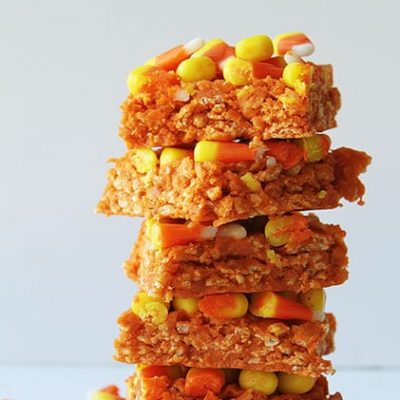 Candy Corn Scotcharoo's
This dessert is definitely an ode to candy corn.
Ingredients
14 1-

ounce

bags of candy corn

1/4

cup

water

1 1/2

cups

creamy peanut butter

7

cups

Special K cereal
Instructions
Prepare a 9 x 13 baking pan by spraying (or coating with butter or goop) with bakers spray on sides. Place a piece of parchment paper snuggly in the bottom of the pan.

In a medium saucepan over low heat, pour in two bags of candy corn and 1/4 cup water. This is approximately 4 cups of candy corn.

Cook over low heat, stirring occasionally, for about 20 minutes. You will want the candy corn to melt completely.

Remove from heat.

Add peanut butter to candy corn reduction and stir together until full combined.

Put all cereal in a large bowl and pour the candy corn mixture over the cereal. Stir to coat all the cereal.

Pour cereal into prepared pan and press it flat. You can do this with your hands (coat them with bakers spray as often as needed) or with a spatula.

Immediately after you get the cereal flattened, pour candy over the top and level it out. Gently press candy corn into cereal mixture.
Did you make this recipe?
Thank you for making my recipe! You took pictures, right? Well go ahead and post them on Instagram! Be sure to mention me @iambaker and use the hashtag #YouAreBaker.