I win the internet.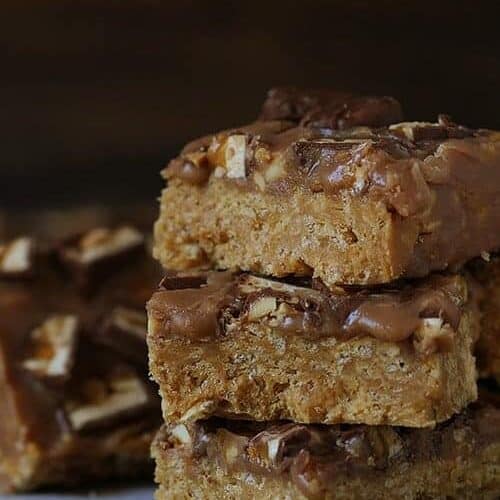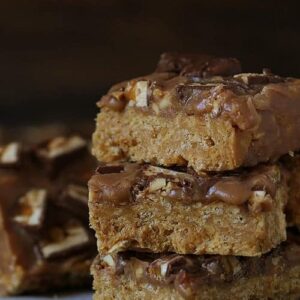 Snickers Special-K Bars
I was going to tell you that, post a few pictures and a recipe and be done with it. Cause I mean, hello. I won. Game over.
Keyword:
Snickers Special-K Bars
Ingredients
1

c

white sugar

1

c

light corn syrup

1 1/2

c

peanut butter

7

c

Special K cereal
Frosting
3

full size Snickers bars

1

stick butter

room temperature

2

c

confectioners sugar

1/2

c

milk

1

bag fun size Snickers

each bar chopped into at least five pieces
Instructions
Prepare a 9 x 13 inch pan. (I spray my pan then line it with parchment paper)

In a large sauce pan, combine sugar and light corn syrup and cook over medium heat until boiling. Stir in peanut butter until smooth.

Remove from heat and stir in the cereal. Pat the cereal mixture into the prepared pan.
Frosting
Melt three full size Snickers bars with 1 stick butter in a saucepan over very low heat. (about five minutes) Once melted, remove from heat and add confectioners sugar then the milk.

Pour warm frosting over bars and sprinkle chopped Snickers bars over frosting, allow to set for at least 3 hours.

(You can refrigerate to set quicker, but let bars come to room temperature before serving.)
I was going to tell you that, post a few pictures and a recipe and be done with it.  Cause I mean, hello.  I won.  Game over.
But then I thought you might want to know why I won.
But that would mean telling you all about these, and they wouldn't be my little secret anymore.  And people might judge me that I made a dessert with 47 snickers bars in it.  And then added butter.  And sugar.  Cause apparently that's bad or something.
These are Special K bars covered in Snickers Frosting.
Frosting.
Made of Snickers bars.
Melted down Snickers bars.
Yes, I totally went there.
But that wasn't it!
I then chopped up an entire bag of the snack size bars and sprinkled them on top as if they were the magical happy tears from rainbow colored unicorns and each precious chunk was saving a Dalmatian puppy from being turned into a coat.
Then I brought one to my husband and made him eat it.  We just looked at each other.  No words were necessary.
Then my daughter came in and said, "Those look weird."  And I laughed and laughed and crazy eyed laughed and said,
"You have no idea what you are saying child!  Just back away.  Don't look into them too long or they will bewitch you with rainbows and love.  Slowly, just turn around and then run as fast as you can!  Run I tell you!"
She gave me a weird look and went back to playing My Little Ponies on her ipad.   Even though I forbid her playing that game.  Dang those ponies are sassy!
The Special K Bars recipe was adapted from allrecipes.com and the frosting was adapted from The Pioneer Woman.
Immediately after making these and sampling just a bit I packaged everything up to be given away.  They MUST BE GIVEN AWAY.  Or you will eat them ALL.
And you will curse me and thank me and proclaim yourself THE WINNER OF THE INTERNET.
Just trust me.