Once you taste this homemade Caramel Corn, you will walk right past those pre-made varieties and make your own batch! If you love popcorn, you have to try my White Chocolate Caramel Popcorn.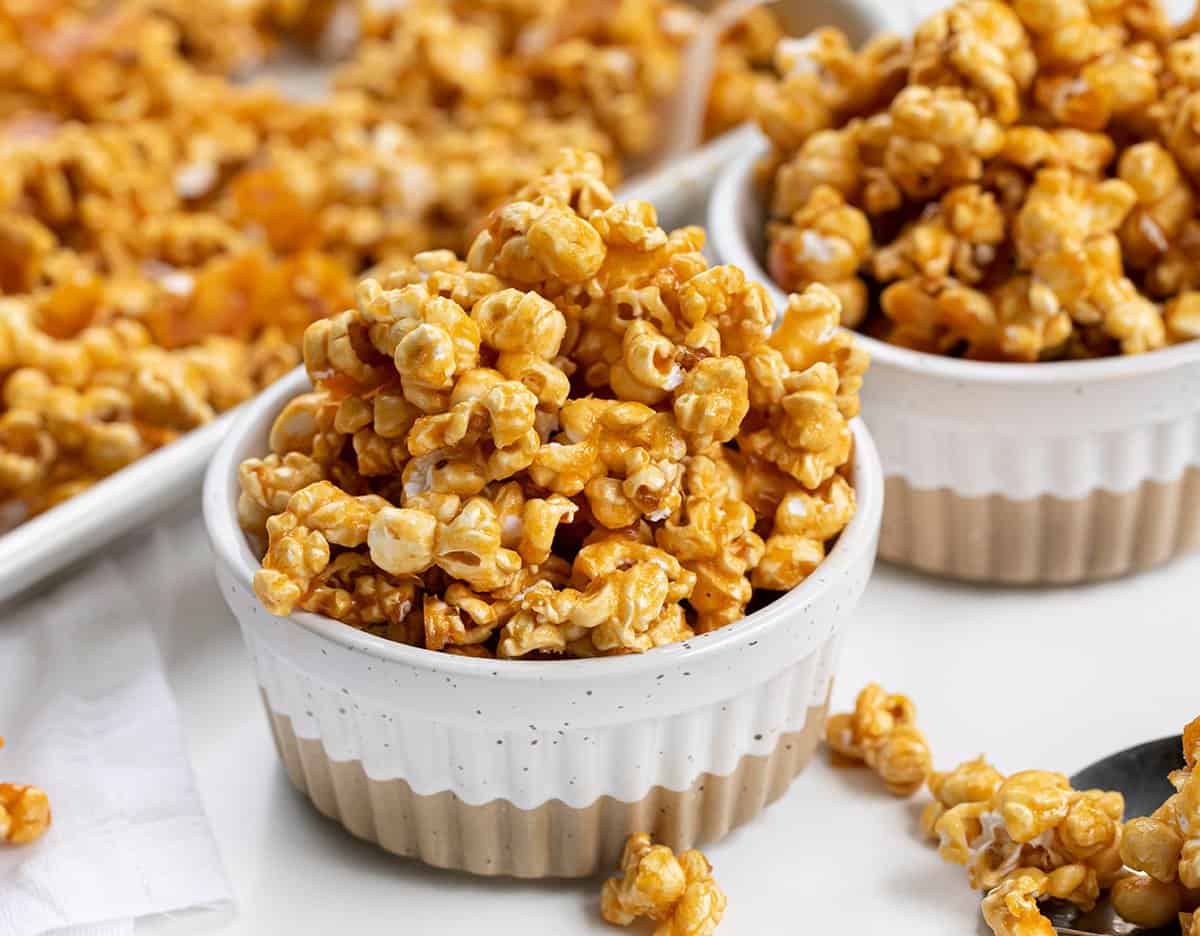 Caramel Corn
When I think of caramel corn, my first thought is a box of Cracker Jack. Remember the 'prize inside' marketing strategy? I admit it worked on me😊. Well, the prizes don't tempt me as much anymore, so I decided to just make my own. With a sweet flavor that is baked into the popcorn, it's a prize in itself!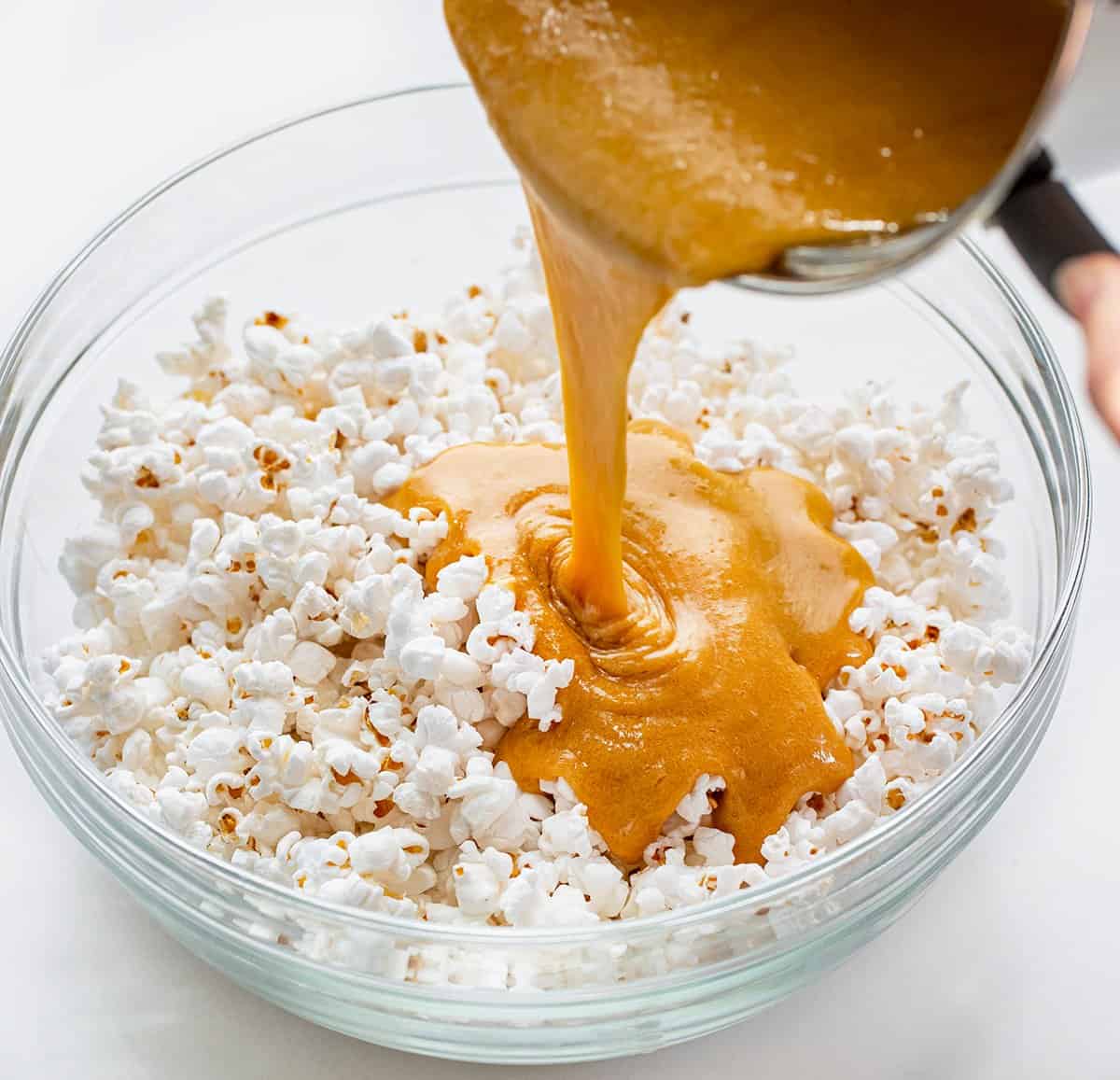 Ingredients
Caramel: You will need brown sugar, butter, light corn syrup, salt, vanilla, and baking soda to make the caramel mixture.
Popcorn: I prefer white popcorn in this recipe. However, you could use white or yellow.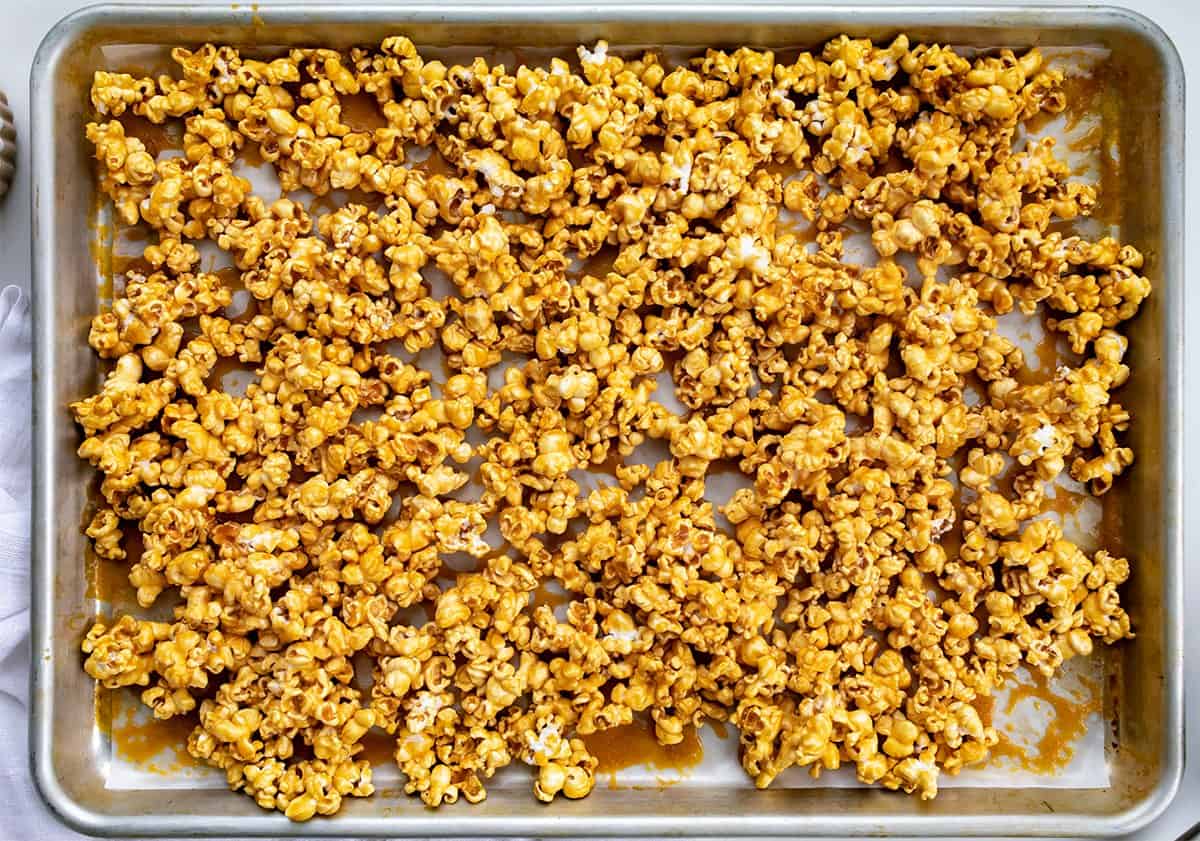 White Popcorn vs Yellow Popcorn
I much prefer the smaller flakes (popped kernels) of white popcorn. White popcorn is more tender and pops up white. Yellow popcorn is another variety you can easily find at the grocery store. You guessed it, it pops up yellow. It is considered chewier than white.
In some cases, you may see popcorn referred to as 'mushroom' or 'butterfly' type. This is based on the shape when popped. Mushroom popcorn is large, rounded pieces of popcorn, whereas butterfly popcorn is smaller in size and can vary in shape.
It is really your preference as to the kind of popcorn you use. And, don't forget about microwavable popcorn, too. Any kind that is coated in caramel will be a deliciously sweet snack!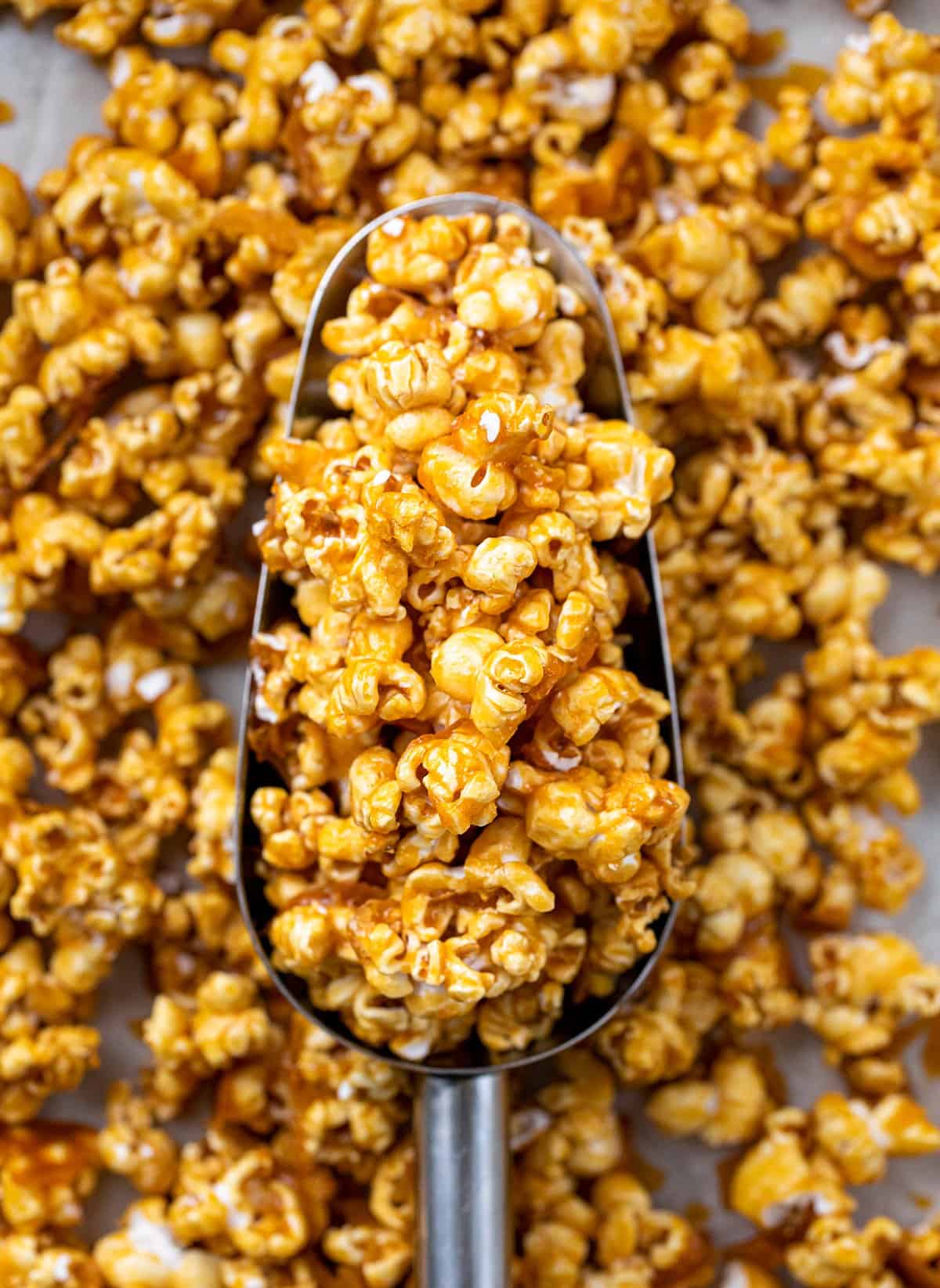 How to Keep Caramel Corn Fresh
Caramel Corn doesn't spoil, it just loses its crunchiness and taste if not stored properly. (Think about the stale chips you have eaten when the bag wasn't tightly closed.) Now, in my experience, there was no need to store the Caramel Corn for long since it was gone in a few hours sometimes.
But, if you want to save it for a while, be sure to store it in an airtight container, getting all the air out. Keep it in a place that will not expose it to lots of humidity and heat (room temperature is best). I recommend keeping it on the counter or in a pantry. Do not freeze it or heat it up in the microwave.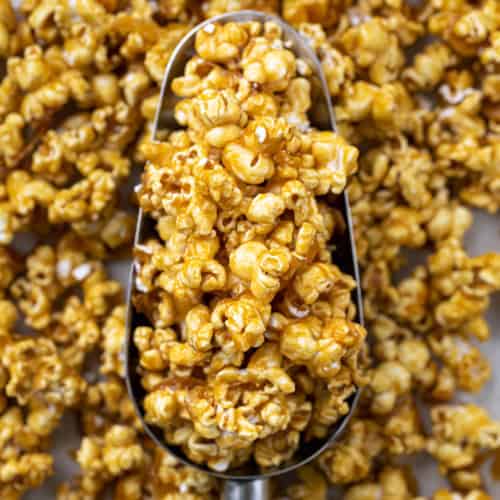 Caramel Corn
With baked in sweetness and crunchy popcorn, Homemade Caramel Corn is better than anything you can buy!
Ingredients
1

cup

(200 g) brown sugar*

½

cup

(1 stick / 113 g) butter

½

cup

(171 g) light corn syrup

½

teaspoon

kosher salt

1

teaspoon

vanilla extract

½

teaspoon

baking soda

10

cups

(80 g) plain white popped popcorn,

about ½ cup kernels
Instructions
Preheat oven to 250°F and line a baking sheet with parchment paper.

In a large saucepan over medium heat, add brown sugar, butter, corn syrup, salt, and vanilla. Bring to a boil and remove from heat.

Place popcorn in a lightly greased large bowl. Pour the caramel mixture over the top and gently fold in the popcorn with a greased wooden spatula.

Pour the mixture onto the lined baking sheet, spreading it out into an even layer.

Bake for 60 minutes, gently stirring the popcorn occasionally, until darkened and dry.

Let the caramel corn cool to room temperature before serving.
Notes
*You can double all of the caramel ingredients if you want, creating a lot of extra ooey gooey caramel popcorn. Any leftovers can be stored in the refrigerator.
Did you make this recipe?
Thank you for making my recipe! You took pictures, right? Well go ahead and post them on Instagram! Be sure to mention me @iambaker and use the hashtag #YouAreBaker.