These ooey gooey butter bars are going to melt-in-your-mouth! A soft buttery bar surrounds the smoothest homemade pumpkin caramel. We can't get enough! For another delicious dessert that will not disappoint, try my Kentucky Butter Crunch Cake.
Caramel Pumpkin Butter Bars
It's Pumpkin Season, 'don't ya know' (said in my midwestern accent). This time of year, it's all about pumpkin and pumpkin spice. I am all about getting on that bandwagon, so my Caramel Pumpkin Bars are a welcome addition to my list of pumpkin recipes, which includes a Pumpkin Crisp and Pumpkin Snickerdoodles.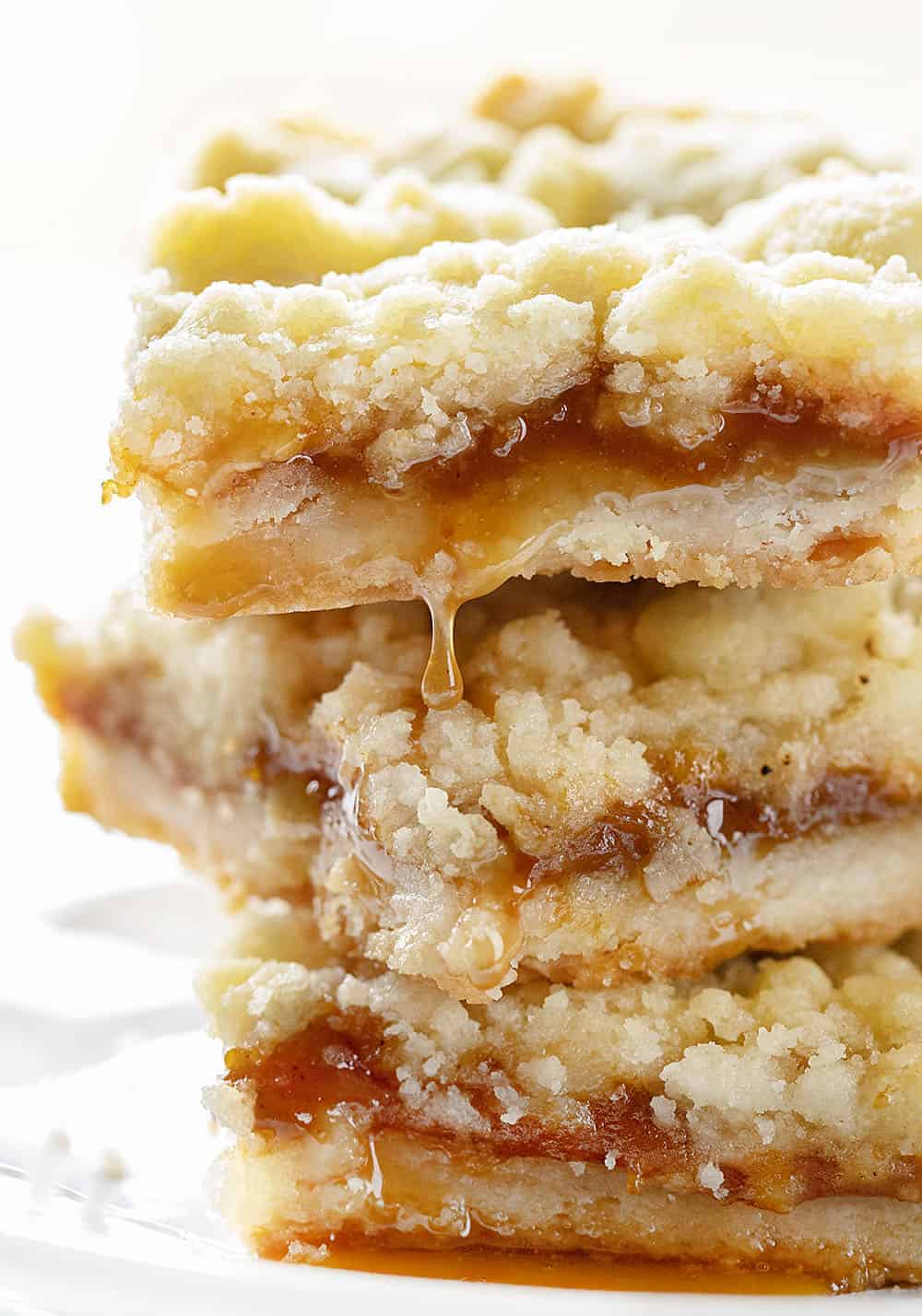 Caramel Pumpkin Butter Bars Ingredients
With a name like Caramel Pumpkin Butter Bars, there are a couple of other important parts to the recipe besides the pumpkin–the caramel and the butter. I am going to start with the butter (I will get to the caramel later). I opted for Challenge Butter to make sure that my bars would be the best tasting bars you will ever try! Challenge Butter is made the old-fashioned way, from the freshest milk and cream from happy cows at family-owned dairies. In fact, Challenge is the only major U.S. dairy product company that controls the whole process when it comes to making its butter, from milking the cows, to transporting milk, to making the butter to packaging and distributing. Talk about quality control! I also used Challenge Butter in my Kentucky Butter Crunch Cake which turned out to be the best pound cake I have ever made or tasted!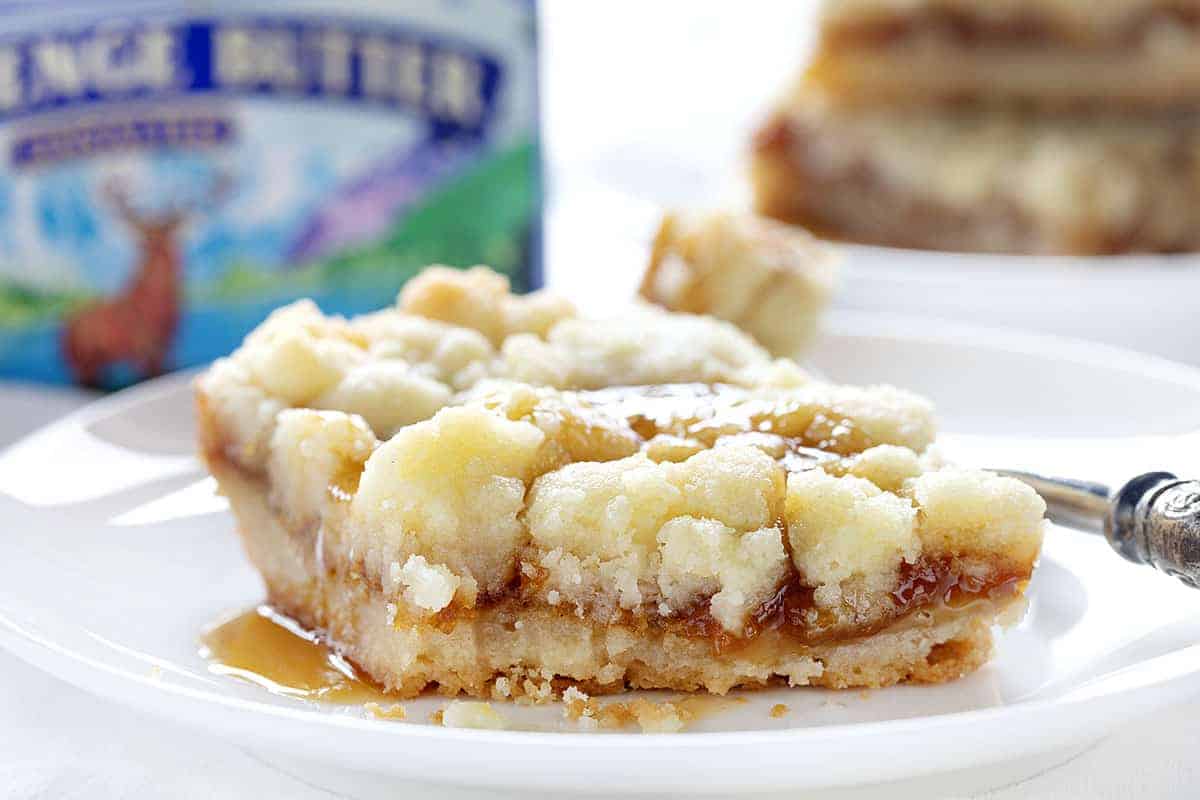 Caramel Pumpkin Sauce Ingredients
Caramel Pumpkin Sauce: You may definitely use a caramel sauce bought from the store, but I encourage you to make your own. I posted how to make your own Pumpkin Caramel Sauce below.
Pumpkin puree: Make sure you are using a pumpkin puree, not pumpkin pie filling.
Pumpkin Pie Spice: Make your own so you always have in on hand, especially during Pumpkin Spice Season, as I like to call it!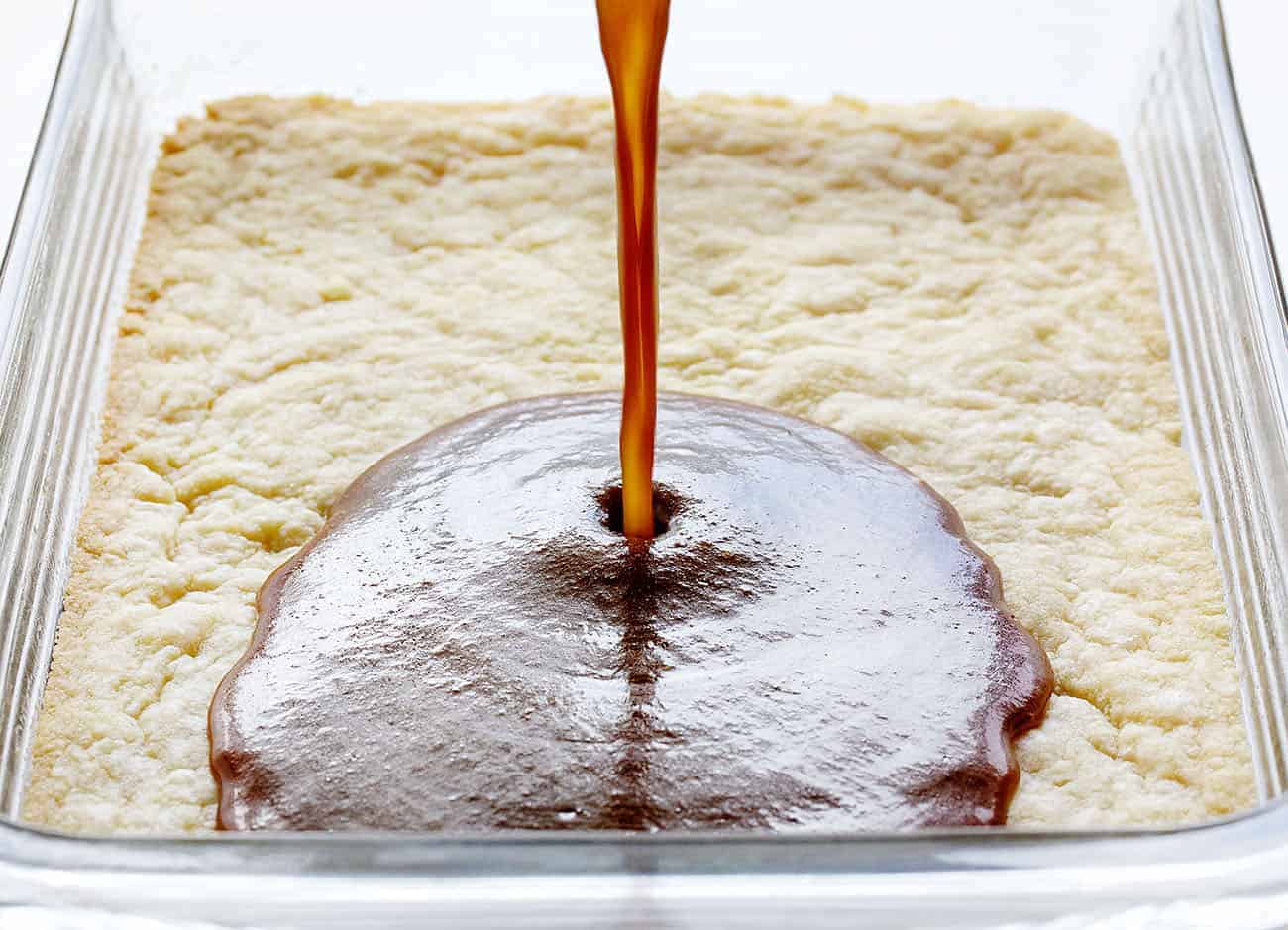 How to Make Pumpkin Caramel From Scratch
If you are like me and try to make as many ingredients from scratch as possible, I have a Pumpkin Caramel that is perfect for the Caramel Pumpkin Butter Bars. In fact, I made these bars first with a store-bought caramel and then my homemade caramel. I bet you can guess which recipe I preferred😉. I even have a Homemade Pumpkin Pie Spice that you can use in this homemade caramel recipe! If you do choose to buy a caramel sauce from the store, there is no judgment. Simply mix the caramel with the pumpkin puree and pumpkin pie spice.
PUMPKIN CARAMEL SAUCE RECIPE
1 cup (2 sticks or 226g) Challenge butter
2 cups brown sugar, packed
1/2 cup whole milk, or heavy cream
1 cup pumpkin puree, not pumpkin pie filling
1 teaspoon pumpkin pie spice
Add brown sugar, butter, and milk to a large heavy-bottomed saucepan (I used a 4 qt saucepan) and heat to medium-high. Stir gently and once the ingredients come to a low rolling boil, cook for about 2-3 minutes. (It should not feel grainy when you move a rubber spatula through the saucepan.)
Remove from heat and add the pumpkin puree and pumpkin pie spice. Whisk ingredients and allow to cool for at least 30 minutes, preferrable 1 hour.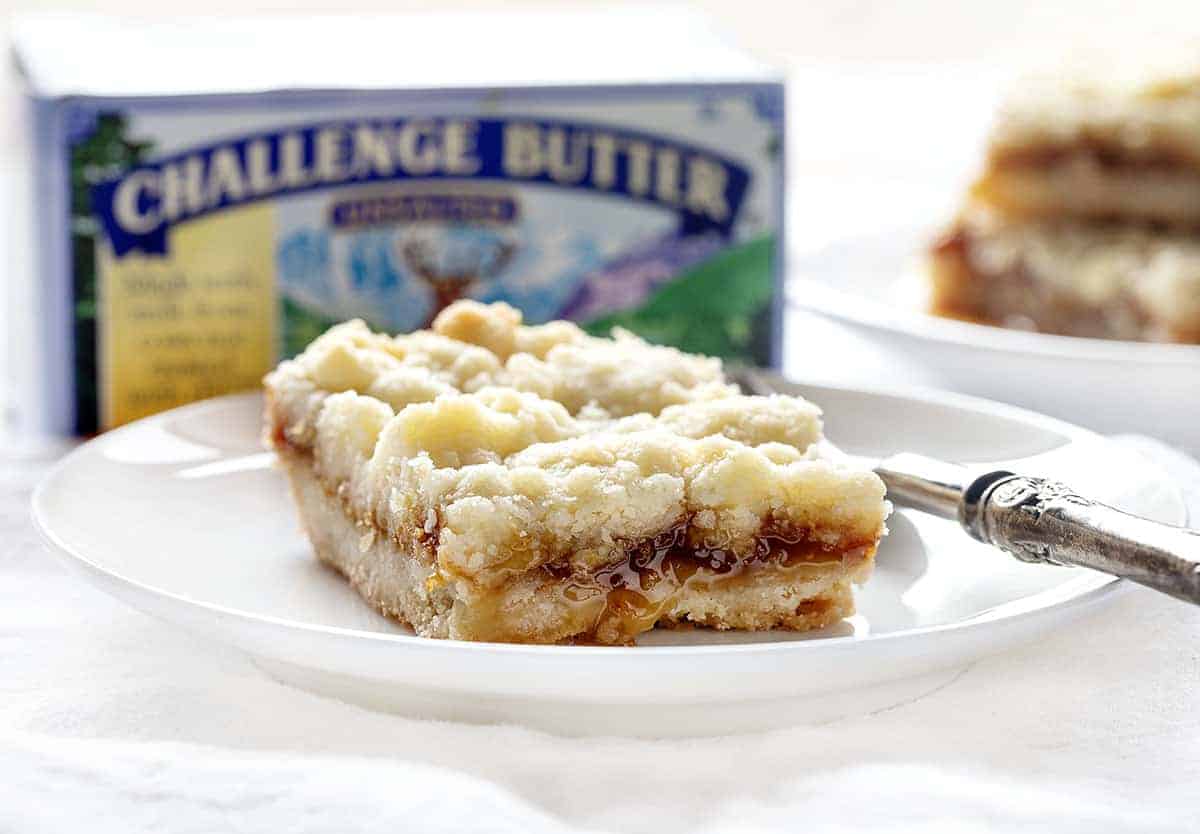 How to Make Caramel Pumpkin Butter Bars
Once you have prepared your pumpkin caramel, whether you made it from scratch or bought it from a store, put that off to the side while you work on the butter bars. Heat the oven to 325°F and prepare a 9×13 inch dish with nonstick spray. You will bake the bars in a couple of steps.
After you have mixed your ingredients for the dough, smooth half of it on the bottom of your pan. It's a nice texture, so it is rather therapeutic to spread out the dough with your hands. Bake the crust for about 25 minutes. Let it cool for about ten minutes before you pour the pumpkin caramel over the bottom crust. Take the second half of the dough and crumble it over the top of the caramel. Bake it for another 25 minutes. The hardest part for me is letting the bars cool before cutting into them and eating them! But, it is important to wait before cutting the Caramel Pumpkin Bars into pieces. I usually let mine sit in the refrigerator overnight.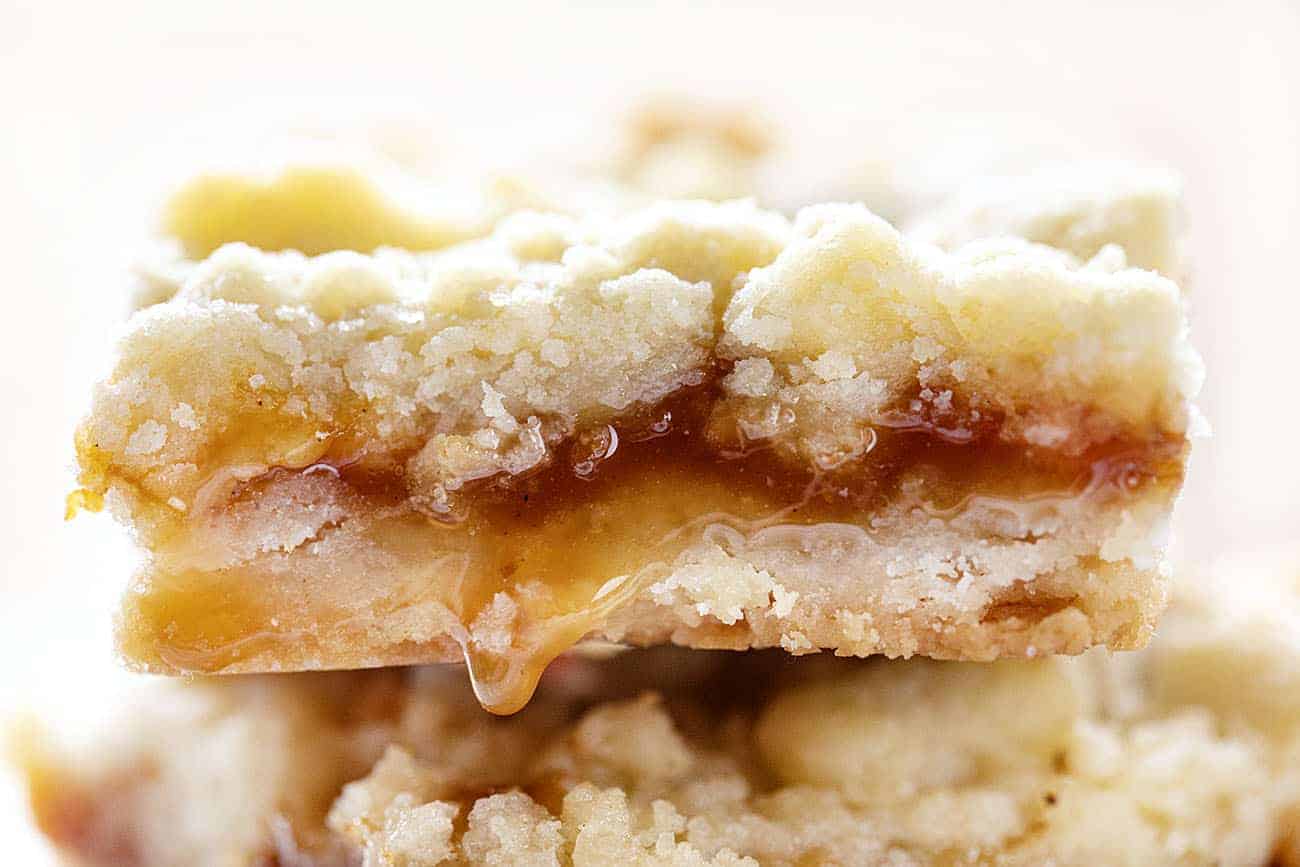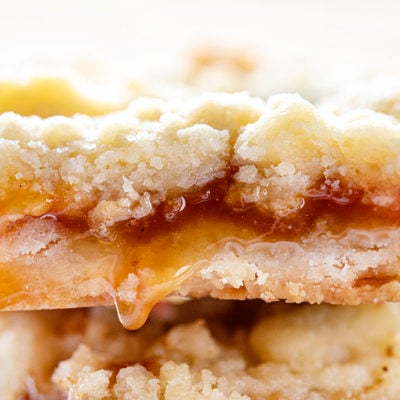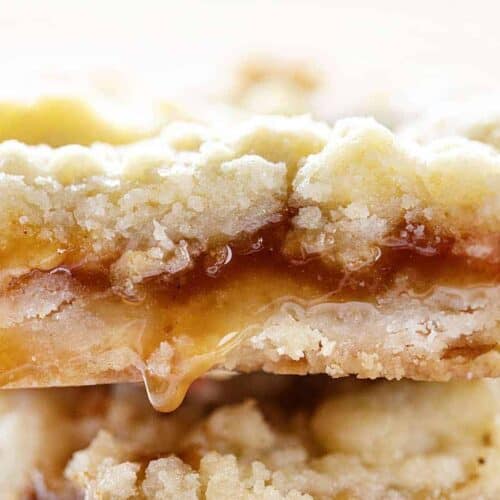 Caramel Pumpkin Butter Bars
These bars will melt in your mouth with a soft, buttery crust and an ooey, gooey pumpkin caramel filling!
Ingredients
Butter Bars
1

cup

(200 g) granulated sugar

1½

cups

(186 g) confectioners sugar

4

cups

(500 g) all-purpose flour
Instructions
Pumpkin Caramel Sauce
Pour caramel into a bowl. Add in the pumpkin puree and pumpkin spice and stir well. Set aside.
Butter Bars
Prepare a 9×13-inch dish by spraying with non-stick spray or by using the butter & flour method.

In the bowl of your stand mixer fitted with the paddle attachment (or using a hand-held mixer), cream together the butter and sugars, about 3 minutes.

With the mixer off, add in the flour. Turn mixer on low and mix until the flour is fully incorporated or about 30 seconds. The dough will be very soft.

Press half of the dough into the prepared pan and make sure it is a smooth, even layer.

Bake for 25 minutes. The crust is done when it does not appear shiny and is starting to turn a light golden brown.

Remove from oven and let sit for about 10 minutes.

Pour the pumpkin caramel sauce over the baked crust.

From the remaining dough, crumble between your fingers and sprinkle over top of the pumpkin caramel.

Bake for an additional 25 minutes.

Cool completely before cutting. (I usually refrigerate overnight.) These bars are sweet so I recommend cutting into 24 smaller pieces when serving.
Did you make this recipe?
Thank you for making my recipe! You took pictures, right? Well go ahead and post them on Instagram! Be sure to mention me @iambaker and use the hashtag #YouAreBaker.
Thank you for supporting the brands that support me here at iambaker! I adore working with Challenge products and love how their superior quality enhances everything I bake!