This is an insanely delicious, moist, rich, decadent piece of chocolate cake that just happens to include avocado!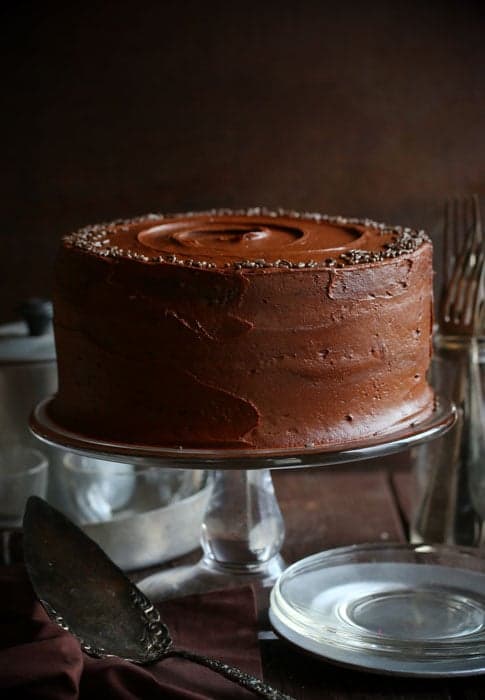 I was strolling through ALDI the other day with Olivia. We were actually strolling, which is not something I do at most grocery stores, but always do at ALDI. Not only does Olivia (my toddler-ific 2-year old) love going with me, but I simply don't want to miss one single thing.
I had only a few things on my list… milk, beef, avocados and cereal. Those are the staples in our house because we have taco's at least twice a week. And drink lots of milk!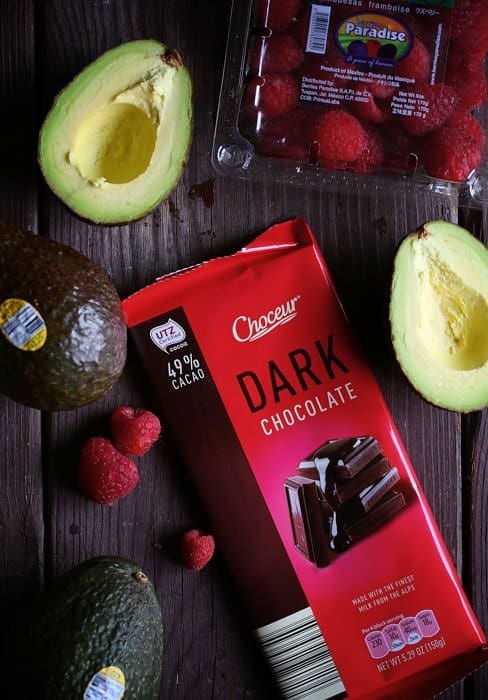 After a relaxing shopping trip (which is quite honestly a reward in itself) I got home and realized that I may have added a few things to my list.
Chocolate. Lots of chocolate. And fruit. Lovely organic fruit. And maybe some more chocolate.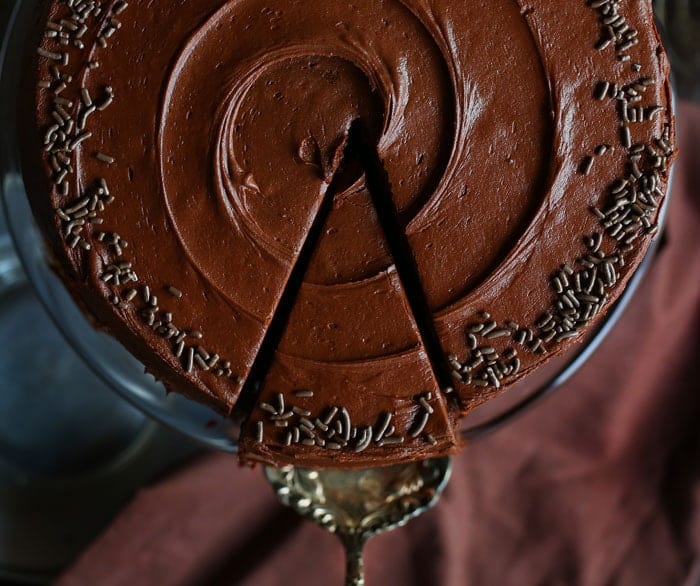 So what would I do with all these organic avocados, chocolate, and raspberries?
Bake a cake of course. I mean, I am baker. But then I had to go about finding a recipe that would accommodate such unique ingredients. After testing quite a few, I settled upon a recipe that yielded the most moist, dense, rich chocolate cake I have ever had.
It was exactly like a cake I had in a high-end artisan bakery that was charging $12 a slice! e!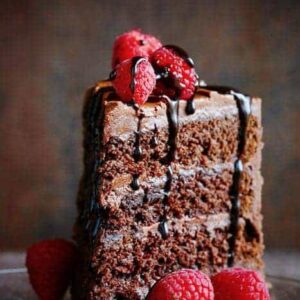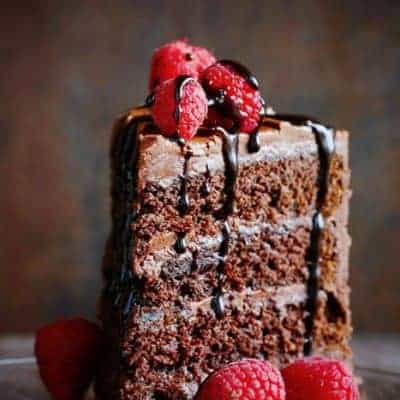 Chocolate Avocado Cake and Chocolate Buttercream
This is an insanely delicious, moist, rich, decadent piece of chocolate cake that just happens to include avocado!
Keyword:
Chocolate Avocado Cake
Ingredients
Chocolate Cake
5 -6

ounces

of dark chocolate

finely chopped

1/4

c

32g baking cocoa

3

c

375g all-purpose flour

1

tsp.

cinnamon

1/2

tsp.

salt

2

tsp.

baking soda

2

tsp.

baking powder

1/4

c

50g vegetable oil

2

c

460g coffee

1

large ripe

fresh avocado, cut lengthwise, pitted and mashed (no chunks)

1

c

200g granulated sugar

1

c

200g brown sugar
Chocolate Buttercream
1 1/2

c

340g butter, at room temperature

4

c

500g powdered sugar

3/4

c

94g baking cocoa

4

tbsp.

60ml heavy whipping cream

2

tsp.

vanilla extract

pinch

table salt
Instructions
Chocolate Cake
Preheat oven to 350F. Prepare two 8" round baking pans with baker's spray or GOOP.

Combine chocolate, cocoa powder and three tablespoons of coffee in a heat-proof bowl. (The best way to do this is the brew coffee and place 2 cups into a medium bowl. Remove 3 tablespoons. You will use the remainder in a moment.)

Place bowl over a pot of simmering water, gently stir until melted and combined. Remove from heat. (You can also melt in microwave. Heat for 30 seconds then switch to 10-second increments. Stir between each heating.)

In a large mixing bowl, combine flour, cinnamon, salt, baking soda and baking powder.

In another bowl, whisk together the vegetable oil, remaining coffee, avocado,and both sugars. Stir in the slightly cooled chocolate.

Add the wet ingredients to the dry ingredients. Whisk until fully combined and smooth, scraping the side of the bowls completely. (try to not over mix)

Divide batter between both baking pans. Bake in preheated oven for 45 minutes, until a toothpick inserted into center of cake comes out clean.

Allow to cool completely before frosting.
Chocolate Buttercream
In a the bowl of an electric stand mixer, fitted with whisk attachment whisk butter and sugar on medium high speed until very pale and fluffy or about five minutes.

Be sure to stop at least once and scrape the bowl.

With the mixer off, add in cocoa powder, vanilla and salt.

Turn mixer on low and blend for about 30 seconds.

One tablespoon at a time add in heavy cream.

Once all cream has been added and mixture is mostly combined, turn off the mixer and scrape down the sides of the bowl.

Now turn the mixer onto medium-high to high and whisk for 3-5 minutes or until mixture is lighter and fluffier. The frosting will be shiny and seem to have many large air bubbles throughout and this is exactly what we are going for. (You can smooth those out on the cake if so desired.)