Talk about amazing. This Chocolate Cake with Red Wine Chocolate Covered Cherries is going to knock your socks off! Pairing a wonderfully rich red wine like Broken Cloud's Pinot Noir (from ALDI) with chocolate is a fantastic way to excite your taste buds!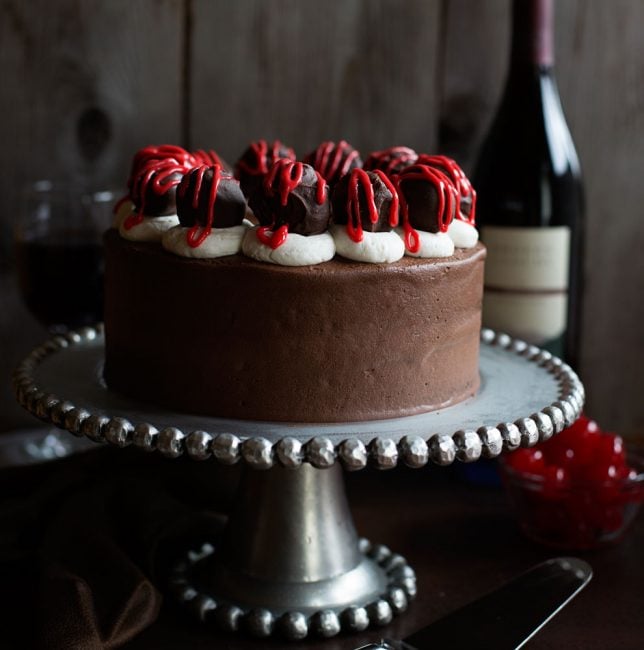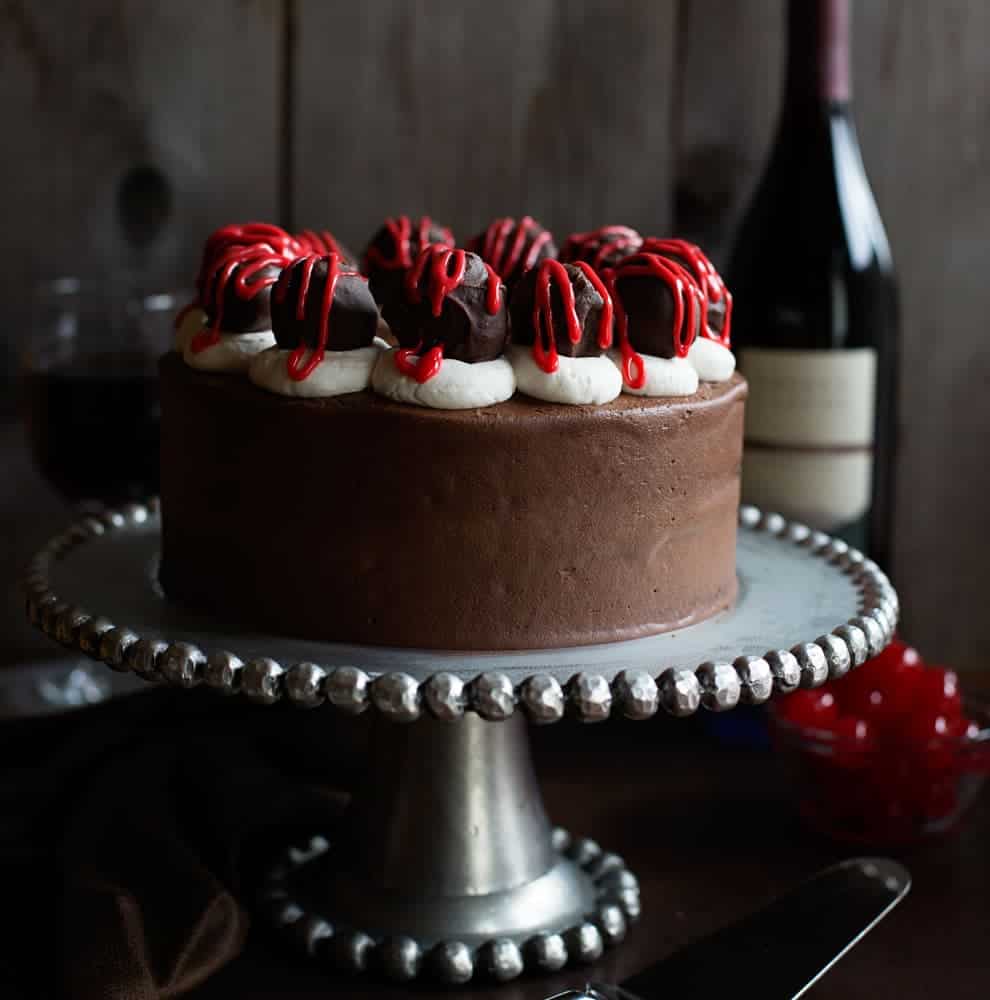 To make this cake you will need:
Red wine chocolate covered cherry recipe (below)
White buttercream (1/2 recipe)
Baker's Corner maraschino cherries (this is for between the layers of cake, not for the chocolate covered cherries)
Broken Cloud's Pinot Noir
1 cup Baker's Corner powdered sugar
pastry bags
#808 large open round tip
chocolate jimmies (optional)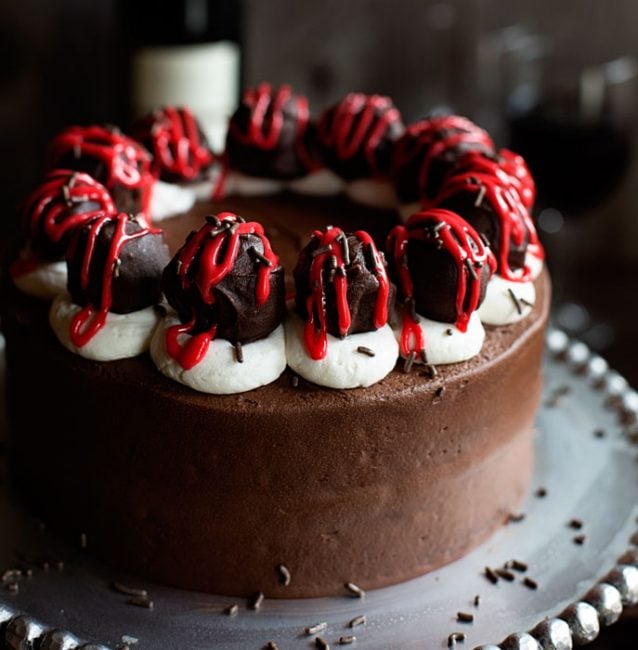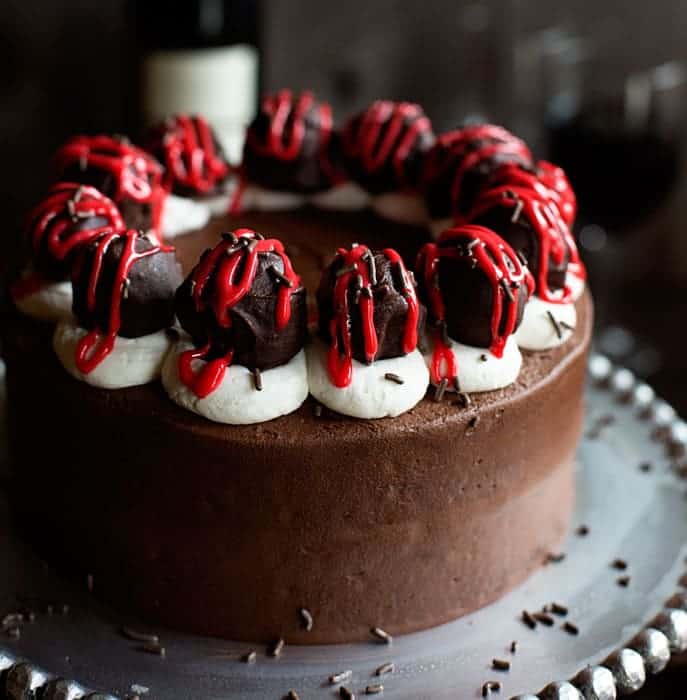 Begin by preparing the Red Wine Chocolate Covered Cherries.
This can take several hours due to the chilling times. You can prepare the Chocolate Covered Cherries a day or two in advance, just make sure they remained chilled. (Remember to save all the juice from your maraschino cherries, you will be using it as a simple syrup for the cake!)
Bake the chocolate cake in 8-inch round cake pans. When done baking, allow cakes to cool to room temperature.
Prepare chocolate buttercream.
Prepare white buttercream. I used approximately 2 cups for this cake, so you can safely halve this recipe.
Place one layer of cake on cake stand. Generously brush on maraschino cherry juice (left over from your chocolate covered cherries). I used about 2 tablespoons.
Pipe out chocolate buttercream around the edge of the cake. Fill in the center of the cake with white buttercream. Cover in maraschino cherries. Place next layer of cake on top. Brush with cherry juice. Cover cake with chocolate buttercream.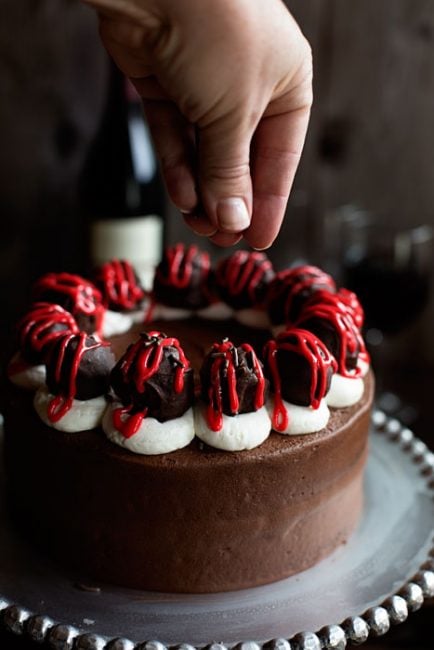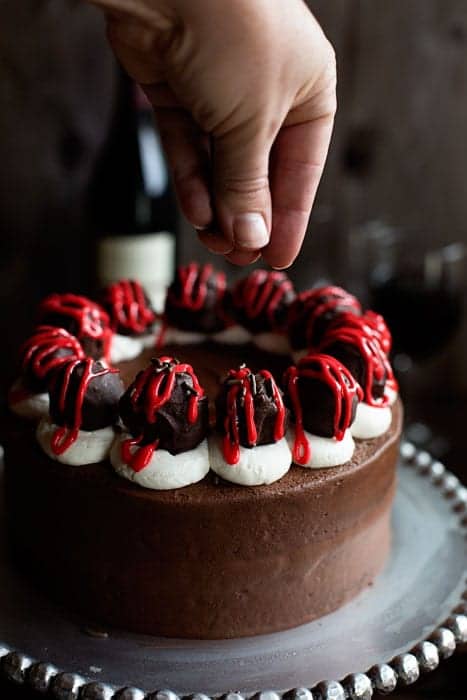 Place remaining white buttercream in a pastry bag fitted with a #808 tip. Pipe out dollops around the edge of the cake.
Set a red wine chocolate covered cherry on each dollop.
Prepare cherry juice glaze. Add 1 cup of powdered sugar and 1 teaspoon of cherry juice. (You can use up to 3 teaspoons depending on how runny you want to glaze.) Stir until smooth. Place in pastry bag and cut off a very small portion of the tip. Pipe lines over the chocolate covered cherries.
Chill until ready to serve!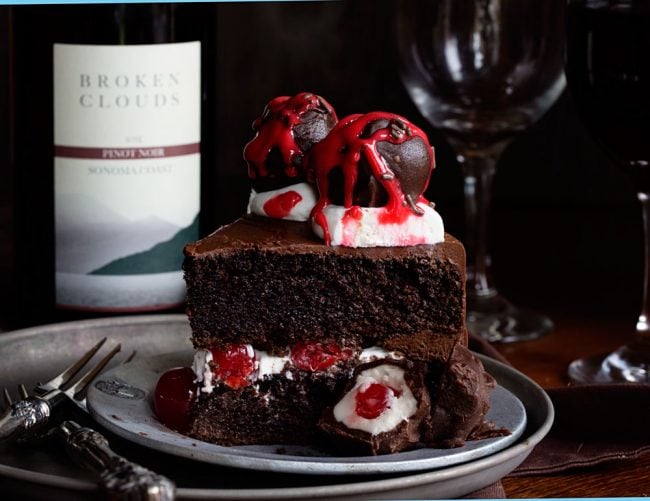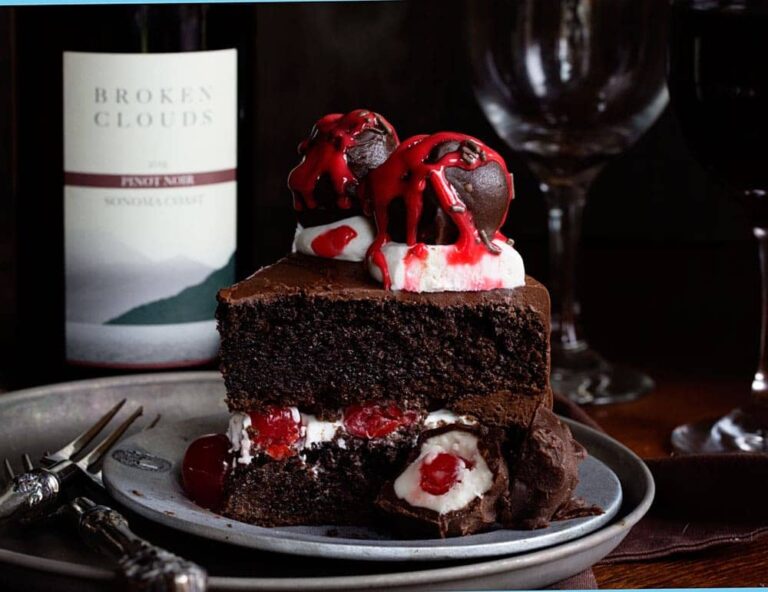 Let me tell you the most wonderful part about this cake. There is only a small portion of wine used in the actual recipe, which means the rest is for drinking! I only cook with wines that are good enough for drinking, and this happens to be one of my favorite labels. (Do I even need to mention that I get it at ALDI which means I save money?!?)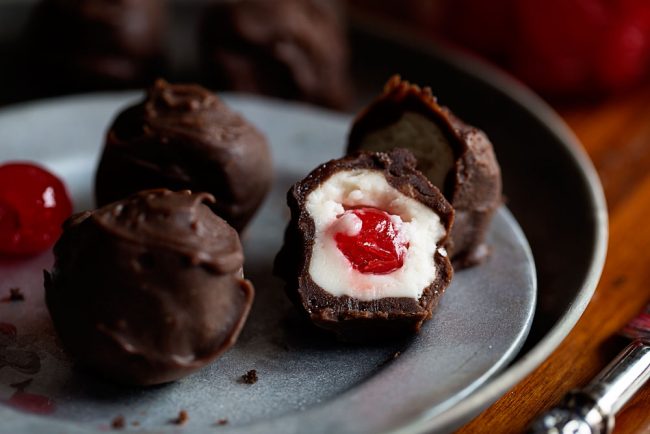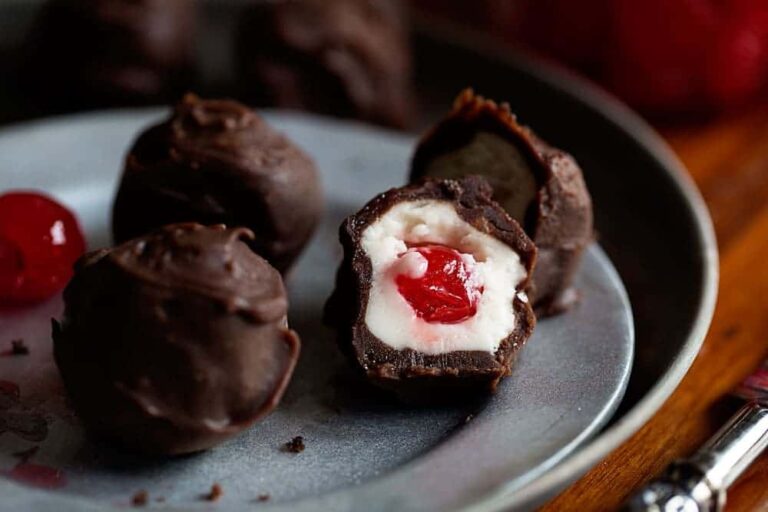 I hope you love these red wine chocolate covered cherries as much as I did. It really is hard to eat just one! They are delicious and can most definitely be a snack all on their own! (Just maybe not for the kiddies!)
For more delicious treats from ALDI check them out on their Facebook, Twitter, Instagram, Pinterest and visit www.aldi.us/holidays!
Thank you so much for supporting iambaker and the brands that support me. I absolutely consider it an honor and privilege to work with ALDI and am so thankful you love it as much as I do!