The Perfect Chocolate Cake recipe paired with a Perfect Chocolate Buttercream then decorated with simple rosettes. This is the perfect cake!
Chocolate Cake Recipe
No matter how you decorate this chocolate cake recipe with chocolate buttercream it will taste delicious! This recipe (and the many variations) has been around for many years. This is my version and one that we have been making for many years with great success!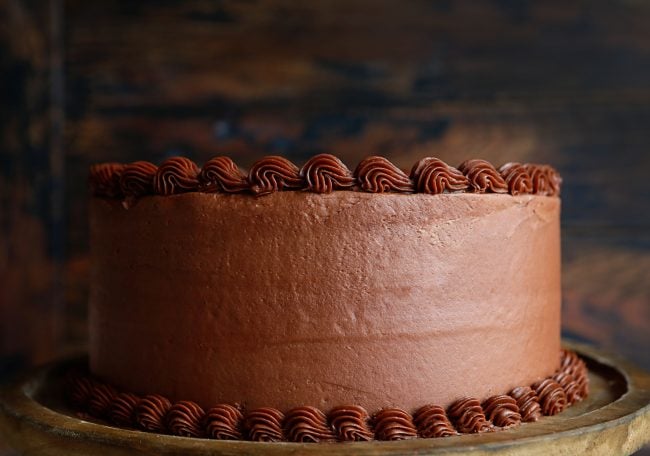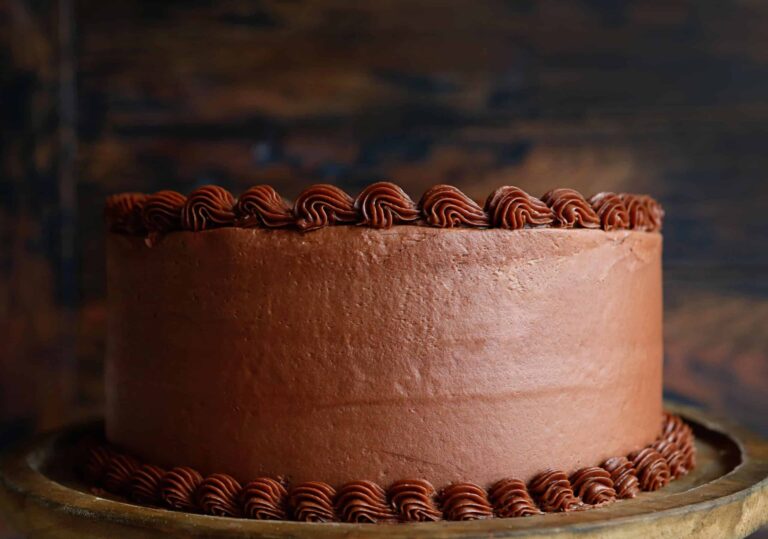 The Best Chocolate Cake Recipe
What makes this recipe the best? First off, it is inspired by Hershey's chocolate cake recipe which is the same recipe my grandma used. They added coffee to their cake which does magical things to chocolate. Second, this is truly a MOIST and flavorful chocolate cake. Is there anything worse than dry cake? Nope. You will never have that problem with this recipe!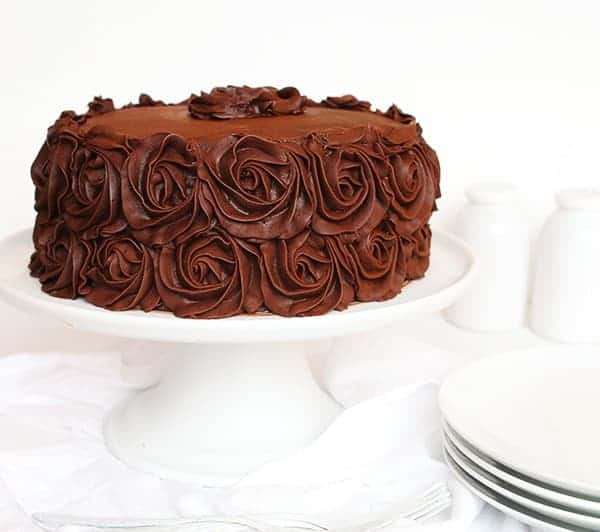 I used two 8-inch pans for my cake, but you can also use 9-inch pans. If using 9-inch, you will want to decrease the bake time by up to five minutes. And don't forget to use GOOP to prepare your pans… it is the BEST!
Do you have to have coffee in this perfect chocolate cake recipe?
1. No, you cannot leave it out.
2. I mean it.
Ok, ok, so you can if you want. But here is what the coffee does… it enhances the flavor of the chocolate. The cake does not taste like coffee at all… it simply tastes more rich.
If you simply must not use coffee, you can substitute hot water.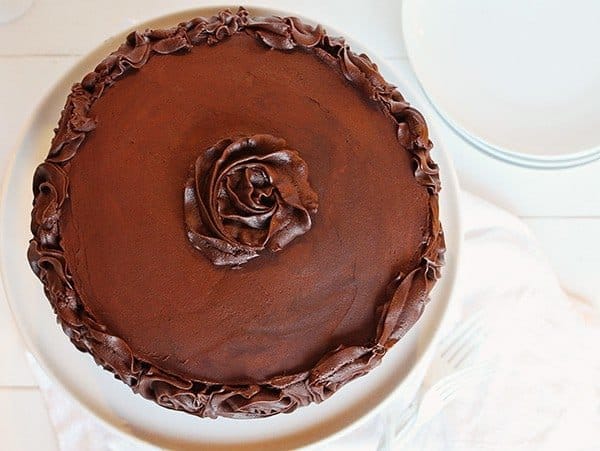 How to Make a Chocolate Cake
First, I recommend reading through the ingredients and making sure everything is out and ready. The eggs and buttermilk should be room temperature so getting them out of the fridge ahead of time will solve that for you. (Same with the butter in the chocolate buttercream recipe.) Here are some egg substitutes you could try if needed.
Make sure dry ingredients are sifted and measured properly. When measuring flour, get out your container or bag. Open it and use a fork to stir it, or sift it, loosening it up. Spoon the flour into a dry measure cup then use the back of a knife to level the cup off. (Or you can measure your ingredients on a scale.)
Use the proper tools. For instance, this recipe used a stand mixer. You can use a hand-held mixer (or even stir by hand) but make sure the ingredients are fully mixed and incorporated before moving on to the next step in the recipe.
Use the best quality ingredients if you are able! Dark cocoa's or high-quality cocoa, fresh eggs, and good quality vanilla make a difference! Feel free to upgrade to all organic ingredients. When it comes to substitutions though, I do recommend making the recipe as-is first, then altering it to make it yours. If you are making adaptations at a higher altitude, be sure to check out my High Altitude Baking Tips.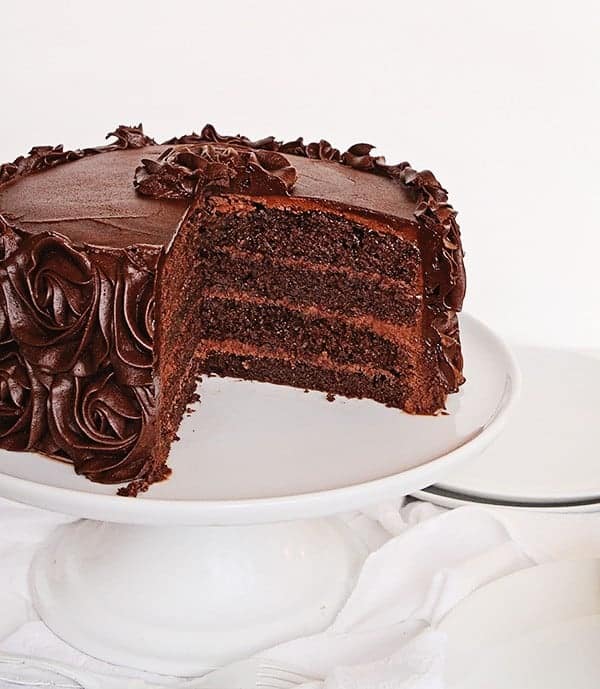 This is one of the best chocolate cake recipes I have ever had the pleasure of eating. It's moist and fudgy but still has a light cake crumb. It's got a depth of flavor (which I would attribute to the coffee) and a distinct rich deep chocolate essence.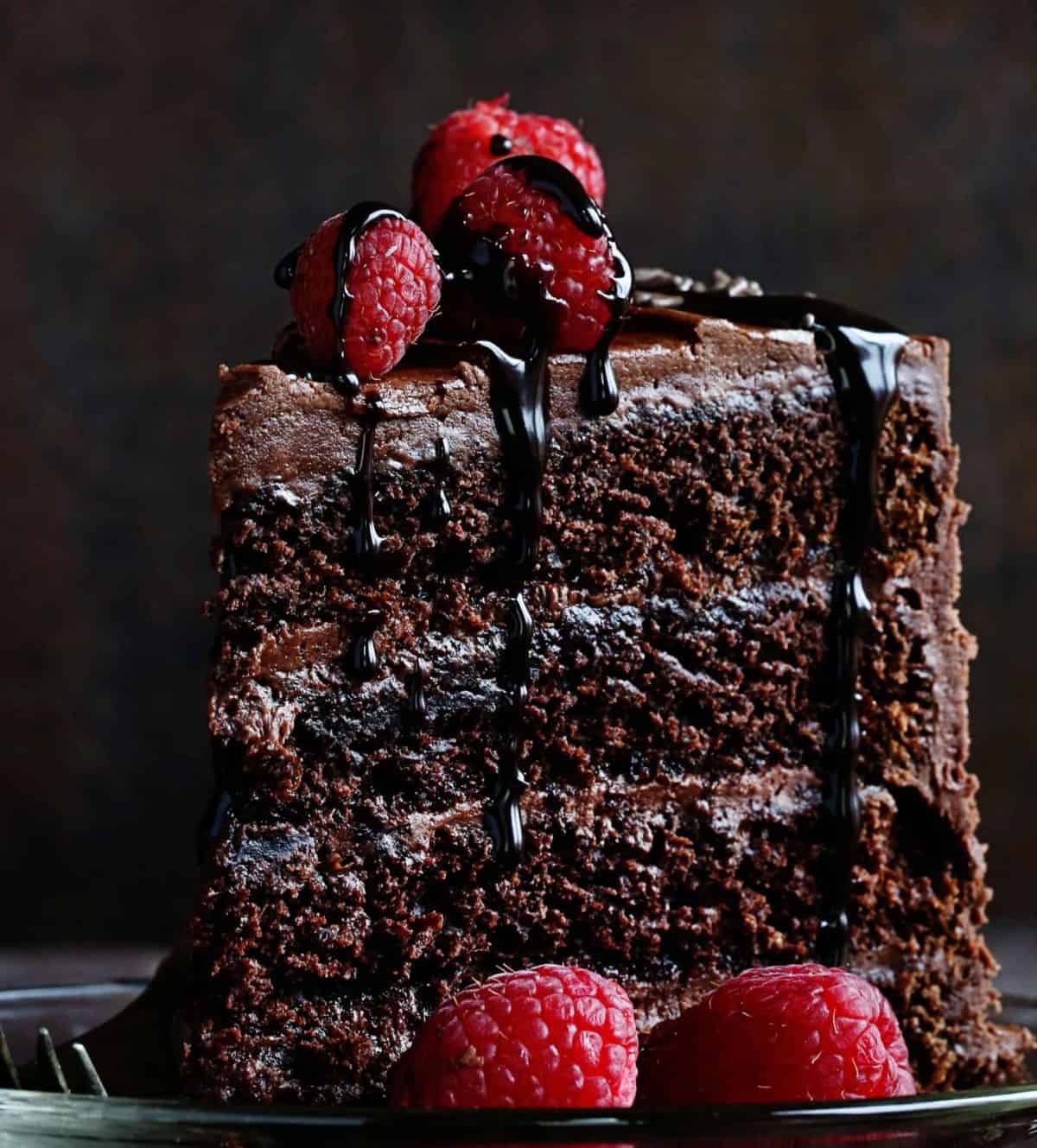 Gluten-Free Chocolate Cake
I am often asked how to make this recipe gluten-free. I recommend a good quality gluten-free flour that can be used interchangeably with all-purpose flour. This recipe is best when gluten is used, but will still taste delicious with gluten-free flour.
Double Chocolate Cake Recipe
One of my favorite ways to jazz up this cake is to add chocolate chips to it. My favorite option? Mini chocolate chips! They add the perfect texture and bursts of chocolate. One fun trick when doing this is to add a semi-sweet or dark chocolate chip. For instance, if you are using standard cocoa powder (as the recipe is written) then add semi-sweet chips. If you are using dark cocoa powder or dutch process, try adding milk chocolate chips.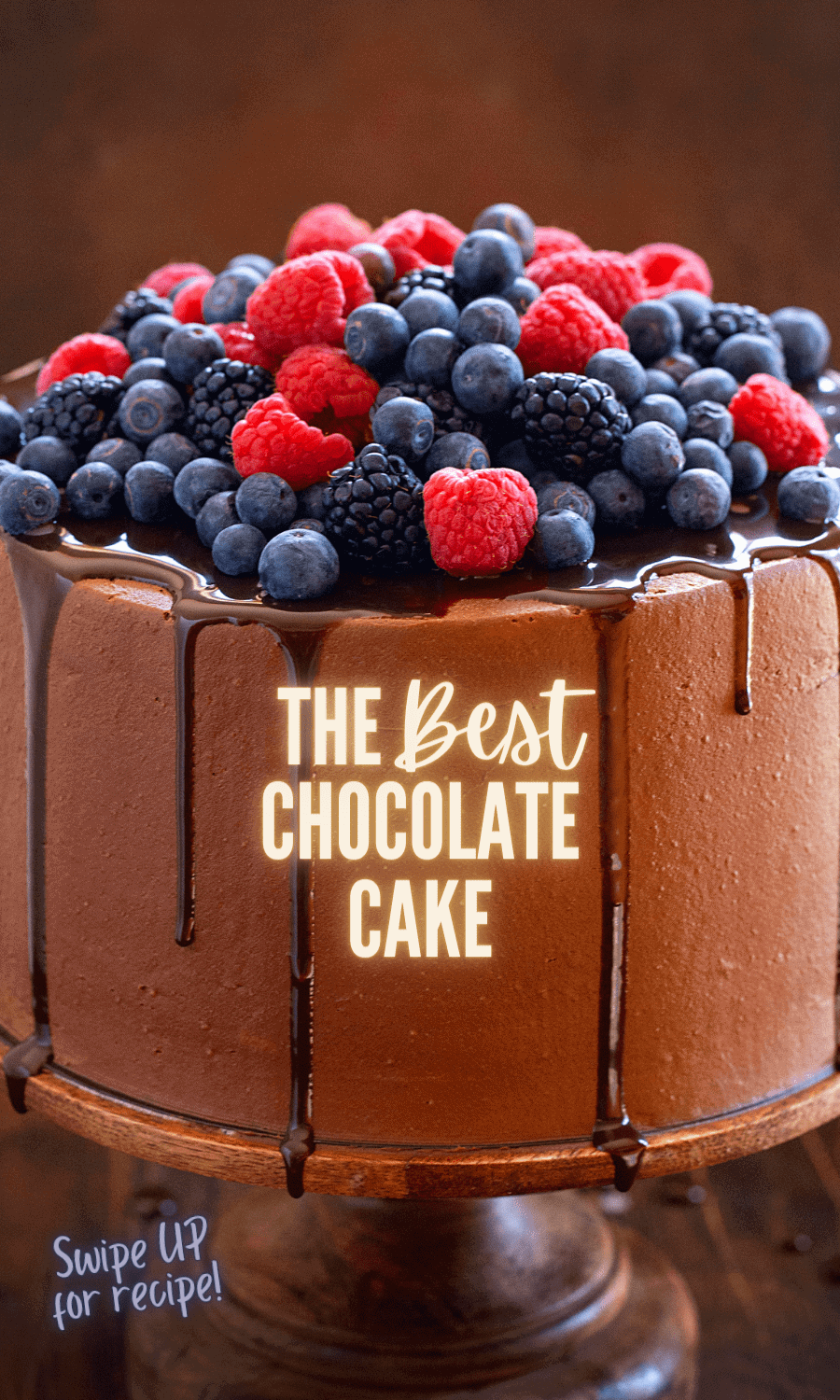 Chocolate Wedding Cake
Folks often ask if this is like bakery chocolate cake, or if it can be used in wedding cakes. Yes and no. The flavor and consistency are very similar to a bakery chocolate cake except that it is MORE moist in my experience. Can you make a wedding cake with this recipe? Well, that really depends on the type of wedding cake you are making. The highest I have ever stacked this cake is 4 layers, so I cannot speak its's durability beyond that. If you are covering this chocolate cake recipe with fondant it may not stand up because of the moisture level.
I made my cake in two 8-inch round cake pans and then divided each layer in two. This made for a 4-layer chocolate cake.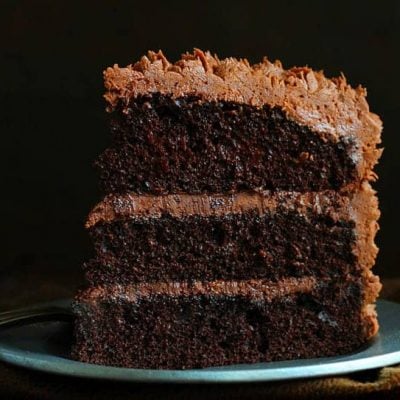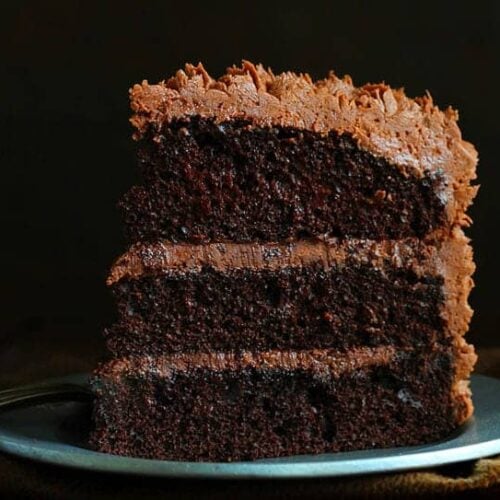 The Perfect Chocolate Cake
This rich and decadent chocolate cake has been around for decades and is always a crowd-pleaser! Perfectly moist, rich, and flavorful.
Ingredients
1¾

cups

(210g) all-purpose flour

2

cups

(400g) granulated sugar

¾

cup

(90g) good quality unsweetened cocoa powder

2

teaspoon

baking soda

1

teaspoon

baking powder

1

teaspoon

kosher salt

1

cup

(240g) buttermilk,

room temperature

½

cup

(112g) vegetable oil

2

extra-large

eggs,

at room temperature

2

teaspoons

McCormick pure vanilla extract

1

cup

(237g) freshly brewed hot coffee (I use decaf)
Instructions
Preheat oven to 350°F and spray two 8-inch round cake pans with nonstick cooking spray.

Sift the flour, sugar, cocoa, baking soda, baking powder, and salt into the bowl and mix until combined.

In another bowl, combine the buttermilk, oil, eggs, and vanilla.

With the mixer on low speed, slowly add the wet ingredients to the dry. With the mixer still on low, add the coffee and stir just to combine, scraping the bottom of the bowl with a rubber spatula. Pour the batter into two 8-inch round prepared pans and bake for 30 to 40 minutes, or until a cake tester or toothpick comes out mostly clean (not wet).

Cool in the pans for 30 minutes, then turn them out onto a cooling rack and cool completely.
Did you make this recipe?
Thank you for making my recipe! You took pictures, right? Well go ahead and post them on Instagram! Be sure to mention me @iambaker and use the hashtag #YouAreBaker.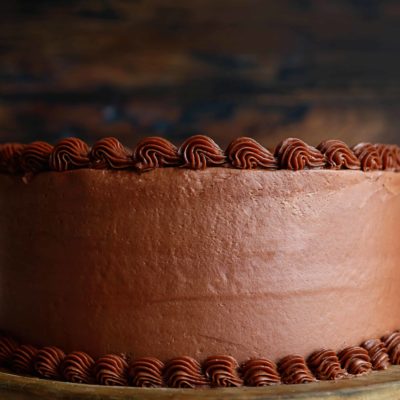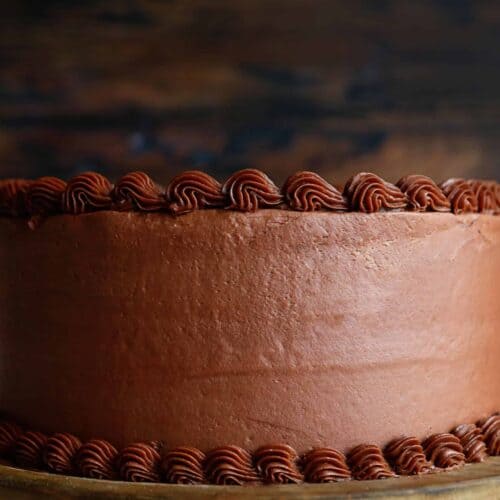 The Perfect Chocolate Buttercream Frosting
Ingredients
2

c

unsalted butter

4 sticks at room temp.

7 1/2

c

powdered sugar

or one 2lb bag

1

c

good quality cocoa powder

1

tsp.

table salt

1

tbsp.

vanilla extract

1/2

c

whole milk or heavy cream
Instructions
***THIS RECIPE IS FOR A CHOCOLATE BUTTERCREAM ROSE CAKE. You may need to halve this recipe if you are not making buttercream roses!***

Place room temperature butter and vanilla into a stand mixer and beat at medium-high for about three minutes. You want it to appear lighter and fluffier.

While butter is in mixer add powdered sugar, cocoa, and salt to a bowl and mix with a whisk. (sift)

With mixer off, add in one cup of the powdered sugar and cocoa mixture. Turn mixer on to low and then slowly add in remaining powdered sugar mixture, one cup at a time.

With mixer still on low, add in milk. Turn mixer to medium high and blend for at least two minutes.

Frosting will appear very light, but it will darken as it sets.
Did you make this recipe?
Thank you for making my recipe! You took pictures, right? Well go ahead and post them on Instagram! Be sure to mention me @iambaker and use the hashtag #YouAreBaker.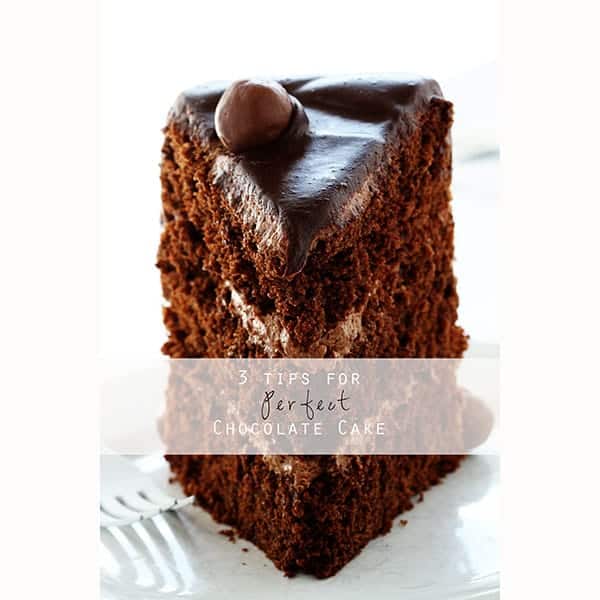 BONUS!
I want to share with you 3 AMAZING TIPS for making the perfect chocolate cake recipe.
Room Temperature Ingredients. I say this all the time, but it really is important in baking. To quickly warm up eggs, place them in hot water for a minute or so. To heat up milk or buttermilk, pop it in the microwave for a few seconds.
Sift together all dry ingredients. Cocoa is notoriously lumpy and you do not want lumps in your cake. Make sure you sift all dry ingredients at least twice.
Do not open the oven door until cake is almost done. The cake needs to be mostly set before opening the door or the cold air could make it collapse.
Once you get your chocolate fix be sure to try the Perfect White Cake!
If you are planning on making a chocolate rose cake as well, here are some posts to help you along.
Original Rose Cake – Photograph Tutorial
The Perfect Birthday Rose Cake
Neapolitan Rose Cake (one of my favorite cakes of all time!)