These sweet little Reese's and Hershey's Kiss Christmas Trees are fun, easy, and a delicious treat for everyone!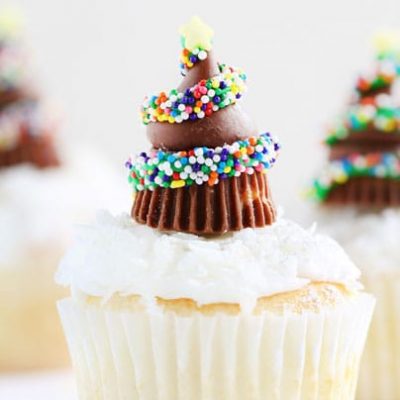 Perfect White Cupcakes
These sweet little Reese's and Hershey's Kiss Christmas Trees are fun, easy, and a delicious treat for everyone!
Ingredients
1

c

2 sticks, 8 ounces, 230g unsalted butter, room temperature

1

tbsp.

baking powder

2 1/2

c

500g superfine or granulated sugar

3/4

tsp.

salt

2

tsp.

vanilla extract

1

tsp.

almond extract

5

large egg whites

2 3/4

c

344g cake flour

1

c

8 ounces, 225g milk, room temperature (I prefer whole)
Instructions
Preheat oven to 350 degrees. Prepare muffins tins. This recipe yields 24-28 cupcakes.

In the bowl of stand mixer with paddle attachment, cream together butter, baking powder, sugar, salt, and extracts until light and fluffy, about 5 minutes. (be sure to stop half way and scrape down sides)

With the mixer on the lowest speed, carefully add in egg whites, one at a time, beating well after each addition. (scrape down sides as necessary)

With mixer still on low, add in 1/3 of the flour into the creamed mixture, then half the milk, another third of the flour, the remaining milk, and then the remaining flour. (scrape down sides as necessary)

Using a 1/4 cup ice cream scoop or a 1/4 measuring cup, fill muffin tin.

Bake for 16-22 minutes, or just until cupcakes start to brown and the center springs back when touched. You can also insert a toothpick into the center of the cupcake, and if removed mostly clean, cupcakes are done. Make sure to not brown cupcakes as they are better when slightly less done.

Remove cupcakes from oven and cool in pan for up to five minutes, then invert onto wire rack. Cool completely before frosting.
Did you make this recipe?
Thank you for making my recipe! You took pictures, right? Well go ahead and post them on Instagram! Be sure to mention me @iambaker and use the hashtag #YouAreBaker.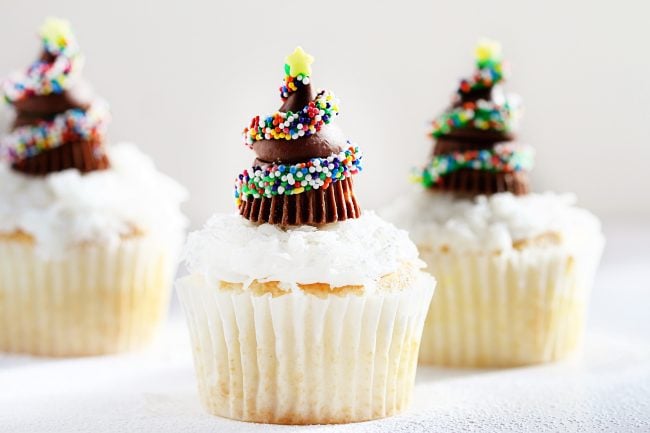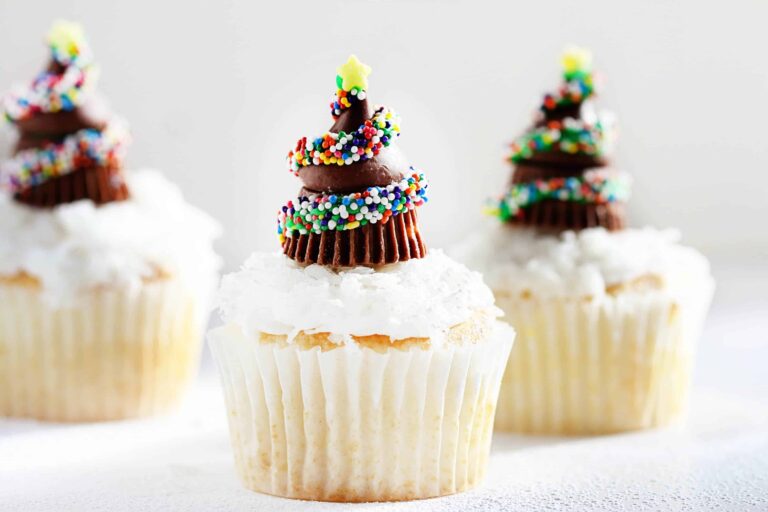 I saw some adorable Reese's Christmas Trees over on Sweet Simple Stuff and knew that I wanted to try them. I mean, how adorable is a CHOCOLATE TREE?
I wanted these to taste good in addition to being adorable so I made a white cupcake with vanilla buttercream covered in sweetened coconut. When people see this cupcake they usually eat the tree first so it was important that the cupcake taste delicious on its own.
To Make Mini Christmas Tree Cupcakes:
2 dozen white cupcakes, recipe below
4 cups whipped vanilla buttercream
1 cup (maybe more depending on how much you use) sweetened coconut flakes
Green Food coloring
Rainbow non-perils (tiny ball sprinkles)
24 Miniature Reese's Peanut Butter Cups, unwrapped
24 Hershey's Kisses, unwrapped
#5 decorators tip and pastry bag
Mini Stars (mine are from the Bakerella brand)
Optional: Confectioner's sugar for dusting
Recipe from here.
I made a little video on how I assembled these cupcakes:
To make the green frosting I took 1/2 cup of buttercream and added green food coloring. You can also skip this step and simply pipe out white buttercream.
I poured all of my non-perils into a bowl so that I could dip/roll the trees in it. This ended up being much easier than trying to press the non-perils in with my fingers. They did not cover as well when sprinkled on either.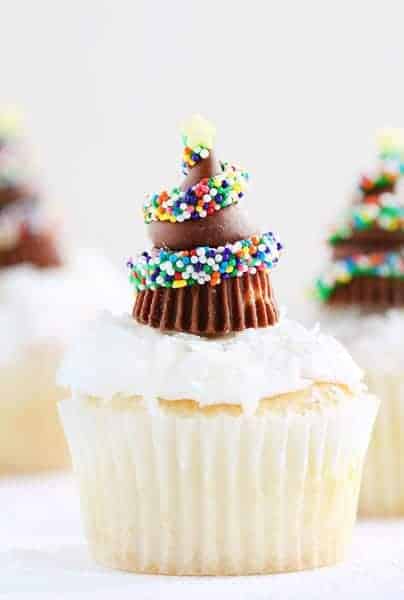 You can also serve these Chocolate Christmas Trees alone, or not on top of a cupcake!