These dark Chocolate Cupcakes are paired with the most delicious and perfectly spiced Pumpkin Buttercream!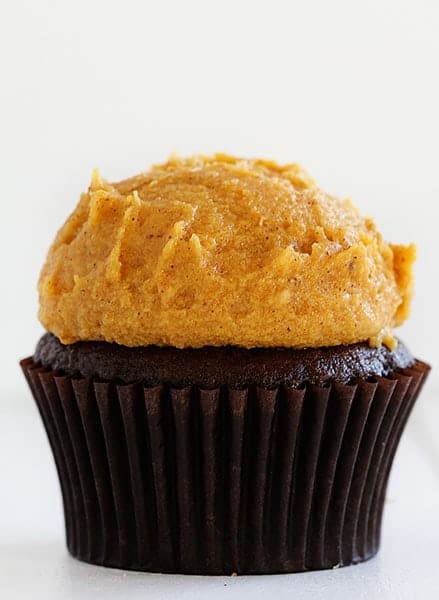 Chocolate Cupcake with Pumpkin Spice Buttercream
These dark Chocolate Cupcakes are paired with the most delicious and perfectly spiced Pumpkin Buttercream!
Ingredients
Cupcakes
1/2

c

1 stick or 115g unsalted butter

2

oz

semi-sweet baking chocolate

2

large eggs

at room temperature

3/4

c

150g granulated sugar

2

tsp.

vanilla extract

1/2

c

115g sour cream, room temperature

1/2

c

42g unsweetened cocoa powder

3/4

c

95g all-purpose flour

1/2

tsp.

baking soda

1

tsp.

baking powder

1/4

tsp.

salt
Pumpkin Buttercream
1/2

c

butter

113g, room temperature

1/2

c

110g pumpkin puree

1

tsp.

vanilla

3

c

380g confectioners sugar

1

tbsp.

pumpkin spice
Instructions
Cupcakes
Preheat the oven to 350F degrees. This recipe makes 12-14 cupcakes, so prepare one pan (or maybe two) with cupcake liners.

Melt the butter and chocolate together in the microwave. Microwave in 30-second increments, stirring in between each time. Set aside.

In the bowl of a stand mixer with the whisk attachment; add the eggs, sugar, vanilla, and sour cream and whisk on medium speed until smooth. (about 1 minute)

In a medium sized bowl, sift the cocoa powder, flour, baking soda, baking powder, and salt together until thoroughly combined.

Add the cooled butter/chocolate to the stand mixer and whisk until smooth, about 30 seconds.

Slowly add in the flour mixture, about 1/4 cup at a time with the stand mixer on low.

As soon as you are done adding the flour turn the mixer off. (You do not want to over-mix!)

The batter will be very thick.

Fill the cupcake liners 2/3 of the way full with batter. Bake for 15-18 minutes. The center of the cupcake should spring back up if gently pressed.
Pumpkin Buttercream
Place all ingredients in bowl of stand mixer with paddle attachment (can also use a hand-held mixer) and turn on to low speed.

Once all ingredients are combined, turn mixer speed to medium-high and mix for 2-3 minutes.

Buttercream can be stored for up to 1 month in refrigerator.
Did you make this recipe?
Thank you for making my recipe! You took pictures, right? Well go ahead and post them on Instagram! Be sure to mention me @iambaker and use the hashtag #YouAreBaker.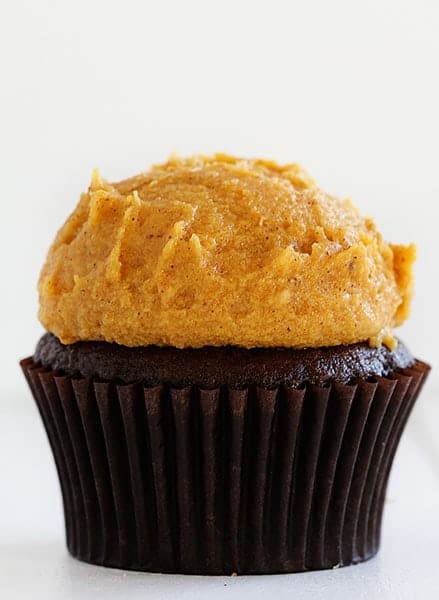 I may be in the minority, but I happen to love living in Minnesota. Yes, even though we have winter 6 months of the year and even though one of our seasons is officially called "road construction" and even though the mosquitos we breed are what horror movies are made of.
But here in the midwest when October hits the air changes. The humidity is gone and it is replaced with the delicious smell of sunburnt leaves. The wind carries a slightly crisp feel that compliments the warm sun and makes afternoon walks heaven on earth.
The colors of fall delight my eyes as I take in all the yellows and oranges and browns and reds.
I truly cannot imagine living anywhere else.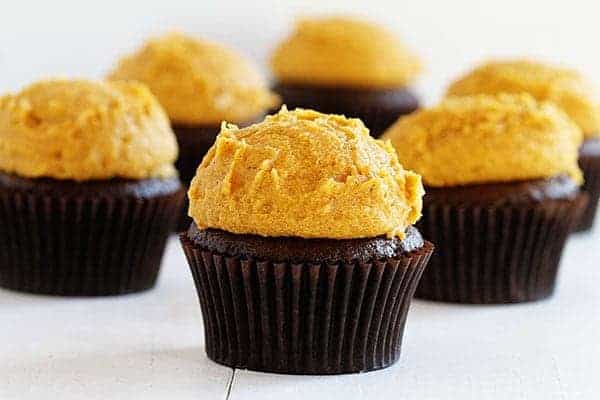 Maybe one of the best things about fall in my house is the baking. I love turning on the oven and having it warm the kitchen ever so slightly. I love how fall baking always means cinnamon and apples and everything pumpkin.
Oh how I love baking with pumpkin!
These cupcakes are a combination of my two favorite things… chocolate and pumpkin spice.
Recipe adapted from Ultimate Chocolate Cupcakes.
Tips & Tricks
If you want to pipe this buttercream I would use only 1/4 cup of the pumpkin puree. This will create a much thicker (stiffer) consistency. If the frosting is too thick to pipe, you can add some heavy whipping cream. Start with 1 tablespoon at a time.
This recipe works best when you use quality ingredients. I splurge and get McCormick Pumpkin Pie Spice as well as the best quality pumpkin puree I can find. (that usually means a trip to Whole Foods for the organic stuff!) You can also use less confectioners sugar if you don't mind a texture similar to pumpkin pie!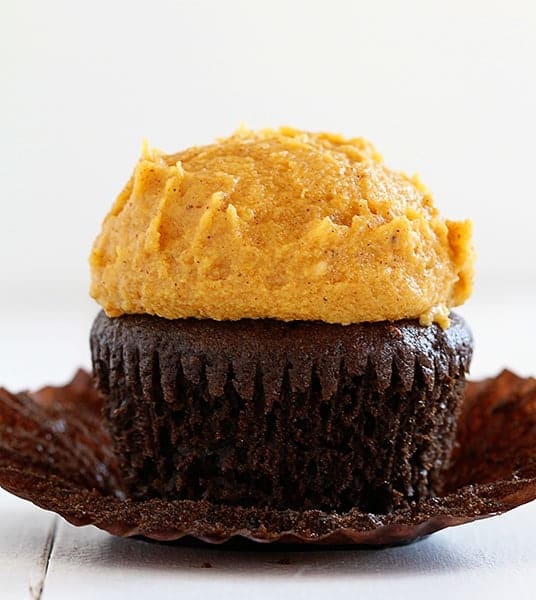 To achieve the look of these cupcakes I used an ice cream scoop. Simply dip the scoop into your frosting and then level it off on the side of the bowl. Drop the frosting onto the cupcake then gently tap the bottom of the cupcake on the counter. This will help the frosting to settle and spread a bit more evenly over the cupcake.
I do all of my baking while my oldest kids are at school but am lucky to still have the baby home with me. This child is the reason for my first gray hair! (You can read more about how I Survive Toddlerhood here.)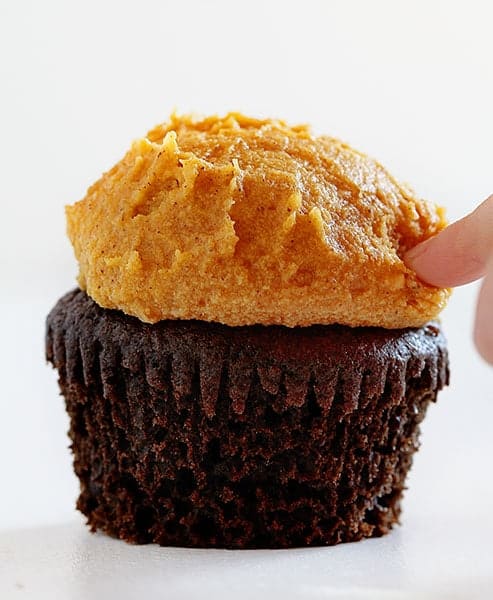 And while that child has been into more mischief than all her siblings combined, I could not help but laugh as she snuck her way into my photo shoot. Rest assured, this pumpkin buttercream is toddler approved!