I love what coffee does to chocolate. I decided to kick it up a notch and create a Chocolate Espresso Cake recipe. As you can imagine, it is a magical experience!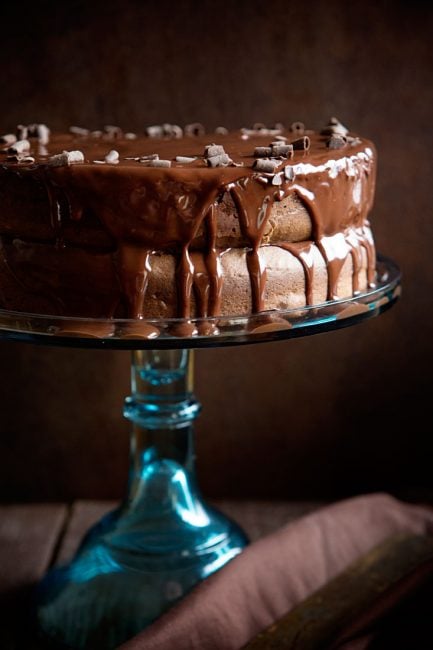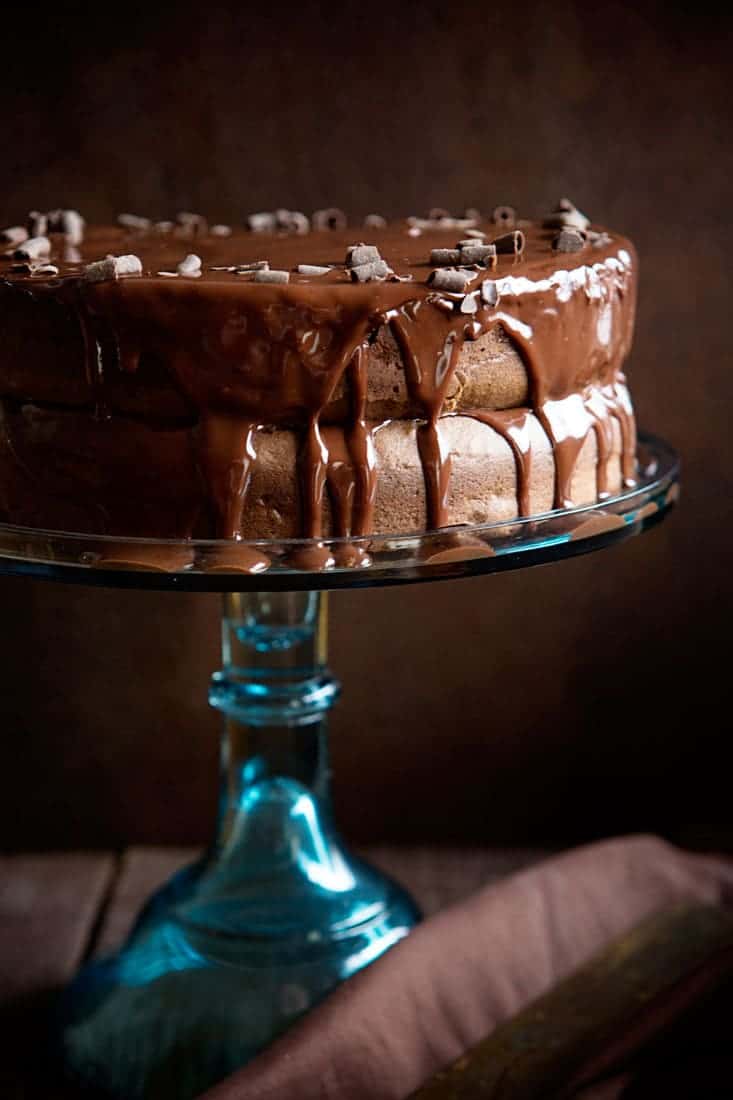 Chocolate Espresso Cake
This cake gets the intense chocolate flavor from real chocolate and cocoa. The combination of those two is a chocolate lovers dream come true! Coffee is known to compliment and enhance the chocolate. This is especially true when you use a good quality chocolate with a higher percentage of cacao.
And even if a chocolatey recipe you're working with does not explicitly call for brewed coffee, a touch of brewed coffee or a tablespoon of espresso powder will definitely enhance the chocolate flavor.
Next time you bake a cake, brownies, chocolate sauce, frosting, soufflés, or ganache, try swapping a tablespoon or two of coffee in place of a portion of one of the liquid ingredients.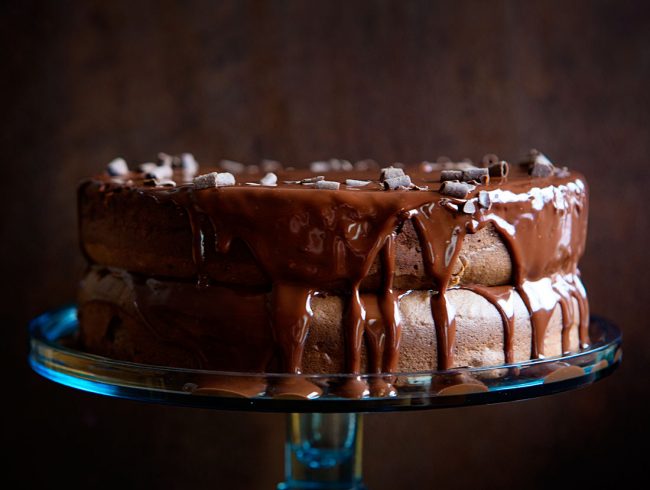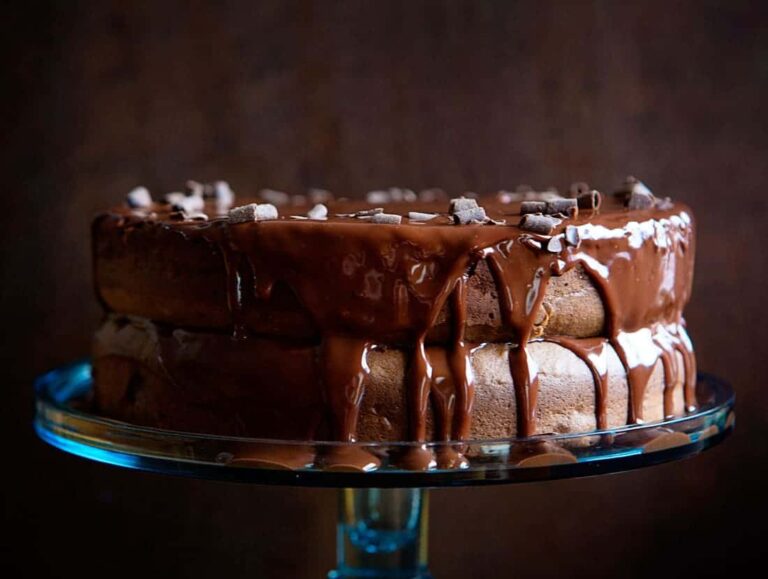 Chocolate Curls
One of the easiest ways to get chocolate curls is to use your vegetable peeler and run it against the side of the chocolate bar. I have found that by heating the bar for about 10-30 seconds (in 10-second increments) so that it is warm but not melted is the best consistency to work with.
You can also use this method for how to make chocolate curls, just make sure you are using clean tools! 😂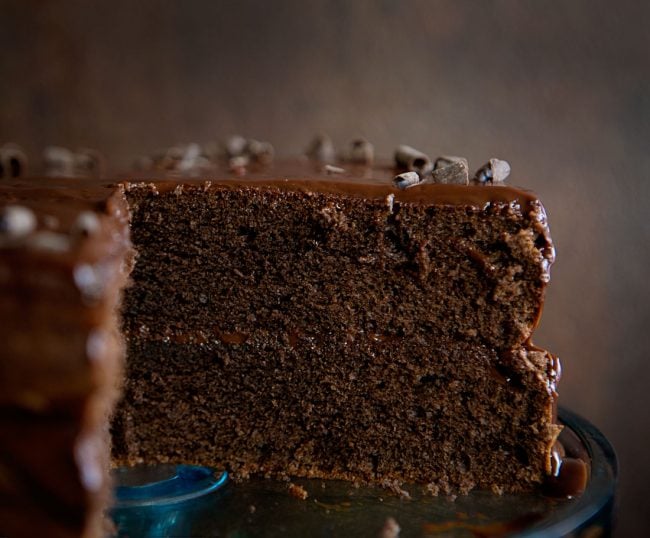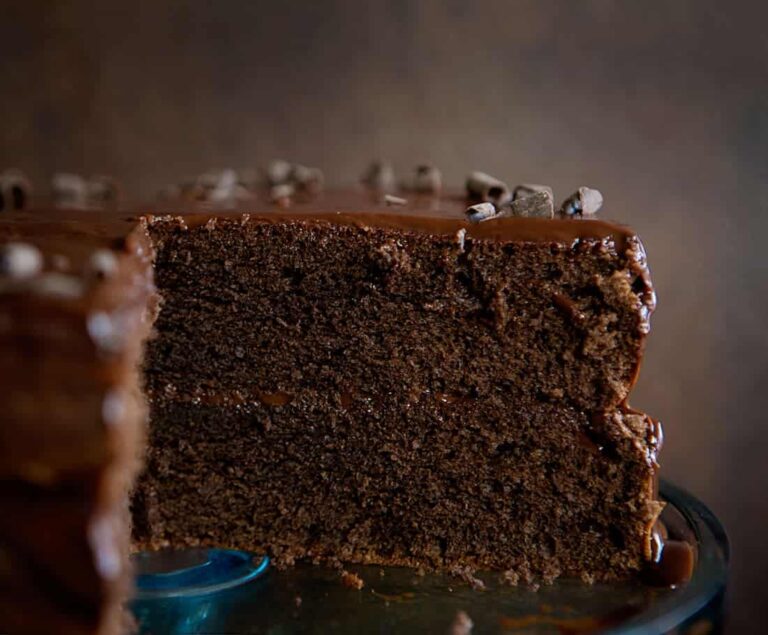 Chocolate Ganache
Ganache has loads of uses. It can be whipped to use as a filling or icing, or simply poured over any cake you like. We will be pouring it over our cake for this recipe.
You can make as much ganache (or as little) as you need, it is simply a 1:1 ratio of chocolate to heavy cream. With this cake, you can use as little as 4-ounces or as much as 12-ounces. (Cake will be very saturated and completely covered with 12-ounces. Make sure you have a cake stand or a plate that can hold the excess ganache.) You can also use milk chocolate or bittersweet chocolate, whatever your preference.
If substituting white chocolate for the dark chocolate in ganache you will need to drastically adjust the ratio of cream to white chocolate, either by reducing the amount of cream or increasing the amount of white chocolate. The ratio should be about 4:1, chocolate to cream. It's best to get a good quality white chocolate with a white chocolate ganache, as the chips have more wax and are more prone to seizing.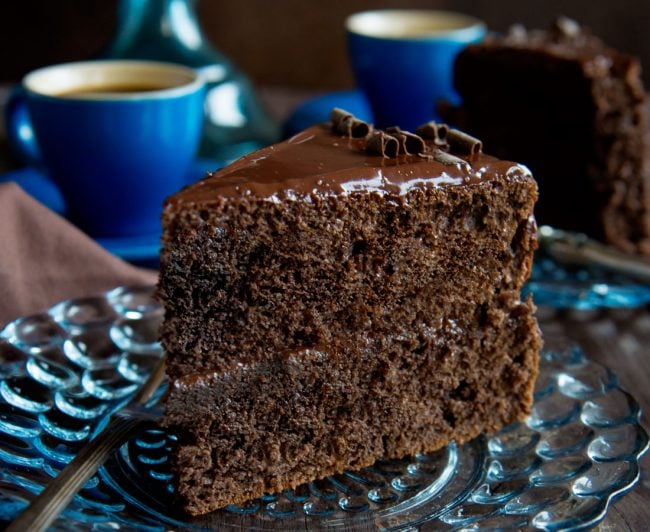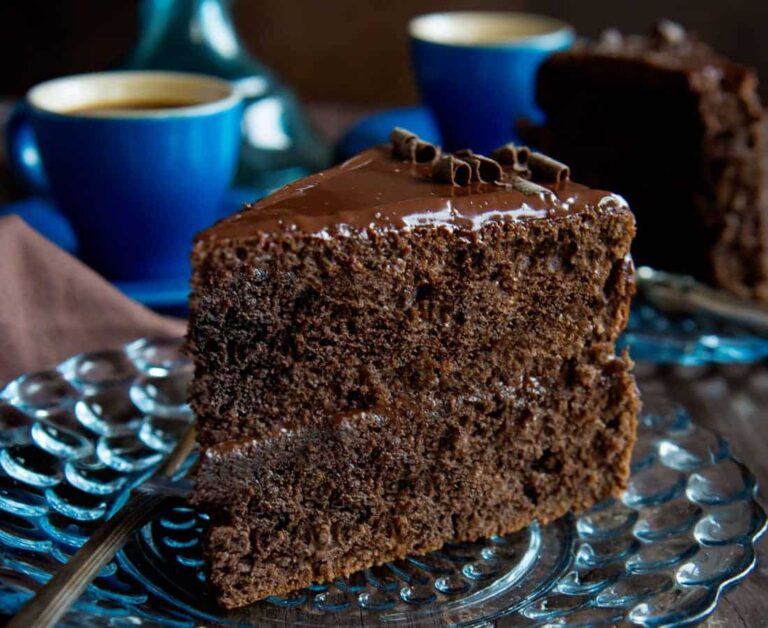 Be sure to give Chocolate Espresso Cake a chance… I have a feeling you are going to love it.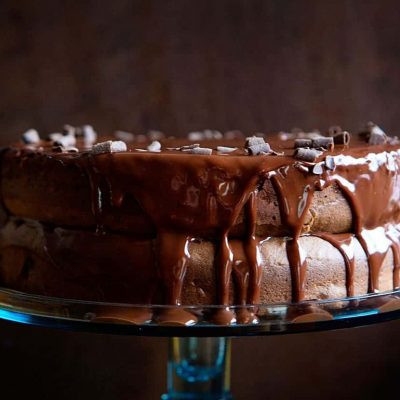 Chocolate Espresso Cake
I love what coffee does to chocolate. I decided to kick it up a notch and create a Chocolate Espresso Cake recipe. As you can imagine, it is a magical experience!
Ingredients
Chocolate Espresso Cake
4

oz

semi-sweet chocolate

chopped

2

cups

(256g) all-purpose flour

½

cup

(50g) unsweetened cocoa powder

1

tsp.

baking soda

½

teaspoon

salt

1 ½

cups

(300g) packed light brown sugar

1

cup

(226g) unsalted butter

softened

4

large eggs

8

oz

freshly brewed espresso

1

tsp.

vanilla extract

¾

cup

(180g) buttermilk
Ganache
6

oz

semi-sweet chocolate

chopped

6

oz

heavy cream
Instructions
Chocolate Espresso Cake
Preheat oven to 350º F. Prepare two 8-inch round baking pans.

Chop chocolate and melt in a saucepan over medium-low heat. Set aside to cool to room temperature.

Sift flour, cocoa, baking soda, and salt in small bowl.

Whisk brown sugar, butter, eggs, espresso, and vanilla extract for 3 minutes. (Or about a minute with a hand-held mixer or stand mixer)

Gradually add melted chocolate and continue whisking for an additional minute.

Stir flour mixture into creamed mixture and then add buttermilk.

Pour into prepared pans.

Bake for 33 to 38 minutes or until wooden pick inserted in center comes out somewhat clean(not wet). Cool in pans on wire racks for 10 minutes. Run a knife around edges of cakes.

Invert onto wire racks; cool completely.
Ganache
Place the chopped chocolate in a medium bowl.

Heat the cream in a small saucepan over medium heat. Bring to a low boil, watching very carefully because if it boils for a few seconds, it will boil out of the pot.

Pour hot cream over the chopped chocolate.

Let sit for a few minutes, then whisk until smooth.

Allow the ganache to cool slightly before pouring over a cake.
Did you make this recipe?
Thank you for making my recipe! You took pictures, right? Well go ahead and post them on Instagram! Be sure to mention me @iambaker and use the hashtag #YouAreBaker.
Want a recipe that does NOT have coffee in it? Try this CHOCOLATE CRAVING CAKE!