I recently shared my Birthday Cake for 2015, which was covered in hundreds of little pink chocolate curls. Just in case you are looking for amazing cake recipes, feel free to try my Cream Cheese Pound Cake or Best Chocolate Cake.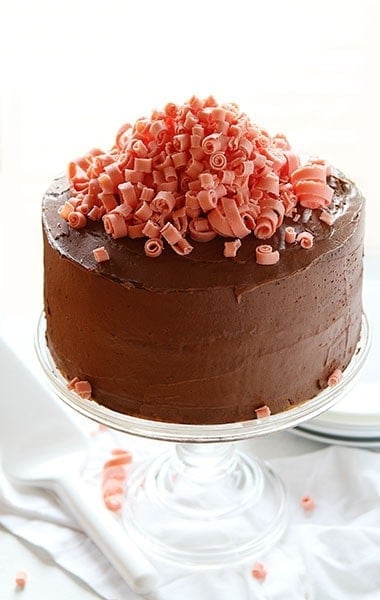 Here is a quick and simple tutorial on how you can make these as well!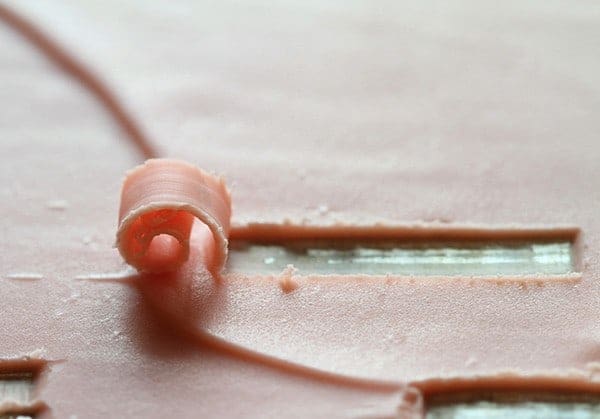 For these little guys, it's all about the process.
Here is what I do:
1 bag candy melts.
2 tablespoons oil (this can be most veggie based oils or even shortening)
Melt the chocolate and the oil in a large microwave-safe bowl in 1-minute increments, stirring after the minute is up. Once the chocolate really starts to melt, I switch to 10-20 second increments.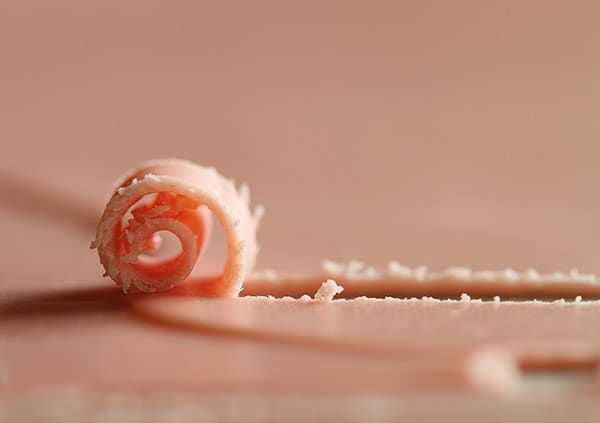 Next, I take out a large, flat, and CLEAN cookie sheet and flip it over. We will use the BACK. (Sparkling clean is very important!)
I pour half of the melted chocolate over the cookie sheet and spread out with an offset spatula. This is important, as you want the layer to be as even and level as possible. Thin is good, but not translucent.
Then I pop it into the fridge to set for 1-2 minutes.
Here is the tricky part… the chocolate needs to be at the perfect temp. for those little curls to form. If too cold they will just break. If too warm will just be a blob.
My perfect chocolate was precisely room temperature. (ha!, precisely) It needs to be cool enough to form shape but not warm.
The best way to find out is to get out your special tool and start trying!
Have you figured out what our special tool is???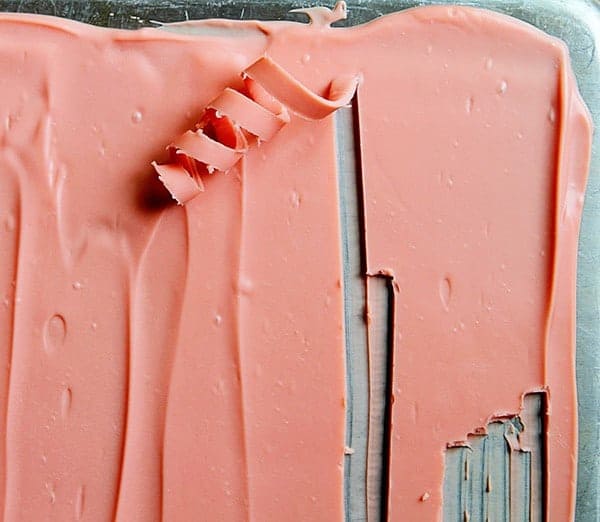 I used a flathead screwdriver.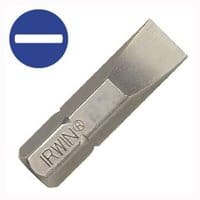 Like this! Obviously make sure it is very, very clean.
Simply press the screwdriver into the chocolate at a 45-degree angle and then move forward slowly.
Here is a little video on how I did my curls. You can see the approximate thickness of the chocolate and that I only went 1-2inches to get the little curls. (Some curls you can go 1/2 an inch to get that perfect spiral, some can be 4 inches long like the big curly-Q above) That little tiny break at the end was ok because I wasn't trying to get the long spirals. Shorter seems to be better in these mini creations!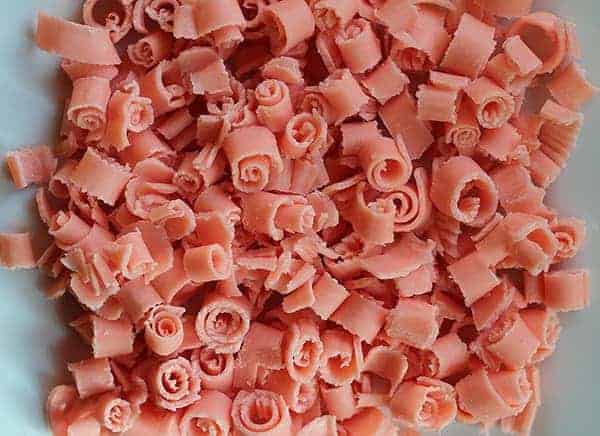 The very best way to make (and perfect) these is to practice! My first mini chocolate curls were too thick, then too long, then too thin, then too rough, then too short, etc. But I did manage a few pretty perfect spirals toward the end.
(You can see that some curls have a jagged edge… my first flathead screwdriver actually had the smallest lines in it and that made a difference, unfortunately. -you can see the lines in the second picture above- Make sure that it is flat and SMOOTH like in the picture above.)
I did about 500 for my Birthday Cake and by #300 it was smooth sailing!
UPDATE:
Here is a video of a cake I recently made with the candy melt curls. I simply used a LARGE screwdriver to make these!
This cake was so much fun to make. I think those sweet curls really add fun and whimsy!