These Chocolate Espresso Cookies are seriously rich and chocolatey. When developing this recipe I wanted two things: intense flavor and the perfect crispy outer edge. These cookies have it! Check out more great Cookie Recipes here!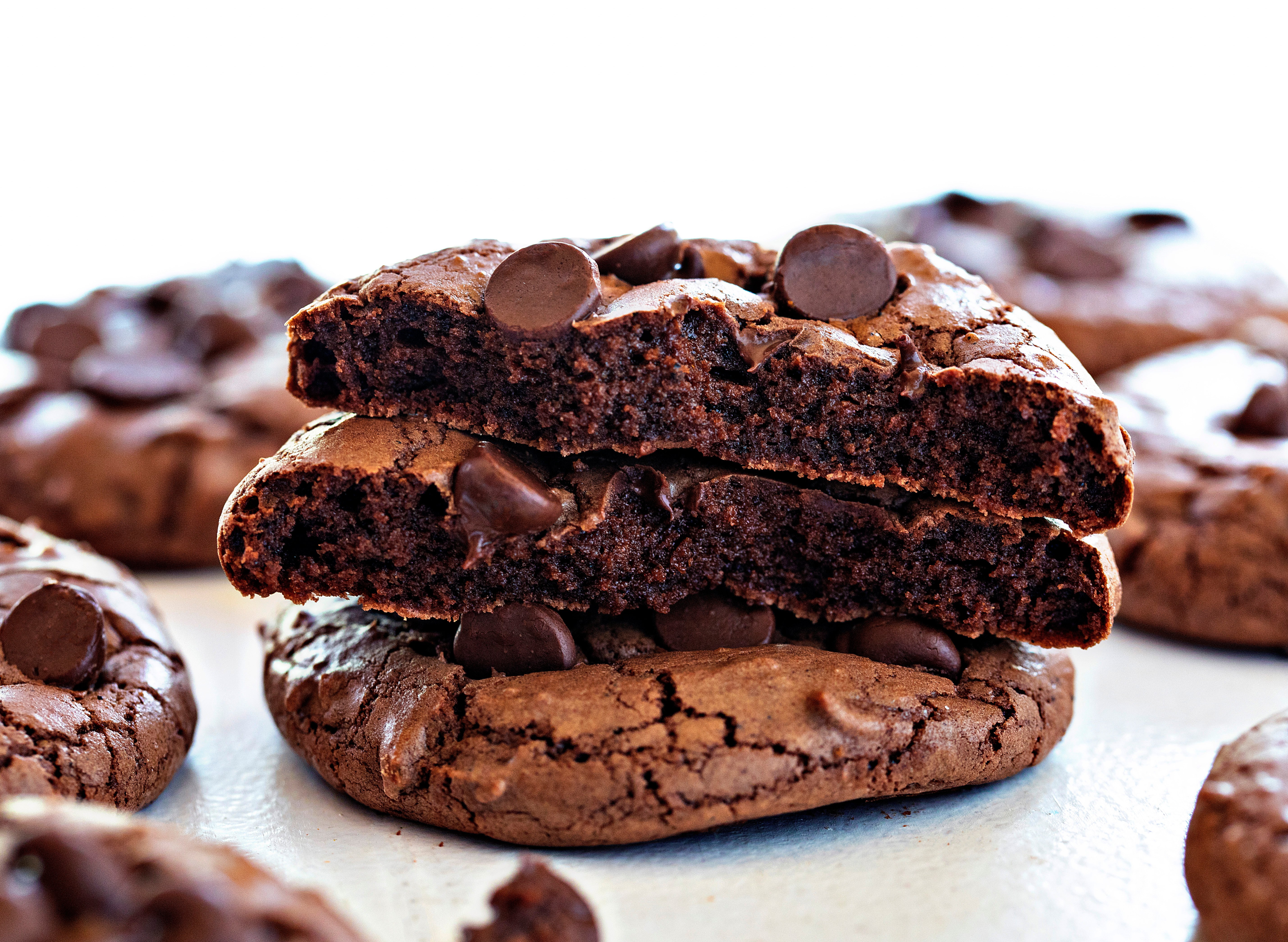 What Are Chocolate Espresso Cookies?
While it sounds pretty self-explanatory, these cookies have an intense depth of flavor that I have not experienced in a cookie before. There is melted chocolate, cocoa, and chocolate morsels on the top… but not INSIDE the cookie! I did this on purpose. The texture of these cookies is so amazing, I didn't want to disrupt it in any way with chocolate chunks. This is the ONLY recipe I have ever made that I recommend that for, but now that I know you can get all the amazing flavor from the morsels when just scattered on top, I am going to try it again.
I believe this would technically be called a "brownie cookie", but I don't want to confuse anyone with the final results. It's a cookie through and through.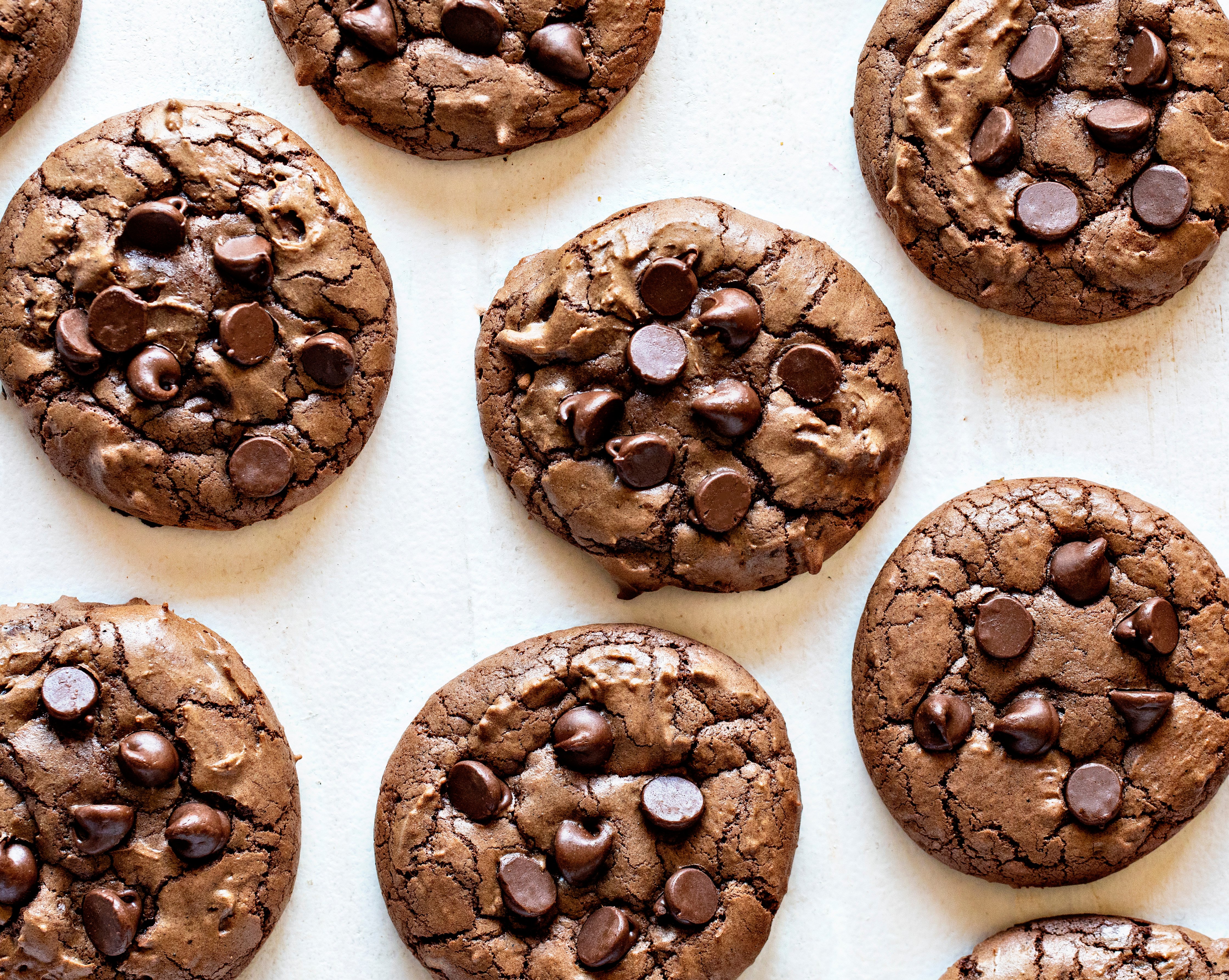 How to Make Chocolate Espresso Cookies
The method is a bit unique so I am going to break it down step by step.
Chocolate Base
The first two ingredients of the recipe are chocolate morsels and butter. These two ingredients are melted together in the microwave and stirred until smooth. I made these cookies several times when testing out this recipe and found that almost every time the chocolate would seize or turn into a thick ganache immediately. So I switched to the double boiling method but found those steps to be too cumbersome so ultimately went back to the microwave. One thing stood out though… even if the chocolate seized or got very thick, it always loosened up when the milk was added. And then turned silky smooth and shiny when added to the egg mixture. So have no fear! The chocolate will do what it needs to do in this recipe even if it seizes, and this is, add an extra level of rich flavor.
I used a glass 1 cup measuring cup to measure the chocolate chips and the added the butter right on top. Set it in the microwave for 15 seconds then stir. If your butter is room temperature the chocolate and butter will almost be melted at this point but may need a few seconds more. Stir well. You don't want to add hot melted chocolate to eggs, so this will need to sit for a few minutes.
I used semi-sweet chocolate, but we have also used milk chocolate. In terms of richness, the higher the percentage of cacao you use, the better. However, the cookies may be a bit bitter if you use unsweetened chocolate.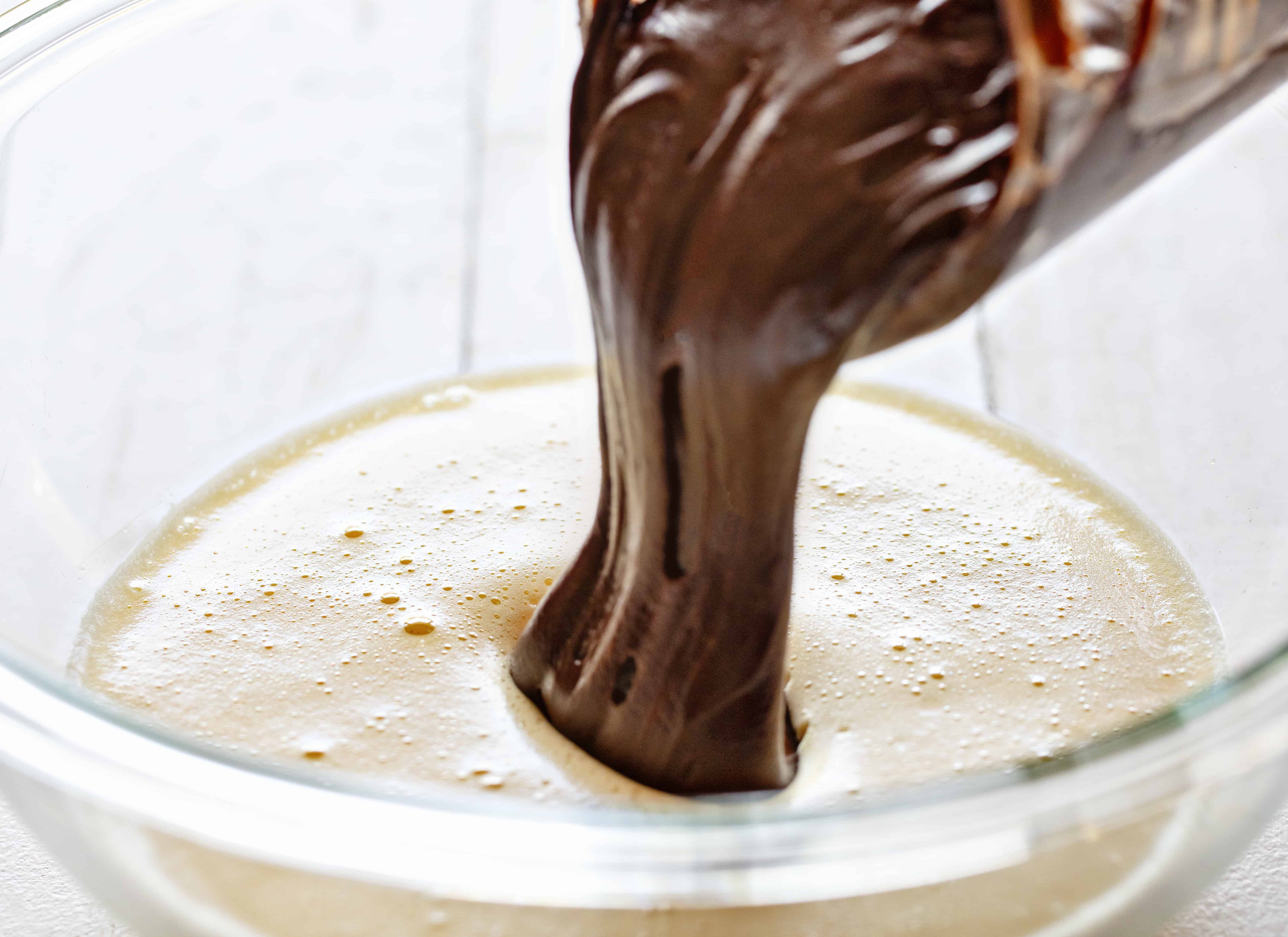 Egg Mixture
You will be adding the chocolate mixture and flour mixture to the egg mixture so it needs to be big enough to hold all of the ingredients. It is important that your eggs are room temperature. Out of eggs? No problem! Try one of my Egg Substitutes for this recipe!
Get the sugar, eggs, milk, and vanilla and whisk together. I whisked for 2-3 minutes or until the eggs are aerated and lighter in color. The mixture should look foamy. (Don't skip this step!)
While whisking the egg mixture lightly, add in the melted chocolate. Slowly whisk everything together until it is shiny and smooth. (The picture below is air bubbles as I had just whisked it!)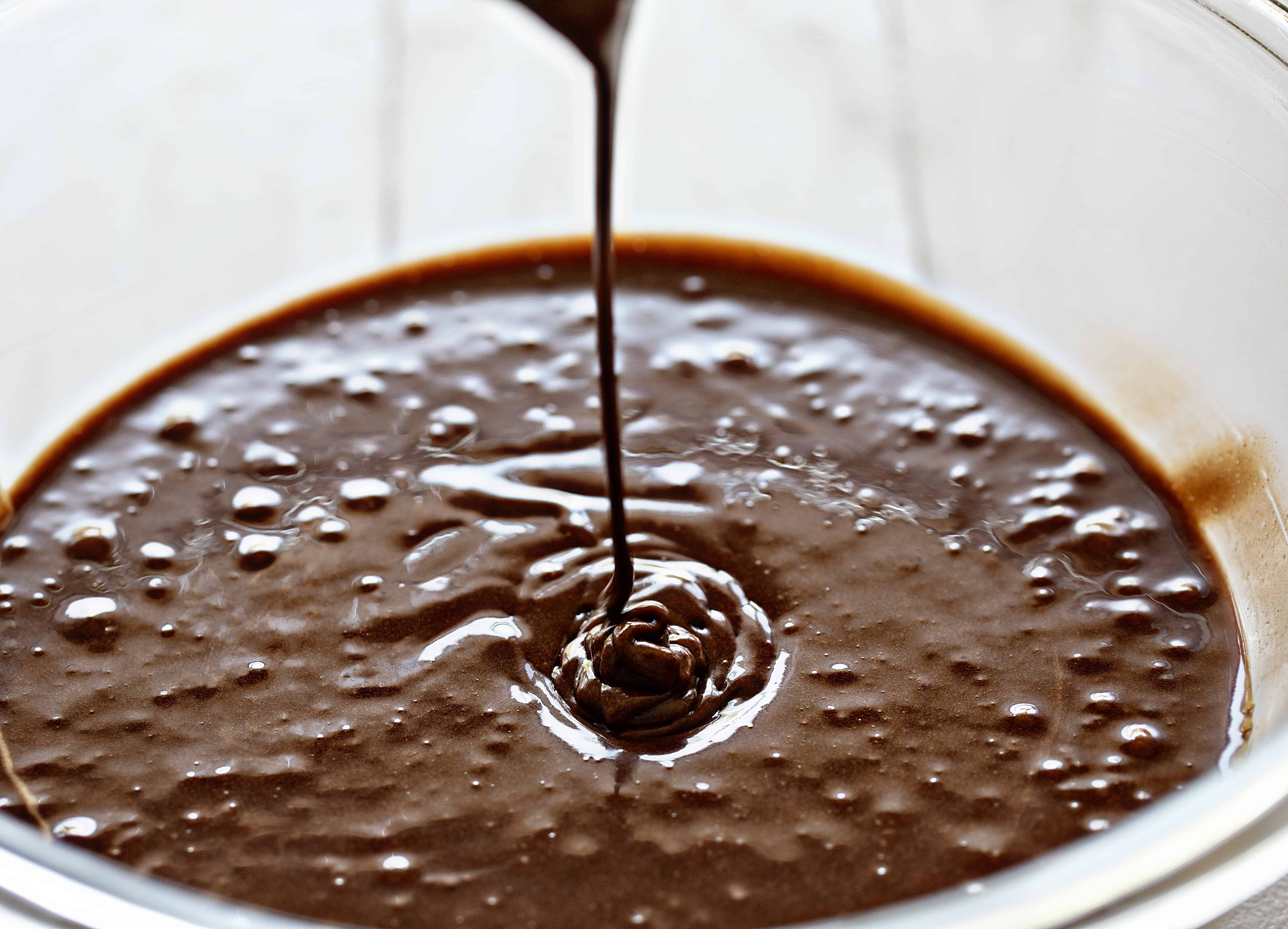 Dry Ingredients
There is a lot of baking powder in this recipe and it's for a good reason. I was going for a very specific texture on the inside (chewy) and a shiny crisp texture on the outside. The baking powder adds carbon dioxide to the cookie dough, providing pressure that encourages a dough to spread up and out. This is what causes the beautiful and familiar-looking cracks in the cookie.
I do recommend sifting the flour and cocoa powder if you have time, but it is not necessary. I know that home bakers often skip this step so I specifically did NOT sift my flour and cocoa just to see if this recipe would work anyway. It does.
Add the flour, cocoa powder, baking powder, salt, and espresso powder to the chocolate mixture and stir until combined. Now pop it in the freezer for about 15 minutes. You want the dough to firm up enough to be scooped easily onto the cookie sheet.
After 15 minutes, scoop out 6 cookies per cookie sheet. Take the remaining chocolate morsels and press them into the top of the cookie dough, pressing down slightly so that the cookie is no longer domed.
Bake for 11-14 minutes, or until the cookies no longer appear wet on top.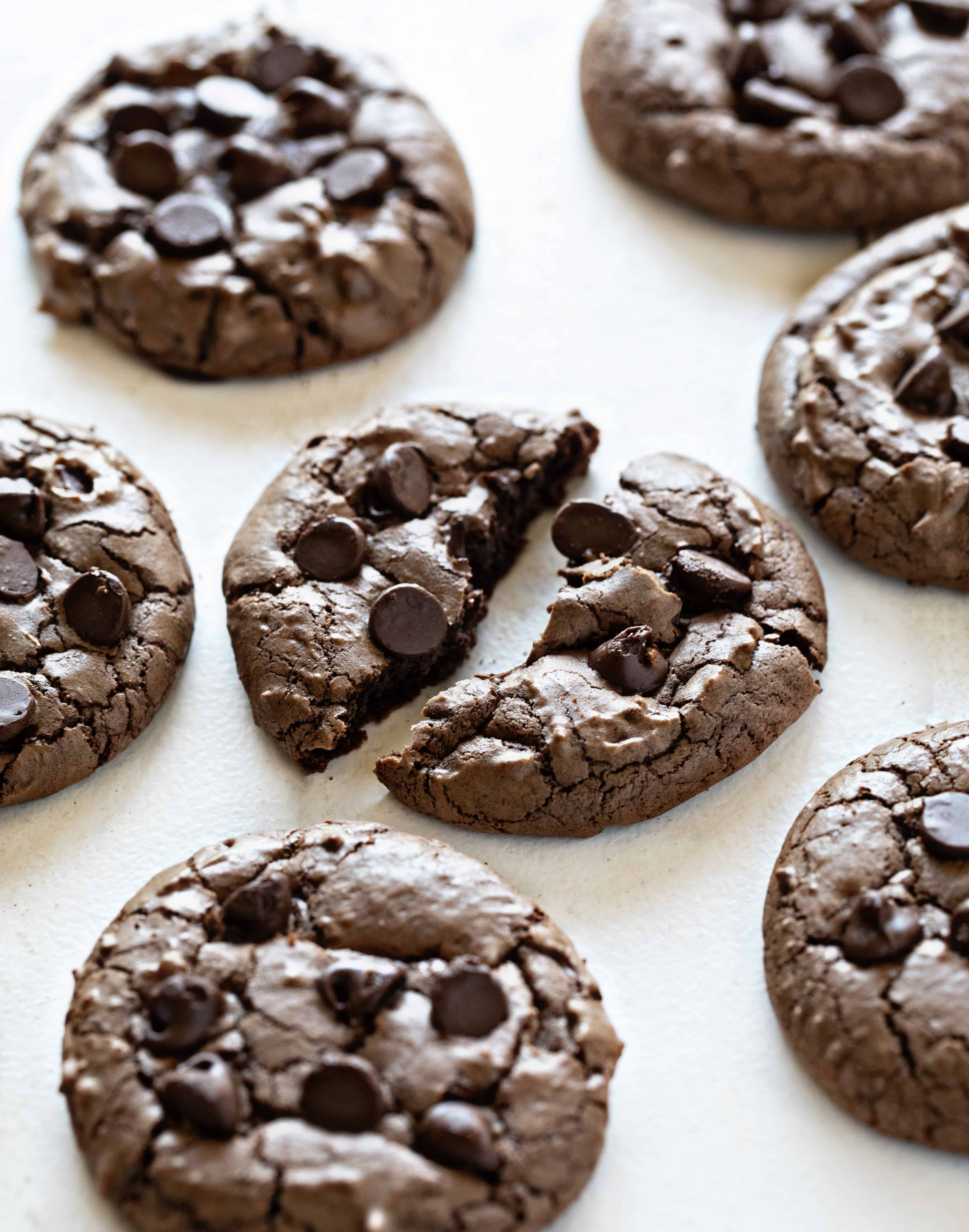 What Do These Cookies Taste Like?
Intense. The combination of espresso powder and chocolate is a powerful one. Not only is the flavor amazing, but the texture is also. They are truly soft and chewy inside with a perfectly crispy outer layer.
As I mentioned earlier, I only added a few chocolate morsels on top of the cookie. They just don't need it on the inside. But the melted chips on top add this gloriously smooth semi-sweet richness to each bite, so I loved the addition. A new concept for me in baking. but one I am going to revisit soon.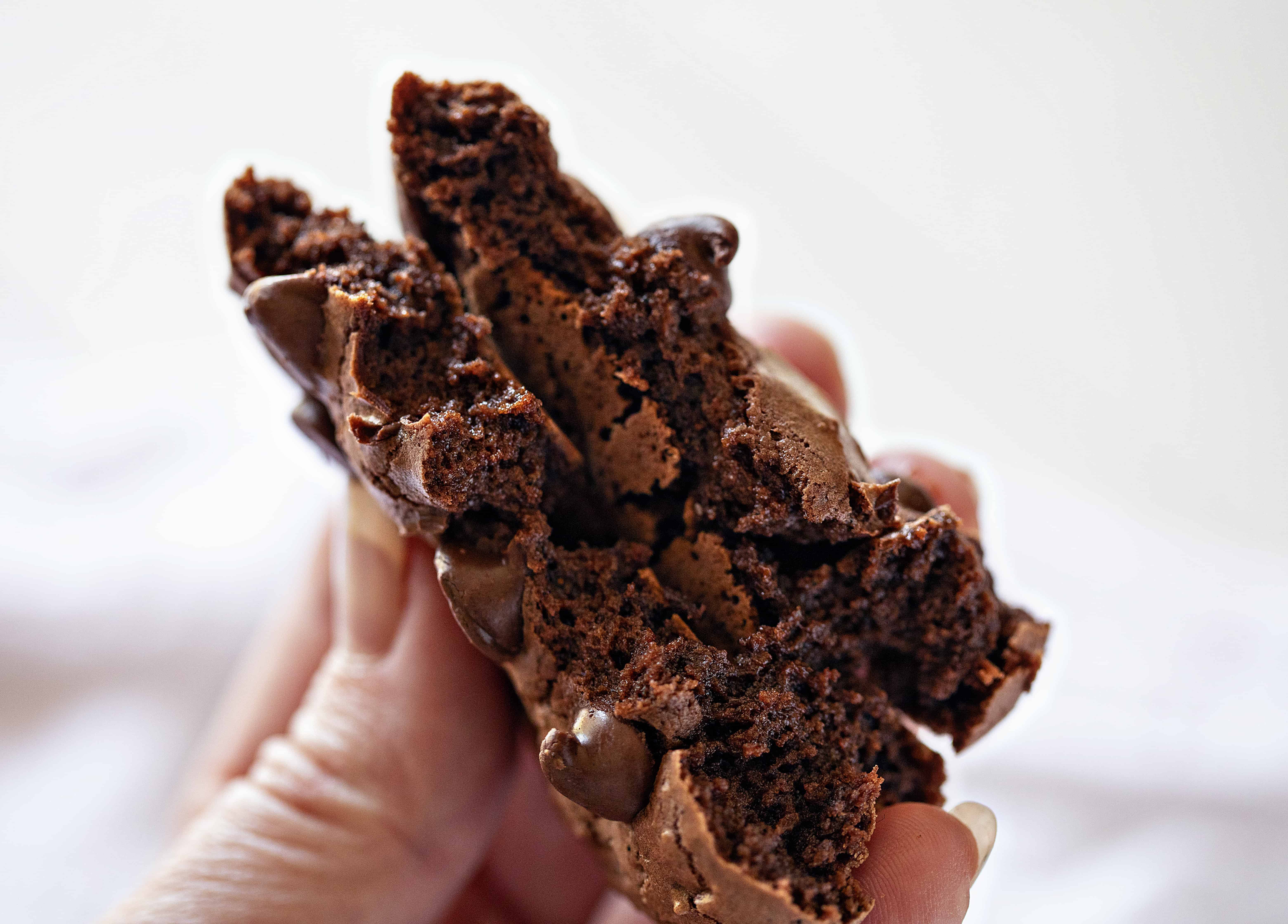 If you are a coffee lover you are going to be obsessed with these cookies!
Chocolate Chip Cookies (NYTimes)
Soft Batch Chocolate Cream Cheese Cookies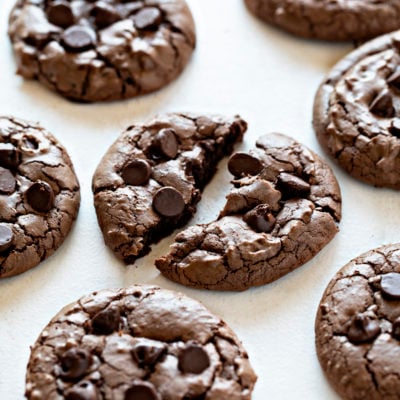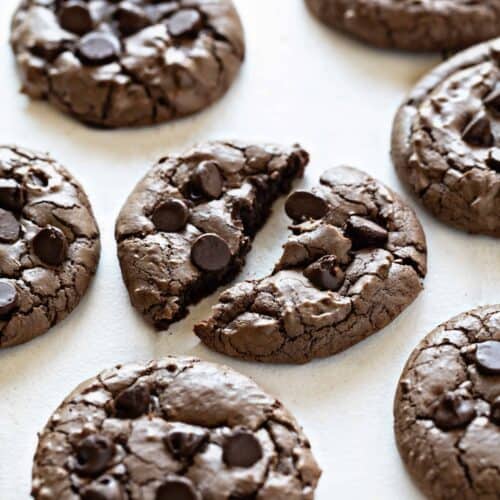 Chocolate Espresso Cookies
Ingredients
1

cup

semi-sweet chocolate morsels

2

tablespoons

butter

3/4

cup

granulated sugar

2

eggs

room temperature

2

tablespoons

milk

2

teaspoons

vanilla extract

1

cup

all purpose flour

1/4

cup

unsweetened cocoa powder

1

teaspoon

baking powder

1/2

teaspoon

salt

1

teaspoon

espresso powder

1/2

cup

semi-sweet chocolate morsels,

for topping cookies
Instructions
Preheat oven to 325°F. Line two cookie sheets with parchment paper.

In a medium microwave-safe bowl, add the semi-sweet baking morsels and butter. Heat in the microwave for 15 seconds. Stir and then heat for another 15 seconds. Stir. If the chocolate is mostly melted do not heat again. (If the chocolate seizes or hardens a bit it is ok.) Set aside.

While the chocolate is cooling, add sugar, eggs, milk, and vanilla to a large bowl. Whisk well until they are completely incorporated, light, and airy.

Add the slightly warm chocolate to the egg mixture and whisk continuously until fully combined and smooth.

Add the flour, cocoa powder, baking powder, salt, and espresso powder. Stir well to incorporate, but don't over mix. The mixture should be very loose, just like a brownie mix.

Set in the freezer for 15 minutes.

Using a 2 tablespoon scoop, scoop out balls and place on the prepared baking sheet. Six cookies should easily fit on a 10x15 sheet, as they do not spread too much.

Press 5-9 chocolate morsels on top of each cookie and press down slightly, so the cookies are not rounded or domed.

Bake for 11-14 minutes, or until the center portion does not appear wet.

Allow cookies to cool on the pan for at least 3 minutes before moving.
Did you make this recipe?
Thank you for making my recipe! You took pictures, right? Well go ahead and post them on Instagram! Be sure to mention me @iambaker and use the hashtag #YouAreBaker.