These Chocolate Espresso Cookies are seriously rich and chocolatey. When developing this recipe I wanted two things: intense flavor and the perfect crispy outer edge. These cookies have it! Check out more great Cookie Recipes here!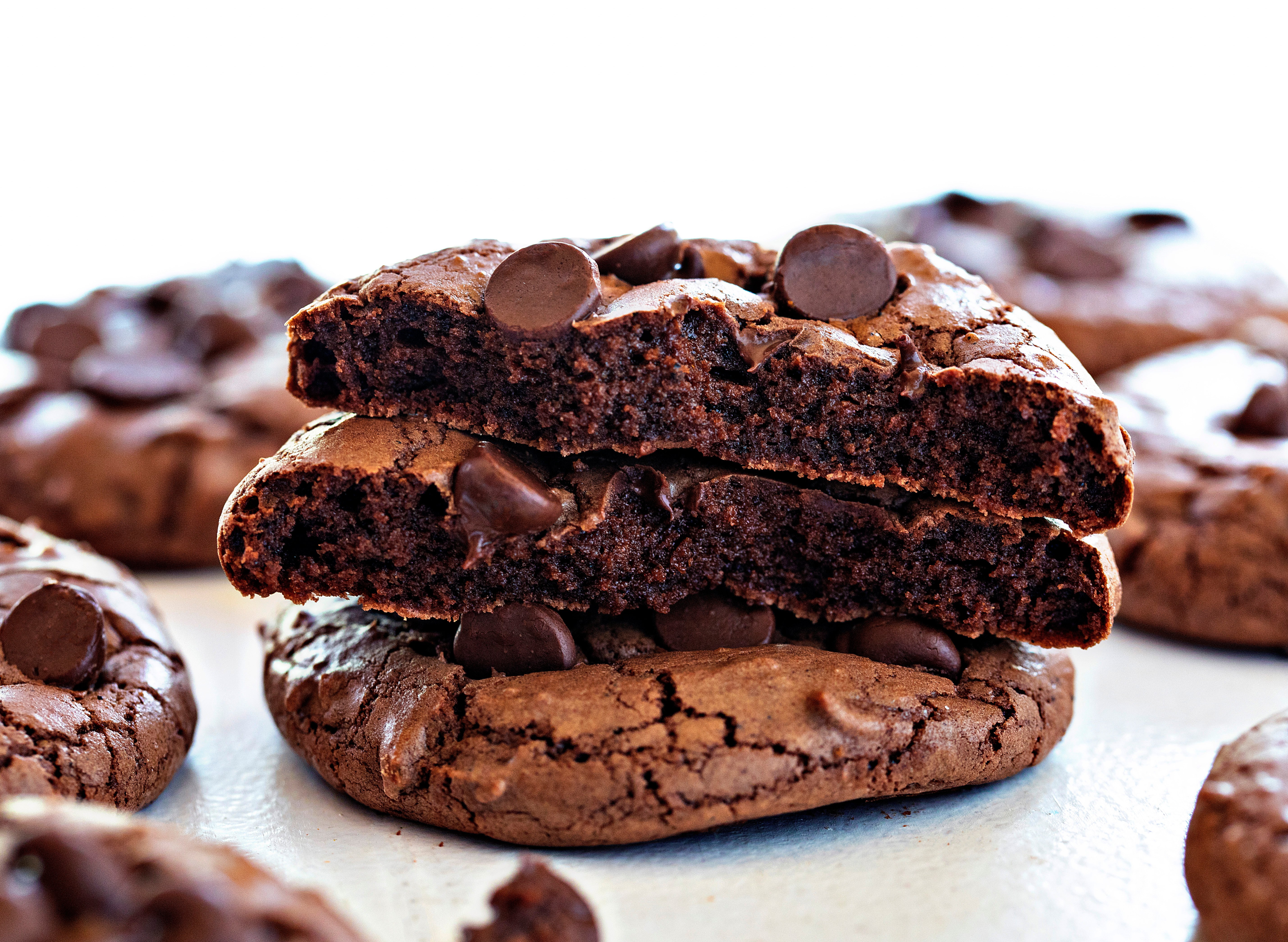 What Are Chocolate Espresso Cookies?
While it sounds pretty self-explanatory, these cookies have an intense depth of flavor that I have not experienced in a cookie before. There is melted chocolate, cocoa, and chocolate morsels on the top… but not INSIDE the cookie! I did this on purpose. The texture of these cookies is so amazing, I didn't want to disrupt it in any way with chocolate chunks. This is the ONLY recipe I have ever made that I recommend that for, but now that I know you can get all the amazing flavor from the morsels when just scattered on top, I am going to try it again.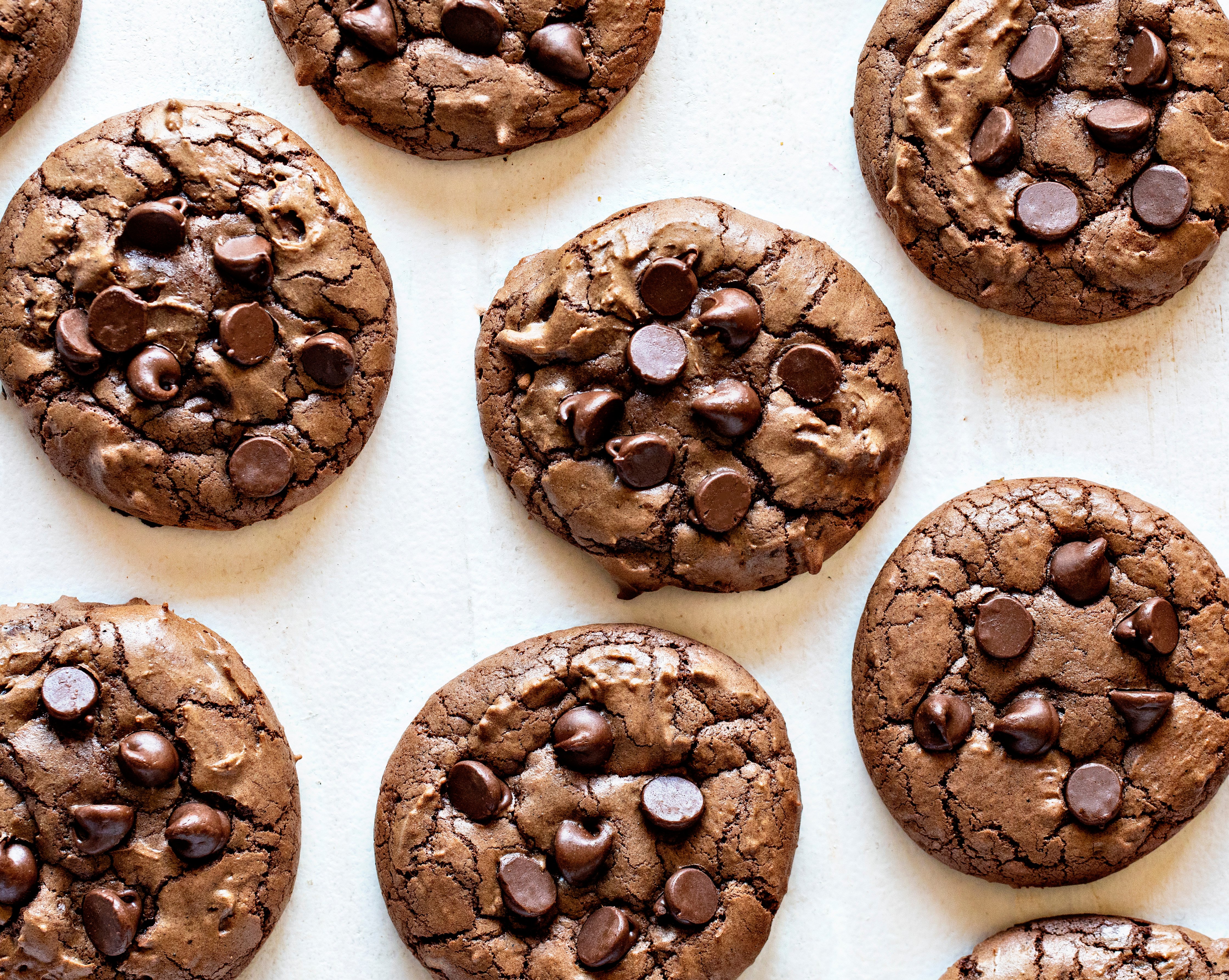 I believe this would technically be called a "brownie cookie", but I don't want to confuse anyone with the final results. It's a cookie through and through.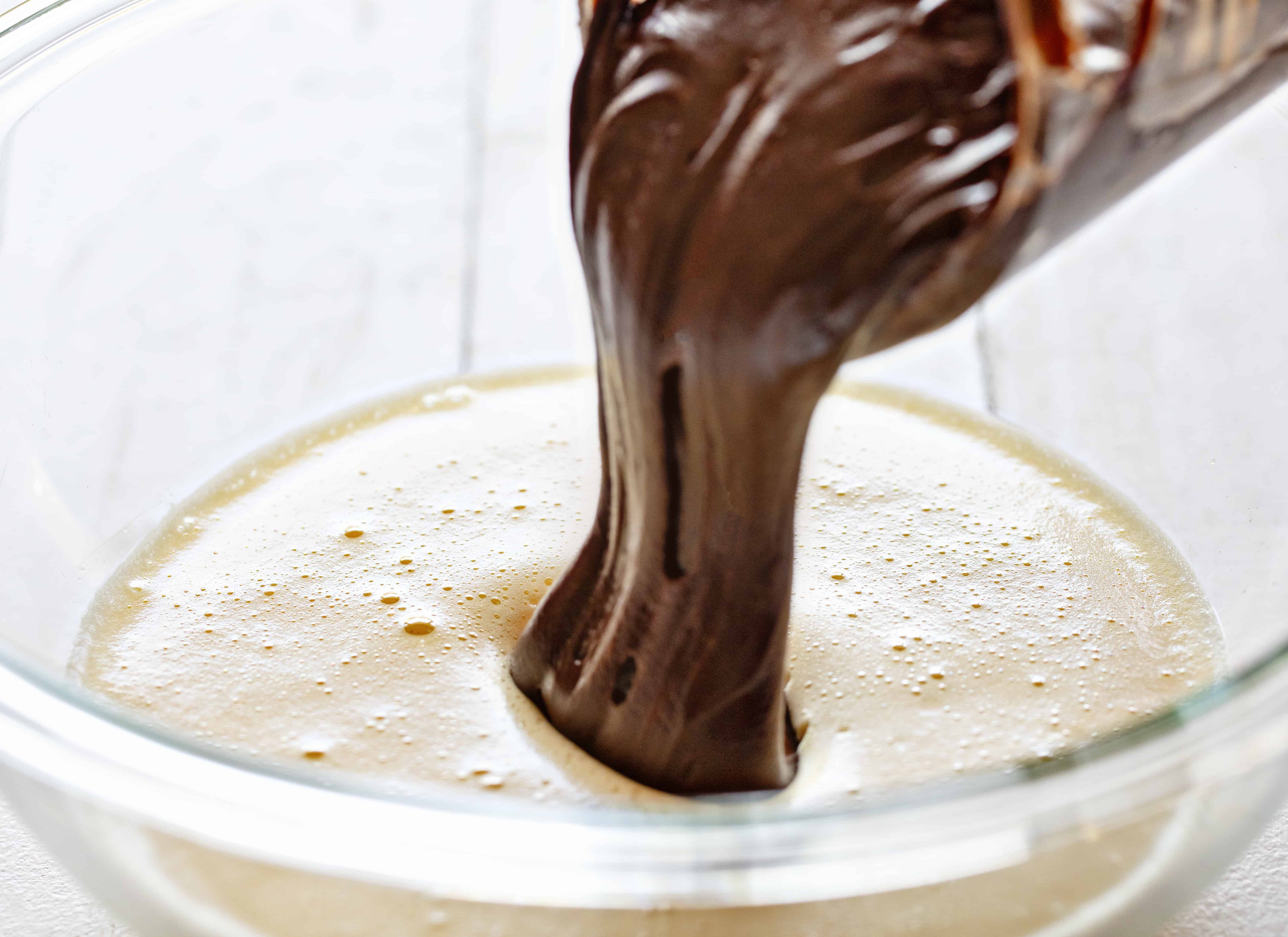 How to Make Egg Mixture
You will be adding the chocolate mixture and flour mixture to the egg mixture so it needs to be big enough to hold all of the ingredients. It is important that your eggs are at room temperature.
Get the sugar, eggs, milk, and vanilla and whisk together. I whisked for 2-3 minutes or until the eggs are aerated and lighter in color. The mixture should look foamy. (Don't skip this step!)
While whisking the egg mixture lightly, add in the melted chocolate. Slowly whisk everything together until it is shiny and smooth. (The picture below is air bubbles as I had just whisked it!)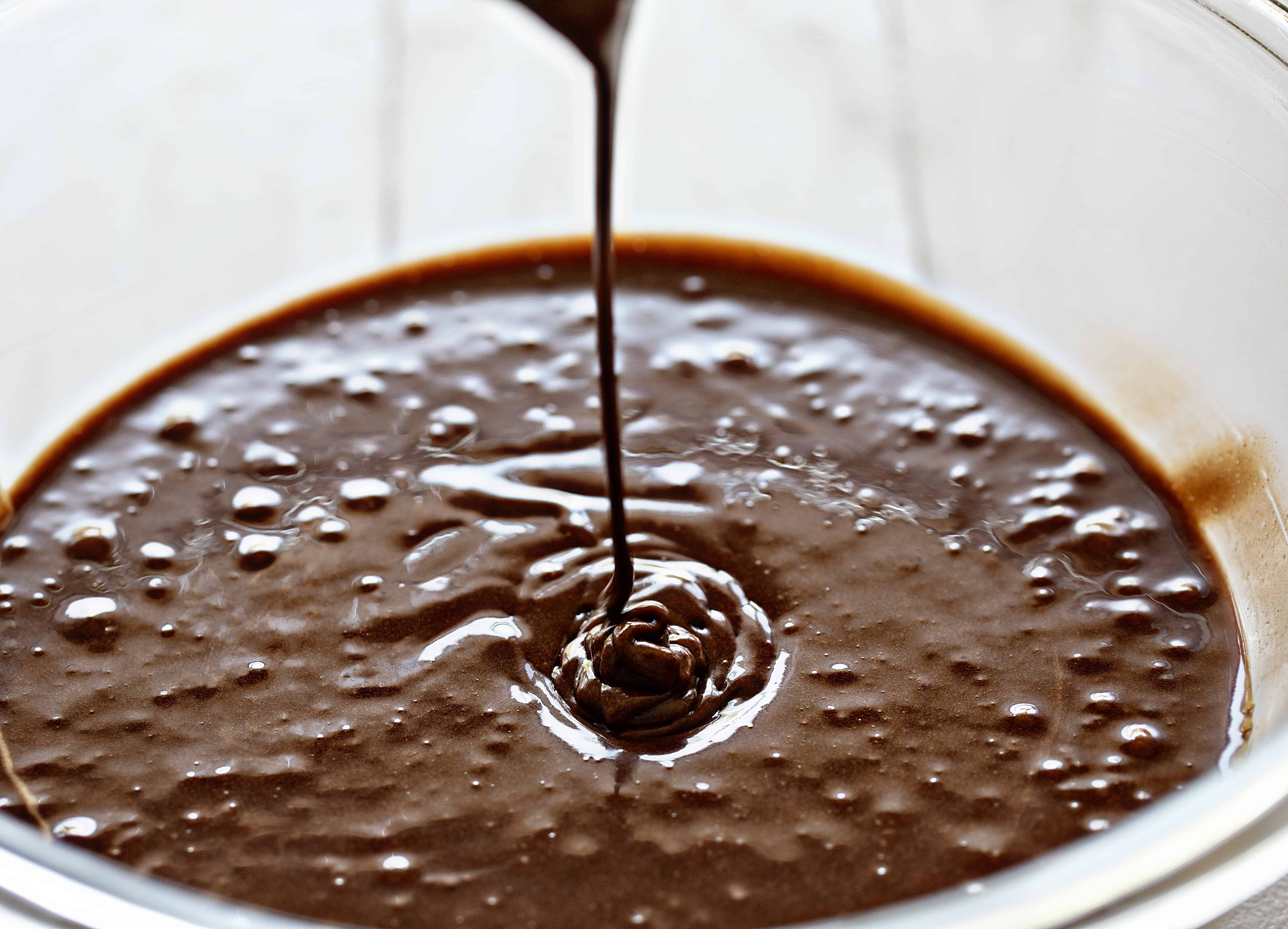 What Do These Cookies Taste Like?
Intense. The combination of espresso powder and chocolate is a powerful one. Not only is the flavor amazing, but the texture is also. They are truly soft and chewy inside with a perfectly crispy outer layer.
As I mentioned earlier, I only added a few chocolate morsels on top of the cookie. They just don't need it on the inside. But the melted chips on top add this gloriously smooth semi-sweet richness to each bite, so I loved the addition. A new concept for me in baking. but one I am going to revisit soon.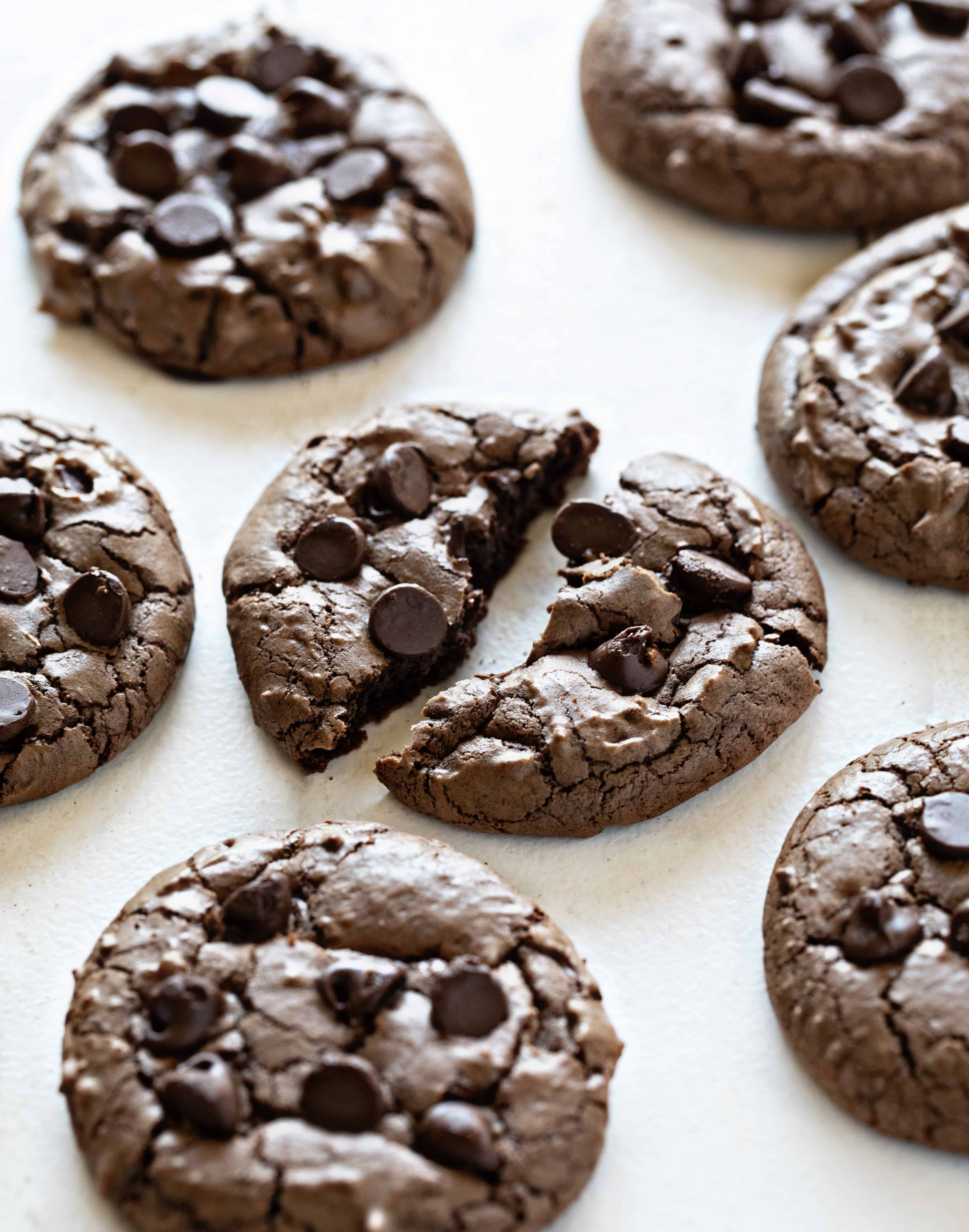 How to Store and Freeze Espresso Cookies
Allow the cookies to cool completely before storing them.
Store the cookies in an airtight container at room temperature for up to 3 days, or in the refrigerator for up to 1 week.
To freeze the cookies, place them in a single layer on a baking sheet and freeze until solid. Once frozen, transfer the cookies to an airtight container or freezer bag and freeze for up to 3 months. Be sure to label and date.
To thaw frozen cookies, transfer them to the refrigerator to thaw overnight or place them on a plate at room temperature for a few hours.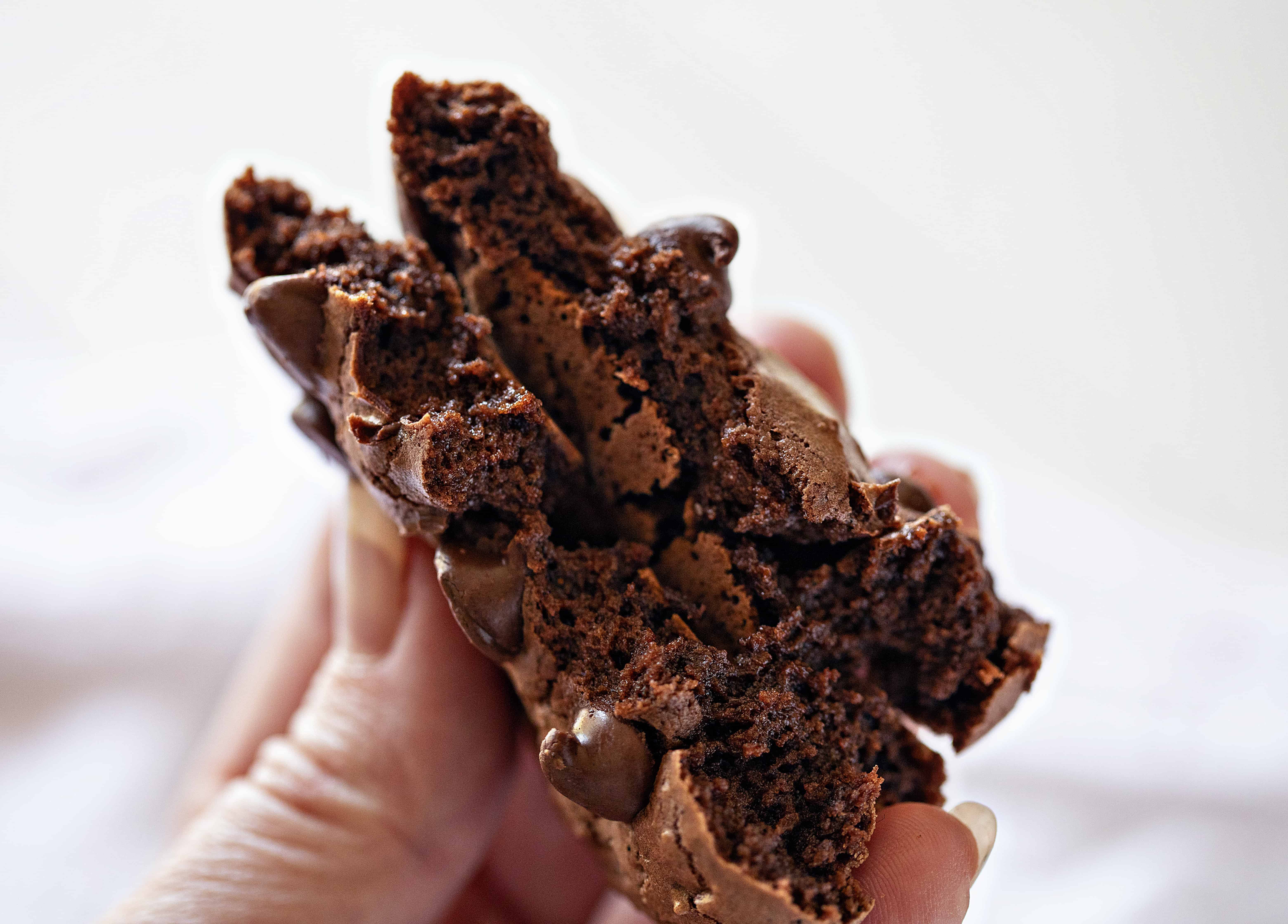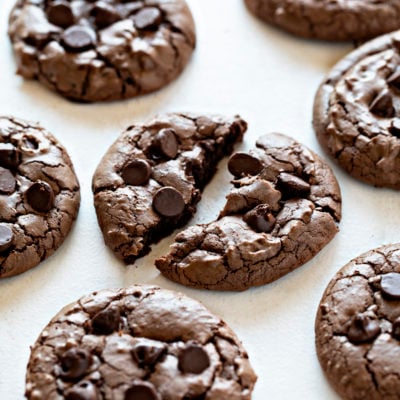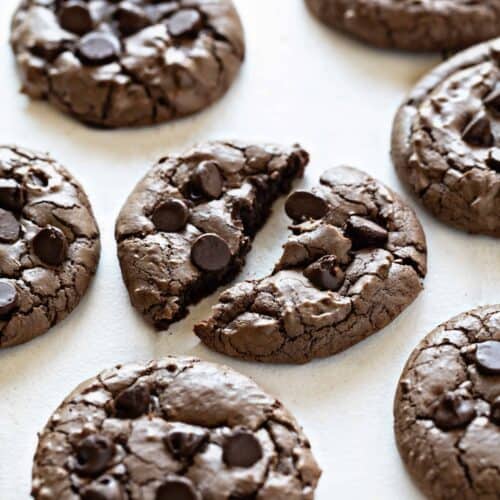 Chocolate Espresso Cookies
These Chocolate Espresso Cookies are seriously rich and chocolatey. When developing this recipe I wanted two things: intense flavor and the perfect crispy outer edge. These cookies have it!
Ingredients
1

cup

(168 g) semi-sweet chocolate morsels

2

tablespoons

unsalted butter

¾

cup

(150 g) granulated sugar

2

large

eggs,

room temperature

2

tablespoons

milk

2

teaspoons

vanilla extract

1

cup

(125 g) all purpose flour

¼

cup

(29.5 g) unsweetened cocoa powder

1

teaspoon

baking powder

½

teaspoon

kosher salt

1

teaspoon

espresso powder

½

cup

(84 g) semi-sweet chocolate morsels,

for topping cookies
Instructions
Preheat oven to 325°F. Line two cookie sheets with parchment paper.

In a microwave-safe bowl, combine the semi-sweet chocolate morsels and butter. Heat in the microwave for 15 second increments, stirring after each one, until the mixture is smooth. If the chocolate seizes or hardens a bit, that is okay. Set the chocolate aside to cool.

In a large bowl, whisk together the sugar, eggs, milk, and vanilla extract until they are completely incorporated and the mixture is light and airy.

Slowly add the slightly warm chocolate to the egg mixture, whisking continuously until it is fully combined and smooth.

Add the flour, cocoa powder, baking powder, salt, and espresso powder to the bowl and stir well to incorporate, being careful not to overmix. The mixture should be very loose, similar to a brownie mix.

Place the bowl of dough in the freezer for 15 minutes.

Using a 2-tablespoon scoop, portion out the cookie dough onto the prepared baking sheets. You should be able to fit 6 cookies on each sheet, as they do not spread too much.

Press 5-9 chocolate morsels onto the top of each cookie, pressing down slightly to flatten them.

Bake the cookies for 11-14 minutes, or until the center portion no longer appears wet.

Allow the cookies to cool on the pan for at least 3 minutes before transferring them to a wire rack to cool completely.
Did you make this recipe?
Thank you for making my recipe! You took pictures, right? Well go ahead and post them on Instagram! Be sure to mention me @iambaker and use the hashtag #YouAreBaker.