Cookies and Cream Cookies are loaded with white chocolate chips and blended with Oreo cookie crumbs to give you that cookies and cream flavor. For a more classic cookie, make sure to check out my favorite chocolate chip cookie recipe.
Cookies and Cream Cookies
Cookies and cream started out as an ice cream flavor where someone crushed some Oreo cookies into a bowl of ice cream. Since that time, you can find the classic cookies and cream flavor combination in candy bars, candy bark, and even Oreo cookies came back with cookies and cream flavored cookies🤷🏻‍♀️. Anyway, this cookie blends white chocolate with crumbs of Oreo cookies to give you that classic sweet taste.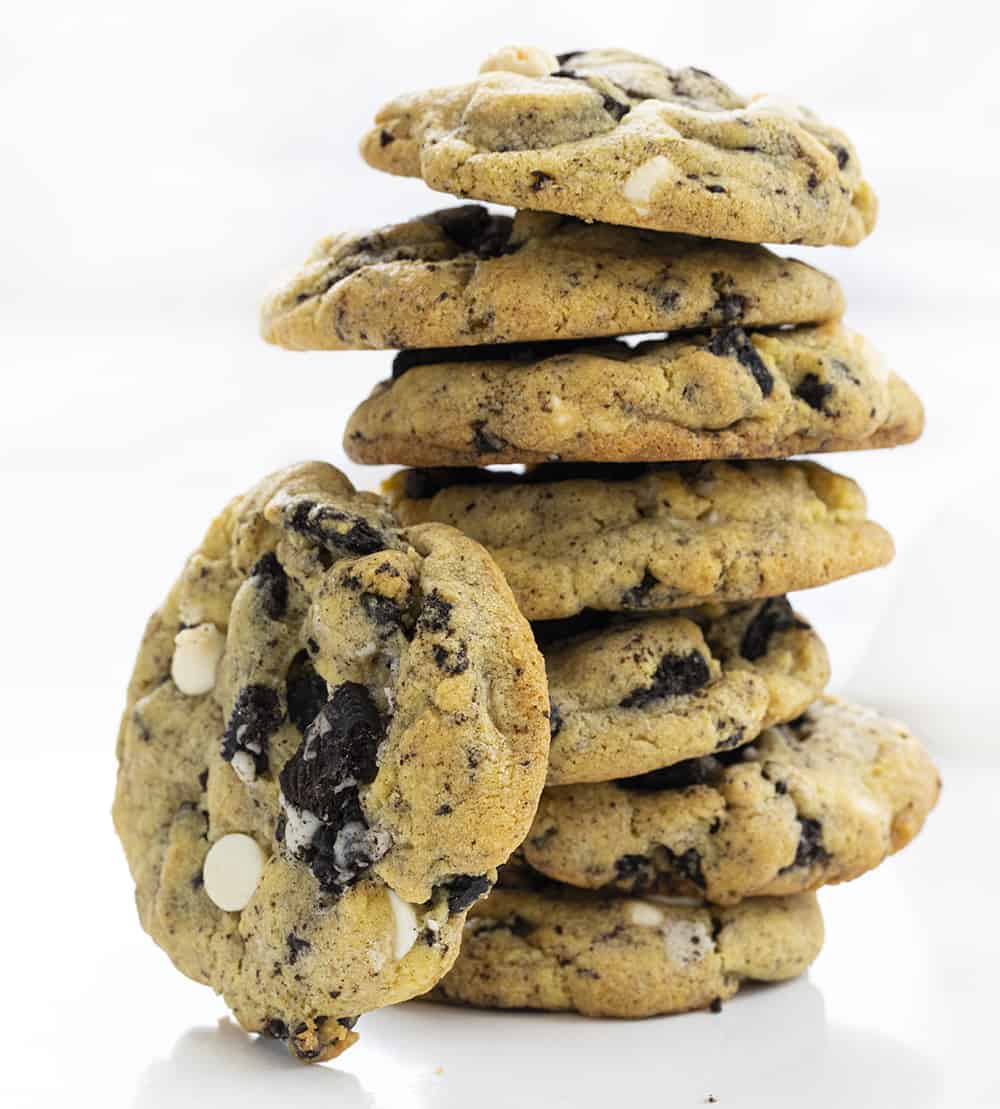 Oreo Cookies Recipe
This cookie recipe is easy to mix together and you can have some freshly baked cookies in less than half an hour! I love that these cookies are from-scratch! The only addition that might cause alarm is the vanilla pudding. Yes, you can definitely use Oreo pudding if you can find it. I use white chocolate morsels, however, this recipe would also be great with different flavors like chocolate chips, butterscotch, peanut butter, or mint chocolate chips!
How to Make these Gluten Free
If you substitute the all-purpose flour for gluten-free flour use a 1:1 ratio, the recipe should work. But, this will change the texture slightly.
How to Make the Cookies
All you need is a large bowl, a hand mixer, and the ingredients to get these cookies made. First, preheat the oven to 350°F. Next, use a hand mixer to mix together the butter, brown sugar, and granulated sugar until creamy. Then, add in the pudding mix, eggs, and vanilla, mixing until all the ingredients are incorporated. Add in the flour and baking soda, continuing to mix. Finally, gently fold in the white chocolate chips and crushed Oreo cookies.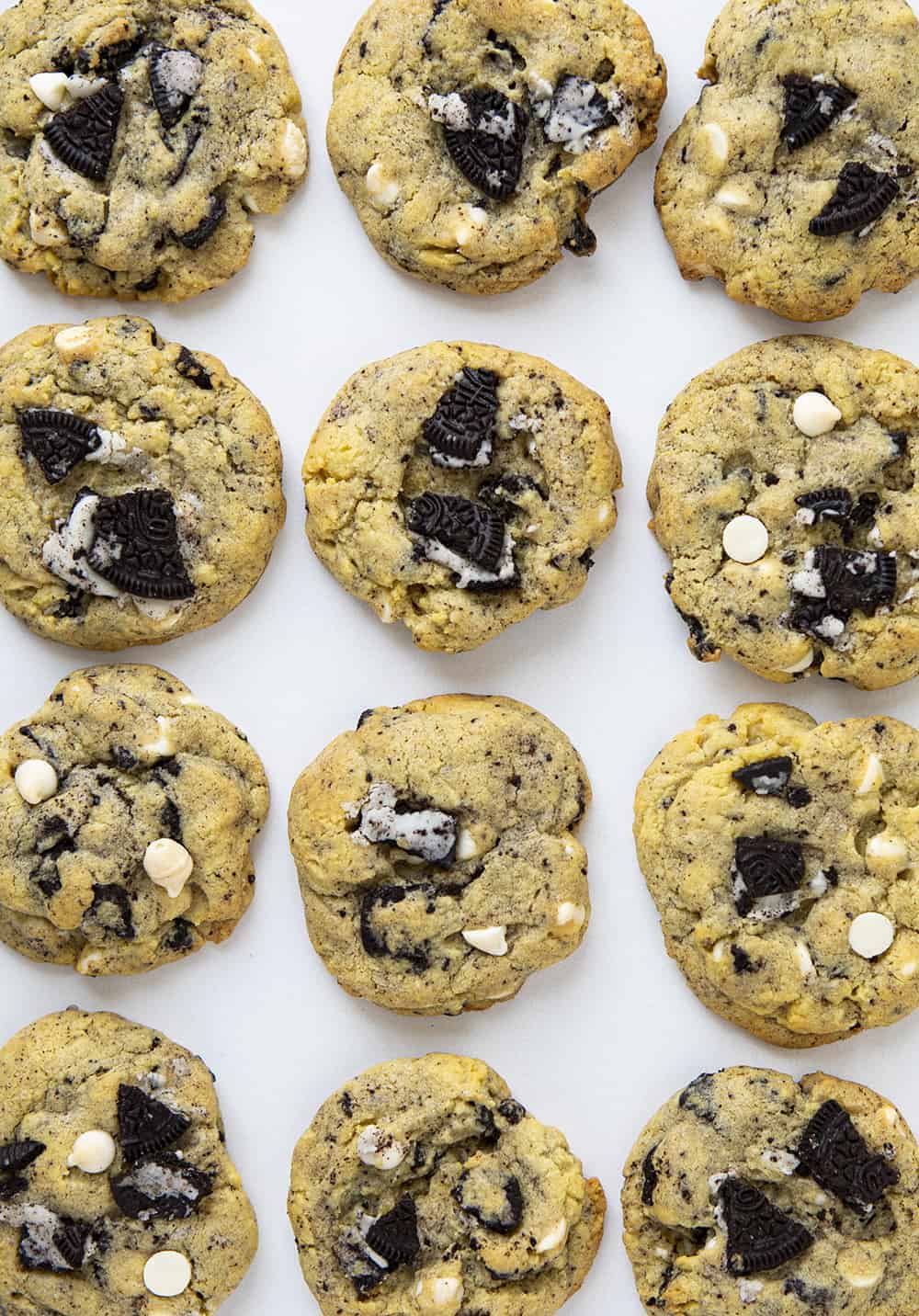 Baking the Cookies
I used a 3-tablespoon scoop to end up with 18-24 cookies. They are just the right size to get that sweet cookies and cream flavor in each bite. But, if you prefer a smaller cookie, the bake time will be a couple of minutes less.
Bake the cookies on a parchment-lined cookie sheet for about 8-10 minutes, or until the edges are brown and the dough on top of the cookie does not appear wet. The cookie will darken a bit after you remove it from the oven. Let them cool a bit before transferring them to a wire rack and enjoy! Have some milk around for dunking!
White Chocolate
I used white chocolate chips in my recipe, but there are other options out there when it comes to white chocolate. White chocolate contains only cocoa butter, no cocoa solids, which gives it the light color. But, there is no doubt that it adds sweetness to any dessert. There is also no doubt that white chocolate comes in many names and forms. So, which one do you choose for your recipe when it calls for white chocolate?
First of all, to be considered white chocolate, it must contain at least 20% cocoa butter. If you see labels like white morsels, white baking wafers, or white chips, those do not have the 20% cocoa butter, so they can't be called white chocolate. Confusing, I know! For cookies and bars, white chocolate chips and white chips or morsels are interchangeable.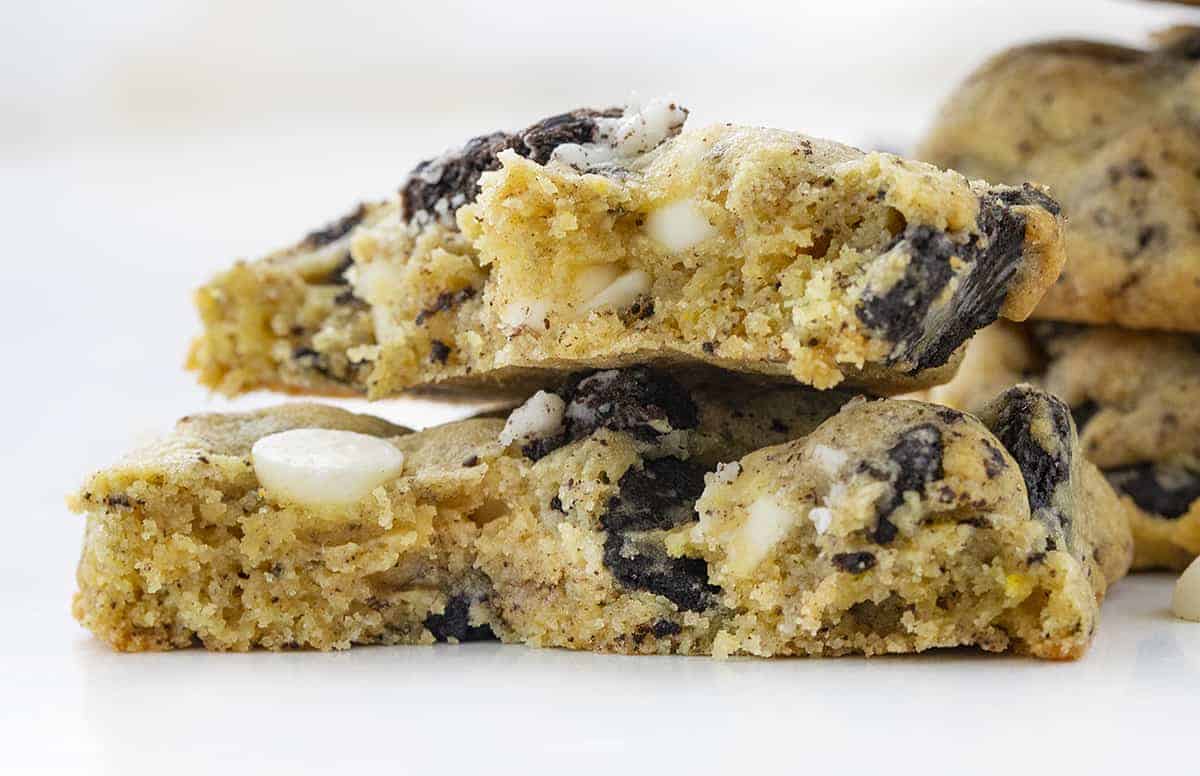 How to Store Cookies
The best way to keep your cookies fresh is by placing them in an airtight container in layers separated by parchment paper (or even sheets of paper). At room temperature, they will stay fresh for about three days. If you won't be eating them within that time, freeze the cookies.
To freeze baked cookies, first, let them cool completely. Then, put the cookies in the freezer on a parchment-lined baking sheet. After you have let the cookies freeze, place them into zipped freezer bags or freezer-safe containers. Label and date the bags; they will last up to 3 months.
Sourdough Chocolate Chip Cookies
Cheesecake Stuffed Chocolate Chip Cookies
Potato Chip Chocolate Chip Cookies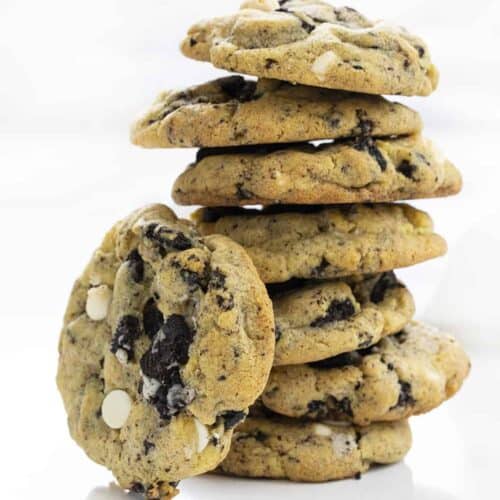 Cookies and Cream Cookies
Cookies and Cream Cookies are loaded with white chocolate chips and blended with Oreo cookie crumbs to give you that cookies and cream flavor.
Keyword:
Cookies and Cream Cookies
Ingredients
1

cup

(2 sticks or 227g) butter,

softened

½

cup

(100g) brown sugar

½

cup

(100g) granulated sugar

1

package

(3.4 ounces) vanilla pudding mix

2

large

eggs,

room temperature

1

teaspoon

vanilla extract

2¼

cups

(281g) flour

1

teaspoon

baking soda

1

cup

white chocolate chips

15

Oreo Cookies,

roughly crushed (big chunks are ok)
Instructions
Preheat oven to 350°F and prepare a baking sheet by lining it with parchment paper.

In a large bowl, add butter, brown sugar, and granulated sugar. Using a hand mixer on medium speed, mix together until creamy.

Add the pudding mix, eggs, and vanilla and mix until all ingredients are incorporated.

Add the flour and baking soda and continue mixing.

Fold in the white chocolate chips and crushed Oreo cookies.

Using a 3 tablespoon cookie scoop, scoop the batter out onto a parchment-lined cookie sheet, about 2 inches apart. (I usually put 6 cookie dough balls onto each cookie sheet.)