This Cruffin recipe is crescent roll dough that is buttered and coated with cinnamon and sugar, rolled, cut, and baked in a muffin tin. Then, they are rolled in more cinnamon and sugar! If these sound good to you, be sure to try my Blueberry Cruffins, too! Should you want to make from-scratch Cinnamon Sugar Cruffins, I have that recipe as well!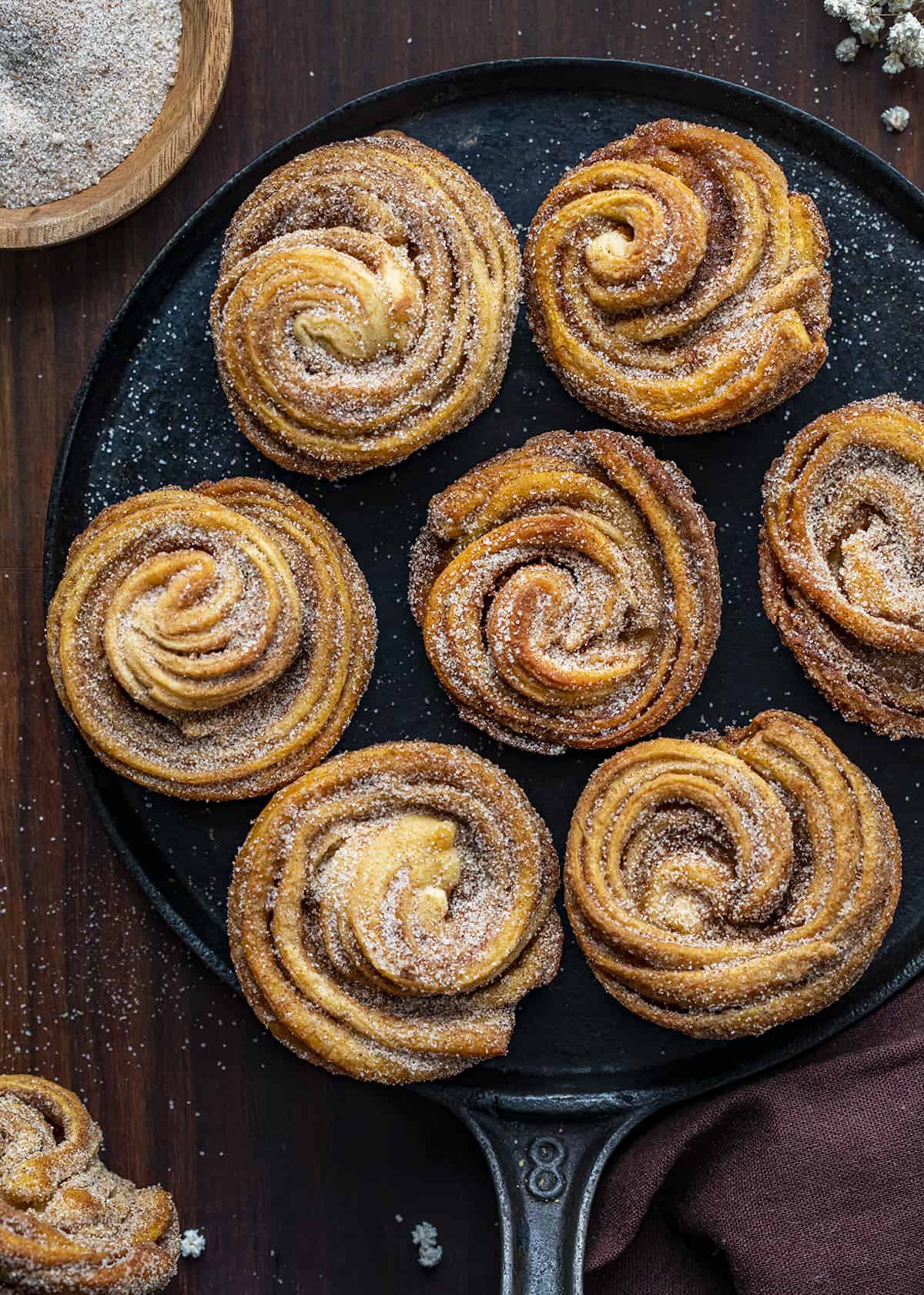 What is a Cruffin?
A cruffin is a cross between a croissant and a muffin that tastes like a cinnamon roll. It's like getting the best of all three treats in one muffin, or should I say, cruffin. The creator (the original!) of the Easy Cruffin is Kleinworth & Co. and I love that she shared it with the world! I even branched out to make Apple Butter Cruffins, Chocolate Peppermint Cruffins, Pumpkin Spice Cruffins, and Carrot Cake Cruffins, too!
This recipe uses crescent roll dough in place of croissant dough to make this an easy recipe that anyone can make (no homemade dough required). I can't stop eating them, and they go so well with my morning cup (or 2) of coffee. I also have a savory cheesy garlic cruffin that would complement any meal.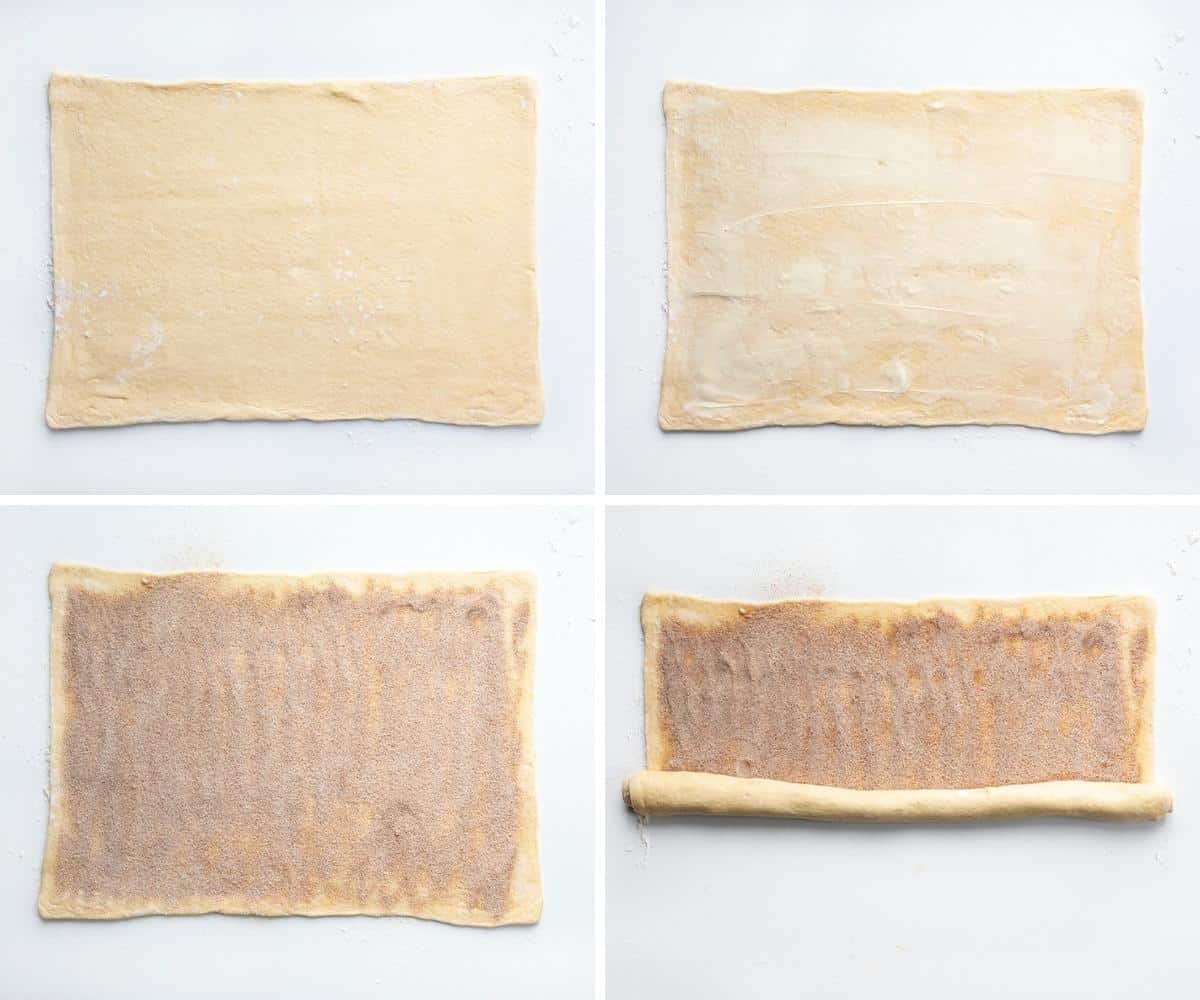 Ingredients
Dough: I used storebought crescent roll dough that came in sheets (no perforations). But, you could still use the original dough that does have perforations, just pinch the seams together. If you want to make the dough from scratch, I will give you a couple of recipes you could use next.
Butter: All of the unsalted butter gets rolled up in each cruffin, giving you plenty in every layer of the treat.
Cinnamon and Sugar: Just like the butter is in each layer, so is the cinnamon and sugar mixture. In addition, I also rolled the baked cruffins into more cinnamon and sugar.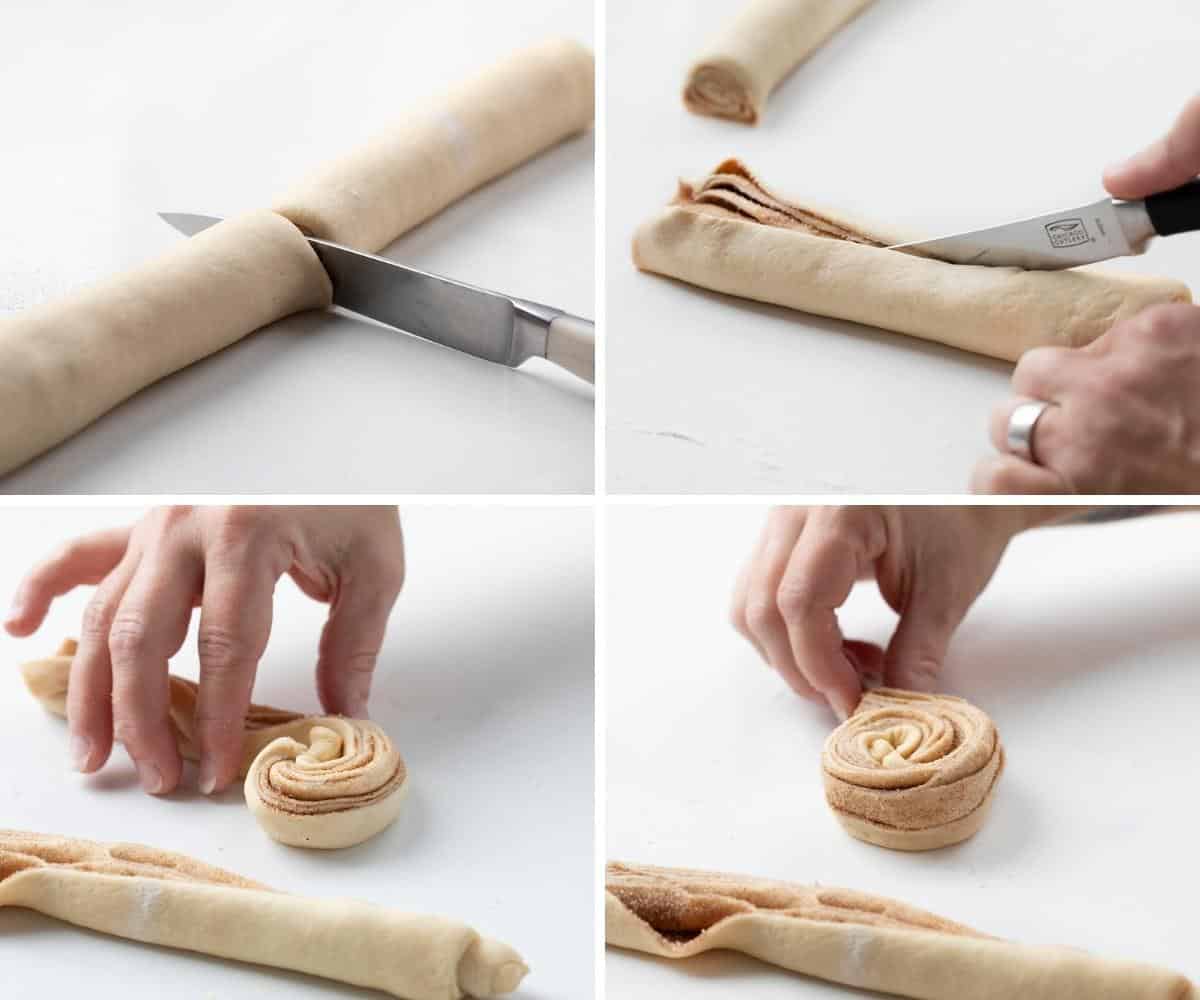 Can I Make the Dough From Scratch?
Sure! If you want to make your own dough for these blueberry cruffins, there are a couple of options. You could check out my from-scratch Cruffin Recipe. Or, use the dough that I make for my Pumpkin Puff Pastry .
Can I Make Cruffins with Puff Pastry?
Yes! You could use 3 sheets of puff pastry (1 1/2 boxes), thawed according to package instructions, to make 12 cruffins. However, the baking instructions are a little different. If using a puff pastry sheet, follow the instructions for filling, rolling, and cutting. Place in the prepared muffin tin and bake for 24 minutes at 400°F. (Notice the baking time and temperature are different when compared to making the cruffins with crescent roll sheets.)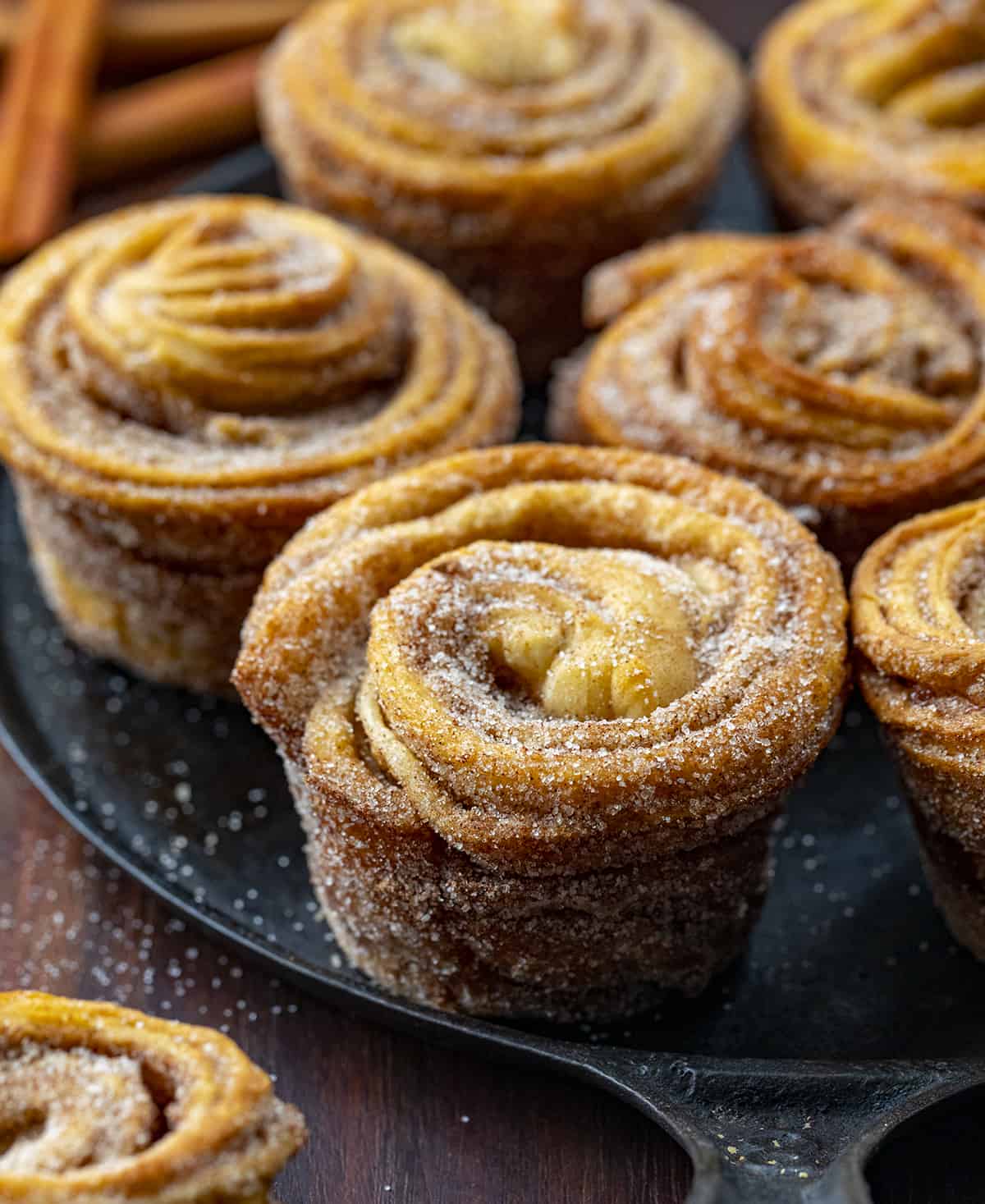 Mini Cruffins
I have had quite a few people ask about making miniature cruffins, so I am here to let you know that you can certainly make these into mini cruffins. With each sheet of crescent roll dough, instead of making 4 cruffins, you will make 8 (for a total of 24 if using all three sheets of dough). Cut each log in half (like the original), and then cut in half again, for 4 small 'logs' of dough. Cut each small log in half lengthwise for a total of 8. Roll as directed and place into the prepared mini muffin tin. Bake for 18 minutes at 350°F.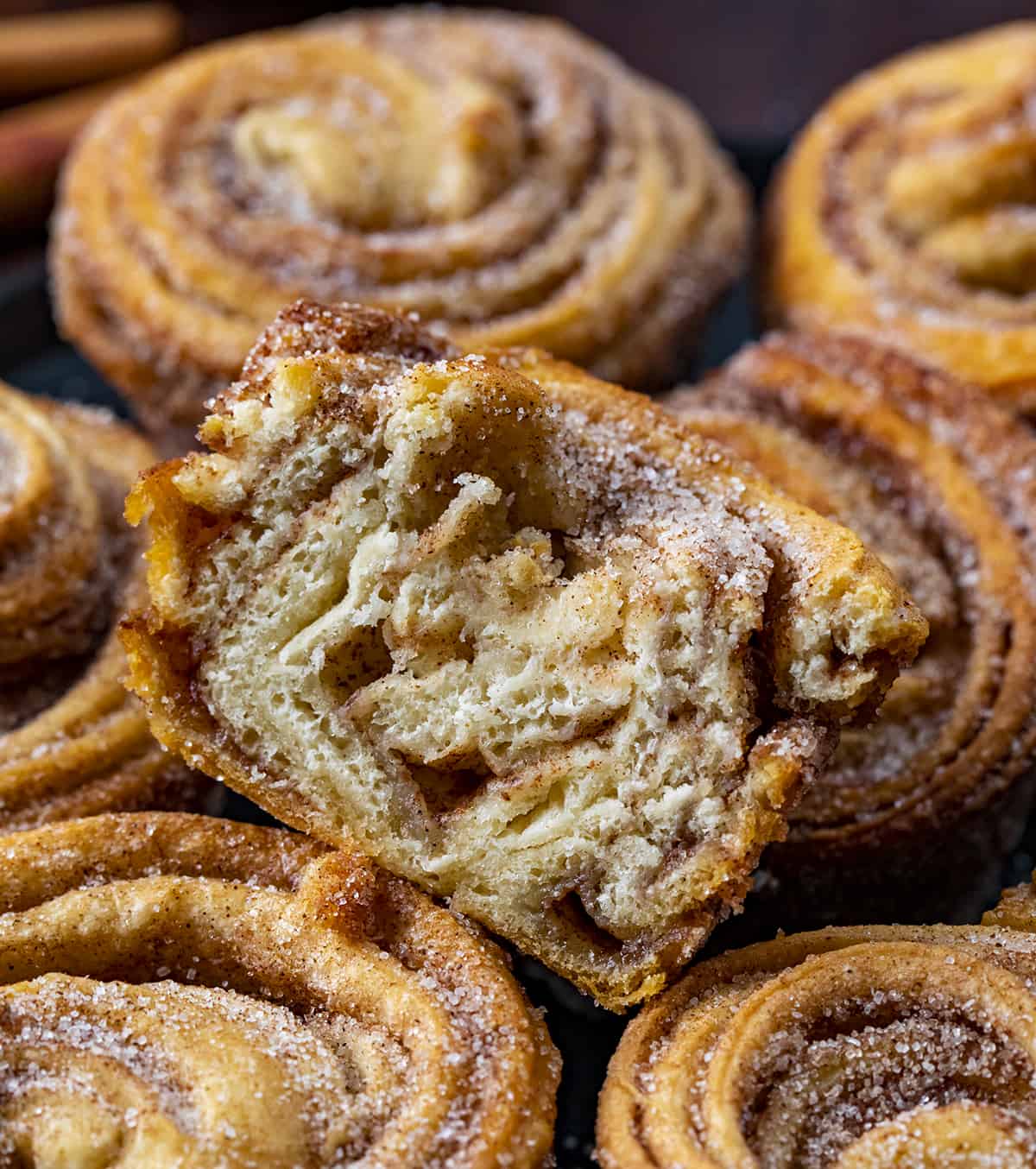 How to Store Cruffins
After they have baked and rolled in the cinnamon and sugar mixture, store them in an airtight container. They will last up to 3 days (but I doubt it; they are so good)!
Can I Freeze Cruffins?
Sure! If you are not going to enjoy the cruffins within three days, it's best to freeze them. First, let them cool completely. Then, store in a freezer-safe container for up to 2 months.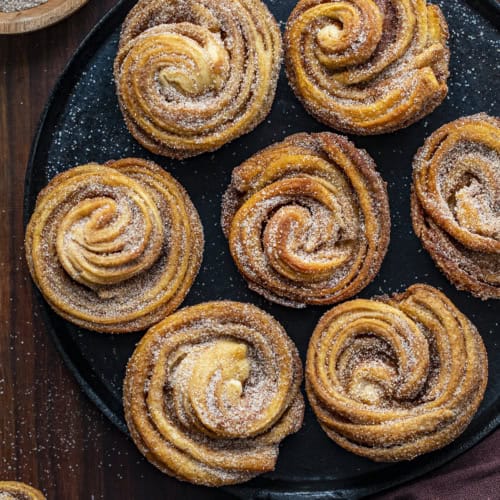 Cruffin
A Cruffin is crescent roll dough that is buttered and coated with cinnamon and sugar, rolled, cut, and baked in a muffin tin.
Ingredients
3

tubes

(8 ounces each) refrigerated crescent roll sheets

6

tablespoons

unsalted butter,

softened, divided

1

cup

(200 g) granulated sugar

1

tablespoon

ground cinnamon
Instructions
Preheat oven to 350°F. Lightly spray a standard 12-cup muffin tin with nonstick cooking spray. Set aside.

Working on a lightly floured work surface, roll out each tube of dough to a 12×16-inch rectangle. (We used crescent roll sheets; if you are using perforated crescent roll dough, be sure to pinch the seams to seal.)

Spread 2 tablespoons of softened butter evenly over each sheet of dough.

In a small bowl, whisk together the sugar and cinnamon.

Sprinkle ¼ cup of the cinnamon-sugar mixture evenly over the top of each buttered dough sheet, gently pressing it into the dough. Set aside the remaining cinnamon-sugar mixture to use for topping later.

Starting on the long end of the dough sheet, tightly roll it up into a log.

Cut the log in half, creating two shorter logs.

Cut each of those shorter logs in half lengthwise, giving you four sections of dough.

Repeat with the remaining two sheets of dough. You will have 12 sections of dough.

Working one section of dough at a time with the layered side facing out, roll it tightly into a cinnamon roll shape, tucking in the end piece of dough.

Place into the prepared muffin tin. Repeat with the remaining 11 sections.

Bake for 18-20 minutes, or until golden brown.

Remove rolls from the oven and immediately roll each cruffin in the remaining cinnamon sugar mixture. Enjoy!
Did you make this recipe?
Thank you for making my recipe! You took pictures, right? Well go ahead and post them on Instagram! Be sure to mention me @iambaker and use the hashtag #YouAreBaker.