Did you want to know how you can make this fun cake?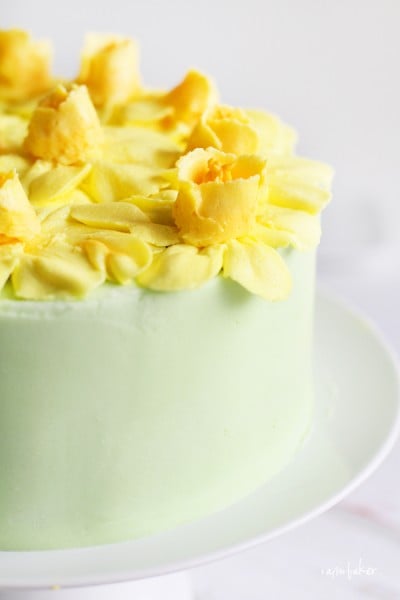 I put together a tutorial for you!  But instead of on a cake I put them on cupcakes.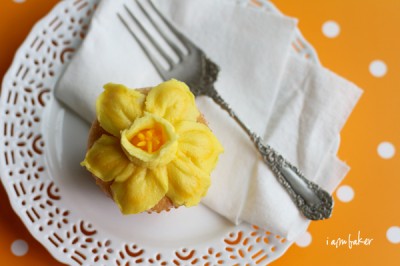 I hope you are able to translate the look into any medium that you want!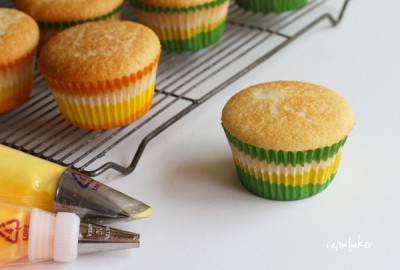 Make your favorite flavor cupcakes.  Then make a batch of crusting buttercream frosting.  I halved this recipe.  I then tinted 2/3 of it yellow and the remaining 1/3 orange.
For the petals I used #127 tip, but you can also use a #104 tip.  For the center and the little stamens, I used a #10 and a #3 tip.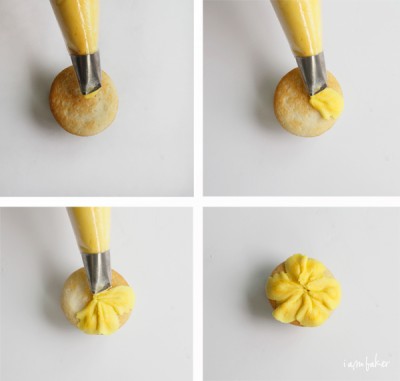 To make the base of your flower, start by piping out a petal.   With the smallest edge of your tip facing out, apply light pressure to the bag and allow to tip to form the petal.  Try to let some of the petal tips hang over the edge of your cupcake.
Repeat five times.  Then move on to next cupcake and repeat process again.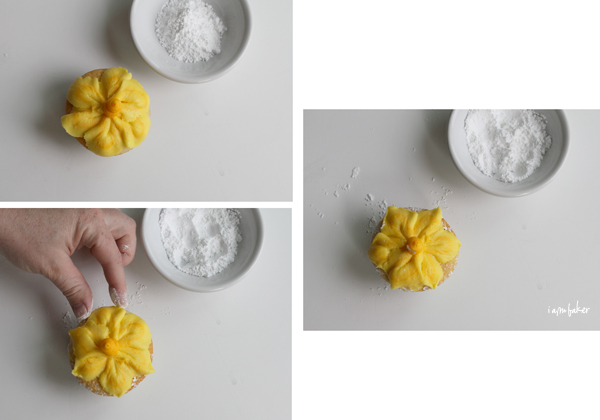 If you look at a real daffodil, their petals are pointed.  Since I was unable to get the point I wanted from the #127 tip, I decided to just go back and do it by hand. (I also tried a leaf tip and was not successful at that either)
So to get the point I dipped my fingers in powder sugar and just pressed in.  Easy peasy.  To do a dozen cupcakes took about 10 minutes.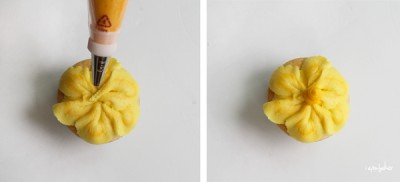 Now get out the orange frosting and the #10 open round tip.  I just piped out a center that was about an inch high.
Do this to all your cupcakes.
Place them in the freezer for five minutes or fridge for half an hour.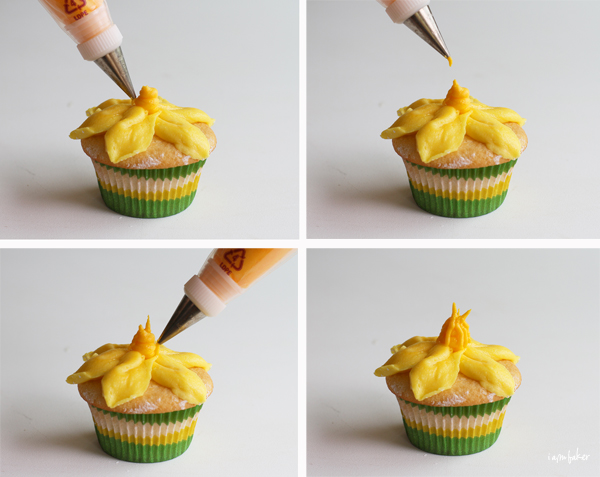 Now switch from the #10 tip to a #3 tip. (#2, #4, and #5 all work just as well!)  Starting at the bottom, bring your tip to the top of the center portion and quickly pull away.  This should leave a nice little bit of frosting extending just above the center.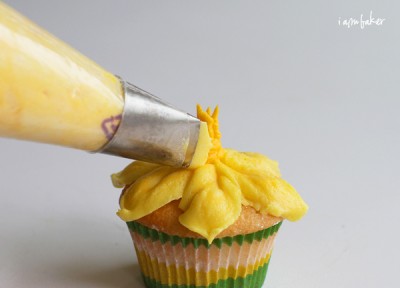 Pick up your yellow frosting and #127 tip again.  With the smallest edge pointing up and starting at the center start piping around.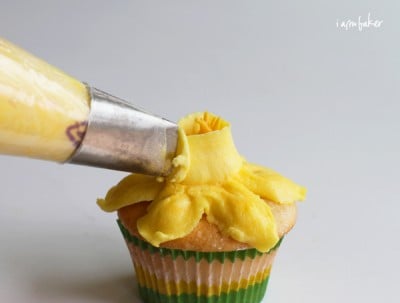 I found it easiest to pick up the cupcake and turn it around in my hand as I was piping.  If you want you can go back in and (gently) press the top edge down and out.  This helps to better replicate a real daffodil.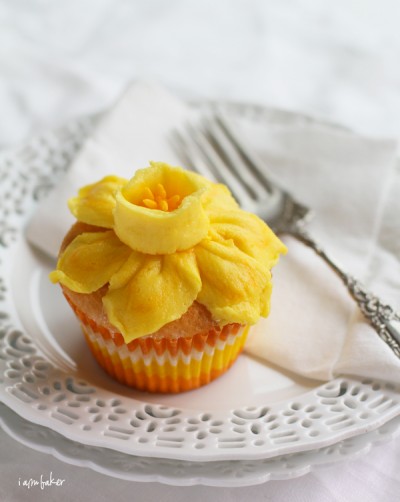 After having made a cake already, it took me about 30 minutes to do two dozen cupcakes.
After posting my Daffodil Cake here, on facebook, and Pinterest, I was able to learn about so many ways that we use the Daffodil in charitable organizations and as a message of hope.  Thank you for sharing what Daffodils mean to you!