If you have purchased my new cookbook, 'surprise-inside cakes', you may have noticed something.  There really aren't that many recipes.
Which is weird for a cookbook.  The few recipes it does have are recipes that I truly adore, and today, I am sharing one!
In the book there is a cake called the Neapolitan Hi-Hat cake.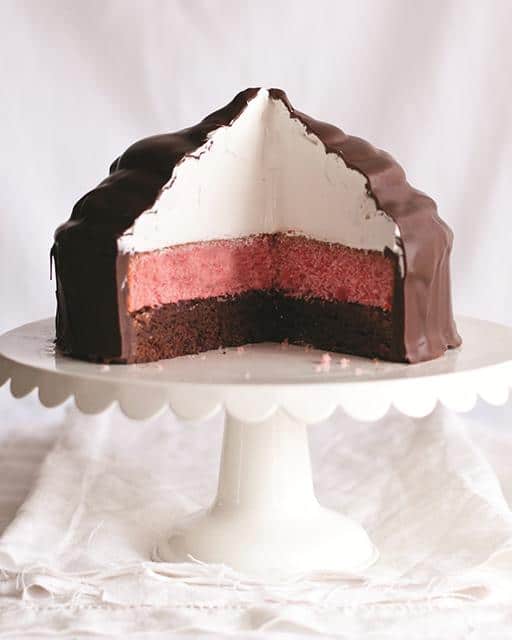 You are all pretty familiar with my Neapolitan obsession, so it was a natural progression for me to have it in the book.
And while I love the beauty of neapolitan, the dark brown chocolate, the like pink, the crisp white… what I want to talk about today is the flavors, or the recipe.
When you have mile-high sweet and sugary whipped cream and strawberry cake amazingness, you really need a dark and high quality chocolate to pair it with.  That is how my Decadent Brownie recipe was born.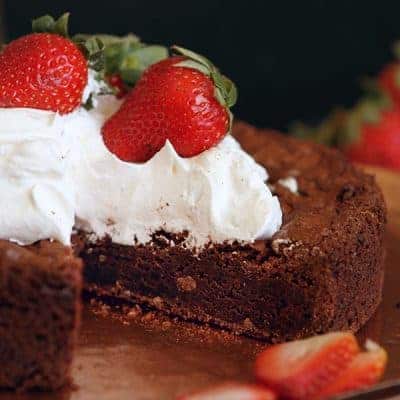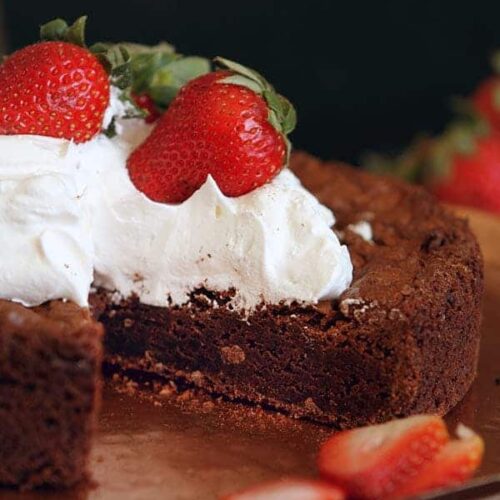 Decadent Homemade Brownies
Ingredients
1

c

granulated sugar

1/4

tsp.

salt

1/2

c

unsweetened cocoa

1/4

c

cake flour

1/2

c

all-purpose flour

2

large eggs

2

tsp.

vanilla extract

1/2

c

1 stick unsalted butter, at room temperature

1/2

c

brown sugar

1/2

c

semi-sweet chocolate

about 2 ounces finely chopped
Instructions
Heat oven to 350 degrees and prepare an 8-inch round cake pan.

In stand mixer, combine sugars, butter and vanilla and mix on medium speed until light and fluffy, about 2 minutes. Beat in eggs one at a time until well blended.

Sift flours, cocoa and salt in medium bowl. Gradually add the flour mixture to butter mixture with mixer on low speed and blend until ingredients are fully combined. (no more than 1 minute)

Remove bowl from mixer and fold in finely chopped chocolate by hand using a spatula.

Pour batter into prepared pan and bake for 35-40 minutes, or until a toothpick inserted into the center comes out clean.

Let brownies cool to room temperature in pan.

Cover in whipped cream and strawberries.
Did you make this recipe?
Thank you for making my recipe! You took pictures, right? Well go ahead and post them on Instagram! Be sure to mention me @iambaker and use the hashtag #YouAreBaker.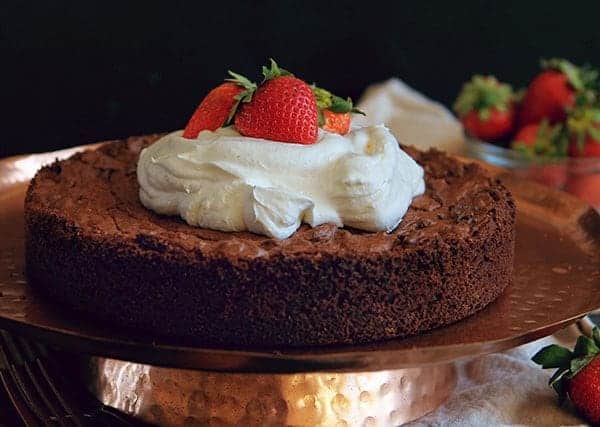 This is the deconstructed hi-hat, with no hat. 😉
I made up the recipe from my book, topped with a bit of whipped cream, and added a couple strawberries for texture and flavor.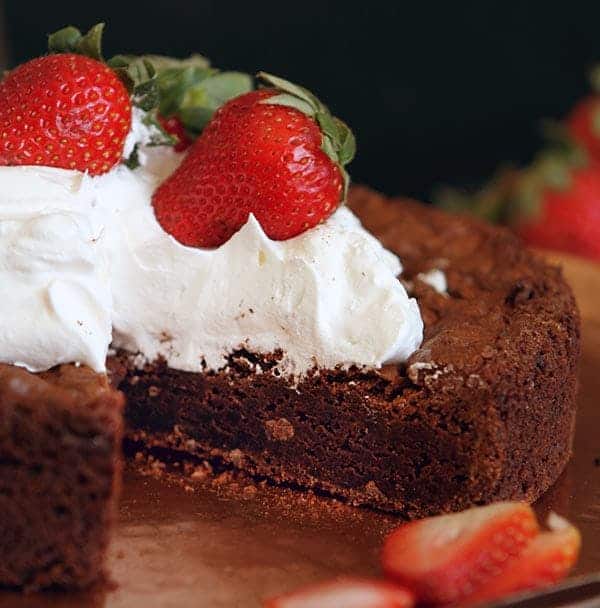 While I love a good fudgey brownie, this cakey brownie with a crispy crust and bits of semi-sweet chocolate is my newest obsession.
Ob. Sesh. On.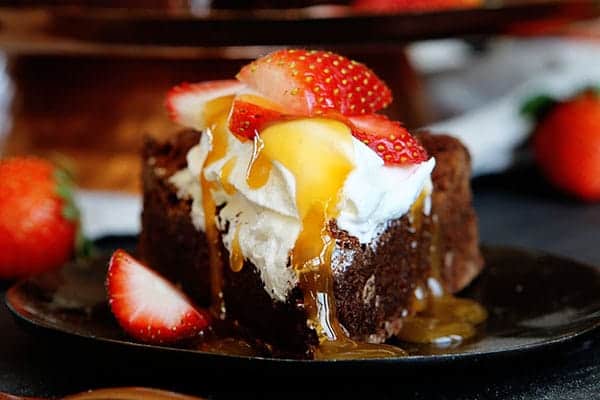 Sorry for my bad spelling above.  I promise I won't start saying what-evs and obvi and talking about cake swag.  But if I do, just chalk it up to YOLO.
😉