We recently drove up to Fargo to visit my folks and family.  Since it was just one week after Mothers Day, I decided to make my mom something special.
I wasnt going to bore you with how to make another rose cake, but I think we can all agree that the best part of this dessert is the DOUBLE layer of cheesecake!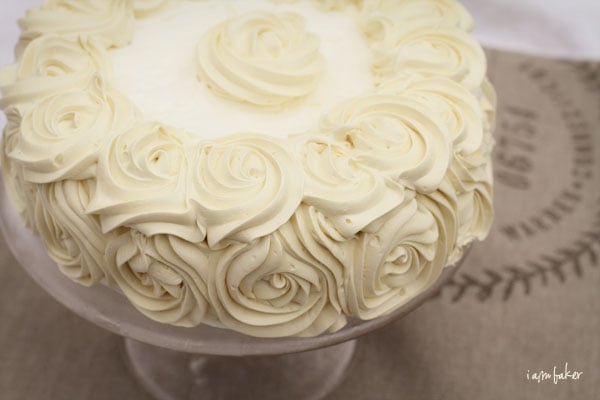 Let me tell you how this dessert came to fruition.
My moms favorite flower is the yellow rose and one of her favorite desserts is cheesecake.  We all know I sorta have a thing for roses, so you can see where this is going.
Since I was away from home I went to a bakery and bought a cheesecake.  When I realized how short it was (just about 2 inches tall) I knew I would never be able to fit a full rosette on the side, so I decided to buy another cheesecake and just stack it on top.
I then stopped at the store, bought two 16oz containers of Cool Whip, some yellow food coloring, and some 1M tips.
Voila.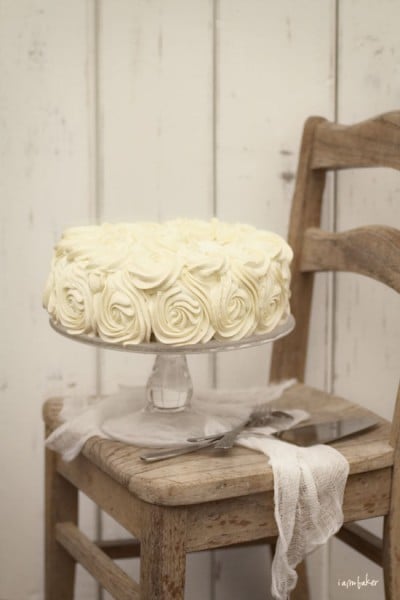 I then posted a picture of the cake on Instagram.  People asked for the recipe.  And now here we are.
For the record, you do not need to buy cheesecakes from a store.  You can totally make one from scratch.  In fact, I recommend doing so!  Nothing beats a truly exceptional homemade cheesecake.
Well, a truly exceptional cheesecake covered in homemade whipped cream… yeah, that is better.
The Perfect Cheesecake
You will want to double this recipe and make TWO complete cheesecakes.  Then simply stack them on top of one another.  To make that easier, just pop the cheesecake in the freezer for 15-30 prior to assembly.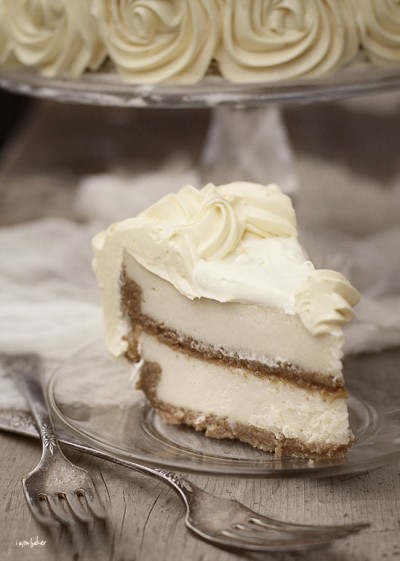 I use this crust recipe and it is perfection.  Amazing.  That secret ingredient really puts it over the top!
And this is my go-to whipping cream recipe.  I think it might even be on the container for the heavy whipping cream I use.
Using a 1M tip and this technique, (video tutorial) cover the cake in whipped cream roses.  (I tinted mine slightly yellow, but pink or even white would be so lovely!)
Chill cheesecake until ready to serve.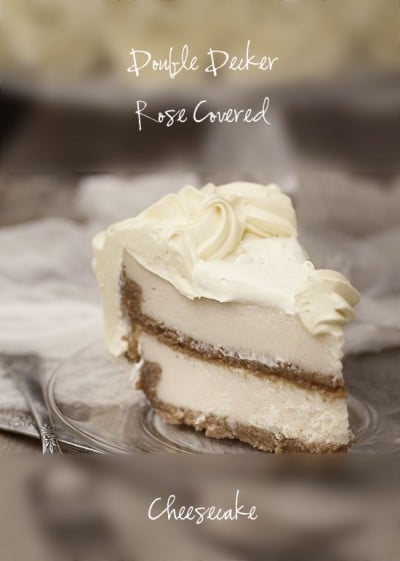 Tips for success:
Make sure your whipped cream is very chilled and that you have whipped it long enough.  The roses will just slide down the sides if they are too soft.
This feeds a LOT of people (around 24), so making it for a big crowd is the ideal scenario!
If you want you can use chocolate whipped cream, or strawberry, or even blueberry.  You could also use some homemade caramel…try drizzling a little on each piece right before serving.
I have a very special version of this recipe for July 4th… cant wait to share it with you!