Double Fudge Brownies have a moist, luscious texture with an intense chocolate flavor in every deliciously chewy and fudgy bite! Although these brownies can stand on their own, I added a brownie frosting to make this treat even more decadent. If you love brownies, I also have a homemade brownie mix you will want to have on hand!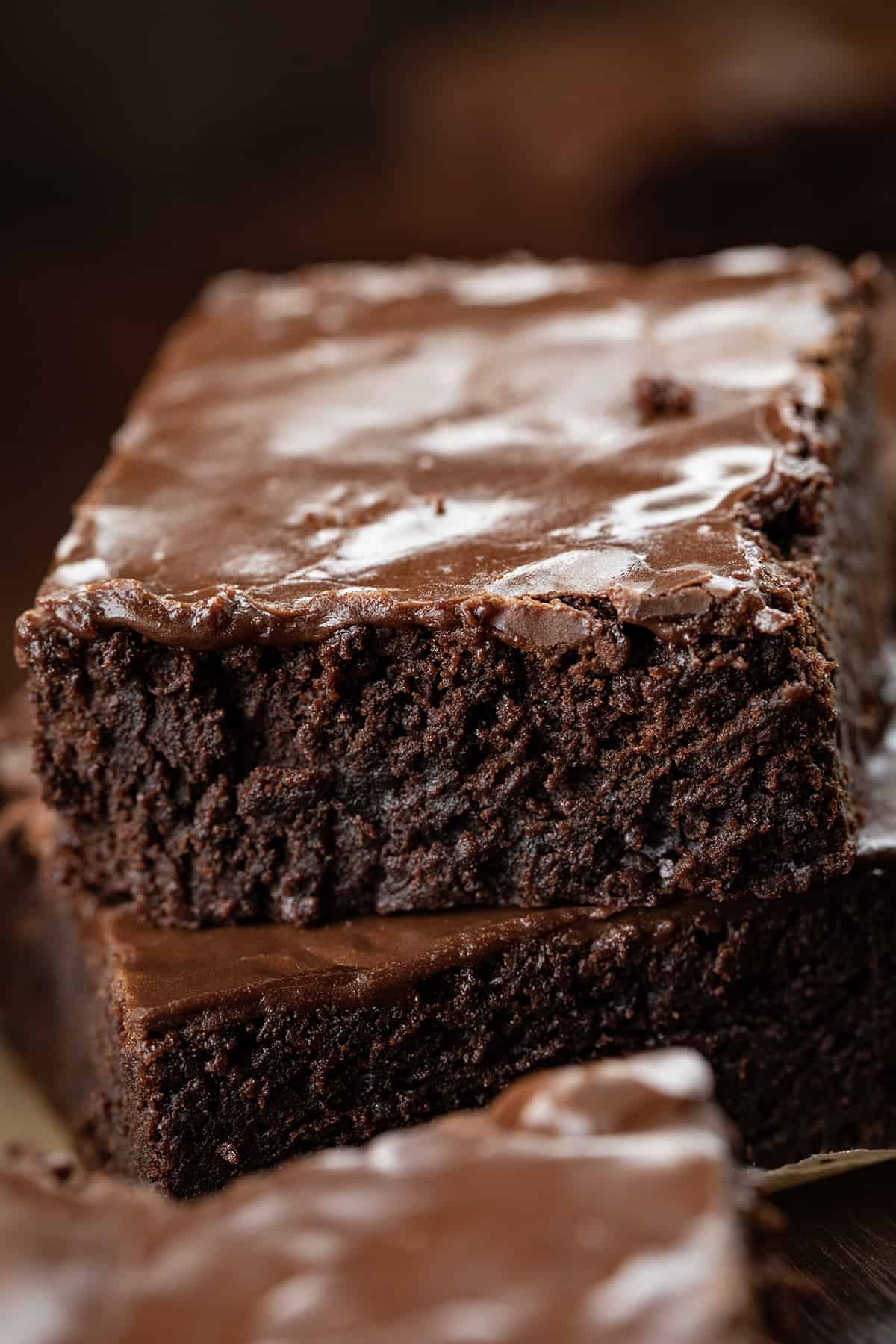 Ingredients & Substitutions
There are two parts to this recipe–the brownies and the frosting.
Cocoa Powder: I used Dutch-processed cocoa powder in the brownies for a darker color and more chocolate flavor. In the frosting, regular unsweetened cocoa powder was used.
Flour: Fudgy brownies usually use less flour than other kinds of brownies. You will need one cup of all-purpose flour.
Butter: Just like a little less flour is common in fudgy brownies, lots of butter is added to the batter. I added 2 sticks of butter! For best results, use unsalted butter.
Espresso Powder: A teaspoon of espresso powder enhances and intensifies the chocolate flavor in the brownies. However, it will not give you a coffee taste. If you don't have any on hand, you could leave it out. But, the brownies may not have as intense of a chocolate flavor.
Chocolate Chips: I used semi-sweet chocolate chips in the brownies.
Frosting: This is a frosting recipe specifically made for brownies. It is made to be applied to warm brownies, meaning that it locks in the moisture of the brownie itself and creates this seamless transition of velvety smoothness to a chewy gooey brownie. There is honey added that gives the frosting a touch more sweetness.
Why Melt Butter With Sugar?
In the third step of this recipe, it states to melt the butter with the sugar and heat at a low boil for 2 minutes. Doing this instead of creaming the butter and sugar together will result in a chewier and fudgier brownie. When creaming the butter and sugar, you are adding air to the batter, giving you lighter and fluffier brownies (cookies, too). Melting the butter with the sugar keeps out the air you would get from beating the butter and sugar together, giving you a dense, fudgy texture. On top of all that, literally, stirring in the chocolate chips will give the brownies a shiny, cracked surface.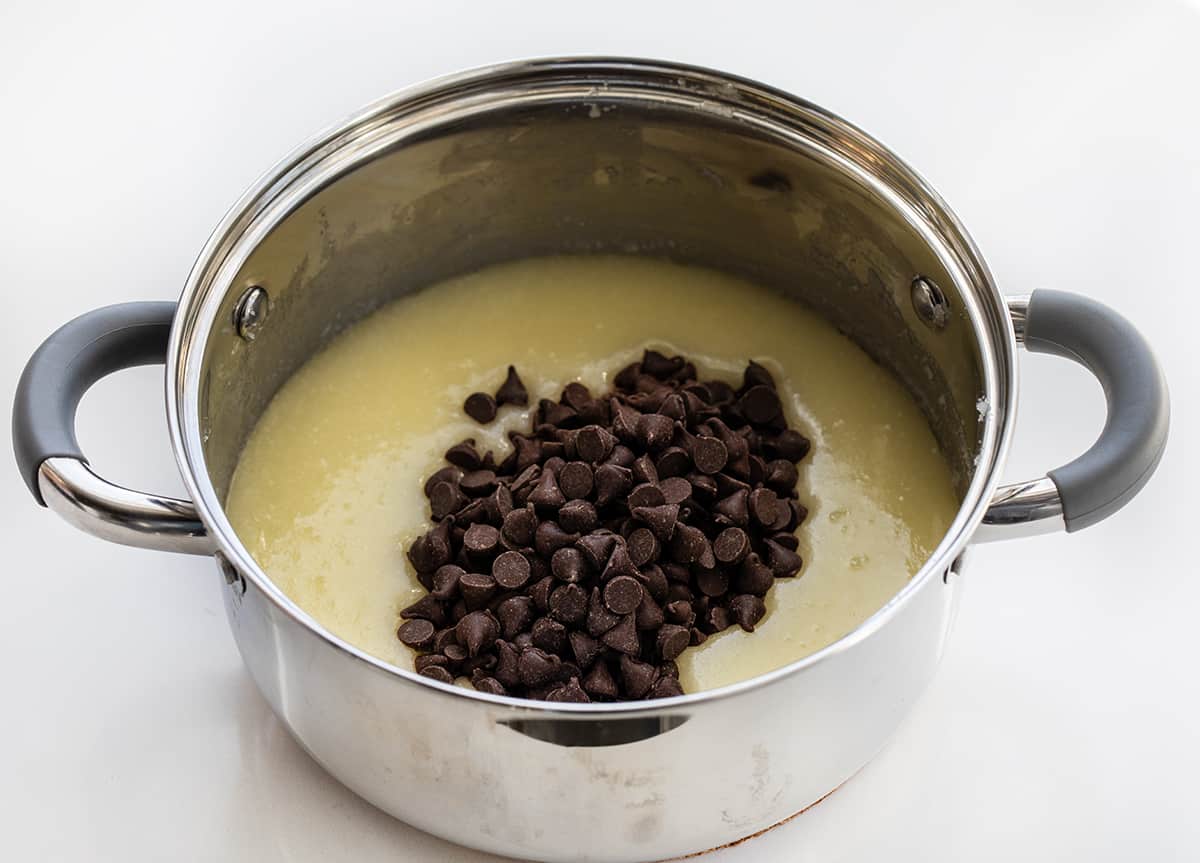 Optional Add-Ins for Double Fudge Brownies
I hope you try these brownies as-is, but there are always optional add-ins you could try. If adding additional ingredients, you may need to adjust the baking time. You may want to try these with my Brownie Bread, too!
Fold in chocolate chips. Or, try other flavored chips like peanut butter, butterscotch, or mint chips!
Add nuts. Walnuts, pecans, or almonds are popular choices to add a crunchy texture and nutty flavor to brownies.
Swirl in caramel. Add a gooey sweet surprise to each bite by swirling caramel in the batter.
Mint: For a festive twist, add peppermint extract or crumbled candy canes.
How to Store Double Fudge Brownies
Brownies can be stored in an airtight container at room temperature. If possible, do not cut the brownies until ready to serve. They will last up to 2-4 days. Refrigerating the brownies can extend their shelf-life by a few days, but that can also dry out brownies.
How to Avoid Dry Over-Baked Brownies
One of the main reasons brownies turn out dry is overbaking. Pay close attention to the recommended baking time in the recipe and check for doneness a few minutes before the suggested time. (Every oven is different!) Brownies should still be slightly moist in the center when you remove them from the oven.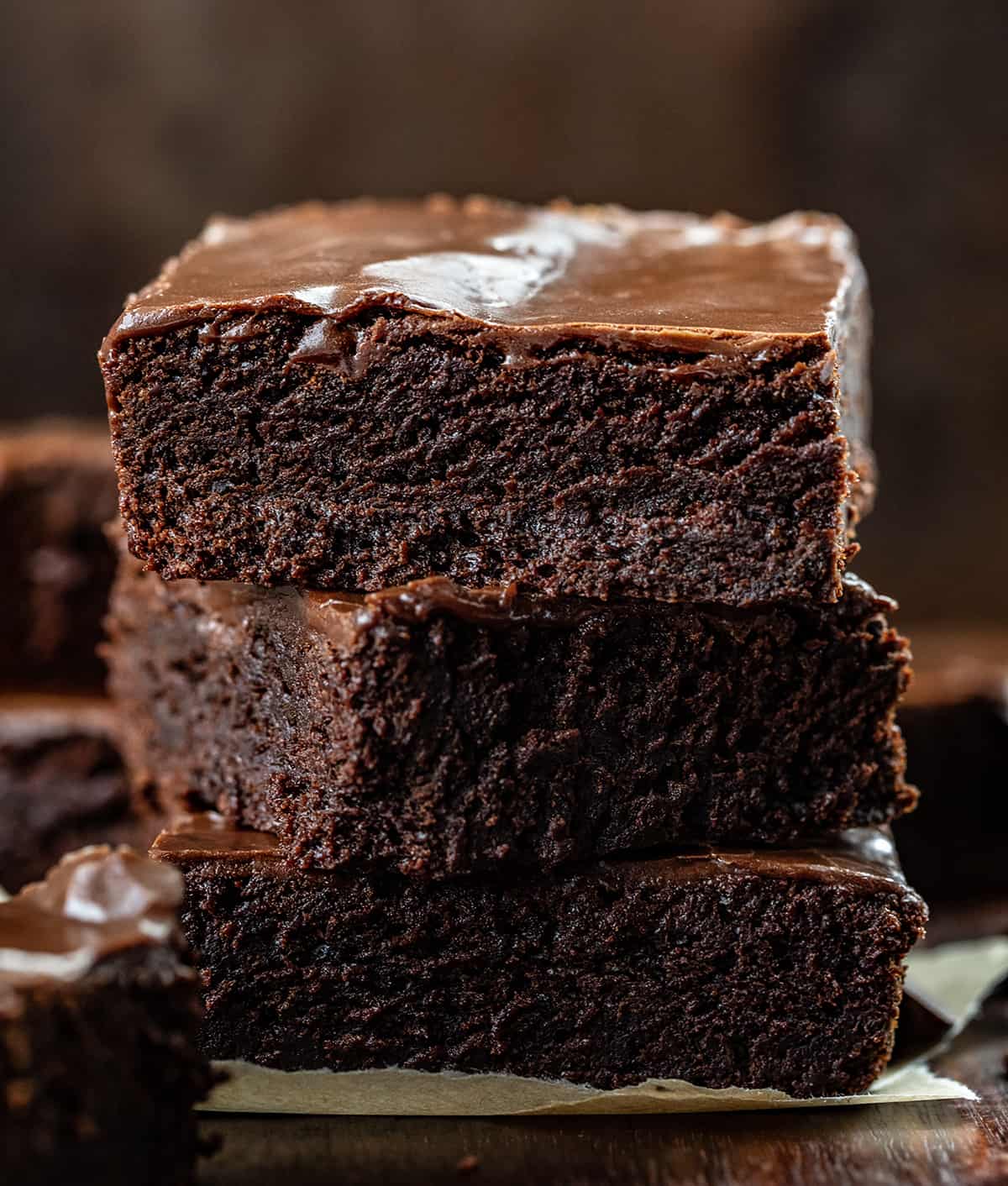 Can I Freeze Brownies?
Yes! To freeze brownies, first, wrap them with plastic wrap. Then place them into an airtight container, in a freezer-safe plastic storage bag, or wrap them again with aluminum foil. Be sure to label them with the date; they will last up to 3 months. When ready to enjoy the brownies again, let them thaw at room temperature.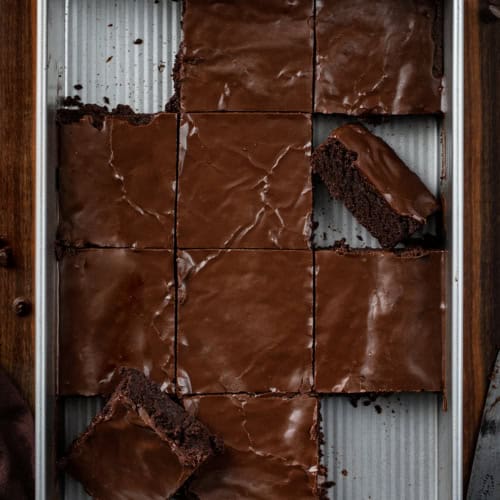 Double Fudge Brownies
Double Fudge Brownies have a moist, luscious texture with an intense chocolate flavor in every deliciously chewy and fudgy bite!
Ingredients
Brownies
1 ⅓

cups

(157 g) Dutch-processed cocoa powder

1

cup

(125 g) all-purpose flour

1

teaspoon

baking powder

½

teaspoon

kosher salt

1

teaspoon

espresso powder

1

cup

(2 sticks / 227 g) unsalted butter,

room temperature

2

cups

(400 g) granulated sugar

1

cup

(168 g) semi-sweet chocolate chips

1

tablespoon

vanilla extract

4

large

eggs,

room temperature
Frosting
3

tablespoons

unsalted butter,

room temperature

3

tablespoons

unsweetened cocoa powder

1

tablespoon

honey

1

teaspoon

vanilla extract

1

cup

(125 g) confectioners' sugar

3

tablespoons

whole milk,

or heavy cream
Instructions
Brownies
Preheat the oven to 350°F and spray a 9×13-inch metal baking dish with nonstick cooking spray.

To a large bowl, add cocoa powder, flour, baking powder, salt, and espresso powder. Whisk to combine. Set aside.

In a large saucepan over medium heat, add butter and sugar. Once the butter has melted, bring it to a low boil and cook for 2 more minutes, stirring occasionally or until it reaches 230°F on an instant-read thermometer.

Remove from heat and stir in the chocolate chips and vanilla until completely melted. (The mixture may still be grainy.) Let cool for about 10 minutes.

When ready, add eggs, one at a time, stirring constantly until smooth.

To the flour mixture, add the chocolate mixture. Mix until JUST combined.

Spread the batter into the baking dish and bake for 30-35 minutes, or until slightly puffed.

While the brownies are baking, make the frosting.
Frosting
In a stand mixer with the whisk attachment (or using a hand mixer), combine room temperature butter, cocoa powder, honey, vanilla, and confectioners' sugar.

With the mixer on low speed, combine the ingredients for about 30 seconds.

Slowly add milk, one tablespoon at a time, until you reach the desired consistency. You may not need all 3 tablespoons, or you may need 1 more. It can vary from season to season and kitchen to kitchen.

Spread the frosting over the warm brownies.

Let the brownies cool completely before cutting and serving.
Did you make this recipe?
Thank you for making my recipe! You took pictures, right? Well go ahead and post them on Instagram! Be sure to mention me @iambaker and use the hashtag #YouAreBaker.
What the Test Kitchen had to say about this recipe: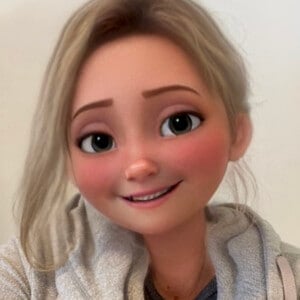 Autumn
The flavor in these brownies is INTENSE! Fudgy and delicious with the perfect brownie frosting! Delicious!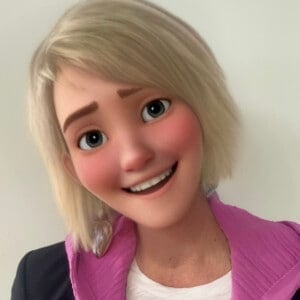 Elizabeth
If you love a fudgy brownie, say yes to this recipe (and no to dry and cakey brownies)! It's moist and chocolatey with even more chocolate from the frosting!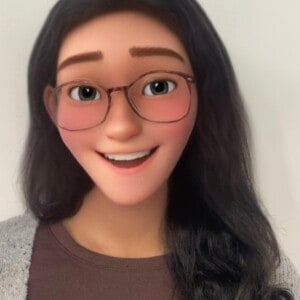 Bella
Such a fudgy delight! The chocolate is sweet and rich—exactly what I want in a double-fudge brownie. I also really like how moist and soft the brownie is!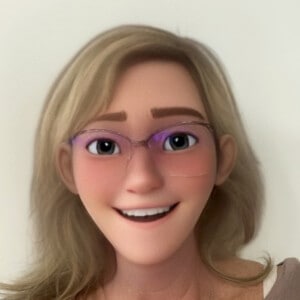 Christine
I loved this test! What more could you ask for in a chocolate fudgy brownie?!?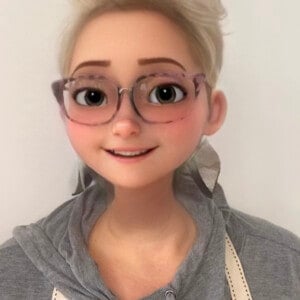 Selena
Moist and decadent, these brownies are just perfect. With two kinds of chocolate and a perfect brownie frosting, no one will be disappointed with these!