Have you ever wondered how to make coconut frosting? I have a simple yet AMAZING recipe for the easiest coconut frosting! Don't miss my tip for getting white buttercream… it's so simple yet so effective! (And yes, you can make this a vanilla frosting instead!)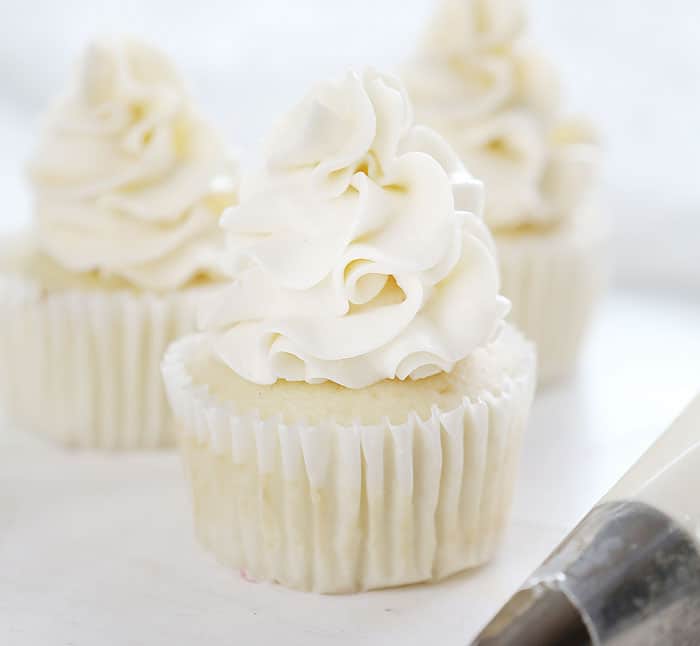 Easy Swiss Meringue Frosting
When I saw Lauren's Kitchens recipe for easy Swiss Meringue I was super excited to try it. For years I have disliked Swiss and Italian meringue because when I tried them, they just tasted like butter. Like a pile of butter on a cupcake. Where I went wrong is not really testing out numerous recipes… not giving those classic versions a fair shot. Thank goodness Lauren offers up an easy version that has the consistency of Swiss Meringue, but a little sweetness too! (I based my version off of her vanilla buttercream recipe.)
This recipe is not technically a Swiss Meringue because there is no cooking involved. However, it definitely has the smooth and silky texture that Swiss Meringue fanatics have come to know and love. So what is it if not a Swiss Meringue? It's a buttercream recipe that is based on royal icing. Egg whites, confectioners sugar, butter, and extract flavor. In this Easy Coconut Frosting, I used Pure Coconut Extract instead of vanilla.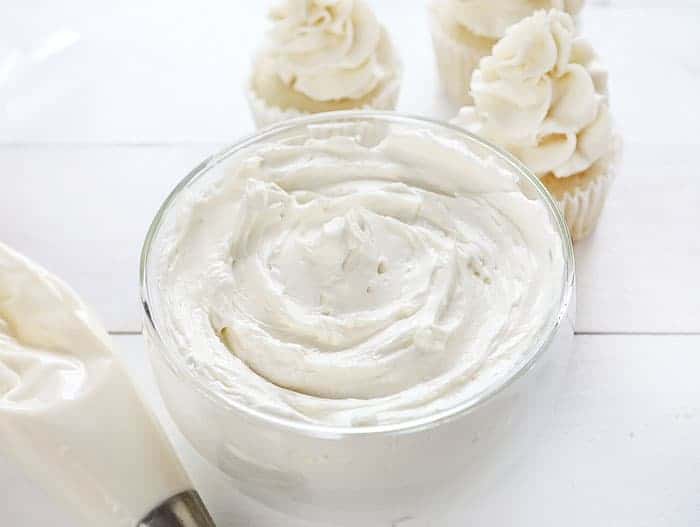 Now, because I wanted a WHITE coconut frosting, I decided to try a little trick with food color. I added the tiniest amount of purple to the frosting! This is by far my favorite way to achieve really white frosting and it works with most buttercream recipes!
Tips, Tricks, Variations
It is important to use PASTEURIZED eggs for this recipe. You can purchase pasteurized eggs in most grocery stores. If you are unable to find pasteurized eggs, I would not attempt this recipe.
A few things to talk about. Lauren's original recipe calls for 2 full pounds of butter and 16 ounces of confectioners sugar. I decreased my version considerably… I only used 1 pound of butter and 8 ounces of confectioners sugar. I found that this amount of ingredients was perfect for my 5 quart KitchenAid and that it was plenty of frosting to cover a 2-layer cake or 24 cupcakes.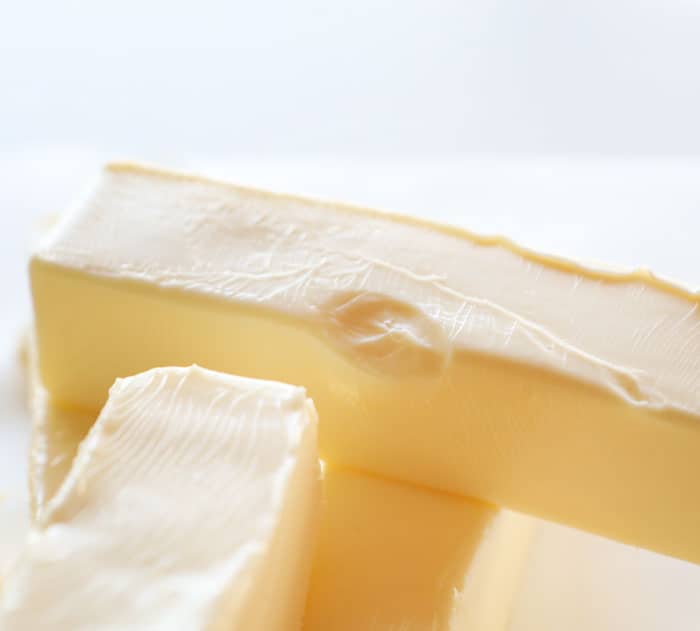 I found that my butter needed to be slightly warmer than usual. For a regular American buttercream, you can get away with fairly cold butter as the mixer will break it down and it will combine with the sugar. This is not the case for this copycat Swiss Meringue recipe! I left my butter at room temperature and then popped it in the microwave for an additional 10-15 seconds. You do not want melted butter, but it should be VERY soft.
I have talked a lot about the Swiss Meringue aspect of this frosting, but the most important part is the COCONUT flavor! It is extremely important to use PURE Coconut Extract and not imitation. In a coconut buttercream recipe with so few ingredients, the extract flavor will really shine through.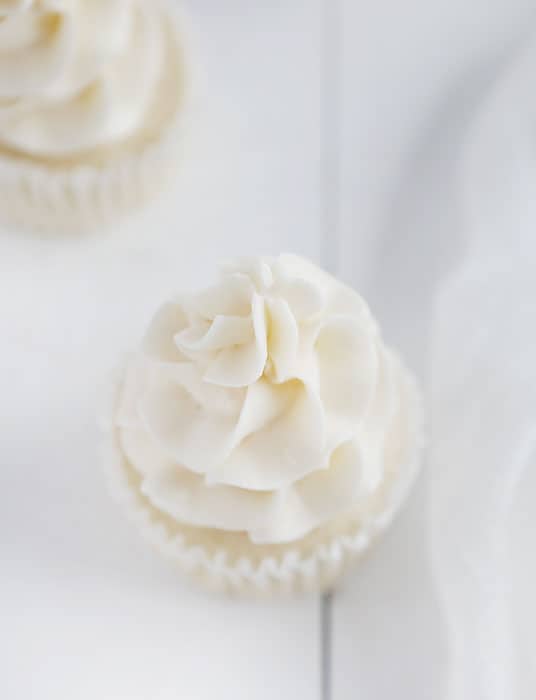 This easy coconut frosting works perfectly with cupcakes, cake, even waffles and pancakes! Yes, you heard me right. We have enjoyed it for breakfast! Just use in place of butter.
Let's talk about getting white buttercream. In my trick above I showed you that I add a tiny bit of purple to the frosting to achieve this. (This frosting accepts food color beautifully!!) It's important that you start with a very small amount and add more as needed. I use a toothpick to transfer the food color to the frosting so that I and really control the amount added. The easiest way to see just how dramatic this can be is to remove a spoonful of frosting before adding the purple. When you are done and have achieved white frosting, hold the spoonful up next to it. It's a small difference, but one that really makes a difference if you are trying to get a pure white buttercream!
If you want to make this recipe into a vanilla frosting, use 1 tablespoon of Pure Vanilla Extract in place of coconut.
I used this Elegant White Cupcake recipe for my cupcakes, but you can absolutely make coconut cupcakes too! (I think chocolate would be amazing paired with this coconut frosting!)
This is absolutely the MOST fluffy white coconut frosting you will ever make and by far the most delicious!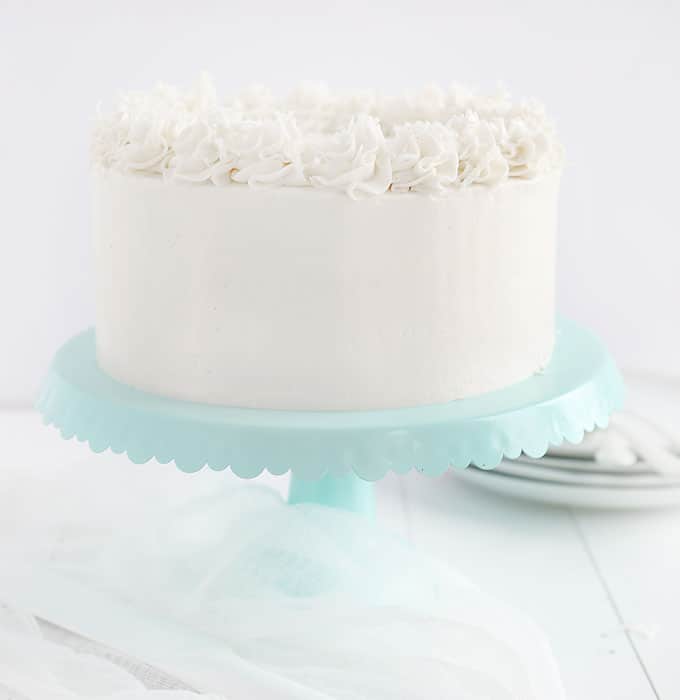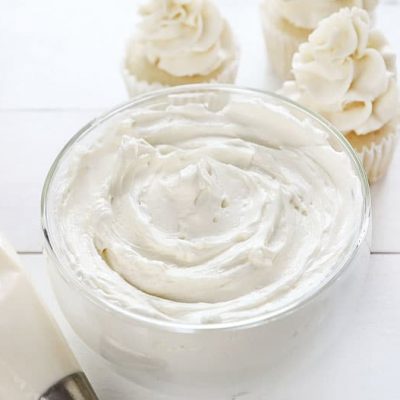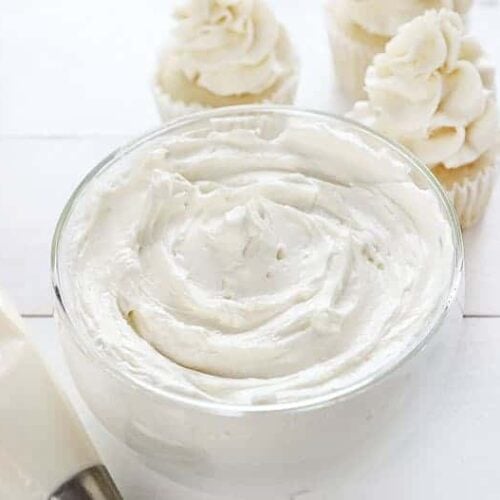 Easy Coconut Frosting
Have you ever wondered how to make coconut frosting? I have a simple yet AMAZING recipe for the easiest coconut frosting!
Ingredients
4

oz

egg whites

2

cups

(220g) confectioners sugar

2

tablespoons

Pure Coconut Extract

1

lb

(4 sticks, 452g) softened unsalted butter
Instructions
Add pasteurized egg whites and confectioners sugar to stand mixer fitted with paddle attachment.

Turn mixer on low, let ingredients come together. Then turn on high speed for 3-5 minutes, or until egg whites and sugar are fully incorporated.

With mixer off, add in the extract and mix on low speed until just combined.

Now start adding in butter, about 1/2 stick (4 tablespoons) at a time. After each addition, let the mixer run of medium-high speed until the butter is mostly incorporated. It can take about 3-4 minutes just to add in the butter.

Once all the butter is added, turn the mixer on high speed and let it whip for at least 5 minutes. (I have let it go for as long as 10)
Video
Did you make this recipe?
Thank you for making my recipe! You took pictures, right? Well go ahead and post them on Instagram! Be sure to mention me @iambaker and use the hashtag #YouAreBaker.
This Easy Coconut Frosting goes perfectly on Coconut Cake!