This pot roast is so easy my kids can make it! But the best part is the amazing flavor. Easy Pot Roast that is also the most delicious pot roast! If you are looking for more fabulous dinner ideas, check out my Tuna Casserole or Bacon Stuffed Mushrooms as a delicious side!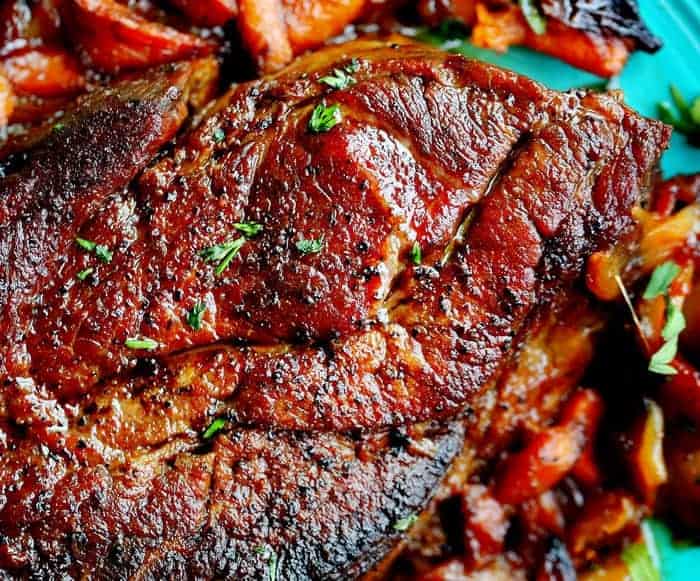 World's Easiest Pot Roast
So I scoured the internet looking for the perfect pot roast. I must have read 30 recipes! After reading them all it seemed like they all had five basic ingredients in common. The meat, carrots, onions, and salt & pepper.
So I decided, why not just start there?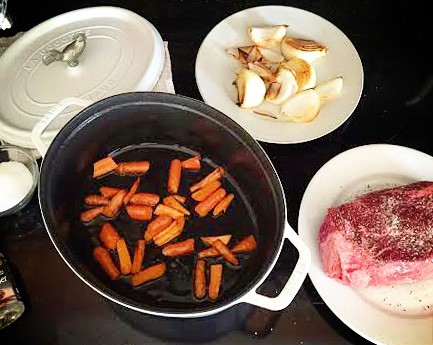 I rough chopped some unpeeled carrots.
Quartered some onions and then threw them in my favorite Staub oval cocotte with a couple of tablespoons of oil. (not an affiliate link, I just seriously love Staub) It is basically the best Dutch oven of all time. I ordered the one with the chicken on top. I love it. Love love love it. We are chicken people after all!
Ok, back to dinner.
So while the carrots we just barely searing, I added salt and pepper to the meat. Both sides.
Remove the carrots and drop in the meat.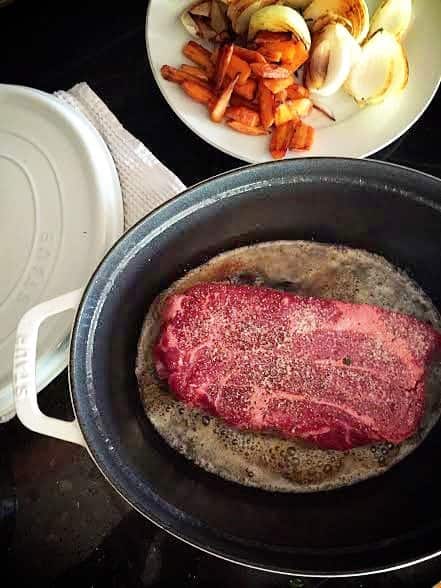 Sear for a couple of minutes on each side and then throw the veggies back in the pan.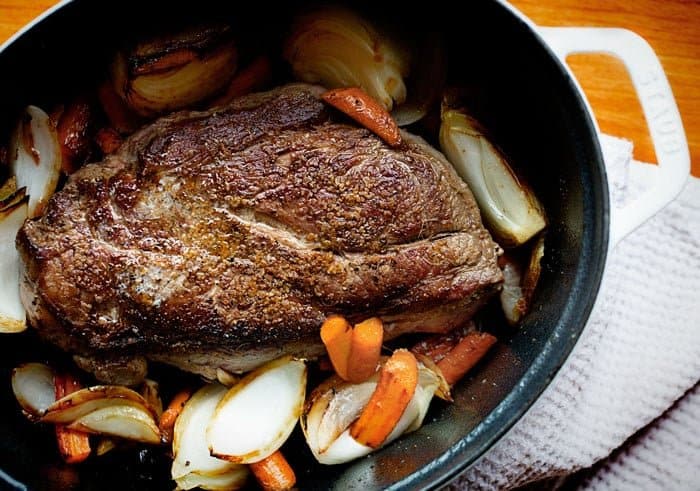 Add lid and roast for a few hours. And the result? Perfection!
Here is the actual recipe.
You can add potatoes of course, but I prefer to make my potatoes separate. I will quarter some baby reds and roast them in the oven with some oil, salt, pepper, and rosemary for 30 minutes.
Did you happen to notice what I left OUT of this recipe?
The liquid. I didn't want to braise the meat, just gently roast it. In my opinion, this produces the most FLAVORFUL roast you will ever have!!! (The meat gives off quite a bit of its own liquid, you will not have a dry roast.)
If you want to have gravy with your roast then you can add about 1 cup of beef broth or wine (or both!) or about 1 cup for every 4 lbs. of meat. The wine can also be used as a pan de-glazer after removing the onions.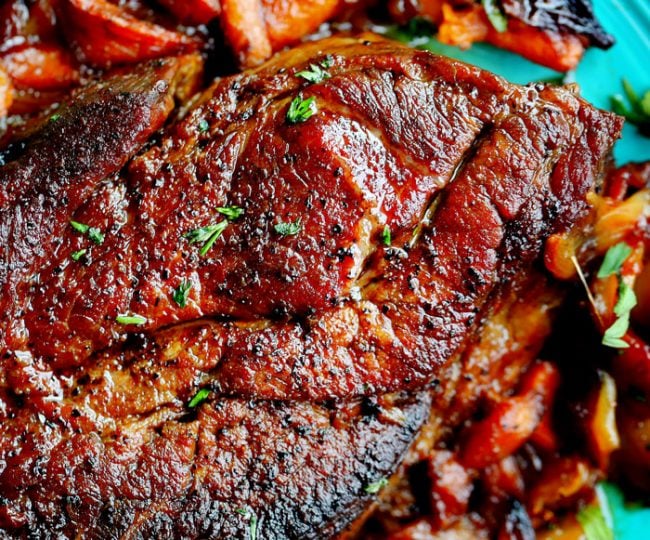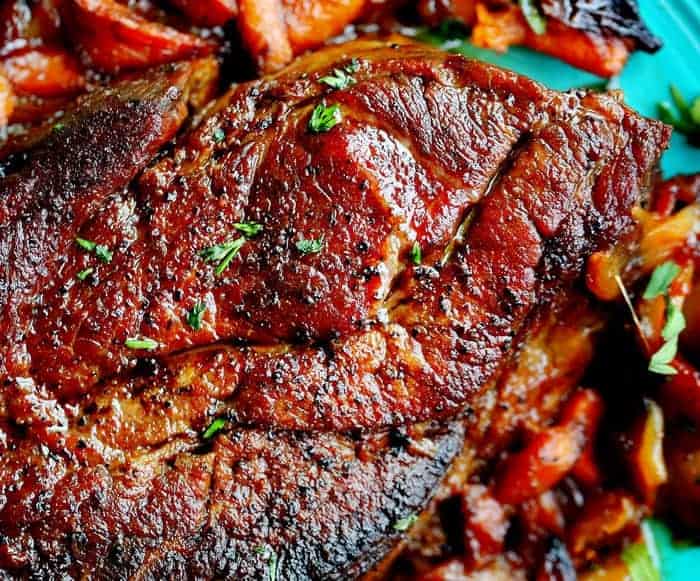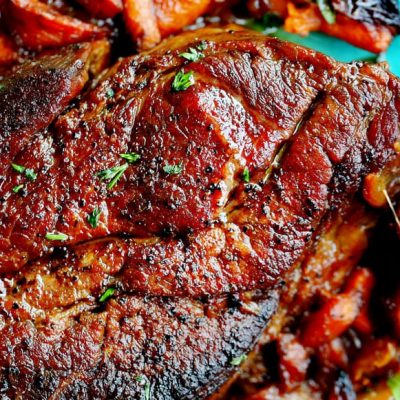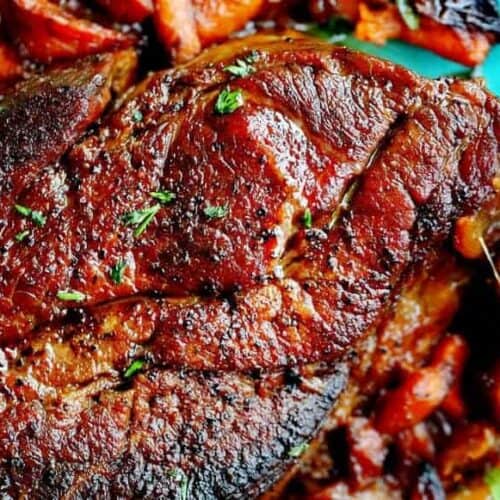 Easy Pot Roast
This pot roast is so easy my kids can make it! But the best part is the amazing flavor. Easy Pot Roast that is also the most delicious pot roast!
Ingredients
1

chuck roast,

3-4 pounds

2

tbsp.

olive oil

1

tbsp.

butter

2

onions,

quartered

6

carrots

1

tbsp.

sea salt,

or more to taste

2

tsp.

pepper

1

tsp.

parsley for garnish

optional
Instructions
Take your meat out of the refrigerator at least 30 minutes before cooking and generously salt and pepper it. I put 1 tablespoon of salt in the ingredients, but you should use as much or as little as you are comfortable with.

Heat a large pot or Dutch oven over medium-high heat. Then add olive oil.

Rough chop carrots into 2-3 inch pieces. (after cutting off the top this meant I was cutting the carrots in half on the diagonal.)

Cut two onions in half and add them to the hot pot, browning them on one side and then the other. Remove the onions to a plate.

Add carrots to same pot and brown slightly. (about 1 minute) Remove and set on plate with onions.

Add butter to pot and allow to melt. Place the meat in the pan and sear it for about a minute on both sides until it is nice and brown all over.

Using sturdy tongs, remove meat and add onions and carrots back to Dutch oven. Place meat on top and cover and roast at 275°F for about 3 hours in the oven. I started checking mine at 2 hours. You want the meat to be cooked through and to tear easily with a fork.
Did you make this recipe?
Thank you for making my recipe! You took pictures, right? Well go ahead and post them on Instagram! Be sure to mention me @iambaker and use the hashtag #YouAreBaker.