Creating a beautiful and delicious mini-cake for your Holiday celebration has never been easier! These Fancy Christmas Cakes are as tasty as they are festive! (video tutorial)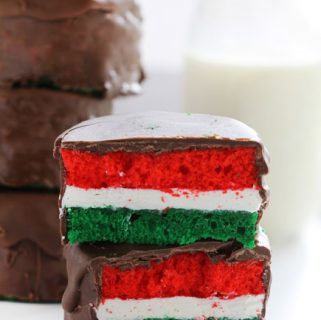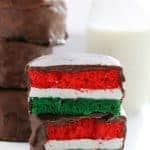 Fancy Christmas Cakes with Whipped Filling
Creating a beautiful and delicious mini-cake for your Holiday celebration has never been easier!
Keyword:
christmas cakes, Fancy Christmas Cakes
Ingredients
1/2

c

1 stick butter, softened

1

tsp.

McCormick® Pure Vanilla Extract

16

oz

confectioners' sugar

sifted

2

tbsp.

2% or whole milk

pinch

salt
Instructions
Beat butter in bowl of stand mixer with whisk attachment on medium-high speed until light and fluffy. (about 3 minutes)

Add vanilla extract.

With mixer on low, slowly add in confectioners' sugar , milk, and salt; frequently scrape sides and bottom of bowl.

Once incorporated, whip frosting for at least 3 minutes on medium high to high. (My mixer went for 7 minutes)

If frosting is too thick to spread, gradually beat in additional milk.

Store in refrigerator up to 2 weeks. Rewhip before using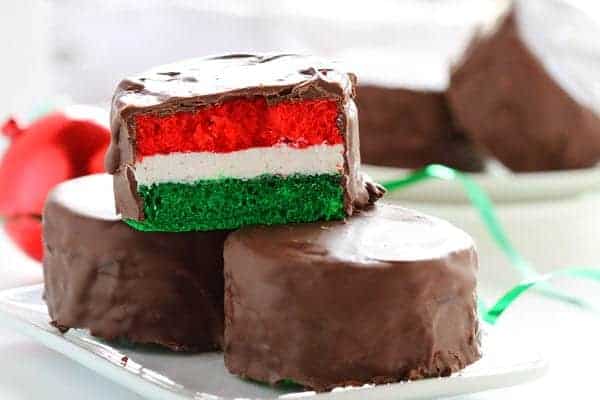 To create these lovely Fancy Christmas Cakes you will need:
1 box white cake mix (can also use vanilla or a from-scratch recipe)
McCormick Vanilla Extract
1-ounce bottle McCormick Red food coloring
1-ounce bottle McCormick Green food coloring
2 bowls
spatula
(2) 9 x 13 baking pans
2 1/2 round cookie cutter
1 recipe buttercream (below)
16-ounce package Candyquick Chocolate (can also use your preferred chocolate, but may need to add shortening)
sheet pan, parchment paper, and cooling rack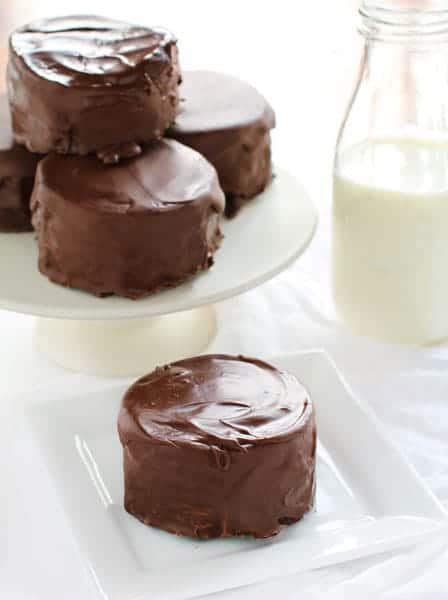 Start out by prepare box cake mix according to directions. (You can also make a homemade white cake)
Separate the cake batter into two bowls. There are approximately 3 cups total of cake batter so put 1 1/2 cups into each bowl.
To the first bowl of cake batter add 1 tablespoon of red food coloring.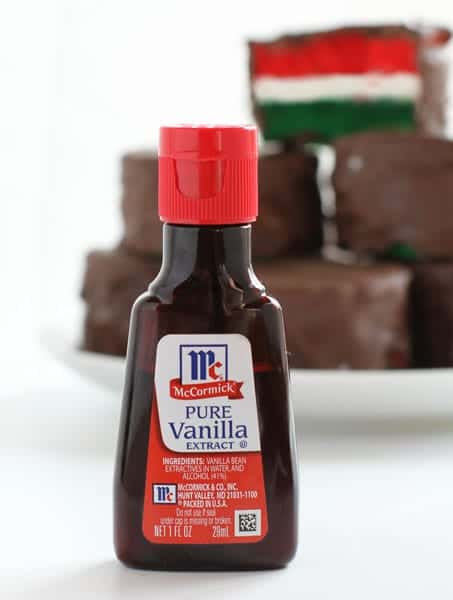 PRO TIP:
If you use a large amount of food coloring like I have, add a little McCormick Vanilla Extract to ensure the cake tastes as sweet as it looks! Why do I prefer McCormick? Not only can I find it everywhere (and adore that my readers can too!) but I love knowing I am using a product that is the best quality.
For this recipe, I added 1 teaspoon to the red batter. (I did not add any to the green batter but you certainly could. You could also add peppermint extract for a wonderful seasonal flavor!)
Once you have added the red food coloring and vanilla carefully mix until fully incorporated. Pour into a prepared (I lined my pan with parchment paper and coated it with Homemade Baker's Spray – or GOOP) pan. Once the batter is in the pan, tap it one the counter to force air bubbles to the top.
Bake for 12-15 minutes. At 6 minutes remove pan and tap it on the counter to remove any air bubbles. When cake is done baking invert it onto a cooling rack.
While red cake is baking prepare green cake batter.
Add 1 tablespoon of green food coloring to remaining cake batter. Carefully mix until fully combined. If you have another 9×13 pan you can pour the batter into the pan. (Or you can use the pan the red cake is in, just be careful when cleaning it as it will be hot.)
Bake green cake for 12-15 minutes. At 6 minutes remove pan and tap it on the counter to remove any air bubbles. When cake is done baking invert it onto a cooling rack.
Chill cakes until ready to assemble.
Prepare buttercream.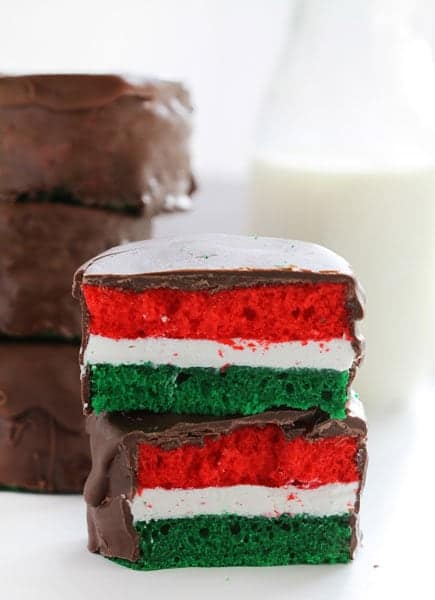 When ready to assemble place green cake on a flat surface covered with parchment paper.
Cover with thin layer of buttercream. Smooth out the frosting so that it is flat and even.
Place red cake on top of buttercream.
You may need to chill cakes more at this point. If they are too soft you will not get precision cuts with the cookie cutter.
Place a cookie cooling rack on a sheet pan lined with parchment paper. Prepare a second sheet pan and cover with parchment paper.
Press cookie cutter into the cake and then press all the way through. Repeat this seven more times so you have 8 total mini cakes.
Set mini cakes on the cooling rack.
Melt chocolate according to the directions on the package. Pour chocolate over mini cake then smooth out chocolate with an offset spatula. Once mini-cake is completely covered, put offset spatula under the cake and carefully lift it up and move it to other sheet pan covered with parchment paper.
Repeat until all the mini cakes are covered. You should only need one coat of chocolate.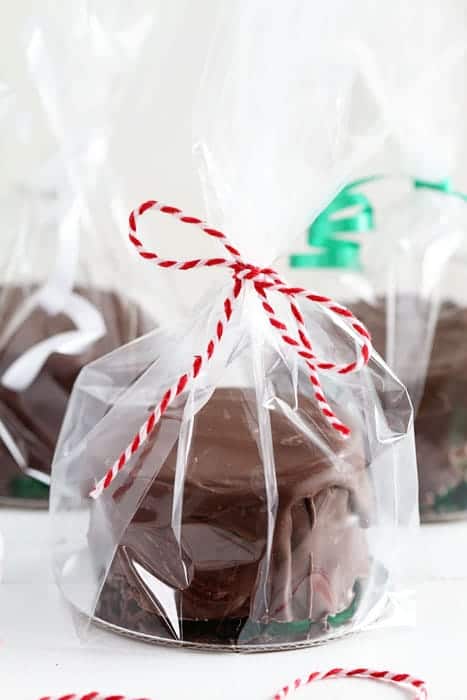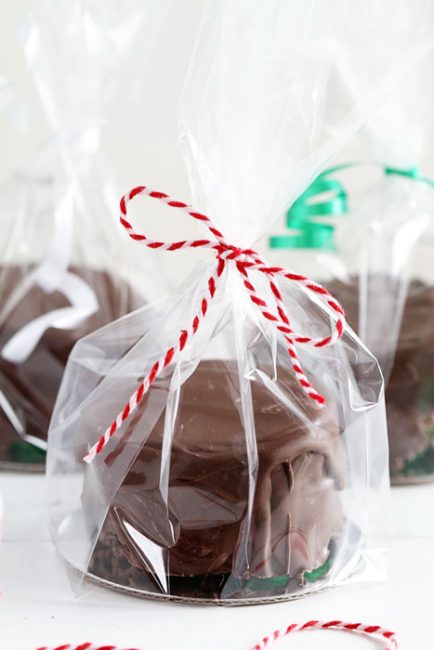 Cool mini cakes for about 30 minutes, or until chocolate is hard.
These Fancy Christmas Cakes are a fantastic way to share joy with others! Package them up in cellophane, tie with a pretty string and send them to someone you love!
Here is a video where you can see just how easy and fun these are to put together:

It was an absolute delight to create these Fancy Christmas Cakes with McCormick. Thank you so, so much for supporting the brands that support this blog. I only work with the best, and am thankful that McCormick is willing to partner with me! <3