This fun Gender Reveal Cake is filled with a colorful sweet surprise that reveals to your eager guests if the baby-to-be is a girl or boy!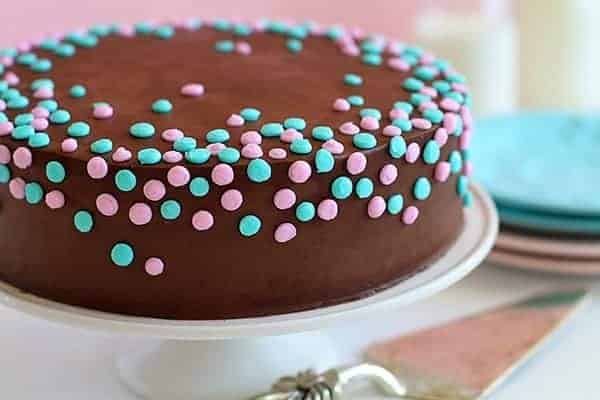 To make this cake you will need:
2 white cake recipe or box mix
food color of choice
chocolate buttercream
pink/blue buttercream or decoration (can also be sprinkles)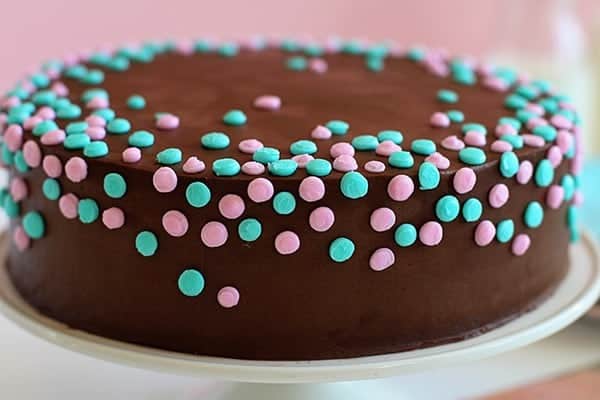 Prepare one of the white cake mixes by following directions on box (or following your recipe) and blue or pink food color. You will be making the cake in a sheet pan lined with parchment paper. (A long flat pan or cookie sheet) Bake for about 12-16 minutes or until an inserted toothpick is removed clean.
Allow cake to cool for about 5 minutes. Using your hand or a paper towel or dish rag, gently rub the top of the cake. You want to remove any brown or hard bits from the cake. (If the top of your cake did not brown, you can skip this step.) Freeze cake for about an hour.
Using a baby cookie cutter, press the cutter into cake. Do as many of the baby cake cut outs as you can, trying to not waste any cake. Place baby cutouts back into the freezer.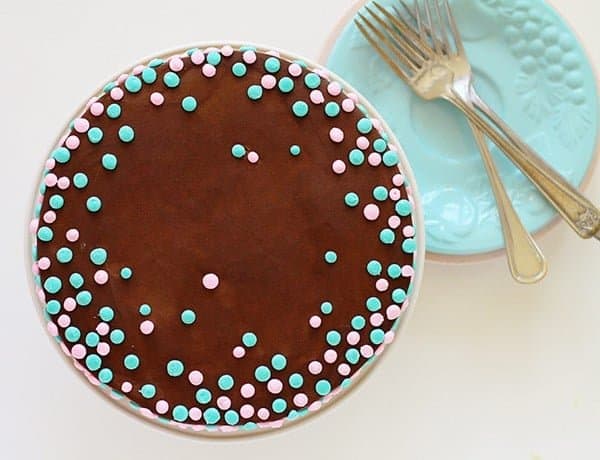 Prepare remaining white cake mix following the directions on the box or your recipe. Pour about 1 cup of batter into 9-inch round cake pan with non-stick cooking spray. Place the baby cutouts standing up around the perimeter of the pan so that the entire center of the pan is filled with a line of cutout cake babies. (They should be touching. Try to not  leave any spaces between them or the white batter will seep in between.) Carefully pour remaining white batter over the cutout cake babies, filling in the sides first and then pouring over the top.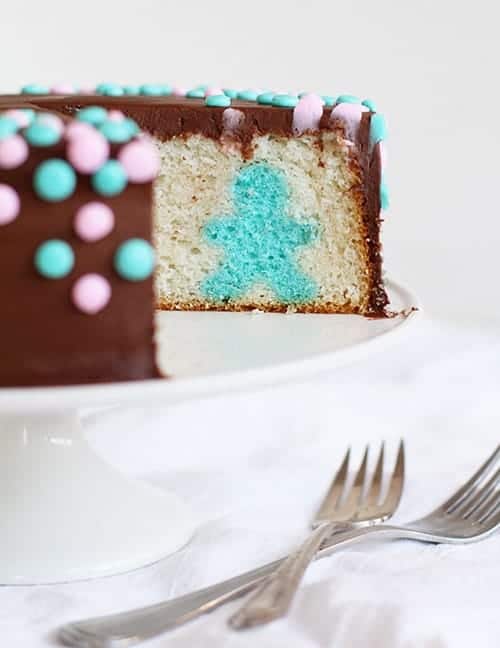 Bake in preheated 350°F oven 20 to 25 minutes or until a toothpick inserted into the center of the white cake comes out clean. Cool in pan 10 minutes. Remove from pan; cool completely on wire rack.
Allow cake to cool completely before covering in buttercream.
I used this Chocolate Buttercream recipe.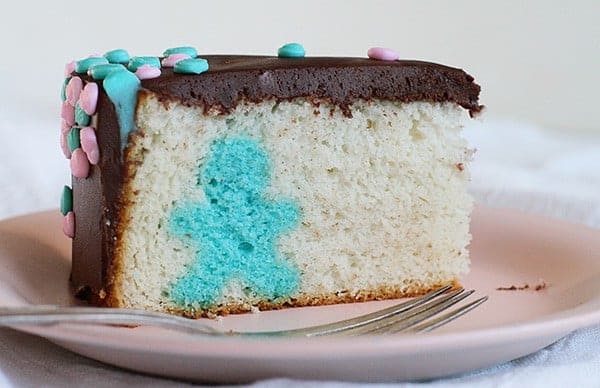 Here is a video where I show you how to make a twice-baked surrpise-inside® cake.
To make the pink and blue dots around the edge, I just tinted some vanilla buttercream pink and blue and then piped onto the cake. I used a #10 tip and then gently pressed on each dot with a clean finger to remove any tips sticking out.
This cake is the perfect way to celebrate and reveal the gender of your baby!!