You could be serving this Rock Candy Christmas Cake to your family and friends and be the star of Instagram. (Seriously, everyone will be getting their phones out to take a picture!)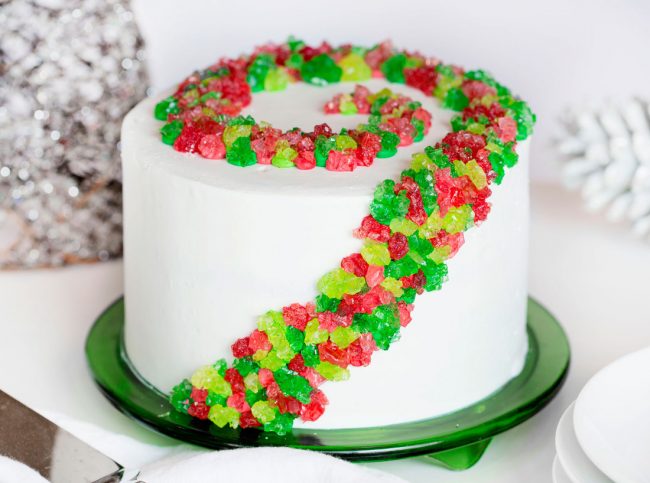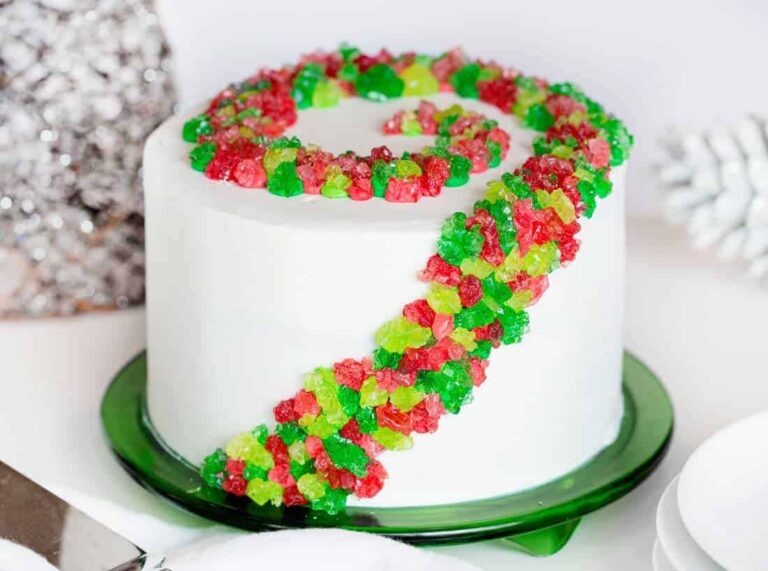 Christmas Cake
To make this cake you will need:
2 white cake recipes (or 2 boxes of white cake)
2 batches whipped vanilla buttercream (recipe below)
red and green McCormick Food Color
rock candy (I used red, pink, green, and light green)
rotating cake stand
small offset spatula
bench scraper
toothpick
pastry bags and four #10 decorating tips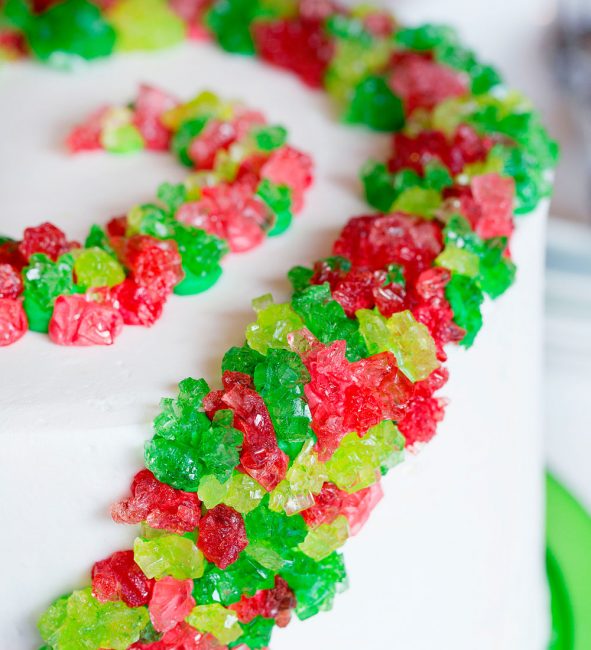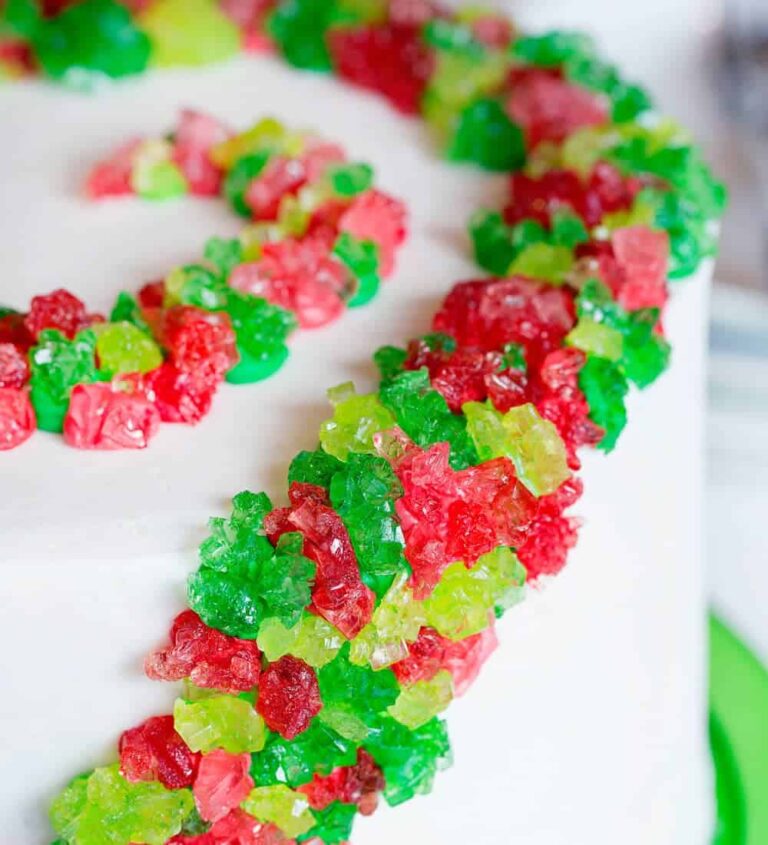 Begin by preparing the first white cake. Add 2 teaspoons of red food color. Divide the red cake batter between 2 prepared* 8-inch round cake stands.
*You can prepare a pan with baking spray, GOOP, parchment paper, or the butter and flour method.
Bake according to recipe or box directions. When done baking, remove from oven and allow to cool to room temperature. Once you can handle the cake, carefully remove from pan and level the cake if needed.
Repeat this with green food color.
Once all the cakes are baked and leveled, place in the freezer until ready to assemble the cake.
Prepare whipped vanilla buttercream. You will need at least 5 cups to cover this entire cake. It will be used between each layer (1/2 – 3/4 cup) as well as for the crumb coat and final coat. The remaining buttercream with be divided into four bowls.
The remaining buttercream with be divided into four bowls. For the darker red, I used about 2 teaspoons. The light red (pinkish) was about one teaspoon. (Your amounts may vary depending on how much frosting you have left over. There was about 1 cup of the whipped vanilla buttercream in each bowl for me.) The darker green was about 2 teaspoons of food color and the light green was a scant teaspoon.
Once all colors are prepared, fill pastry bags. Each bag should be fitted with a #10 tip. (You can also use a #5, #7, or #12 if that's what you have. Any small open round tip will work.)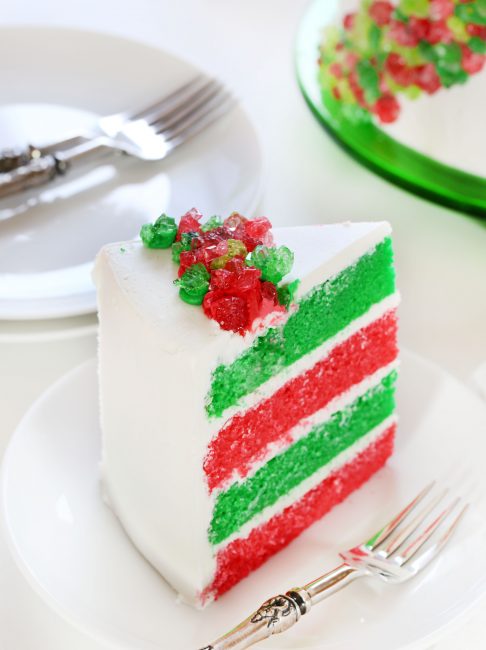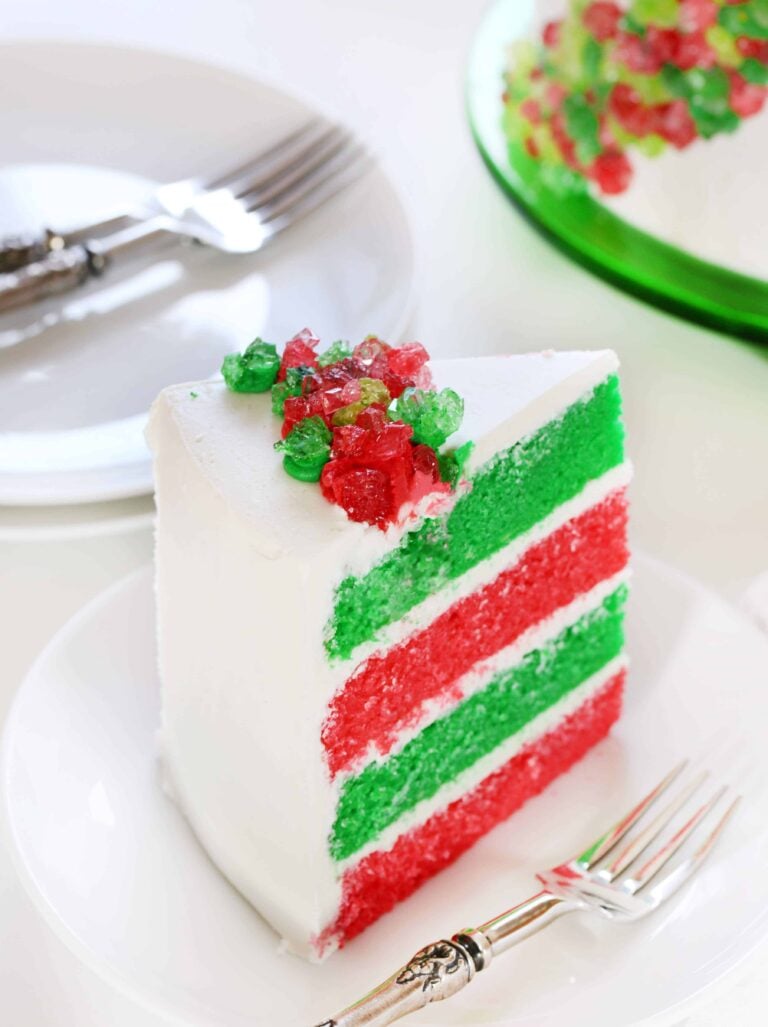 How to Assemble This Christmas Cake
Place the first layer on a rotating cake stand. (I started with red, but that was only because I was using a green cake stand and wanted some contrast. You can start with whichever color you prefer.)
Cover with about 3/4 cup whipped vanilla buttercream. Add the next layer of cake, it should be the opposite color. (If you started with red, your next layer should be green.)
Repeat this process with all the layers. Once you have added your final layer, cover the cake with a thin coat of whipped vanilla buttercream. This is called a crumb coat and will seal in all the crumbs. Set cake in the fridge to chill for about 15-minutes.
Now you will place the final "beauty" layer of frosting on the cake. Try to get it as smooth as possible. (I offer tips and tricks on how to get a smooth layer of frosting here.)
Using a toothpick, draw a line on the cake. Start at the very bottom and move up diagonally. Once you get to the top of the cake, make a spiral design ending in the center.
Grab your frostings and start piping dots. The dots will be covered with rock candy, so they do not need to be perfect. Place the dots along and next to the line you made with the toothpick. Starting with your first color, move all along the line on the top and side of the cake. Then grab your green and start again. (You can also cluster colors, as in, put a few red dots right next to each other, a few green dots right next to each other, etc.)
Now take your rock candy and break it up. Place each color in its own bowl.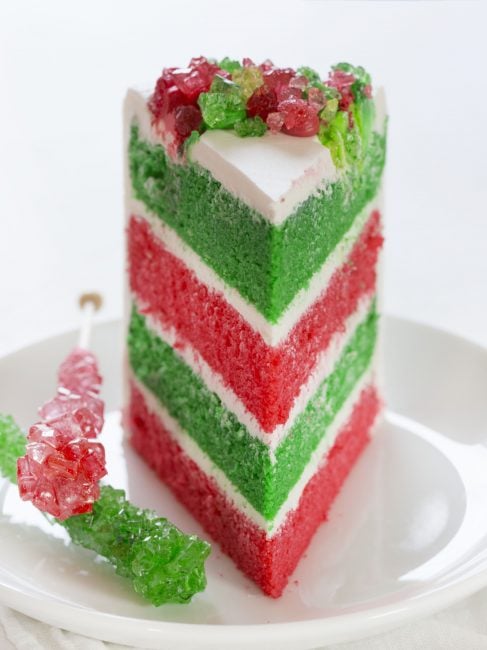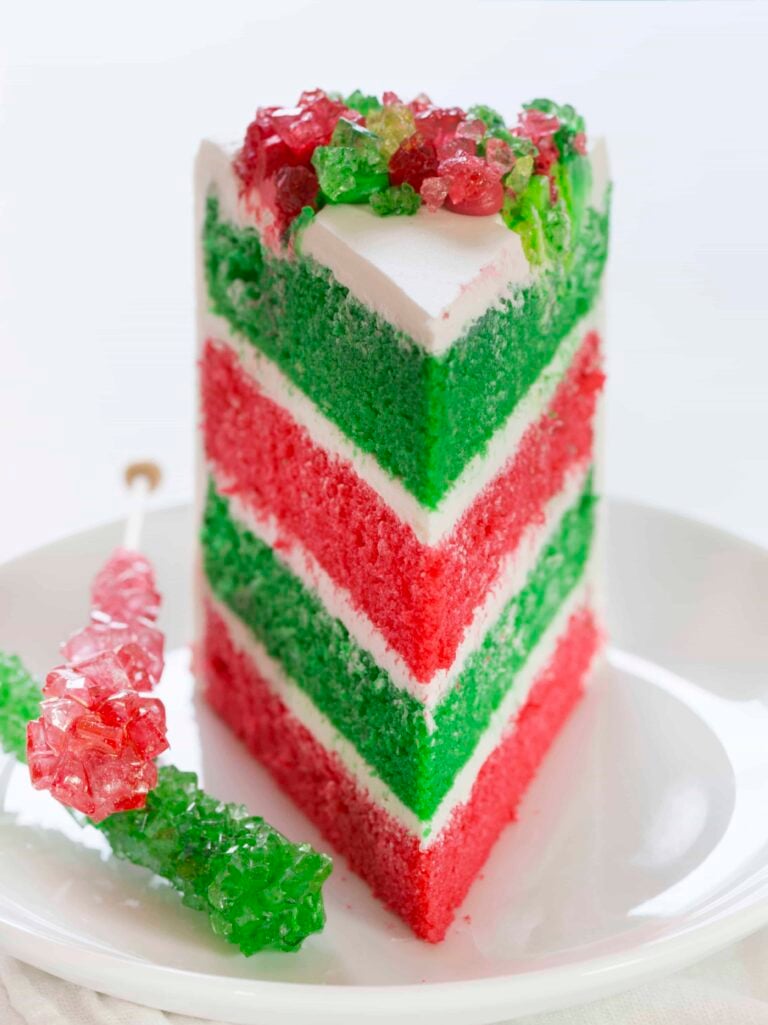 Gently place the rock candy on the same color frosting. Be careful not to get your fingers in the white frosting. You can also use tweezers to place that candy. Cover all of the red and green frostings in the corresponding rock candy color.
When you are done, chill the cake until ready to serve. It is very easy to cut this cake, even when it is cold.
Creating a beautiful Christmas Cake doesn't have to be hard! This cake will take a little time to put together, but once you get the hang of it, you are golden. If you create this cake please do tag me on social media! <3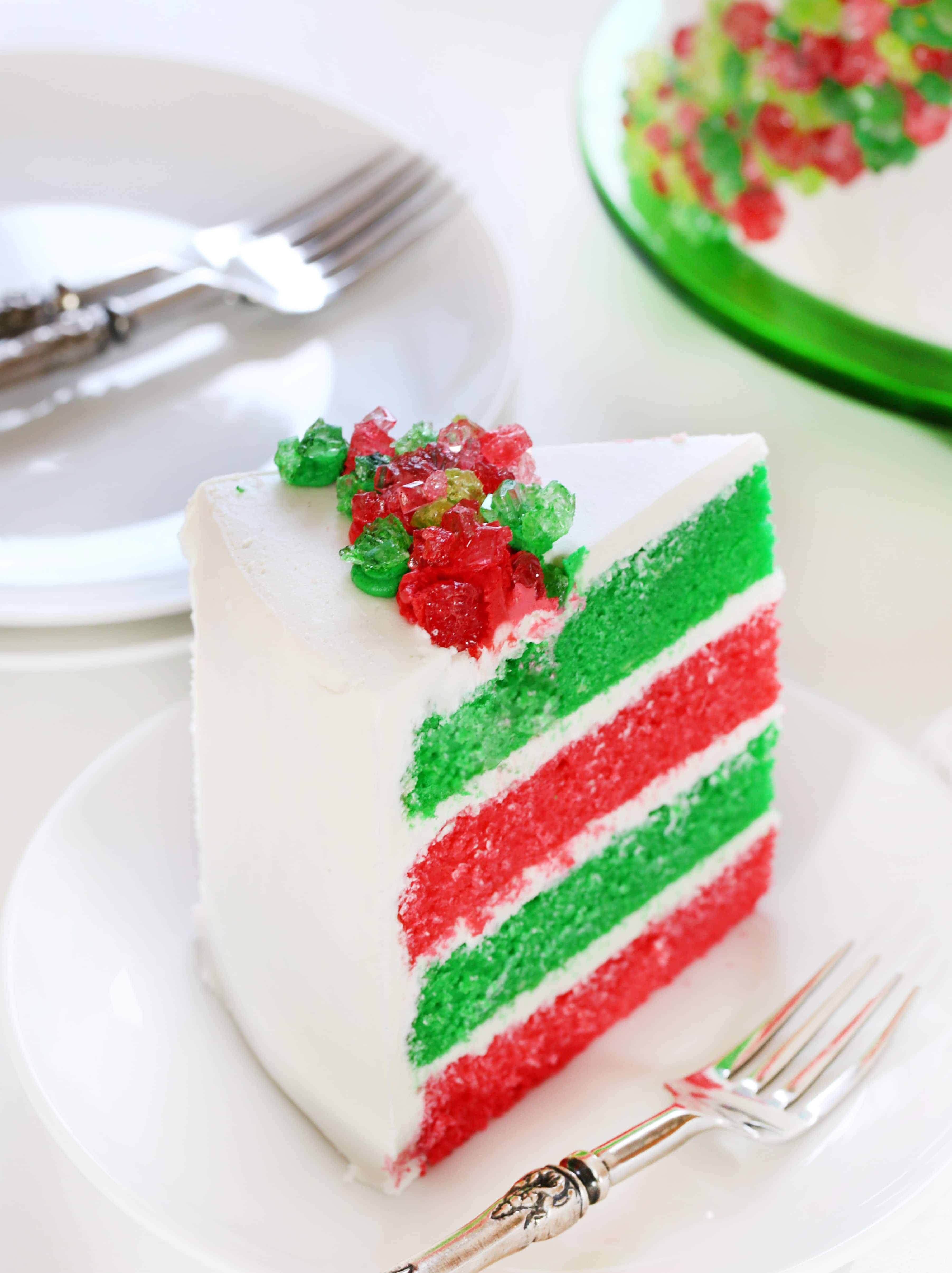 Double Batch Whipped Vanilla Buttercream
This is a BIG batch of buttercream and should be made in stages if you do not have a stand mixer with a large bowl.
Ingredients
2

cups

(4 sticks or 452g)) butter

softened

1

tablespoon

McCormick® Pure Vanilla Extract

1

tablespoon

McCormick® Pure Almond Extract

64

oz

confectioners sugar

sifted

1/2

cup

whole milk

you can use up to 1 cup if you need a loose creamy consistency

pinch

salt
Instructions
Beat butter in the bowl of stand mixer with whisk attachment on medium-high speed until light and fluffy. (about 3 minutes)

Add vanilla and almond extract.

With the mixer on low, slowly add in confectioners sugar, milk, and salt; frequently scrape sides and bottom of the bowl.

Once incorporated, whip frosting for at least 3 minutes on medium-high to high. (My mixer went for 7 minutes)

If frosting is too thick to spread, gradually beat in additional milk.

Store in refrigerator up to 2 weeks. Rewhip before using.
Did you make this recipe?
Thank you for making my recipe! You took pictures, right? Well go ahead and post them on Instagram! Be sure to mention me @iambaker and use the hashtag #YouAreBaker.
Want more Christmas Dessert ideas?