I can't think of a better cake for St. Patrick's Day. This Leprechaun Hat Cake hides a wonderful surprise-inside too!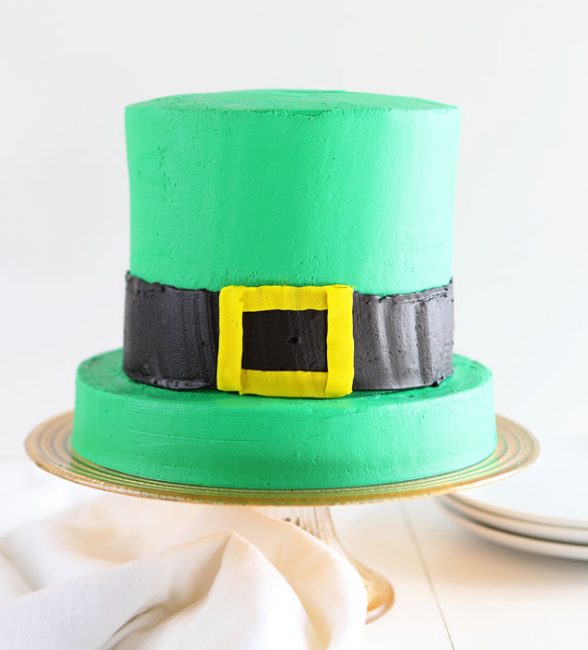 Leprechaun Hat Cake
All iambaker readers know how much I love a Surprise-Inside cake. But I have to tell you, this is on the top of the "favorites" list! Not only is this cake fun on the outside and inside, but it tastes amazing and has the most glorious candy treat inside! If you follow my easy recipe and instructions you can also make this cake for your loved ones!
One tip for success… grab McCormick food color. The handy dandy box comes with red, yellow, blue, and green… everything you need to create a RAINBOW design! I just mixed a little red and yellow to get orange and then some red and blue to get purple. No fancy supplies needed for this cake!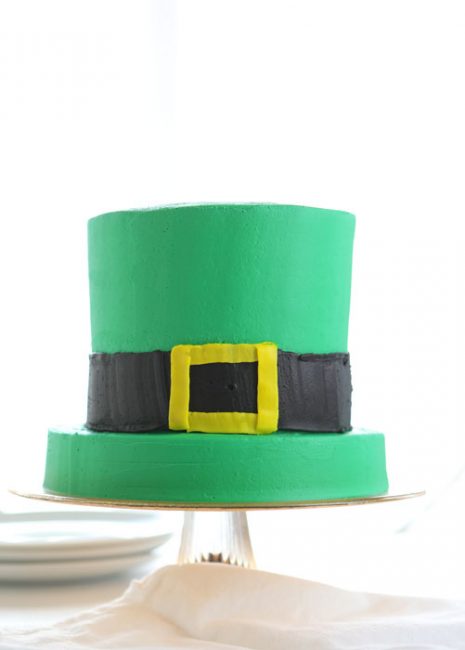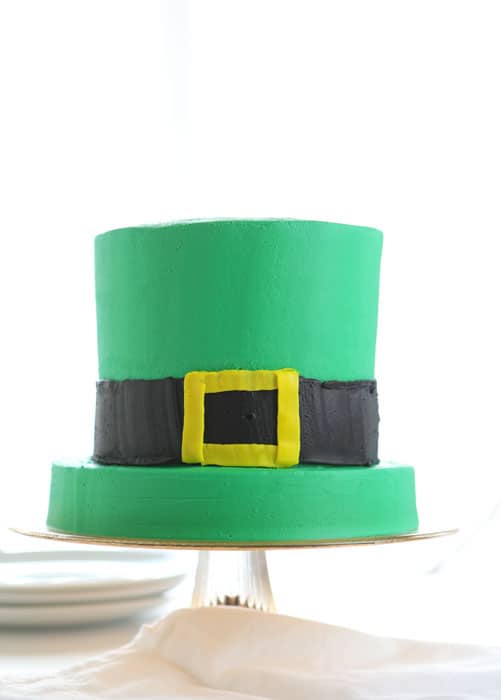 How to Make a Leprechaun Hat Cake
yellow cake recipe doubled (or 2 boxes of yellow cake mix) – 6-inch round cake pans and one 8-inch round cake pan
buttercream recipe doubled
1 box of McCormick assorted food color (red, yellow, blue, green)
black McCormick food color (for frosting)
green McCormick food color (for frosting)
McCormick Vanilla Extract (about 1 teaspoon)
3-inch round cookie cutter (can also use a cutout template and a paring knife)
pastry bags
#789, #48 decorating tips
small offset spatula
bench scraper
cake stand
rotating cake stand
gold sixlets and assorted gold sprinkles (about 2 cups in total)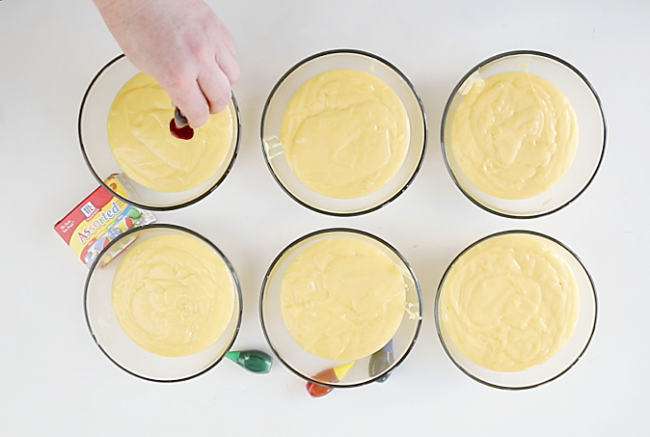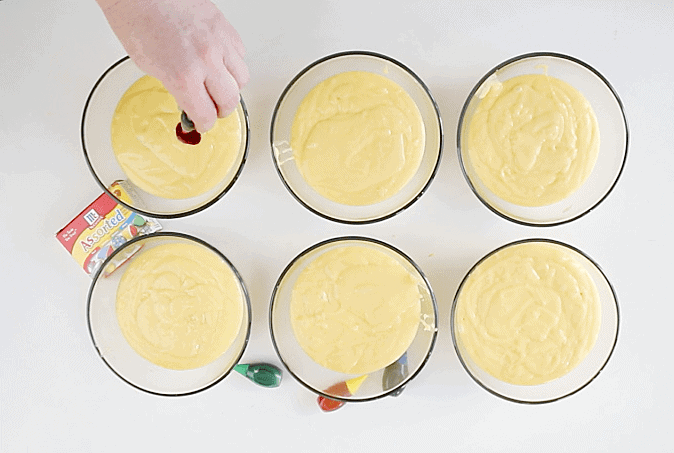 Begin by preparing the cake batter. Divide cake batter into 6 bowls. Five of the bowls will have approximately 1 1/4 cups of cake batter and the sixth will have 2 cups. The sixth cup is for purple, which is the base of our Leprechaun Hat and is baked in an 8-inch round cake pan.
To color the batter; add red food color to the first bowl (anywhere from 10-30 drops depending on how deep you want the color to be), add red + yellow to the next bowl, yellow in the next bowl, green in the next bowl, blue in the next bowl, then red + blue in the last bowl. You will need more food color in the last bowl (purple) as there is more cake batter. Stir well. If you want to deepen the color at all you can add more food coloring as needed, but the colors in the cake batters will deepen slightly when baked.
Bake and allow to cool. Level cakes. (See how I level cakes here) Set aside or chill until ready to prepare cakes. This is a great place to stop if you are completing this cake over the course of a couple days.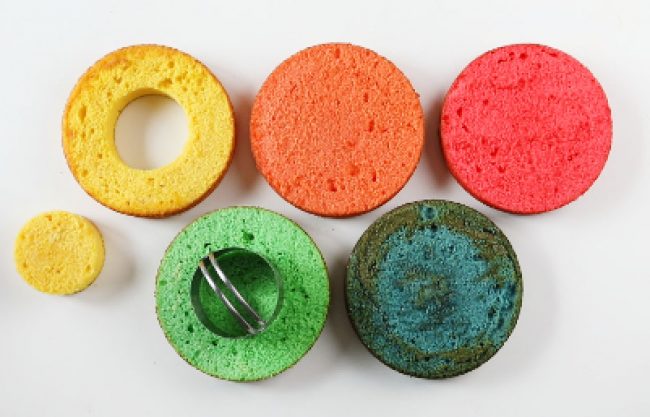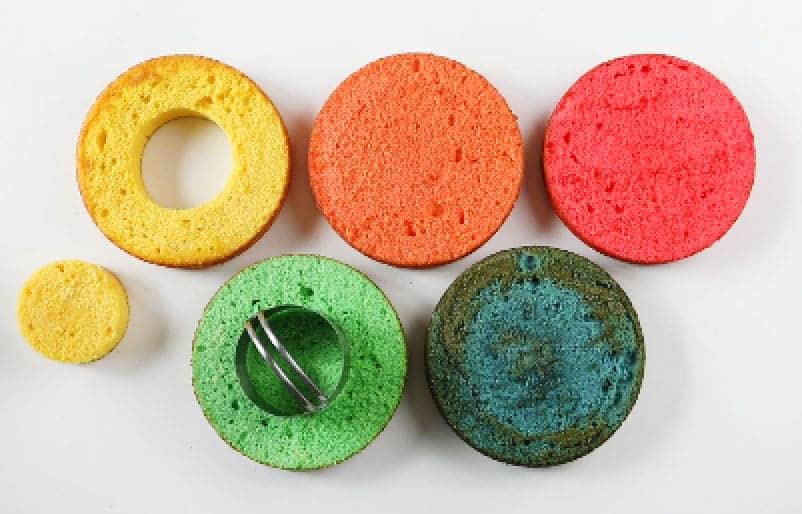 How to Create the Surprise-Inside
Once cakes have been cooled and leveled you will create the surprise-inside. This works best on chilled cakes.
Using a 3-inch round cookie cutter (or sharp paring knife) remove the center portion from the yellow, green, and blue cakes.
Prepare buttercream. I make a double batch because it is much easier to have too much frosting rather than run out and attempt to color match. If you make a double batch you should have roughly 10 cups of buttercream and it should be divided like this:
5 cups green (I added Vanilla Extract to the green)
3 cups left white
1 1/2 cups black
1/2 cup yellow
You will not use all of the black frosting but because of the size of the #789 nozzle, I recommend making more than needed.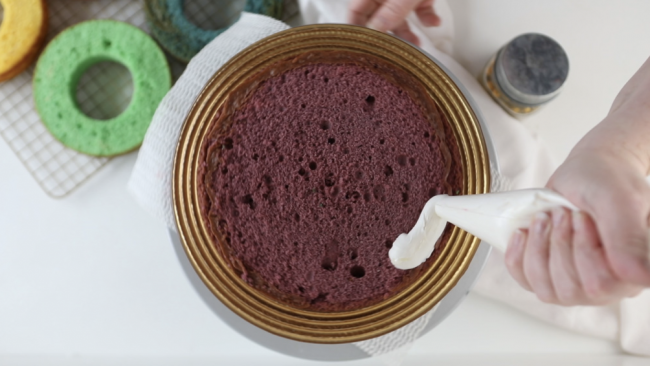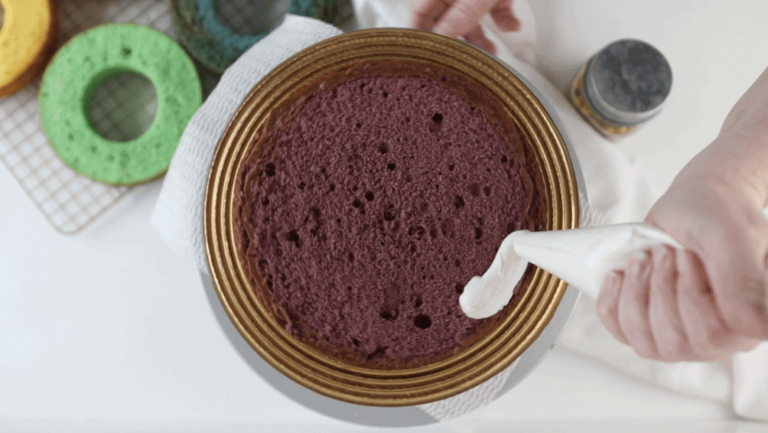 To Assemble this Leprechaun Hat Cake
Begin by placing the 8-inch round purple layer on cake stand.
Pro Tip: I place my cake stand directly on top of my rotating cake stand. This helps dramatically when frosting and smoothing out the frosting on cakes.
Place a thin layer of white buttercream on top of the purple layer.
Now add the blue layer, making sure it is centered on the cake. Cover in a thin layer of white buttercream.
Next place the green layer, then buttercream, then yellow layer and buttercream.
Pour in the gold sixlets and sprinkles mixture making sure it is filled completely.
Place orange layer on, add buttercream, then finally red layer. If you are stopping here (completing this cake over the course of a couple days) I recommend covering the cake in a crumb coat and chilling until ready to finish.
Now cover the cake with green buttercream. Smooth out the green buttercream using an offset spatula and then finishing with the bench scraper for smooth sides. This process can take some time but it is worth it to have clean edges.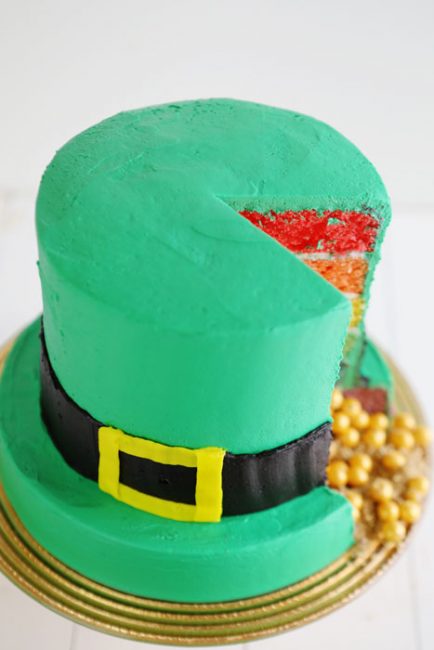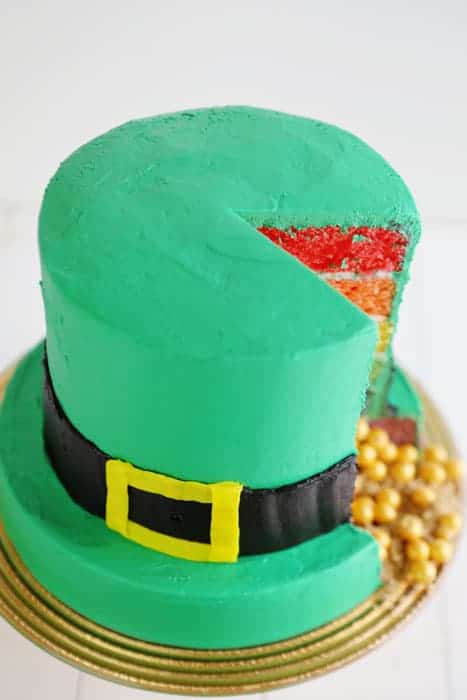 Using your black frosting in a pastry bag with the #789, pipe out a band around the 6-inch cake base.
Find the front of your cake (the prettiest side!) and pipe out a "buckle" in yellow frosting. I used a #48 tip for this.
Chill until ready to serve.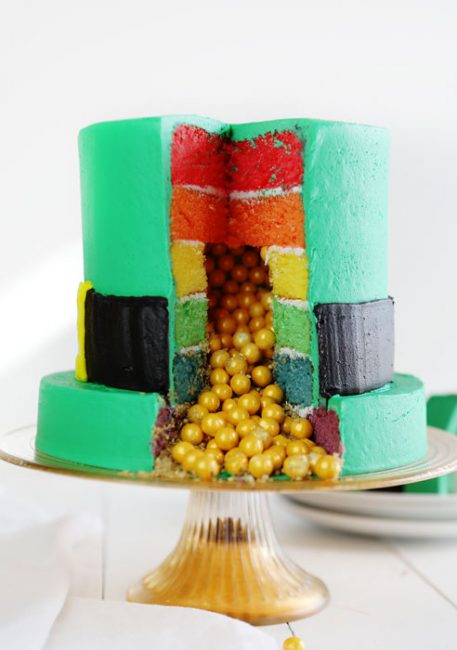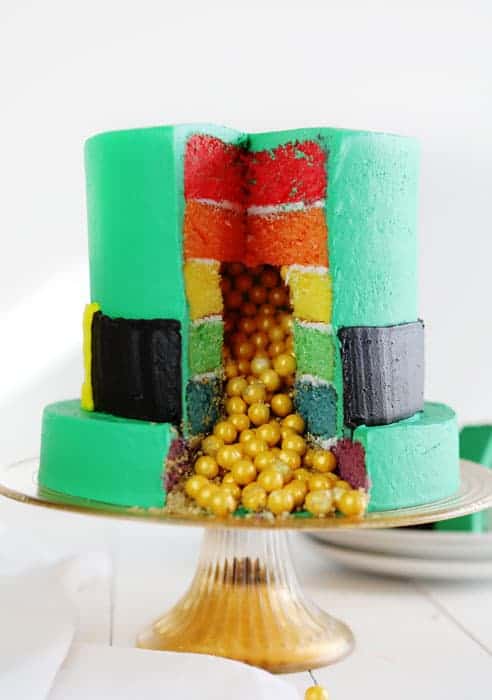 When you are ready to cut the cake make sure you have a sharp knife. These are very tall slices so having larger plates also helps.
Have a spoon near-by so you can scoop some of those glorious gold sprinkles onto each plate!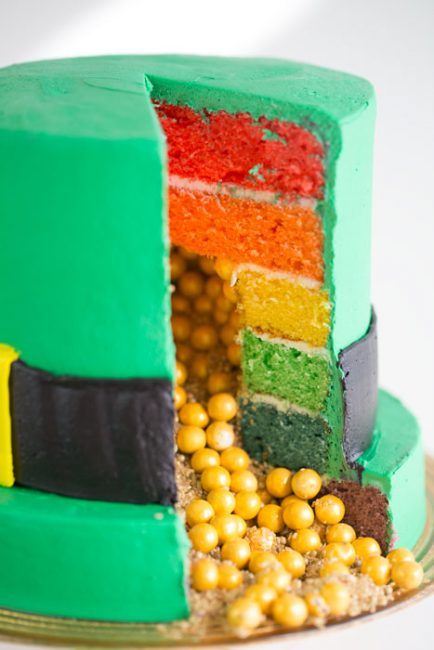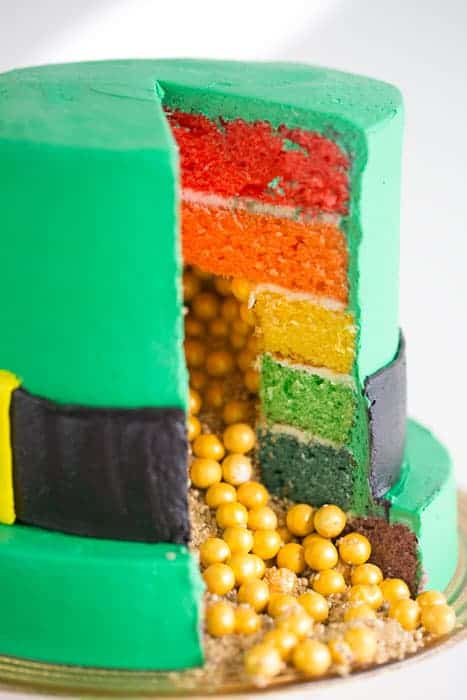 People will oohh and aahh over this delightful Leprechaun Hat Surprise-Inside Cake!!
Here is a video of how I made it:
Thank you so much for supporting the brands that support me here at iambaker. I absolutely love working with McCormick and love the high quality of their products. Check them out on Facebook, Instagram, and Pinterest.
;