These deliciously sweet Yellow Cupcakes with decadent Chocolate Frosting are decorated to celebrate the joy of Fall!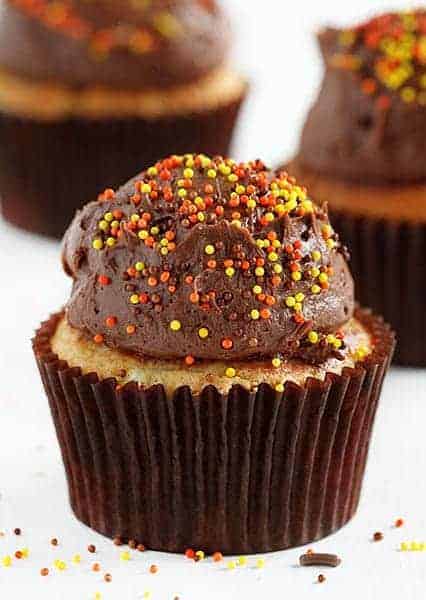 Is there anything better than fall baking?
A slightly crisp coolness in the air and the new colors of fall. Turning on the oven offers a moment's relief from the chill instead of turning the house into a summer-time inferno!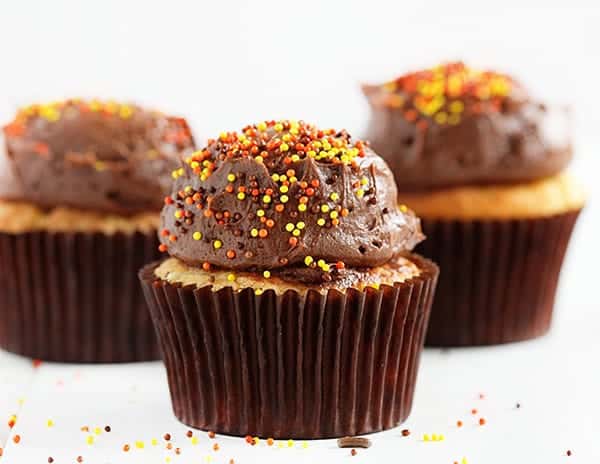 This cupcake really could not be easier. It is simply a yellow cupcake with chocolate frosting sprinkled with "harvest" themed nonpareils.
Recipe adapted from Perfect Yellow Cupcakes and Chocolate Buttercream.
Want to know how to get the perfect little mound of frosting?
I simply use an ice cream scoop. Gather frosting into your scoop and then drag on the side of the bowl, pressing frosting in and leveling off scoop.
Drop frosting on top of the cupcake. Gently tap the bottom of the cupcake on the counter a few times. This helps the frosting to settle down a bit and spread more evenly over cupcake.
Sprinkle with your choice is non-perils.
(This works best with scoops that have a trigger)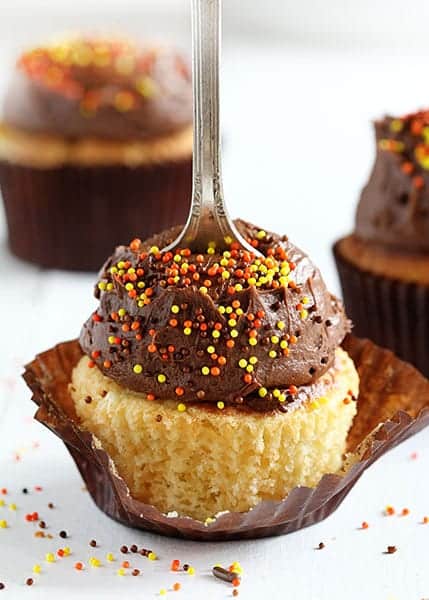 Finally, I would love to share with you my BEST TIP EVER for cupcakes. (When you master this technique people will be begging you for "your recipe" no matter what recipe you use!)
Always err on the side of under baking. If a recipe calls for 18 minutes, consider taking them out around 16 or 17 minutes.
Things to look for: Make sure an inserted toothpick is removed with very few crumbs.  Not clean, as that means the cupcake is complete cooked. A couple crumbs is a good sign!
If press a finger into the top of the cupcake to determine doneness, does it bounce back? You do NOT want raw, or unbaked, batter in the center, but you DO want the cupcake to not be 100% cooked. They will continue to cook for a few minutes while outside the oven.
It's a good idea to know your oven and know your recipes!
Perfectly delicious and perfectly decorated. These are my favorite way to usher in fall!