Hot Chocolate Bombs are chocolate spheres filled with homemade chocolate milk powder and marshmallows that are put into a mug with hot milk for a delicious cup of hot cocoa. Try my Best Homemade Hot Cocoa for another rich and creamy hot chocolate recipe.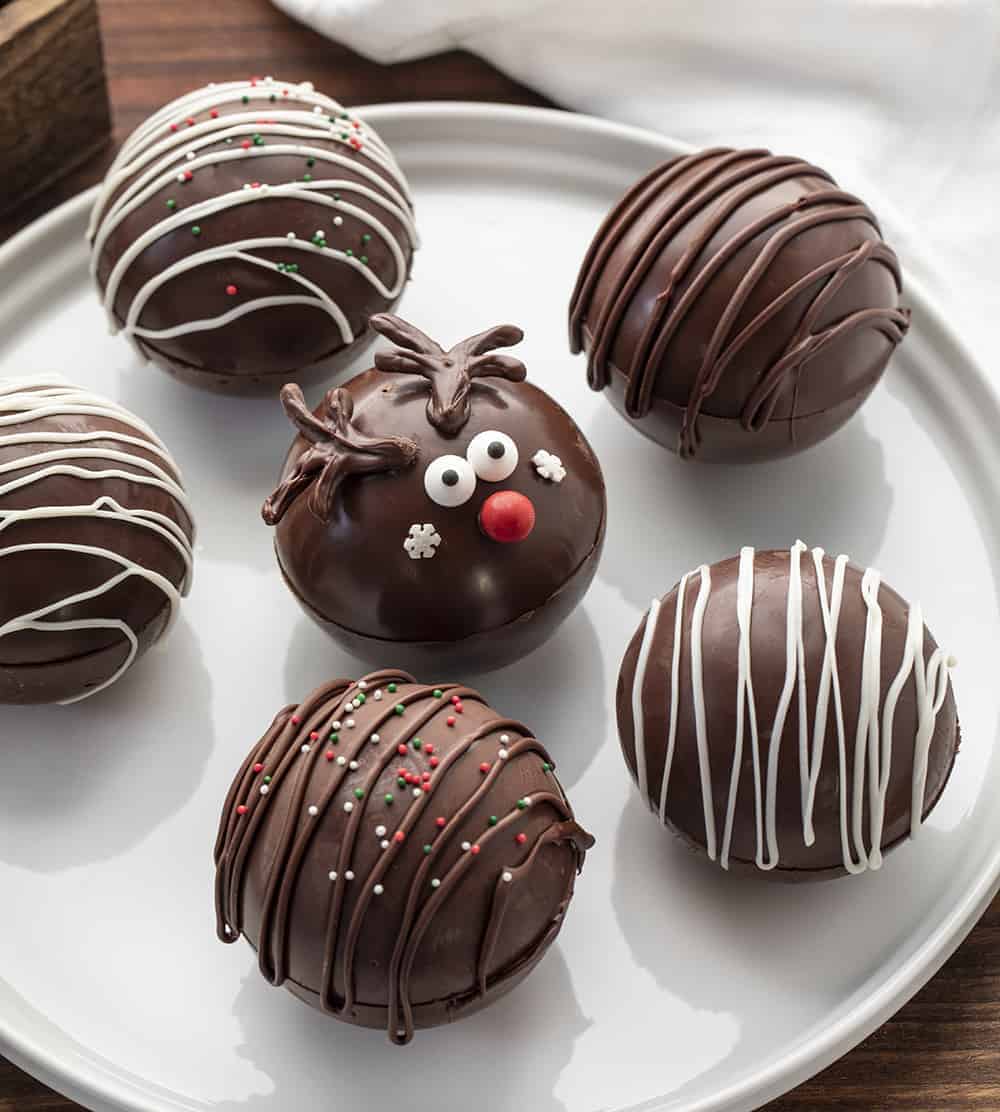 Hot Chocolate Bombs
The title of these balls of chocolate is pretty accurate. The balls are filled with chocolate milk powder and marshmallows. When hot milk is added to the bombs, they open up, or 'explode' to let the hot chocolate mix and marshmallows out. When stirred, you have a decadent and delicious cup of hot chocolate! If you love hot chocolate, I also have a Big Batch of Hot Cocoa Mix that you will want to have on hand for any time you are craving a mug of hot cocoa. Or, fill these bombs with my White Hot Chocolate Mix, too! I also have Peppermint Hot Cocoa Bombs you might love.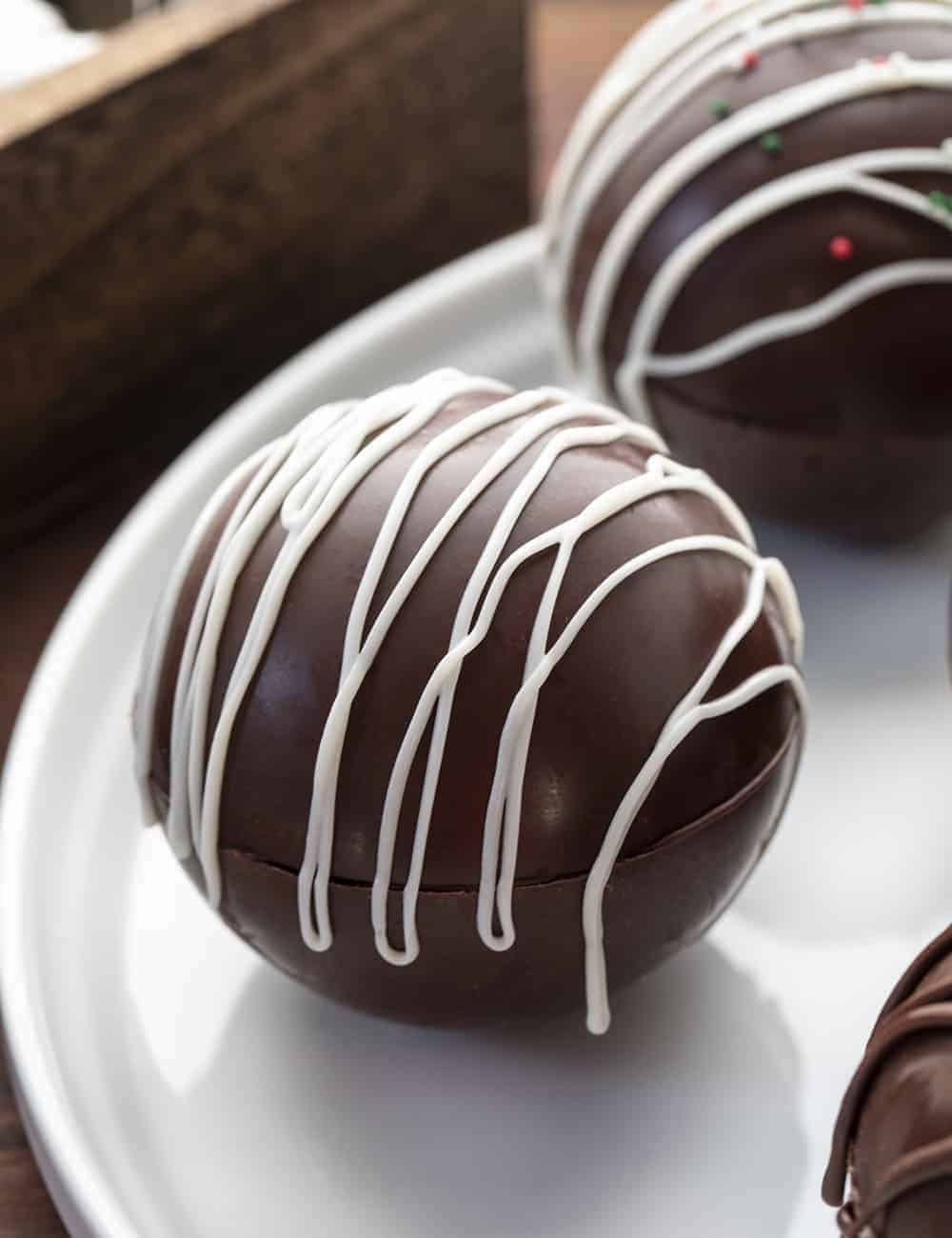 Hot Cocoa Bomb Ingredients
Can I tell you what makes my hot cocoa bombs better than the rest? HOMEMADE CHOCOLATE MILK POWDER! This is going to produce the BEST cup of Hot Chocolate that you will ever make. And I have made a LOT of hot chocolate, so I feel confident you will agree!
I used my homemade chocolate milk powder recipe, which is only three ingredients that you probably already have on hand. And it will make the richest flavor for your hot cocoa bomb!
To make the powder, combine the three ingredients–sugar, cocoa powder, and a pinch of salt. You can blend them in a food processor or shake them in a container that has a lid (of course). Store the powder in an airtight container in a cool, dry place until you are ready to use it.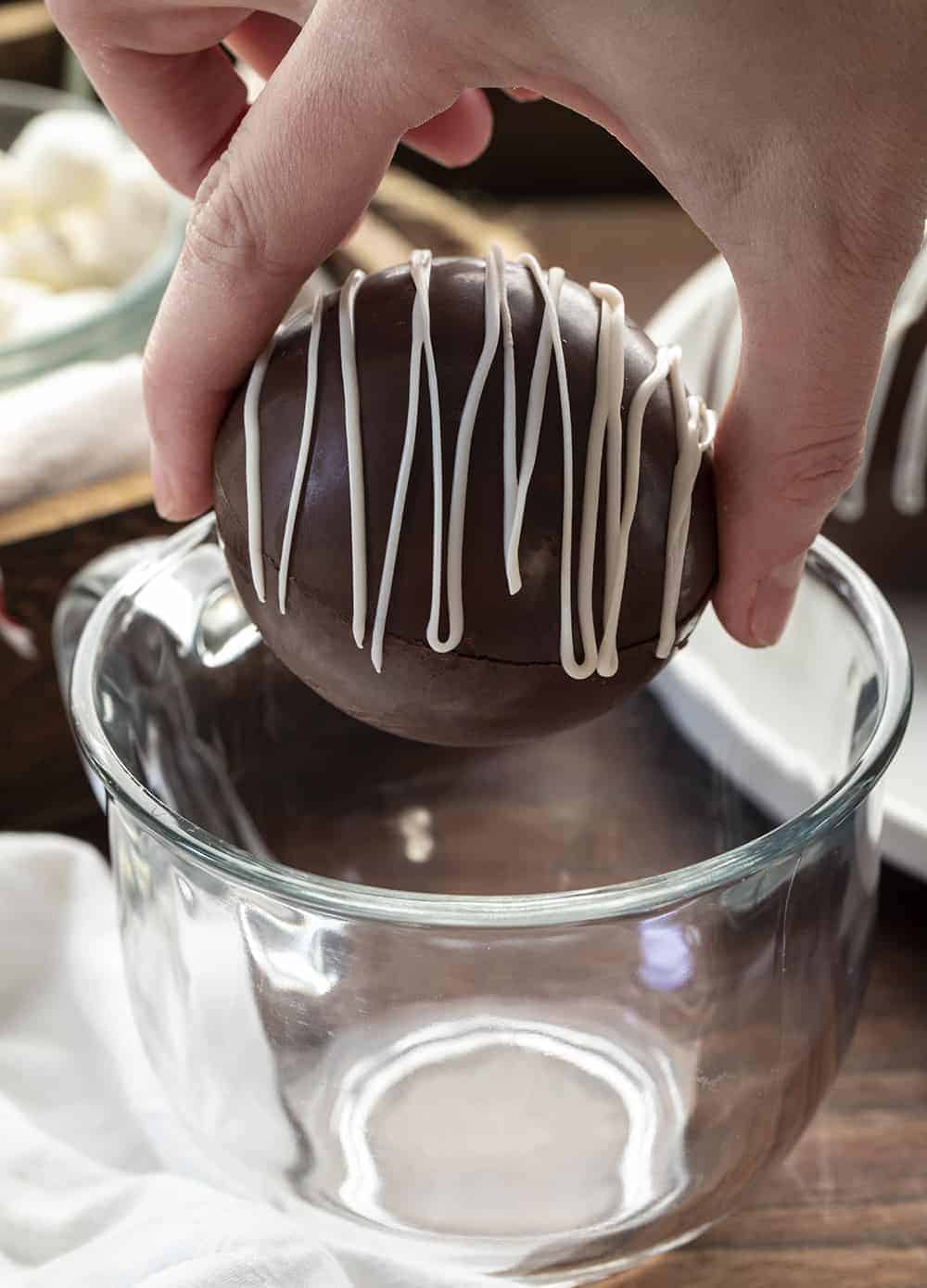 Chocolate Melting Methods
There are a couple of ways you can melt chocolate. You can melt it in the microwave or use the double boiler method.
Melting Chocolate in the Microwave
To melt the chocolate in the microwave, add the chocolate to a microwave-safe bowl. Heat the chocolate in 20-second increments, stirring after every 20 seconds, until melted.
Double Boiler Method for Melting Chocolate
Using the double boiler method helps ensure that the chocolate is not burned and the gently melted chocolate will be smooth and shiny. And, you don't need any fancy kitchen gadgets to use this method.
To melt the chocolate, fill a pot about halfway full of water. Bring it to a simmer over low heat. Find a heat-safe bowl (glass or stainless steel) that can be set into the pot. Make sure the bottom of the pot is not touching the water. The steam is what will melt the chocolate.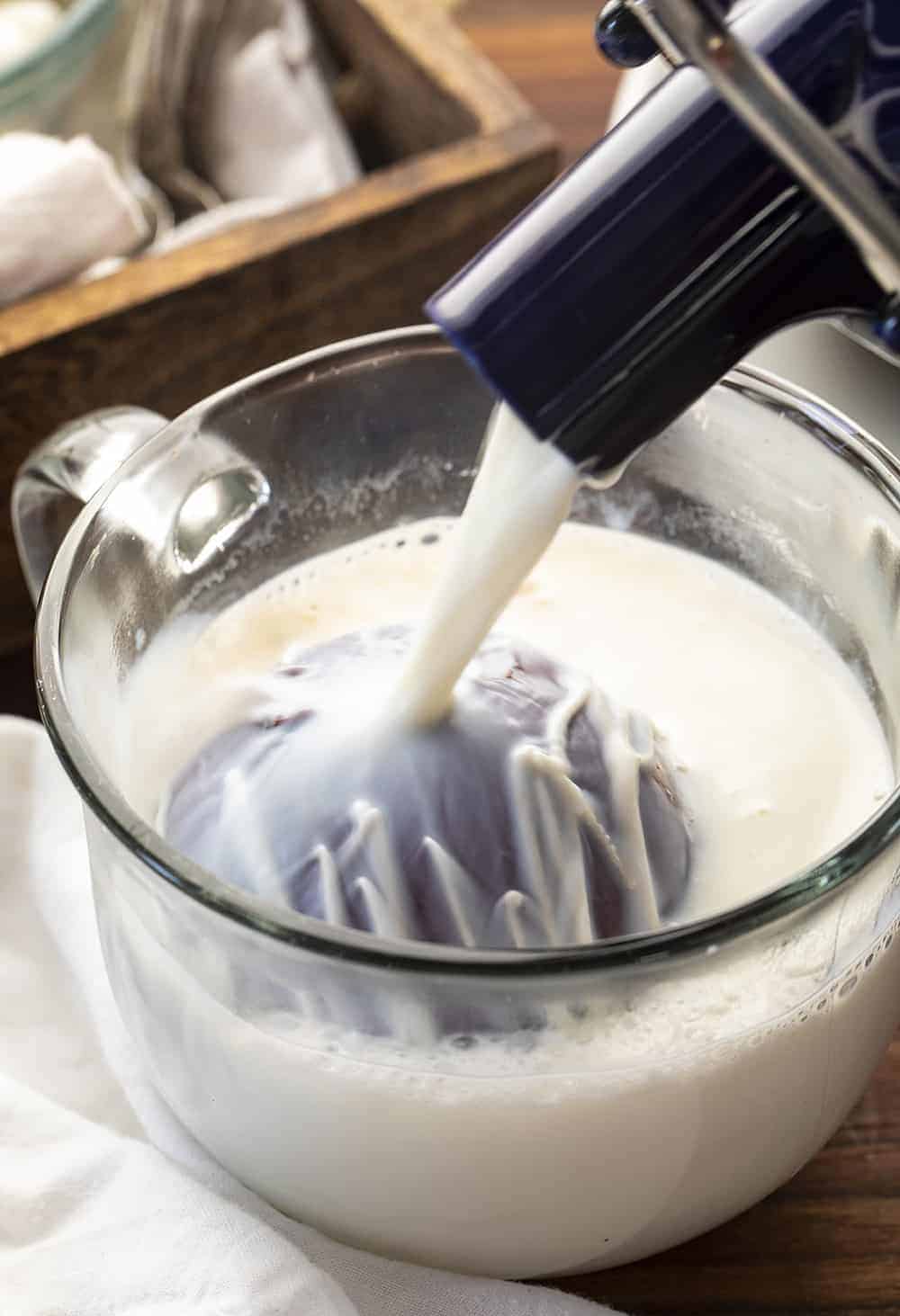 How to Store
I recommend only making as many chocolate bombs as you need. They are best used right away or within 24 hours and stored at room temperature.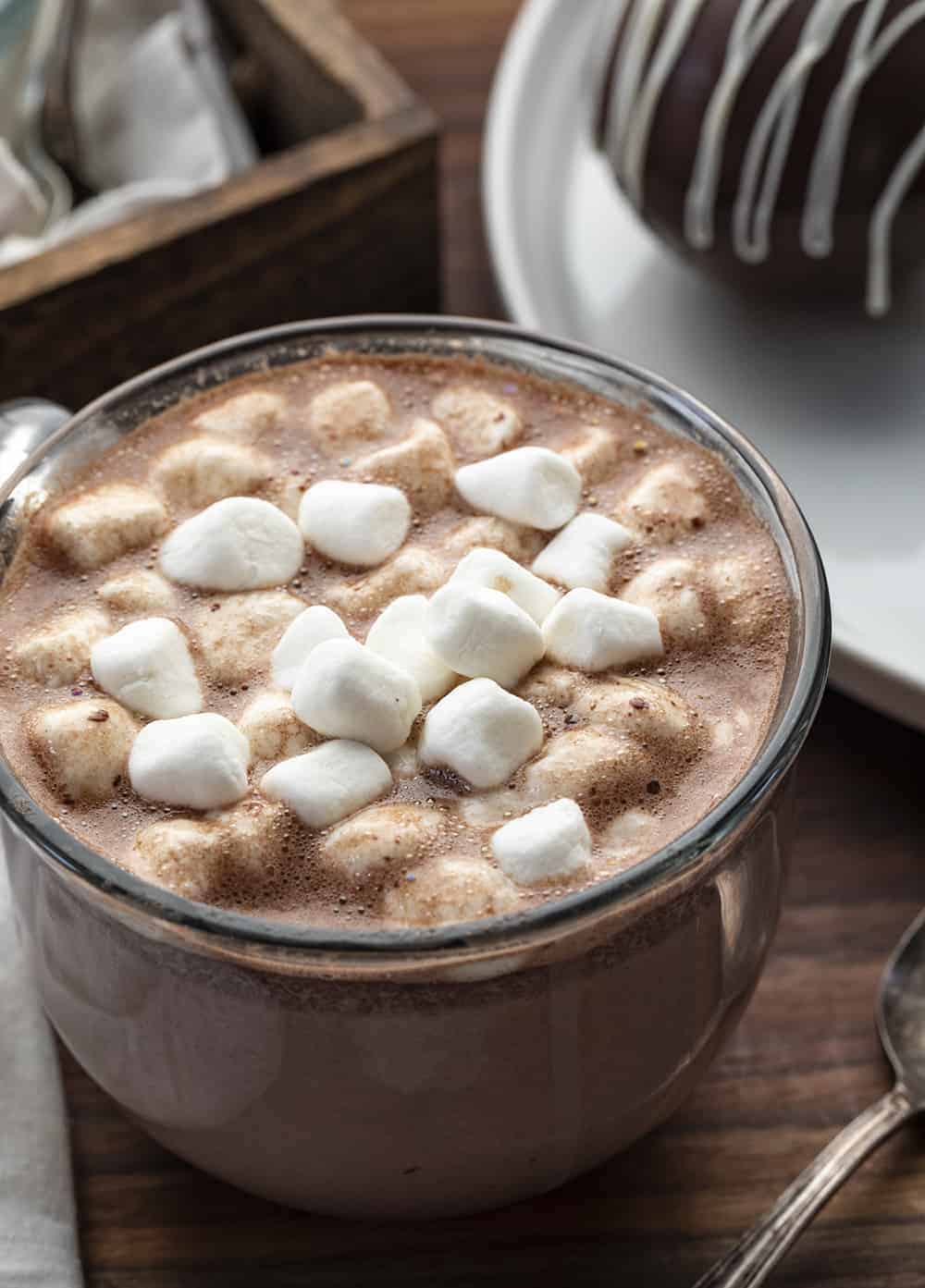 Rudolph Hot Cocoa Bombs
This was so much fun! I used some extra chocolate from the melting chocolate and added it to a piping bag. Snip off the corner of the tip of the bag and then pipe out little antlers. Let those harden, for about 5 minutes.
I used the piping bag to add a little bit of chocolate to the cheeks, then pressed a snowflake sprinkle into the chocolate. Same for the nose, however, I used a red chocolate candy.
Attach the antlers (use gloves to avoid fingerprints) using some melted chocolate and hold in place until the chocolate hardens. (about 30 seconds)
I saw this on Pinterest and tried to track down the creator, but wasn't able to. If you are the creator of this adorable design, please let me know so I can give you credit!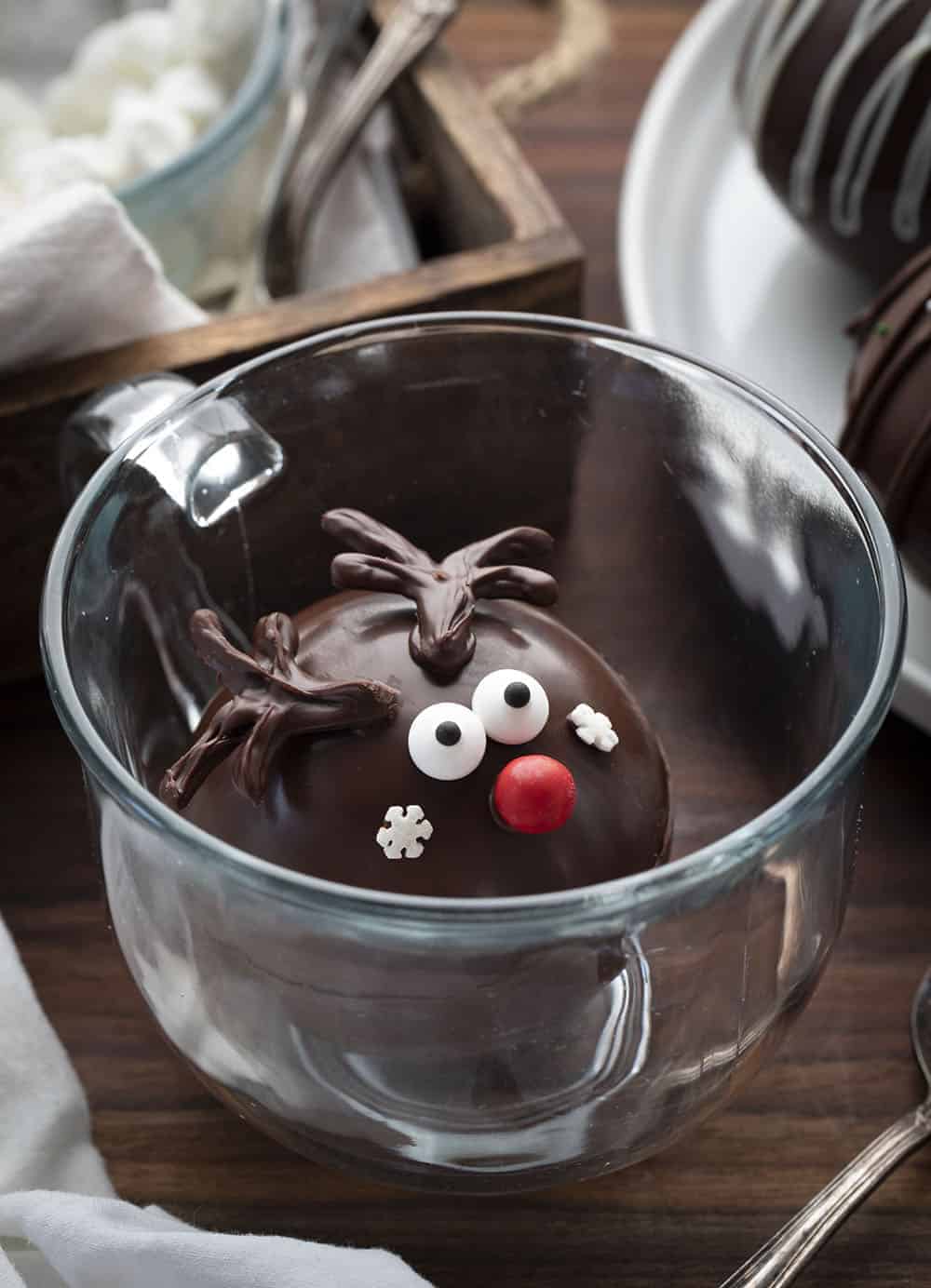 Chocolate Molds
I purchased the molds for the chocolate on Amazon. Baker Depot Silicone Moulds. This is an affiliate link, so thank you in advance should you purchase them! <3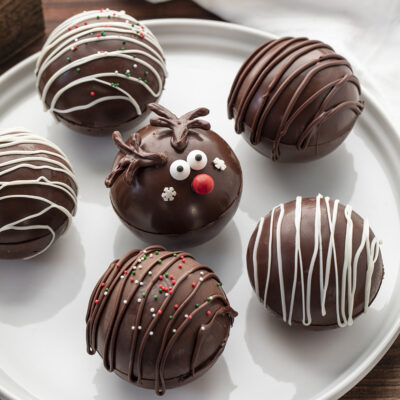 Hot Chocolate Bombs
Ingredients
Chocolate Milk Powder
⅔

cup

(133 g) granulated sugar

⅓

cup

(39 g) cocoa powder

1

pinch

kosher salt
Chocolate Bombs
1

cup

(168 g) semi-sweet chocolate chips

6

tablespoons

chocolate milk powder,

divided

3

tablespoons

mini marshmallows,

divided

1

silicone

chocolate bomb mold
Instructions
Chocolate Milk Powder
To get started, get out a jar with a lid or a food processor.

Combine the sugar, cocoa powder, and salt. Use a food processor or shake up the ingredients in a sealed container until all the ingredients are mixed together. Store in a sealed container in a cool, dry place.
Melting Chocolate–Double Boiler Method
Fill a medium pot almost halfway with water. Bring the water to a simmer over low heat.

Place a heat-safe bowl (glass or stainless steel) that can just fit on top of the pot of simmering water, but leaves a gap between the water and bottom of the bowl.

Add the chocolate chips to the bowl. Keep the heat on low and use a rubber spatula to stir the melting chocolate chips until smooth. Remove the bowl of chocolate, but leave the water in the pot to be used later.
Chocolate Molds
Add a heaping spoonful of the melted chocolate to each of the six chocolate molds. Use the spoon to spread the chocolate up the sides of each mold. Make sure the entire inside of each mold is evenly coated with chocolate. (Save extra chocolate to use later.)

Freeze the chocolate for 10 minutes, or until completely set.

Once set, carefully remove the chocolate cups from the mold, placing them on a baking sheet lined with parchment paper.
Assembling Hot Chocolate Bombs
Flip over three of the molds to be filled. Fill each of the three halves with 2 tablespoons of the chocolate milk powder and 1 tablespoon of mini marshmallows.

Place the other three halves, seam-side down, on a separate baking sheet. Place the sheet on top of the pot of warm water over low heat to slightly melt the rims of the molds.

With gloves on (so you don't leave fingerprints) cover each filled chocolate half with an empty half, sealing it.

Decorate with any extra melted chocolate, sprinkles, and other candies. Use immediately, or within 24 hours, for best results. Store at room temperature.

To make hot chocolate, add a chocolate bomb into a mug. Slowly pour about 1½ cups of hot milk over the bombs and stir. Sip and enjoy!
Notes
If you are using white chocolate to make the bombs, be sure to get as good of quality as you can find, as white chocolate is very finicky!
Did you make this recipe?
Thank you for making my recipe! You took pictures, right? Well go ahead and post them on Instagram! Be sure to mention me @iambaker and use the hashtag #YouAreBaker.