As is the tradition in our home, I make my birthday cake.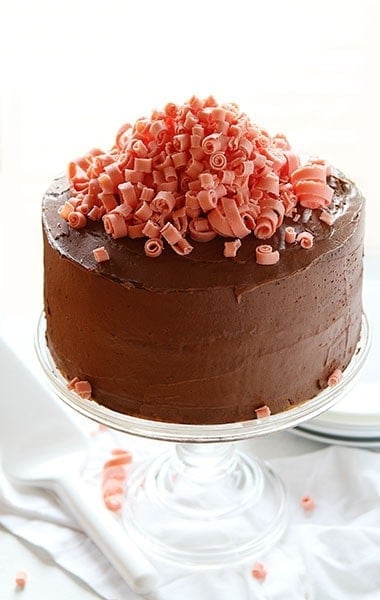 Chocolate Layer Cake with Chocolate Chip Cookie Layers
As is the tradition in our home, I make my birthday cake.
Ingredients
Chocolate Layer Cake
1 3/4

c

all-purpose flour

2

c

sugar

3/4

c

good unsweetened cocoa powder

2

tsp.

baking soda

1

tsp.

baking powder

1

tsp.

kosher salt

1

c

buttermilk

1/2

c

vegetable oil

2

extra-large eggs

at room temperature

2

tsp.

McCormick® vanilla extract

1

c

freshly brewed hot coffee

I use decaf
Chocolate Chip Cookies
2

c

cake flour

3/4

tsp.

baking soda

3/4

tsp.

baking powder

1/2

tsp.

coarse salt

1 1/4

sticks

1/2 cup + 2 tablespoons unsalted butter, room temperature

3/4

c

light brown sugar

1/2

c

granulated sugar

1

large egg

room temperature

1

tsp.

McCormick® vanilla extract

1 1/2

c

semi-sweet chocolate chips
Chocolate Buttercream
1 1/2

c

butter

at room temperature

4

c

powdered sugar

3/4

c

cocoa powder

4

tbsp.

heavy whipping cream

2

tsp.

McCormick® vanilla extract

pinch

table salt
Instructions
Chocolate Cake
Sift the flour, sugar, cocoa, baking soda, baking powder, and salt into the bowl and mix until combined.

In another bowl, combine the buttermilk, oil, eggs, and vanilla.

With the mixer on low speed, slowly add the wet ingredients to the dry. With mixer still on low, add the coffee and stir just to combine, scraping the bottom of the bowl with a rubber spatula. Pour the batter into the prepared (buttered and floured or non-stick baking spray or Goop) 8-inch round cake pans and bake for 35 to 40 minutes at 350, until a cake tester comes out clean.

Cool in the pans for 30 minutes, then turn them out onto a cooling rack and cool completely.

(If you cakes are not level, you may want to level them prior to assembling cake)
Chocolate Chip Cookies
Sift flours, baking soda, baking powder and salt into a bowl and set aside.

Using a mixer with a paddle attachment, cream butter and sugars until light and fluffy – about 5 minutes.

Add eggs. Stir in vanilla. Reduce to low speed and add dry ingredients slowly, mixing until just combined.

Fold in chocolate chips. Refrigerate dough for 1 hour.

When ready to bake, preheat oven to 350.

Divide dough into two equal parts. Prepare two 8-inch round cake pans by spraying with non-stick spray then laying a piece of parchment in the bottom.

Evenly press 1/2 of your cookie dough mixture into bottom of cake pan. Repeat with other half.

Bake at 350 degrees for 12-15 minutes. (I prefer my cookie to be slightly UNDER done for this cake as it makes it easer to cut through the layers.)

Allow cookies to cool in pan.
Chocolate Buttercream
In a the bowl of an electric stand mixer, fitted with whisk attachment, whisk butter and sugar on mediumhigh speed until very pale and fluffy or about five minutes.

Be sure to stop at least once and scrape the bowl.

With the mixer off, add in cocoa powder, vanilla and salt.

Turn mixer on low and blend for about 30 seconds.

One tablespoon at a time add in heavy cream.

Once all cream has been added and mixture is mostly combined, turn off the mixer and scrape down the sides of the bowl.

Now turn the mixer onto medium-high to high and whisk for 3-5 minutes or until mixture is lighter and fluffier. The frosting will be shiny and seem to have many large air bubbles throughout and this is exactly what we are going for. (You can smooth those out on the cake if so desired.)
To assemble cake:
Place one 8-inch round chocolate chip cookie on cake stand.

Cover with one layer of chocolate cake.

Add no more than one cup of buttercream and smooth out with offset spatula.

Place next layer of chocolate cookie, then chocolate cake on top of that.

Cover cake with remaining chocolate buttercream.
Did you make this recipe?
Thank you for making my recipe! You took pictures, right? Well go ahead and post them on Instagram! Be sure to mention me @iambaker and use the hashtag #YouAreBaker.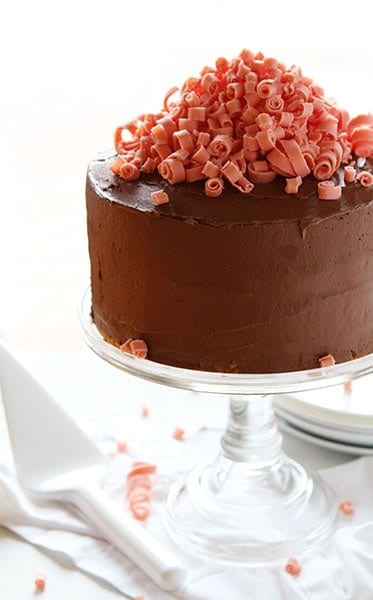 Not because others won't, but because baking cakes is my passion as well as my profession. My birthday is one of the few times a year that I throw all good business sense out the window (easy recipes, easy assembly, less time, etc.) and simply make something that moves my soul.
I know, I know, it's weird to say that cake moves your soul. But I am not talking about just the eating of it, I am talking about the creativity behind it. The thought and the detail and the energy that is lovingly poured into prepared cake pans along with silky chocolate batter.
If you are a baker, you know.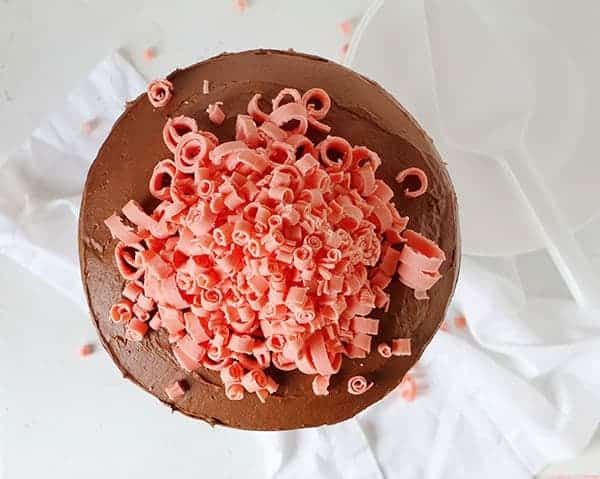 This cake literally took a day to make. I spent hours on those curls, painstakingly perfecting the method and the design before finally getting the hang of it.
(I will be sharing a separate post this week on how I make mini chocolate curls!)
But while I carefully made curl after curl after curl I watched my favorite show, Murder She Wrote. And I hung out with my kids in the kitchen while they told me about Angry Birds Go-Carts and what they dreamt about the night before.
And I enjoyed every last stinkin second of it.
I tell you in all honestly, even if I never blogged again (which is something I consider on a daily basis, as I never really seem to know for certain if my blog is honoring God or the goals I have for myself and family) I would still bake. I would bake weekly, even on the hottest summer days and even when it would be easier to buy something from the store.
Baking, decorating… creating edible art propels this often mismatched, stain covered, work-at-home mom of five through long chore laden days. It feels like I have purpose.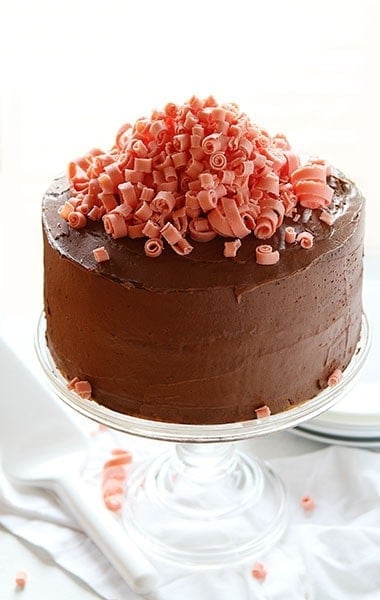 And like me, this cake is a bit of a mess. The outside and the inside are totally different.
This cake acts like it has it all figured out. That each curl and each swipe of frosting is exactly where it is meant to be.
But then you cut into it. And nothing matches the outside.
It's rough and complicated and unique.
Like me. Like you.
Recipe adapted from Chocolate Cake, Chocolate Chip Cookies and Chocolate Buttercream Frosting.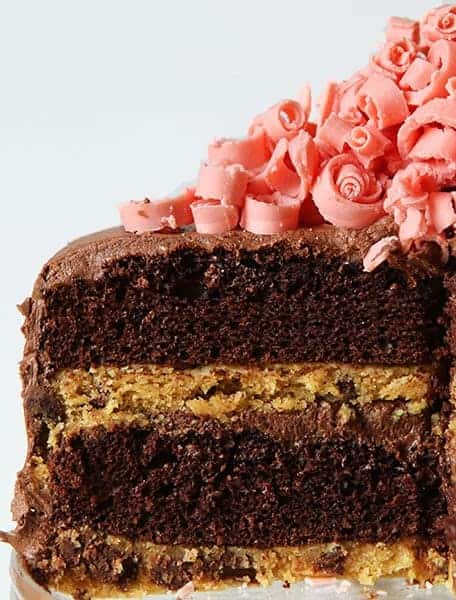 Tips for success:
If you are making this cake, you rock. #justsayin
I would start with the cookie dough first, as there is some chilling time.
Having all the layers (cake and cookie) cooled to room temperature is important. Trying to work with them while warm would be difficult and may result in breaking.
All of the layers for this cake can be prepared a day in advance and assembled before you are ready to serve.
If you do not want to make pink chocolate curls, you can cover the cake in sprinkles or simply do a rustic swoop. (one of my favorite decorating techniques)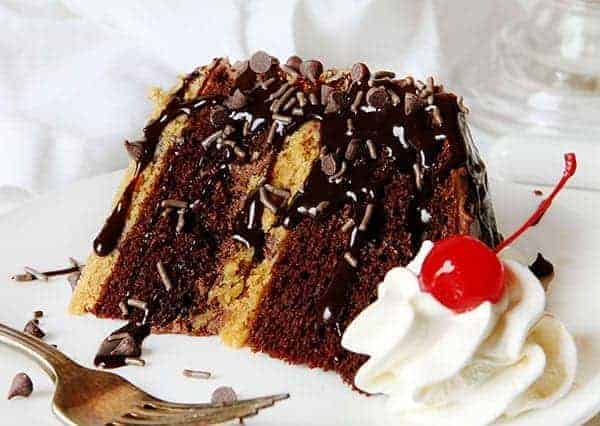 Or you could cover your cake in chocolate sauce, mini chocolate chips, jimmies, whipped cream and a cherry.
Cause it's my birthday, ok?