As is the tradition in our home, I make my birthday cake.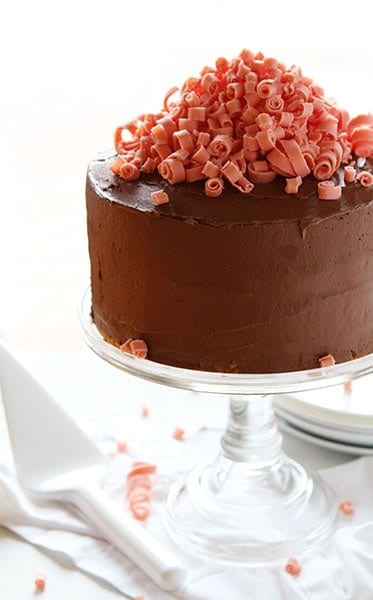 Not because others won't, but because baking cakes is my passion as well as my profession. My birthday is one of the few times a year that I throw all good business sense out the window (easy recipes, easy assembly, less time, etc.) and simply make something that moves my soul.
I know, I know, it's weird to say that cake moves your soul. But I am not talking about just the eating of it, I am talking about the creativity behind it. The thought and the detail and the energy that is lovingly poured into prepared cake pans along with silky chocolate batter.
If you are a baker, you know.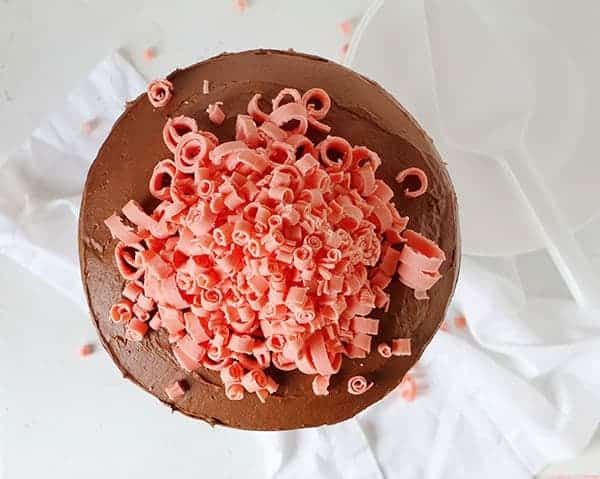 This cake literally took a day to make. I spent hours on those curls, painstakingly perfecting the method and the design before finally getting the hang of it.
(I will be sharing a separate post this week on how I make mini chocolate curls!)
But while I carefully made curl after curl after curl I watched my favorite show, Murder She Wrote. And I hung out with my kids in the kitchen while they told me about Angry Birds Go-Carts and what they dreamt about the night before.
And I enjoyed every last stinkin second of it.
I tell you in all honestly, even if I never blogged again (which is something I consider on a daily basis, as I never really seem to know for certain if my blog is honoring God or the goals I have for myself and family) I would still bake. I would bake weekly, even on the hottest summer days and even when it would be easier to buy something from the store.
Baking, decorating… creating edible art propels this often mismatched, stain covered, work-at-home mom of five through long chore laden days. It feels like I have purpose.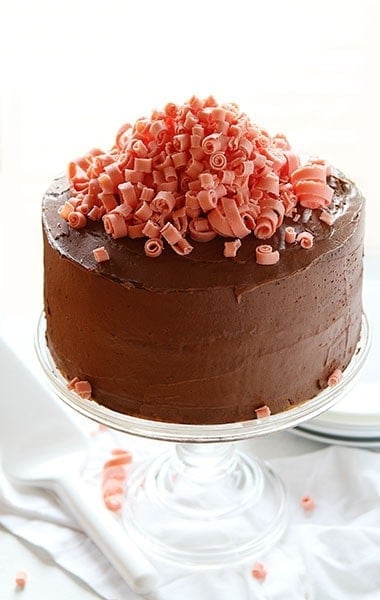 And like me, this cake is a bit of a mess. The outside and the inside are totally different.
This cake acts like it has it all figured out. That each curl and each swipe of frosting is exactly where it is meant to be.
But then you cut into it. And nothing matches the outside.
It's rough and complicated and unique.
Like me. Like you.
Recipe adapted from Chocolate Cake, Chocolate Chip Cookies and Chocolate Buttercream Frosting.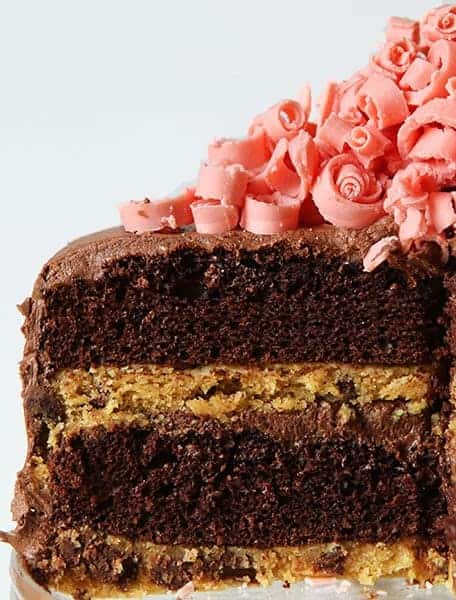 Tips for success:
If you are making this cake, you rock. #justsayin
I would start with the cookie dough first, as there is some chilling time.
Having all the layers (cake and cookie) cooled to room temperature is important. Trying to work with them while warm would be difficult and may result in breaking.
All of the layers for this cake can be prepared a day in advance and assembled before you are ready to serve.
If you do not want to make pink chocolate curls, you can cover the cake in sprinkles or simply do a rustic swoop. (one of my favorite decorating techniques)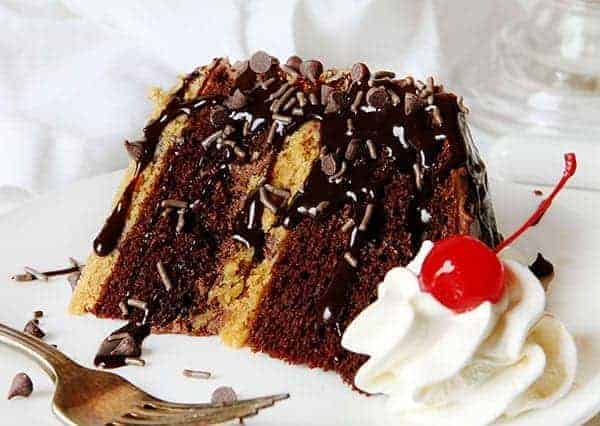 Or you could cover your cake in chocolate sauce, mini chocolate chips, jimmies, whipped cream and a cherry.
Cause it's my birthday, ok?