These Kiwi Bars are a hit every single time! No need to offer up whipped cream or ice cream, the bar by itself is amazing on its' own! These bars were completely inspired by my strawberry bars. Once I made the strawberry bars I knew that the slightly tart baked kiwi would be a great addition to the buttery crust!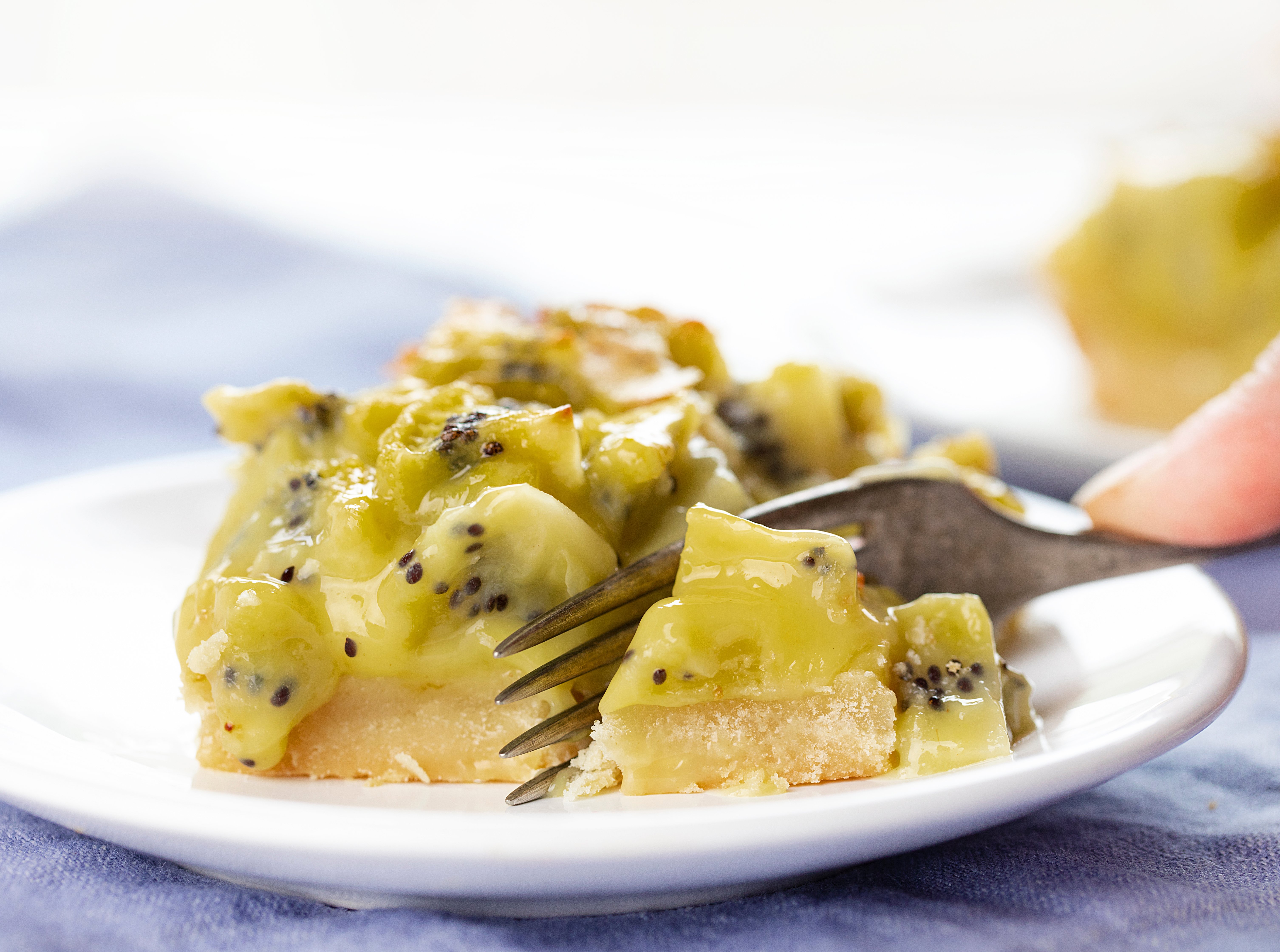 Kiwi Bars
One of my favorite things about these bars is the crust.  It is rich and buttery, and when paired with the kiwi topping, the contrast of rich butter and slightly sweet and tart kiwi filling does will do magical things.  I have made this same crust with a strawberry and a rhubarb topping and the results are always the same.  Amazing.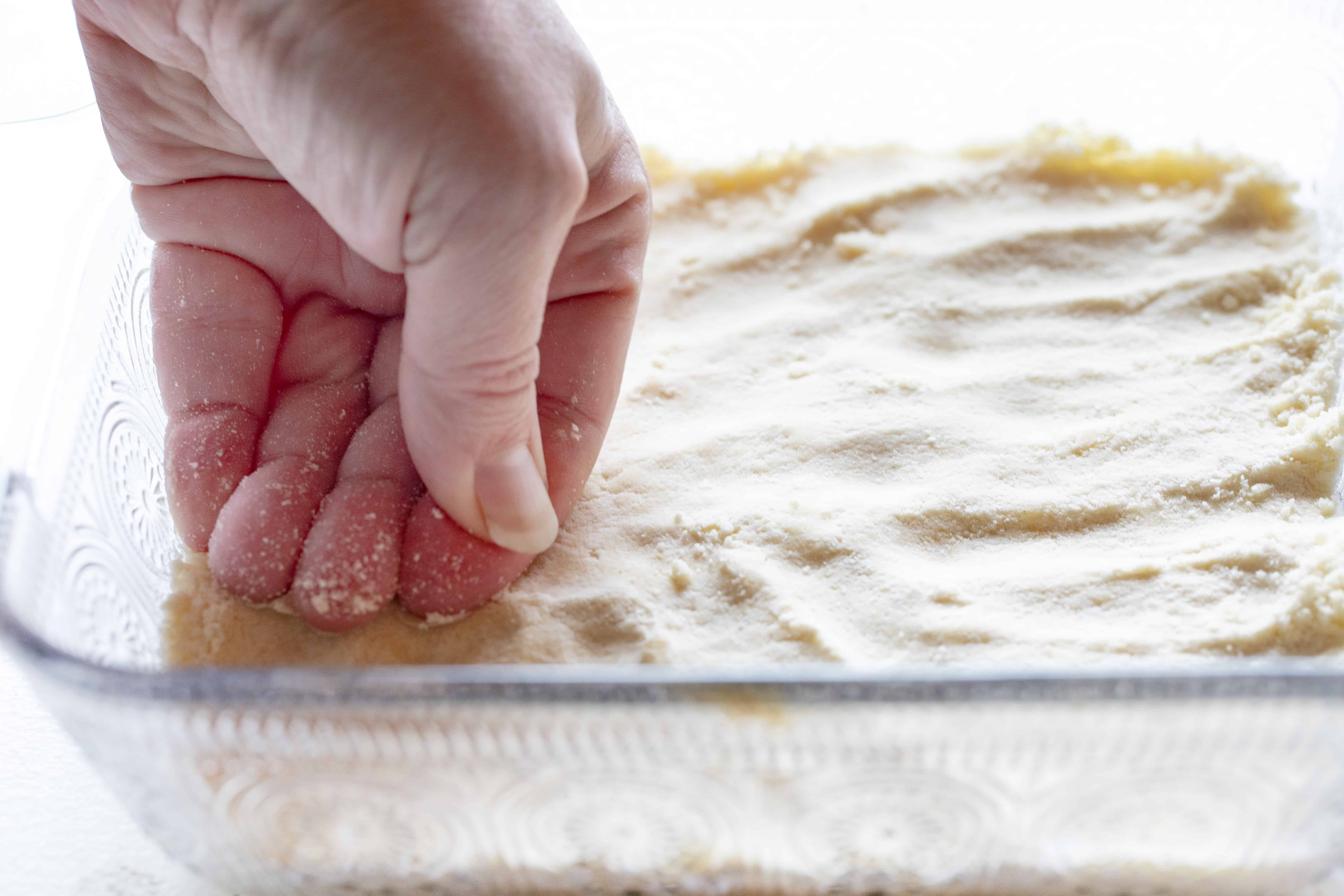 How to Make Kiwi Bars
There are basically two steps to make these kiwi bars.  Both are simple, but I will break them down for you.  Essentially, we need to nail the crust (step 1) and then the topping (step 2) is just a kicker!
How to Make the Kiwi Bar Crust
Simply combine flour, confectioners sugar, and cold butter in a bowl. I prefer to use my clean hands here, but you can absolutely use a food processor or a pastry cutter. There is just something so satisfying about making it yourself though. 🙂 Once the ingredients are well combined and the butter pieces are no bigger than a pea, press the mixture into a prepared 8×8 baking dish. (I used non-stick baking spray or GOOP.)
That's it! Now on to the fruit topping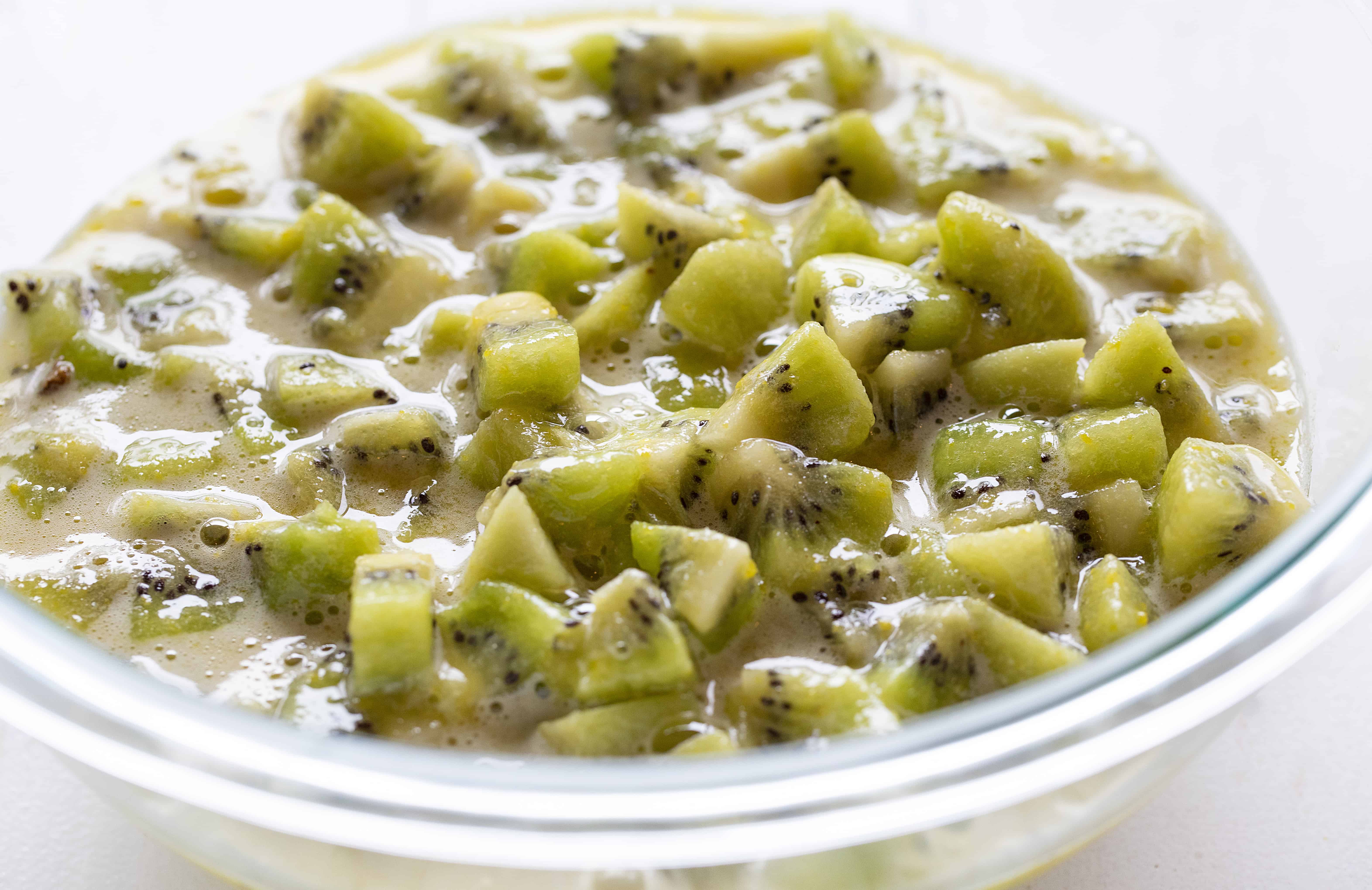 How to Make Kiwi Bar Topping
The topping really couldn't be any easier as it only has 5 ingredients.  You will need:
Eggs
Sugar
Flour
Salt
Kiwi
Start by adding the first four ingredients to a bowl and mixing well.  Then, grab a cutting board and cut your kiwis.   (I am going to share with you how I cut kiwi for this dessert as it's a bit different than you would expect!) Toss the kiwi in and stir by hand until everything is well combined.
How to Cut a Kiwi
Kiwi can be a little challenging to cut if you want to maximize getting all of the delicious fruit inside.
Start with a sharp paring knife use it to cut off a little bit from both ends off the kiwi.
Slice right down the middle, forming two halves.
Slide a spoon between the flesh and the skin and slowly work the skin loose until it releases the fruit.  It should slip right out of the furry exterior.
Now cut the kiwi into 3 slices.
Cut each slice into 6 pieces the same way you would cut a pizza. This ensures that each piece will get some of the white centers of the kiwi and the green fruit.
It takes just a little time but is worth it!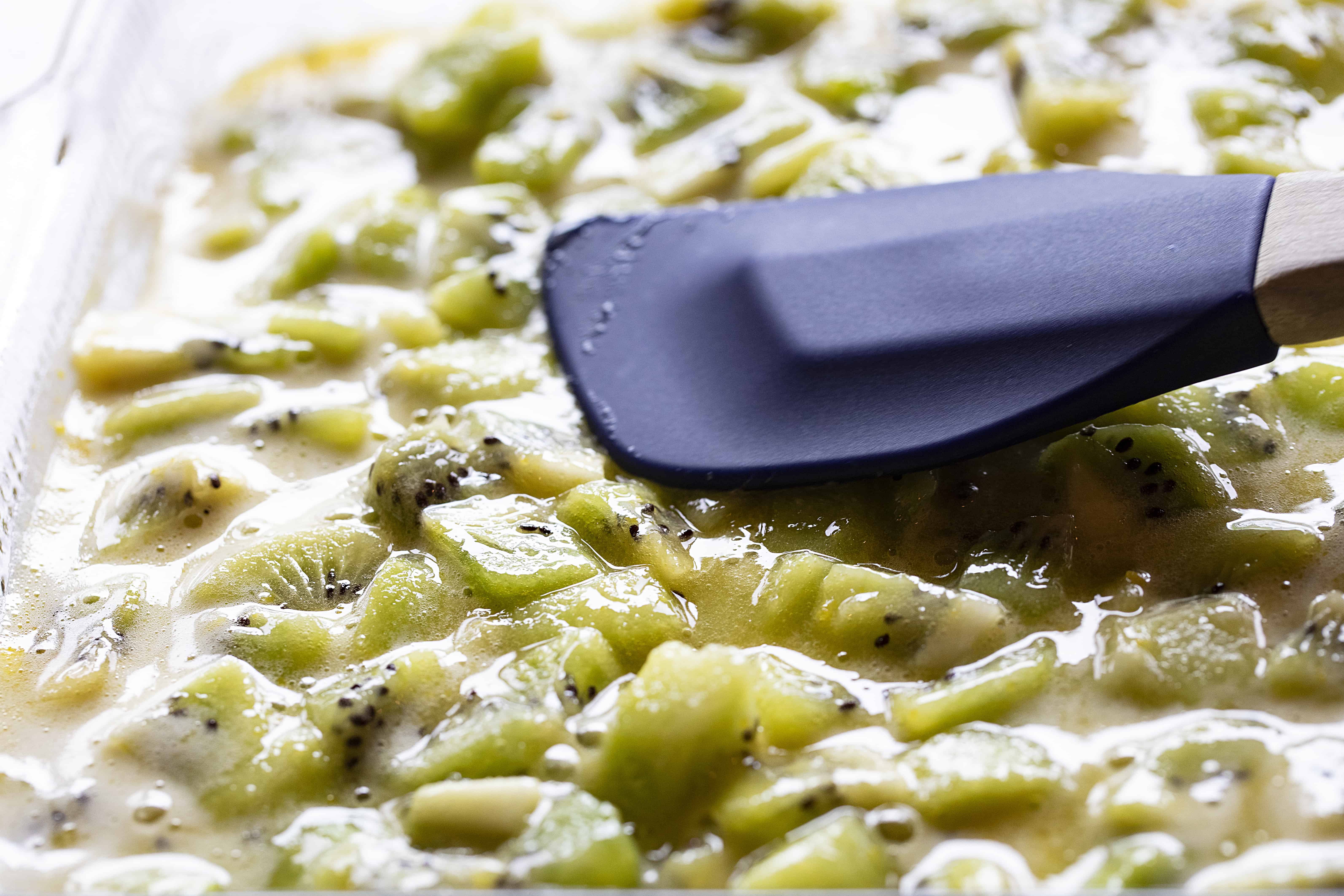 The Kiwi Bar crust should be done baking at this point, so carefully remove it from the oven. Pour the filling onto the hot crust and (using oven mitts) tap the dish on the counter so that it settles a bit. Place the bars back into the oven for 35-40 minutes. When it is done, the center should not jiggle and the kiwi should not be burned. I recommend checking the bars at the 30-minute mark. If they seem like they are getting too dark, (carefully!) place a piece of foil over the bars and continue baking.
Allow the bars to rest on the counter for at least 30 minutes before serving.
If you want to serve the bars warm from the oven, the filling will not be fully set. We prefer these bars warm (and with a little vanilla bean ice cream!) but they were messy.
If you want to refrigerate the bars and serve later, the filling will be fully set and you will get perfectly square pieces when you cut them out.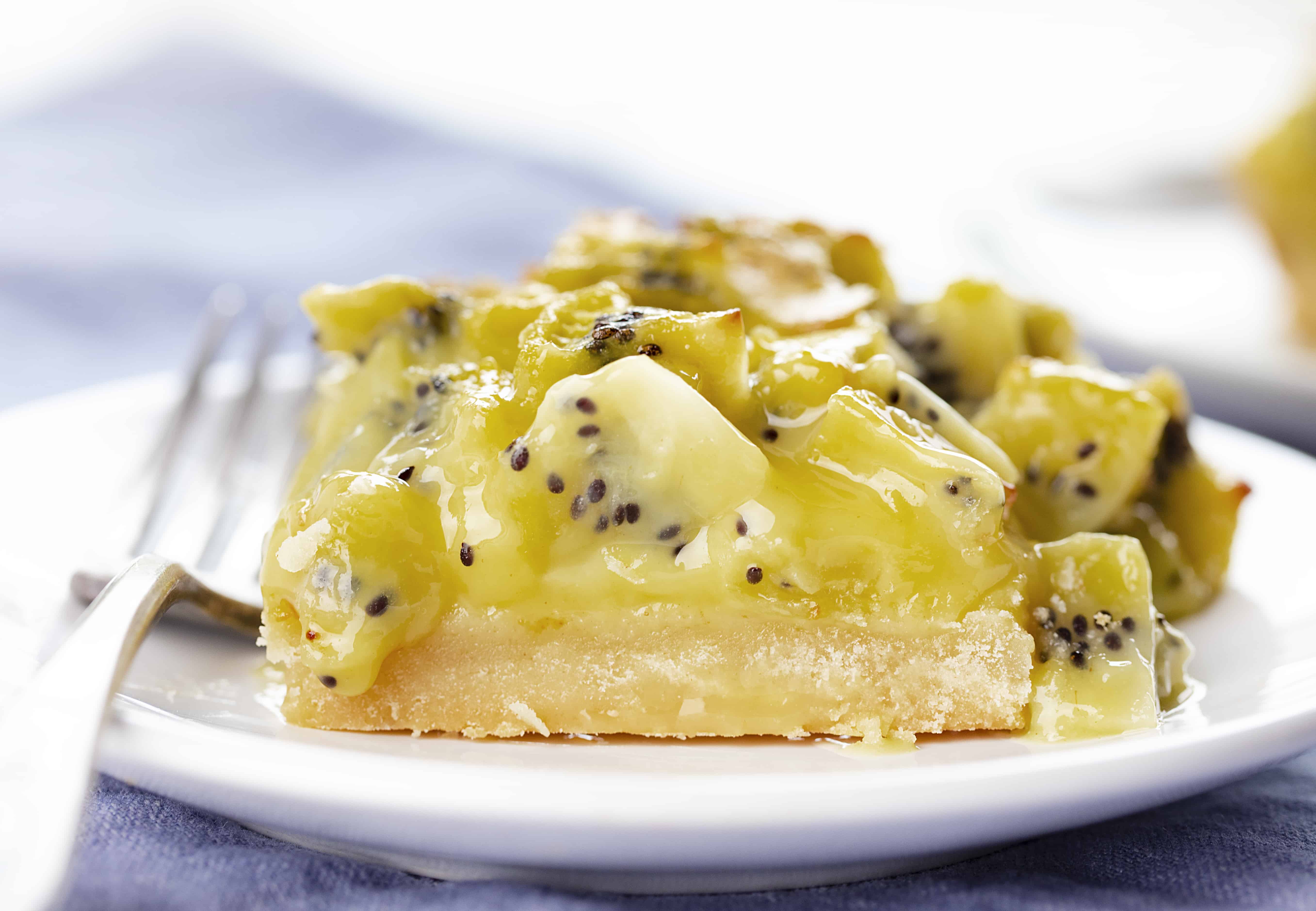 Admittedly, these are not the prettiest if you are going for presentation alone. But they taste seriously amazing and once everyone has had a bite they will be begging you for the recipe!
Variations for Kiwi Bars
(Recipe stays the same except for the fruit)
Strawberry Rhubarb Bars:  1/2 strawberry and 1/2 rhubarb
Kiwi Strawberry Bars:  1/2 strawberry and 1/2 kiwi (One of our favorites!)
Blueberry Bars:  1/2 strawberry and 1/2 blueberries (this is a SWEET combination)
Or, as I mentioned above, you can use this same recipe for all rhubarb, all strawberry, all blueberry, etc. When I made this recipe with blueberries I added a little lemon zest to the crust. There is just something about the blueberry lemon combinations!  Again, not the prettiest, but definitely delicious. 🙂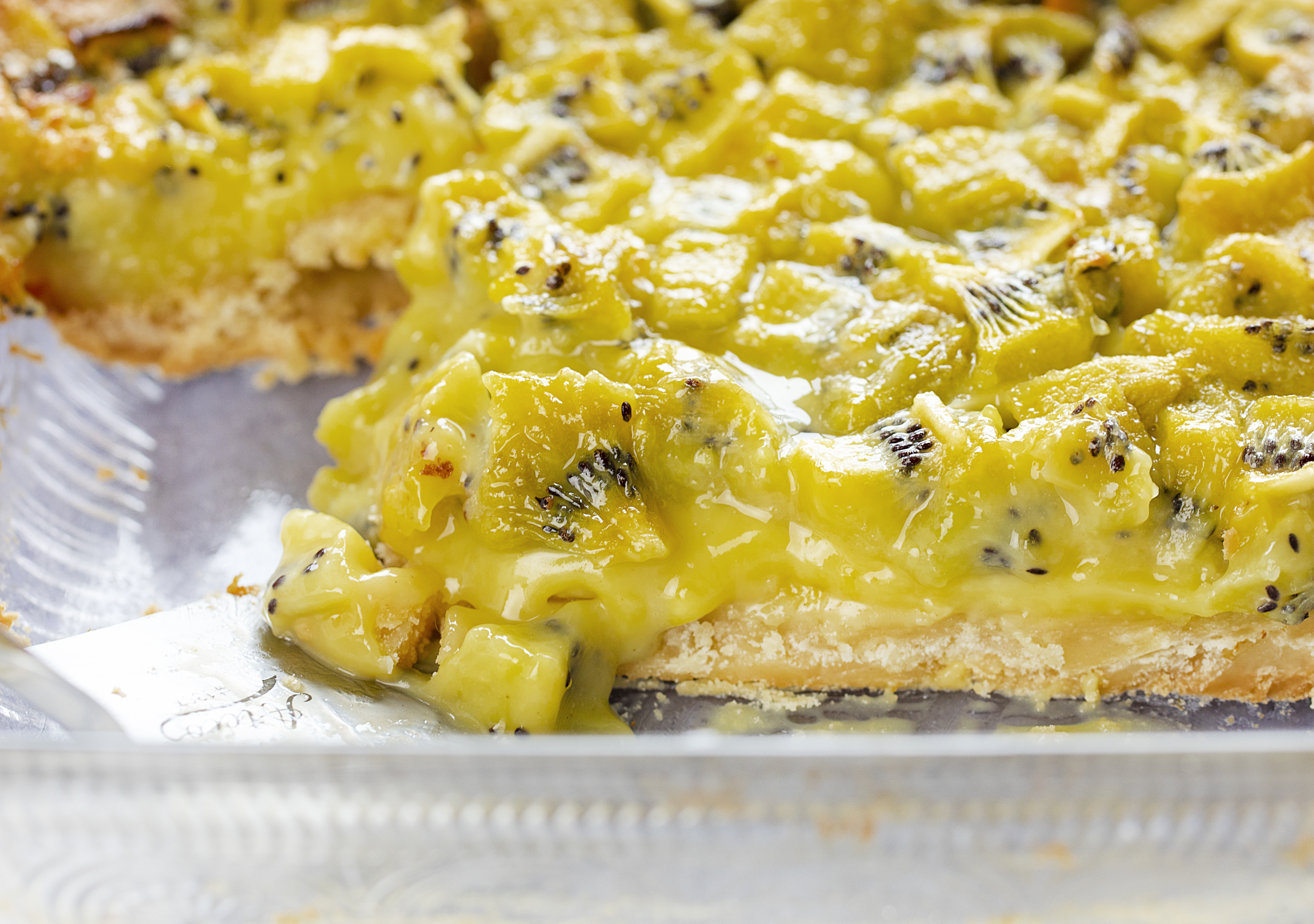 Looking for More Perfect Summer Desserts?
Blueberry Lemon Heaven Dessert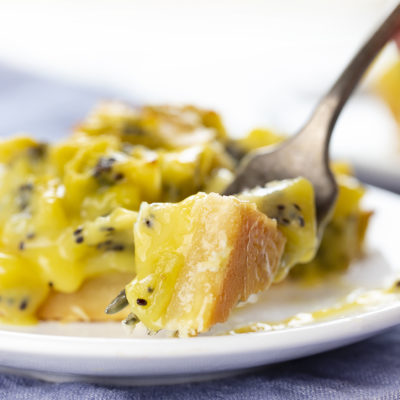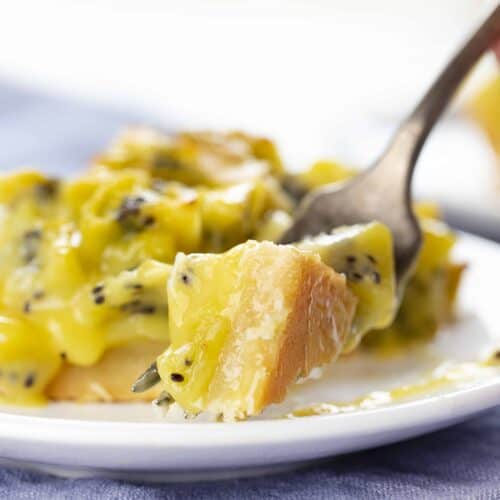 Kiwi Bars
If you happen to love a rich, buttery crust paired with a kiwi filling that will make your eyes roll up in your head, these are the bars for you.
Ingredients
CRUST
1

cup

(125g) all-purpose flour

1/3

cup

(42g) confectioners sugar

1/2

cup

(1 stick or 113g) cold butter,

diced
FILLING
2

large eggs

1 1/4

cup

(250g) granulated sugar

1/4

cup

(31g) all-purpose flour

1/2

tsp

salt

3 1/2

cups

sliced kiwis
Instructions
CRUST
Preheat oven to 350°F.

In a large bowl, blend the flour, confectioners sugar, and butter. You can use a food processor or pastry cutter, but I prefer my hands. You want the butter to be no bigger than a pea size and the ingredients to be well incorporated.

Press into a 8 x 8 pan. Bake for 12-15 minutes. (The edges should just barely start to golden.)
FILLING
In a medium bowl, lightly beat two eggs. Add sugar, flour, and salt and mix until combined.

Gently stir in the sliced kiwis.

Pour mixture over the hot crust. Bake for another 35-40 minutes or until filling is set.

Allow bars to cool at room temperature for at least 30 minutes. You can serve them warm or refrigerate until ready to serve.
Did you make this recipe?
Thank you for making my recipe! You took pictures, right? Well go ahead and post them on Instagram! Be sure to mention me @iambaker and use the hashtag #YouAreBaker.