Shortbread Cookies are traditional Scottish biscuits with a buttery taste that have a soft and crumbly texture. Try my Raspberry Thumbprint Cookies for another cookie with a shortbread-like foundation.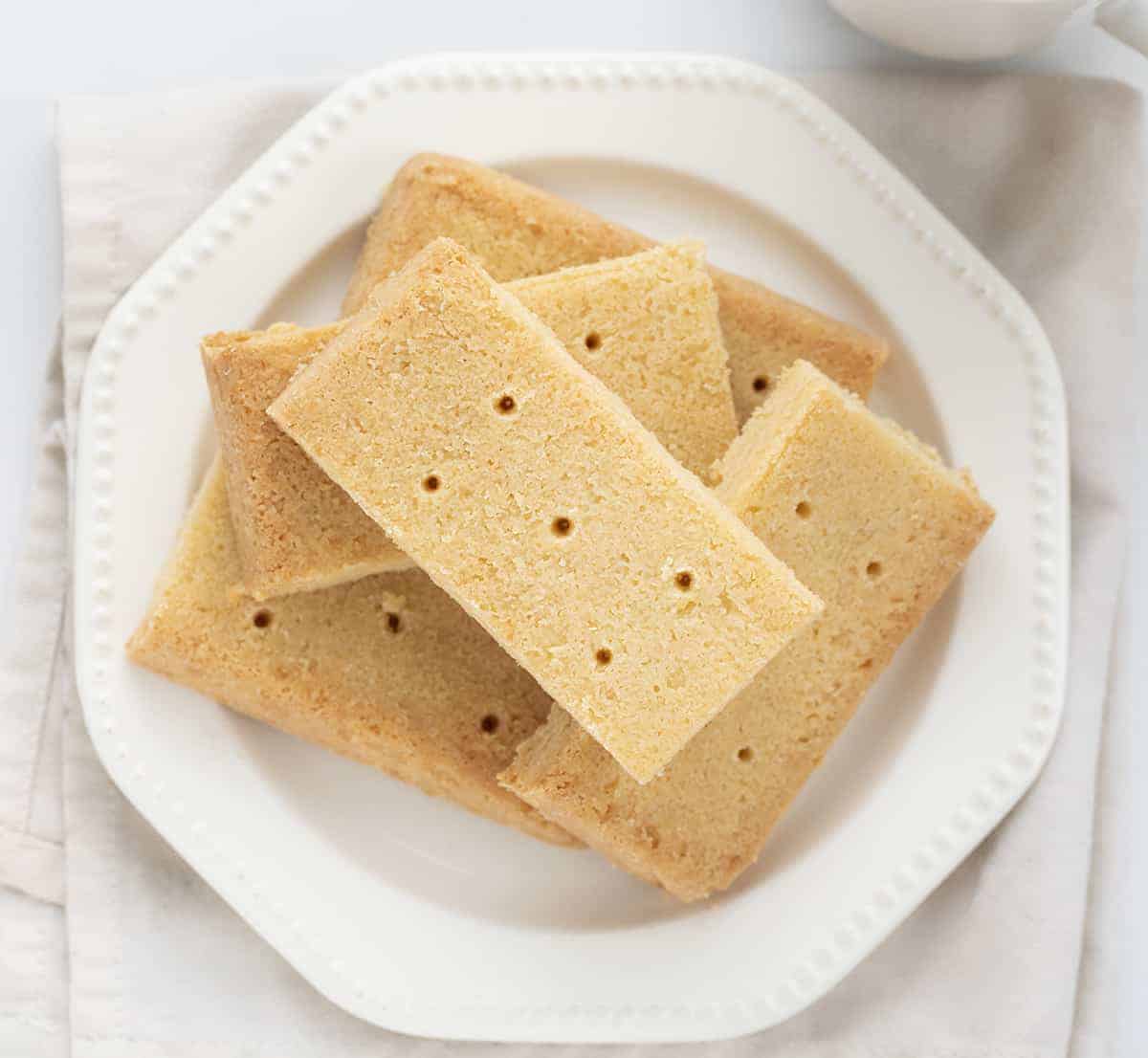 Shortbread Cookies
Shortbread dates many many years to 12th century Scotland. Shortbreads were a delicacy at that time and were reserved for only special events. So what makes a shortbread? Butter. Shortbread actually started out like biscuit bread, but by adding in a large amount of butter the dish became crumbly. Back in the day, the term "short", meant "crumbly" (a high proportion of fat to flour).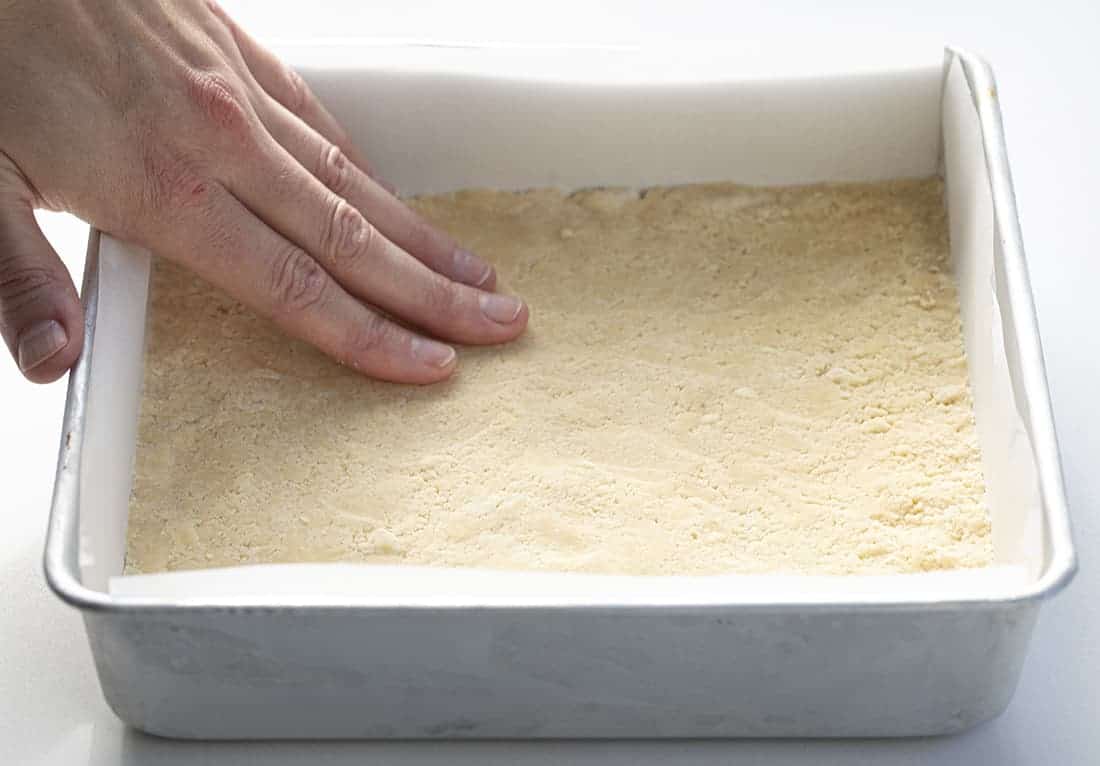 Shortbread Cookies Ingredients
This recipe only has five ingredients, as I tried to stick to a more authentic shortbread cookie (which can turn more into a sugar cookie when you add vanilla, cream, or eggs).
Butter: I prefer using unsalted butter in this recipe. 2 sticks are just the right amount of butter to keep the cookie dough held together, but not too much to cause the cookies to lose shape in the oven. The butter should be cold.
All-purpose flour: Bleached or unbleached all-purpose flour works fine.
Cornstarch: Using 1/4 cup of cornstarch kept the cookies together, but still soft. You could also use 1/4 cup rice flour in place of cornstarch.
Superfine Sugar: Also known as caster sugar, the superfine crystals make a difference in this recipe. If you don't have caster sugar, simply process granulated sugar in a food processor for about 30 seconds. (Granulated sugar causes the cookies to be too coarse and confectioners' sugar will make the cookies too dry.)
Salt: Yes, it's a little amount of salt, but it makes a big difference in flavor, so don't leave it out! I prefer using kosher salt.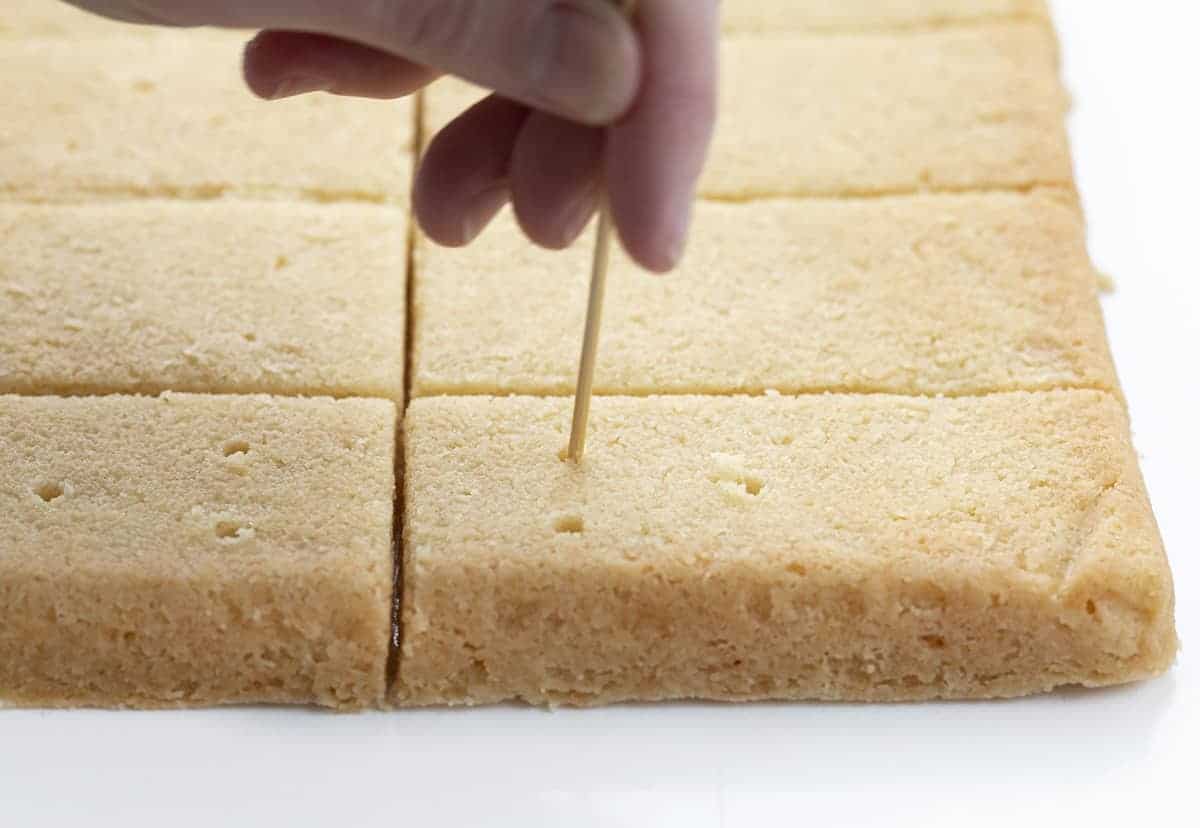 How to Store
Store the cookies in an airtight container at room temperature for up to a week. To freeze the cookies, let them cool completely before freezing them. Separate layers of cookies with freezer paper or wax paper so they don't stick together. Freeze for up to 3 months, making sure to label and date the freezer-safe container.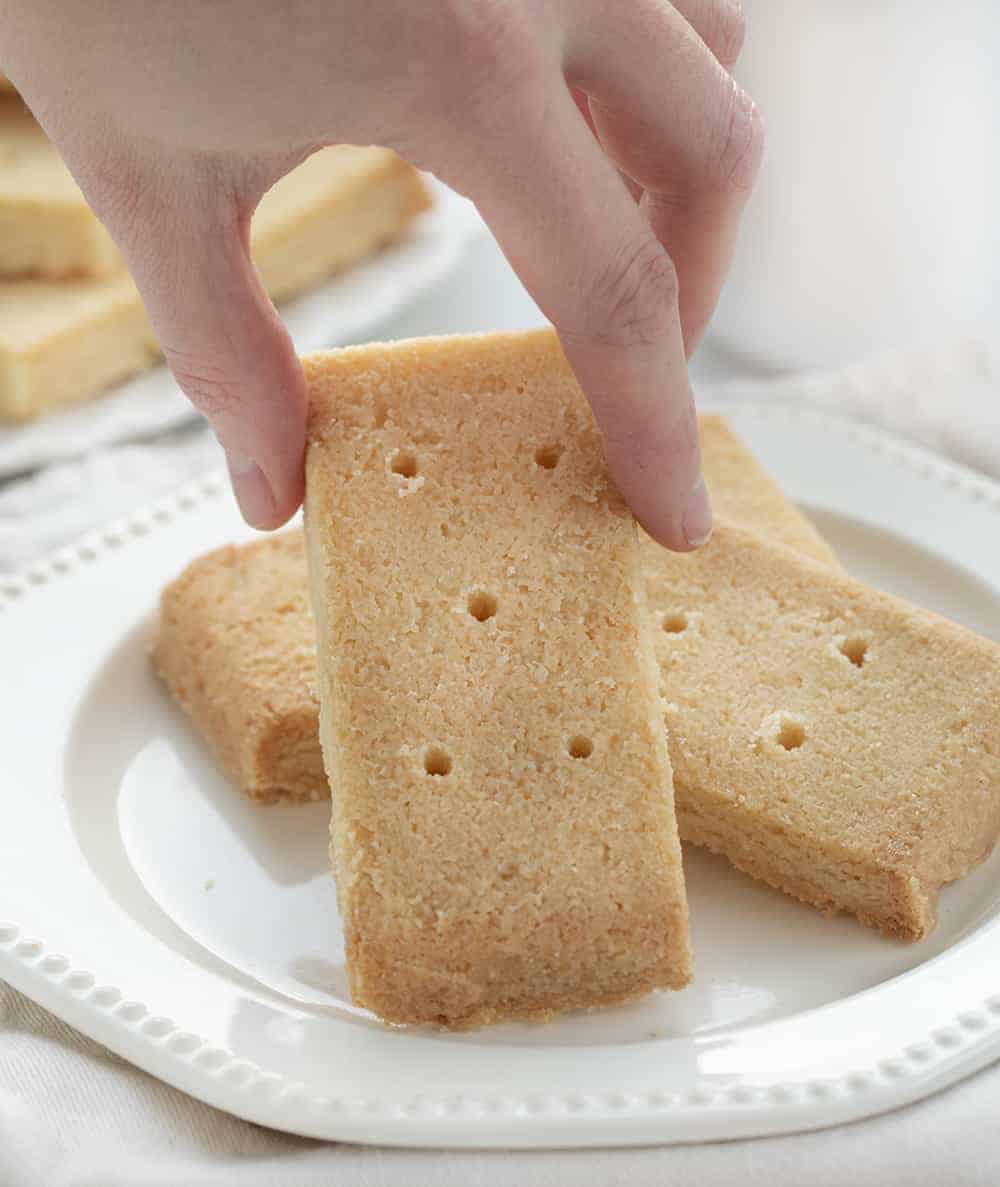 Best Way to Use Shortbread Cookies
Pie crust, of course!! I use it in my Caramel Pie, Lemon Cream Cheese Pie, even my Peaches & Cream Pie! It also works well as a complement to desserts, like in my Strawberry Shortcake Cups.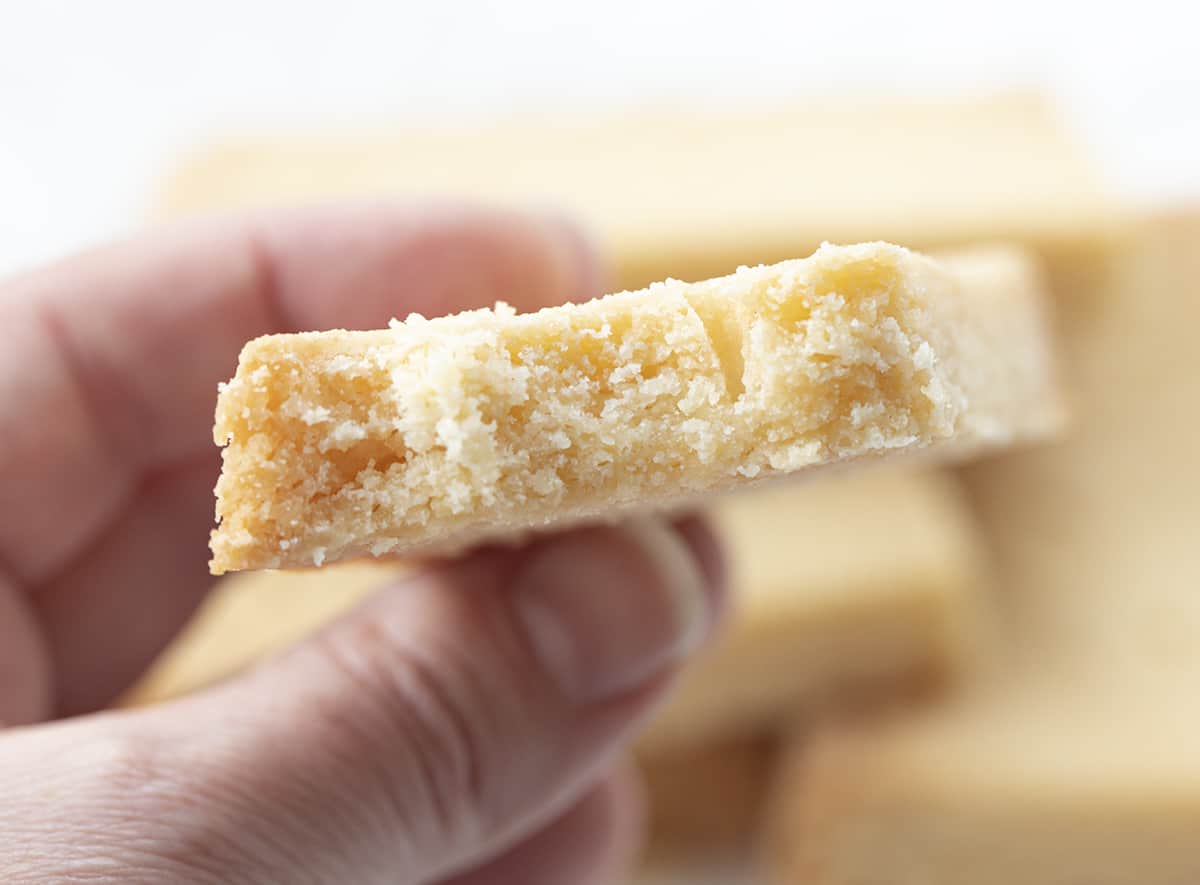 Shortbread Pie Crust Recipe
2 cups crushed shortbread cookies
1/2 cup (1 stick or 113g) butter, melted
1/4 cup granulated sugar 
Mix all shortbread crumbs, butter, and sugar in a medium bowl. After it is well combined, press into the bottom and barely up sides of an 8-inch pie plate. (Can use a 9-inch, the crust will be thinner) Set aside.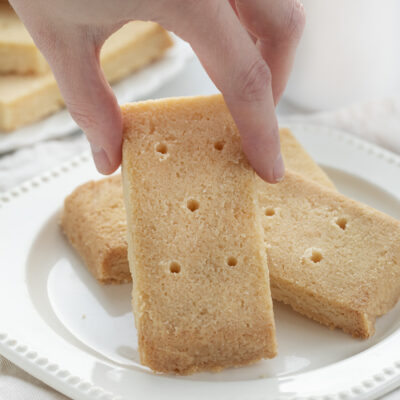 Shortbread Cookies
Shortbread Cookies are traditional Scottish biscuits with a buttery taste that have a soft and crumbly texture.
Ingredients
1

cup

(2 sticks / 227g) unsalted butter,

cold

1 ¾

cup

(219 g) all-purpose flour

¼

cup

(32 g) cornstarch

⅔

cup

(150 g) superfine sugar,

or caster sugar

¼

teaspoon

kosher salt
Instructions
Preheat oven to 350°F. Line an 8×8-inch baking dish with parchment paper.

In the bowl of a stand mixer with a paddle attachment, mix the flour, cornstarch, sugar, and salt at low speed until combined (about 5 seconds).

Cut the cold butter into ½-inch cubes. Place the butter cubes in a small bowl and toss with ¼ cup of the flour mixture.

Add the floured butter (with any extra flour) to the bowl of the stand mixer. Mix on low speed until the dough is light yellow in color and small crumbs (about 4 minutes).

Remove bowl from stand mixer and use your hands to toss the mixture and rub any remaining butter bits into the flour mixture.

Press the shortbread mixture firmly and evenly into the lined pan, smoothing it with the back of a spoon.

Bake 35-40 minutes, or until the top and edges are lightly golden brown.

Remove from the oven and let cool for about 5 minutes. (Leave the oven on for additional baking.)

After cooling, press a piece of parchment paper onto the shortbread and cover it, gently holding it down with the palm of your hand. Invert the shortbread upside down onto your hand and carefully lift the pan off. Lay the shortbread flat on the countertop or cutting board.

With a knife, slice the shortbread in half. Then, slice into fourths the other direction (giving you 8 rectangular cookies). Pierce a few holes on the top of each section with a toothpick, wooden skewer, or fork.

Put the shortbread (still on parchment paper) onto a baking sheet and bake an additional 8 minutes to firm up. Remove from oven and let cool before serving.
Did you make this recipe?
Thank you for making my recipe! You took pictures, right? Well go ahead and post them on Instagram! Be sure to mention me @iambaker and use the hashtag #YouAreBaker.