This is a fun and easy way to surprise anyone you love… there is even a secret message in the design! These Love Monster Cupcakes are the perfect way to treat the people you love with a sweet treat with a special meaning.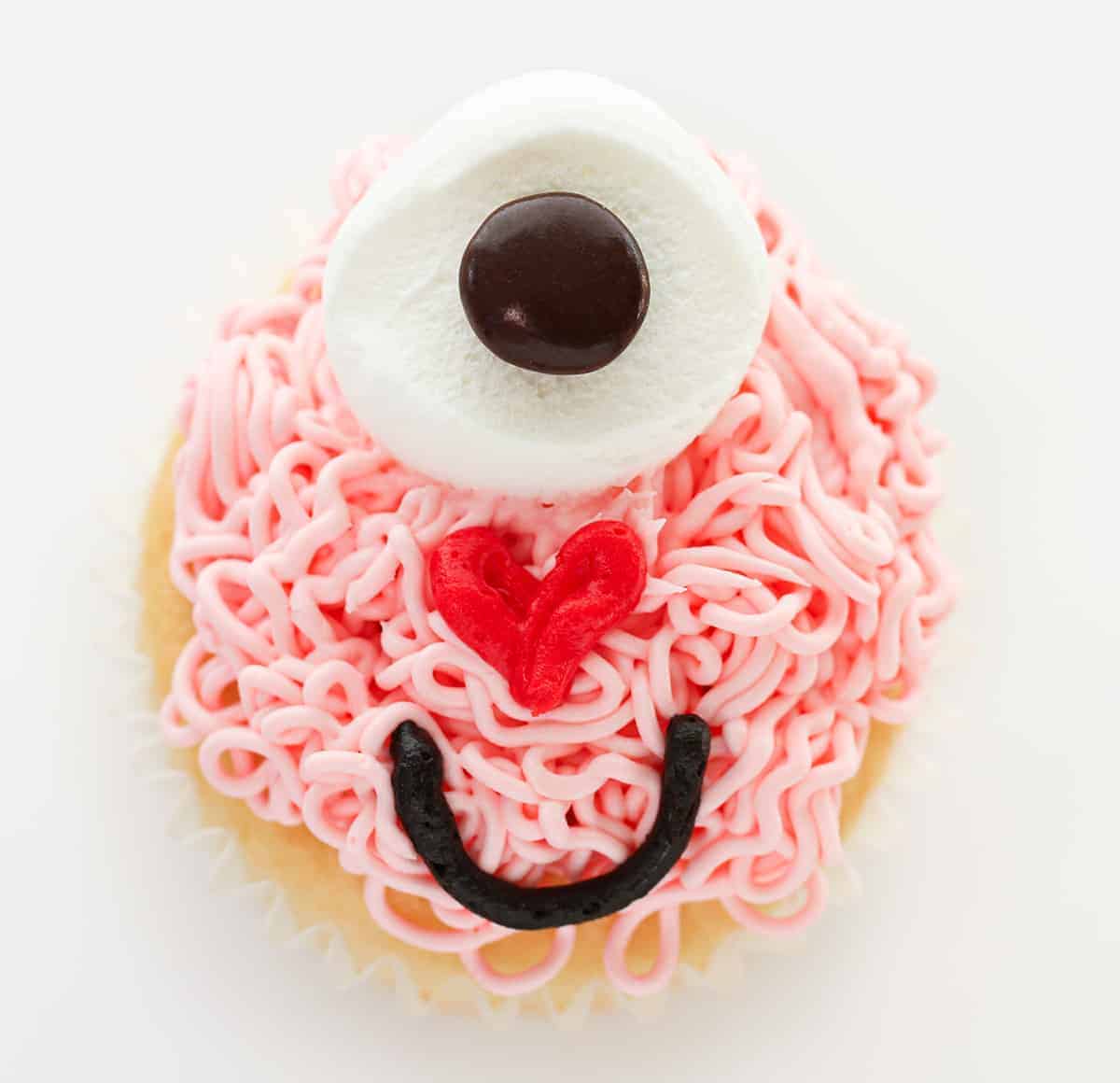 Love Monster Cupcake – Valentines Day Cupcake
I wanted to create a SIMPLE cupcake that my family & friends would enjoy but that also allowed me to tell them exactly how I feel!
To Make These You Will Need:
Pastry Bags with Grass Tip & #4 tips
Large Marshmallows
Scissors
M&M's (I used brown, you can use any color)
Here is a video on how I made them:
How to Make Love Monster Cupcake
I made up a batch of buttercream. I added 10 drops of red food coloring to create a nice soft pink. I then removed 3/4 of the frosting and put it into pastry bags.
I halved the remaining frosting and tinted one-half red (20 more drops McCormick red food coloring) and the remaining black. (20 drops McCormick black food coloring) All frosting was placed in pastry bags.
I used a grass tip to create the messy "monster" hair. To do that just drop a grass tip into a pastry bag. Cut off the tip of the bag with pink frosting then drop that pink frosting bag INTO the bag with a grass tip. (I prefer this method for an easier cleanup and for switching out bags when my frosting runs out.)
The red and black frosting have a #4 tip. You can also use a #3 or #5.
Holding the bag of pink frosting directly over the cupcake, just apply pressure to the bag. The frosting will come out and spill in piles around the cupcake. Move in a circle around and end in the middle, or the spot you will be covering with your marshmallow.
Once you have piped out all the pink frosting, cut a marshmallow in half and put the CUT side up.
Grab your red frosting and pipe out a nose in the shape of a heart.
Pick up the black frosting and slowly pipe a wide smile, making sure it looks like a U.
Grab a brown M&M (I also used green and blue) and place it on the marshmallow. It will stick if you put the cut side of the marshmallow facing up. If you do not have M&M's you can also pipe out the eye with your black frosting.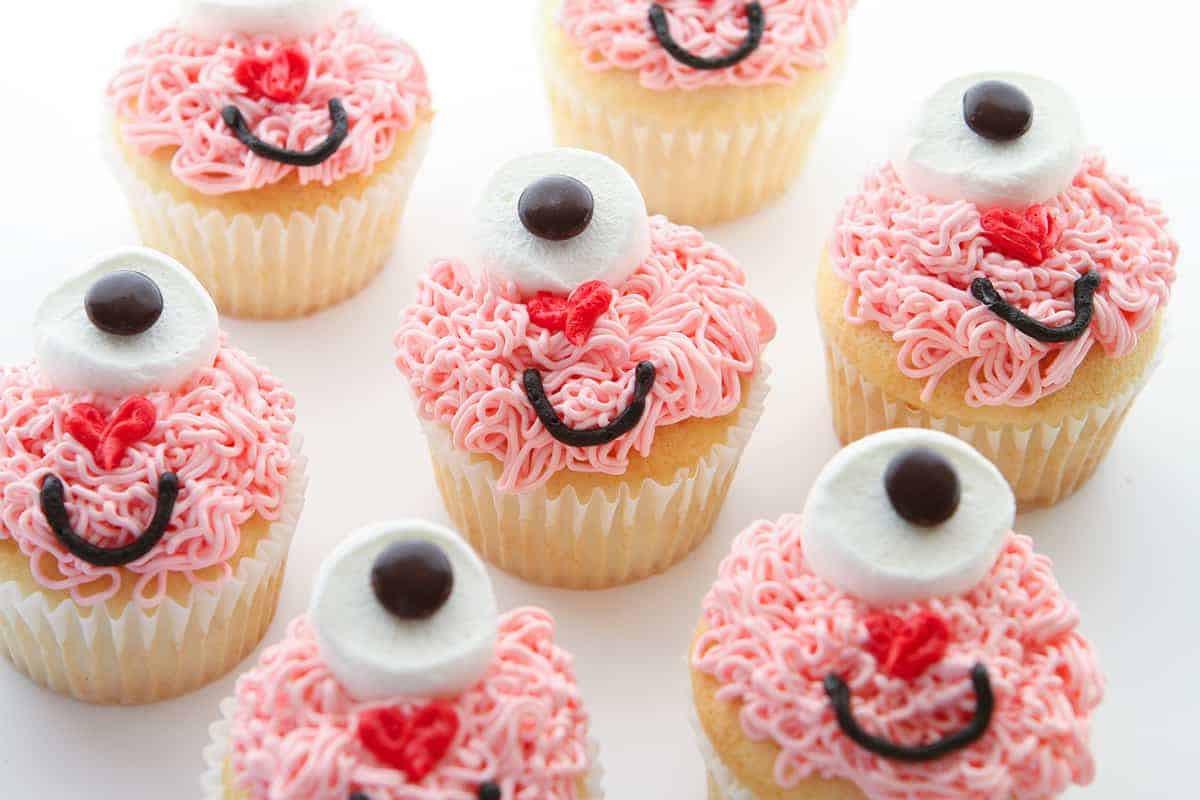 So… did you see the hidden message yet?? "EYE heart U". Or, I LOVE YOU!!!
How fun is that?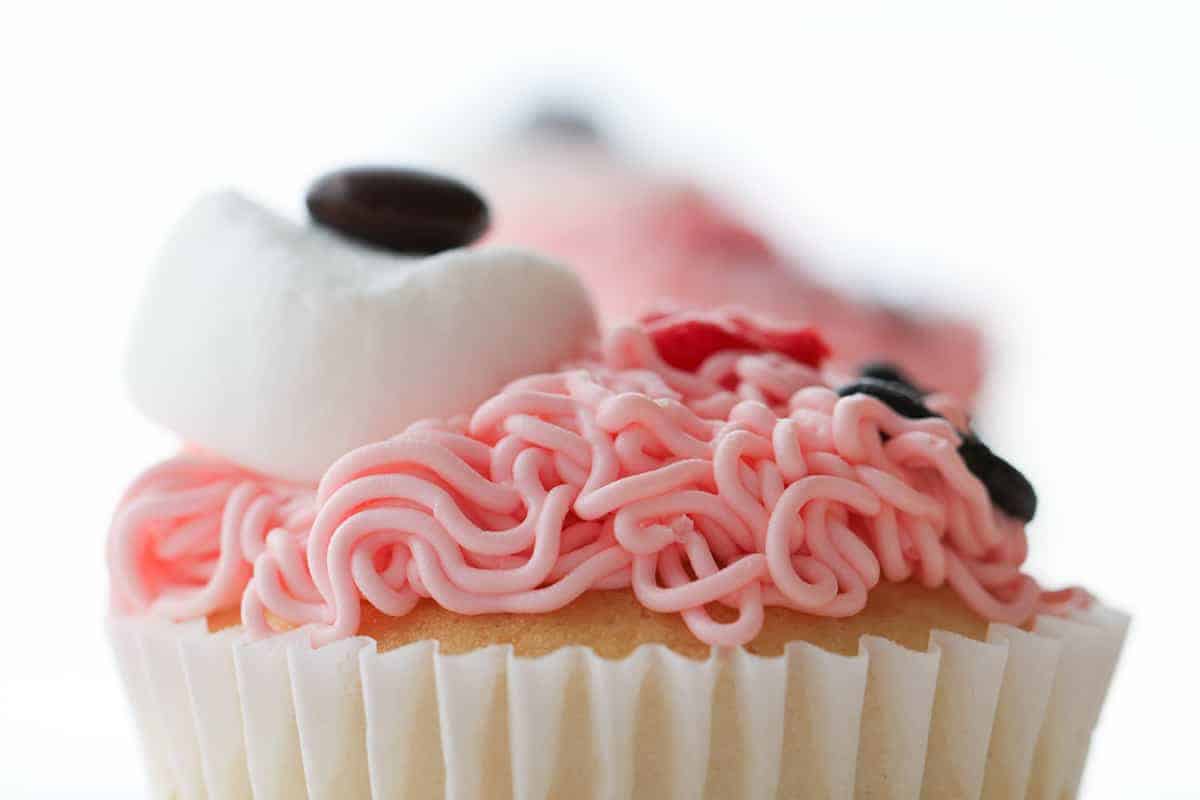 How Much Frosting is it Really?
Every time I make a cupcake with the grass tip, people comment… "YUCK! Way too much frosting!" I just want you to see how little frosting is actually on this cupcake. Much less than 90% of the cupcakes I make!
Hope your little ones enjoy it as much as my kids do!