Marshmallow Dream Cookies are a delectable treat that starts with soft chocolate cookies topped with marshmallow buttercream and a drizzle of melted semi-sweet chocolate. It's a chocolate lover's dream with the perfect combination of rich cookies, fluffy marshmallow frosting, and a glossy chocolate topping. It's like a Hostess chocolate cupcake in a cookie, perfect as a special treat for any occasion! You may also want to try my Chocolate Marshmallow Cookies, too!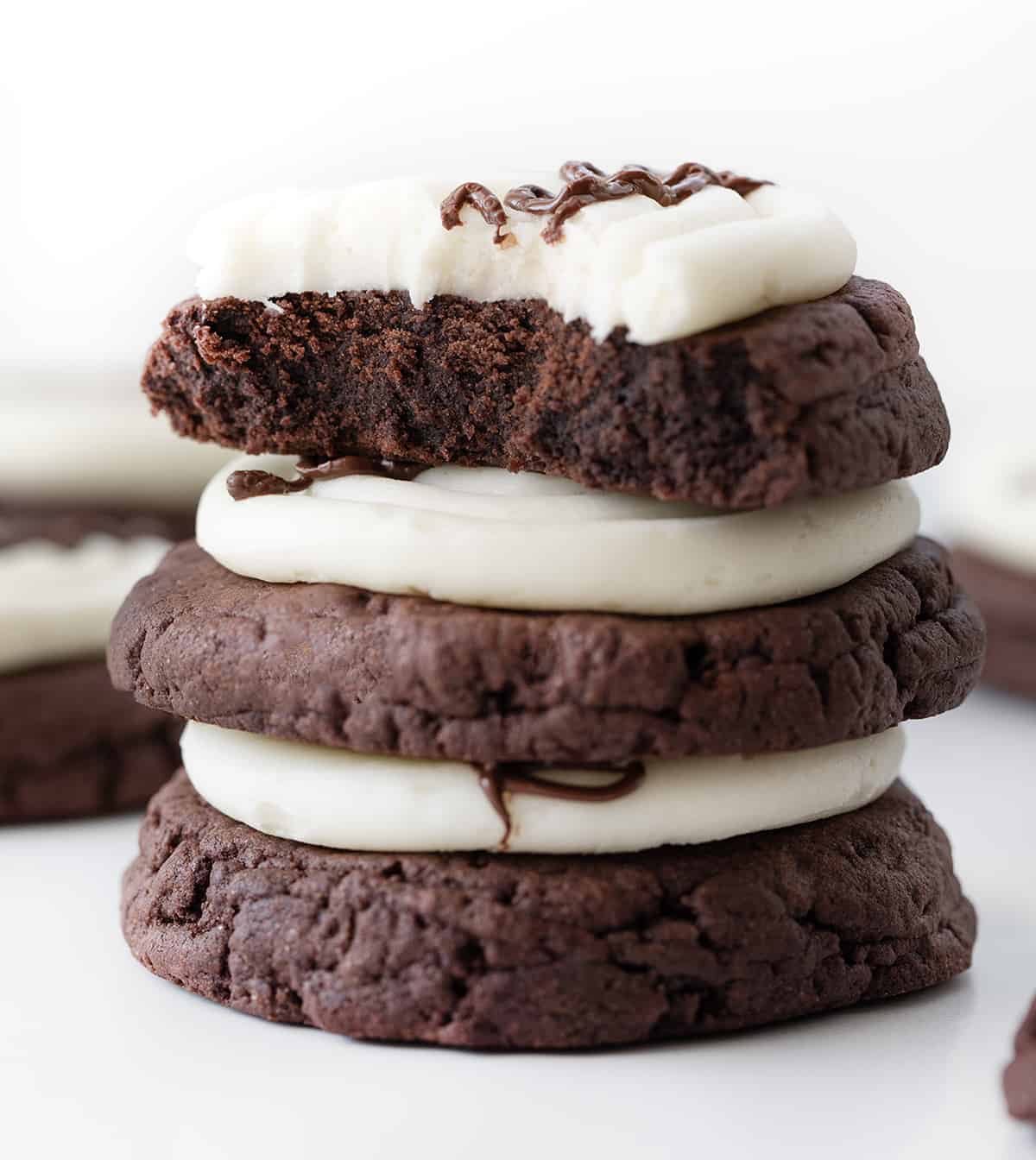 Ingredients & Substitutions
Room Temperature Ingredients: To achieve the best results when baking these cookies, it's recommended to use room temperature ingredients, including butter, shortening, and eggs. The room temperature for butter is around 65°F. You can attain this by cutting it into small pieces and allowing it to sit out at room temperature.
Shortening: Shortening (hydrogenated vegetable oil) is any fat or oil that is solid at room temperature. If you have heard of or seen a big can of Crisco, that is shortening. It can be stored at room temperature and has a long shelf life. Because shortening is all fat, it is hard to make substitutions. If you do have to substitute for shortening, your best bet is lard because it is also 100% fat. When using lard in place of shortening, use 2 tablespoons less of lard for every one cup of shortening. If using butter, the texture and flavor of the cookies may be different.
Cocoa Powder: Look for Dutch-processed cocoa powder. It is less acidic and will give the cookies a darker color. It also will result in a less bitter flavor. You can use regular unsweetened cocoa powder, but it may affect the flavor and appearance of the cookies. One cup of cocoa powder was used in place of a cup of all-purpose flour from my Frosted Cookies and Cream Milkshake Cookies. This resulted in the chocolate cookie base!
Marshmallow Buttercream: I tweaked my marshmallow buttercream recipe by using less of the ingredients and vanilla extract (instead of almond extract). If you need marshmallow fluff (creme), I have a wonderful recipe that will work well when making the buttercream!
Chocolate: I melted semi-sweet chocolate chips to drizzle over the marshmallow buttercream. You could use milk chocolate if preferred. Or, try dark chocolate for a richer, more intense chocolate flavor.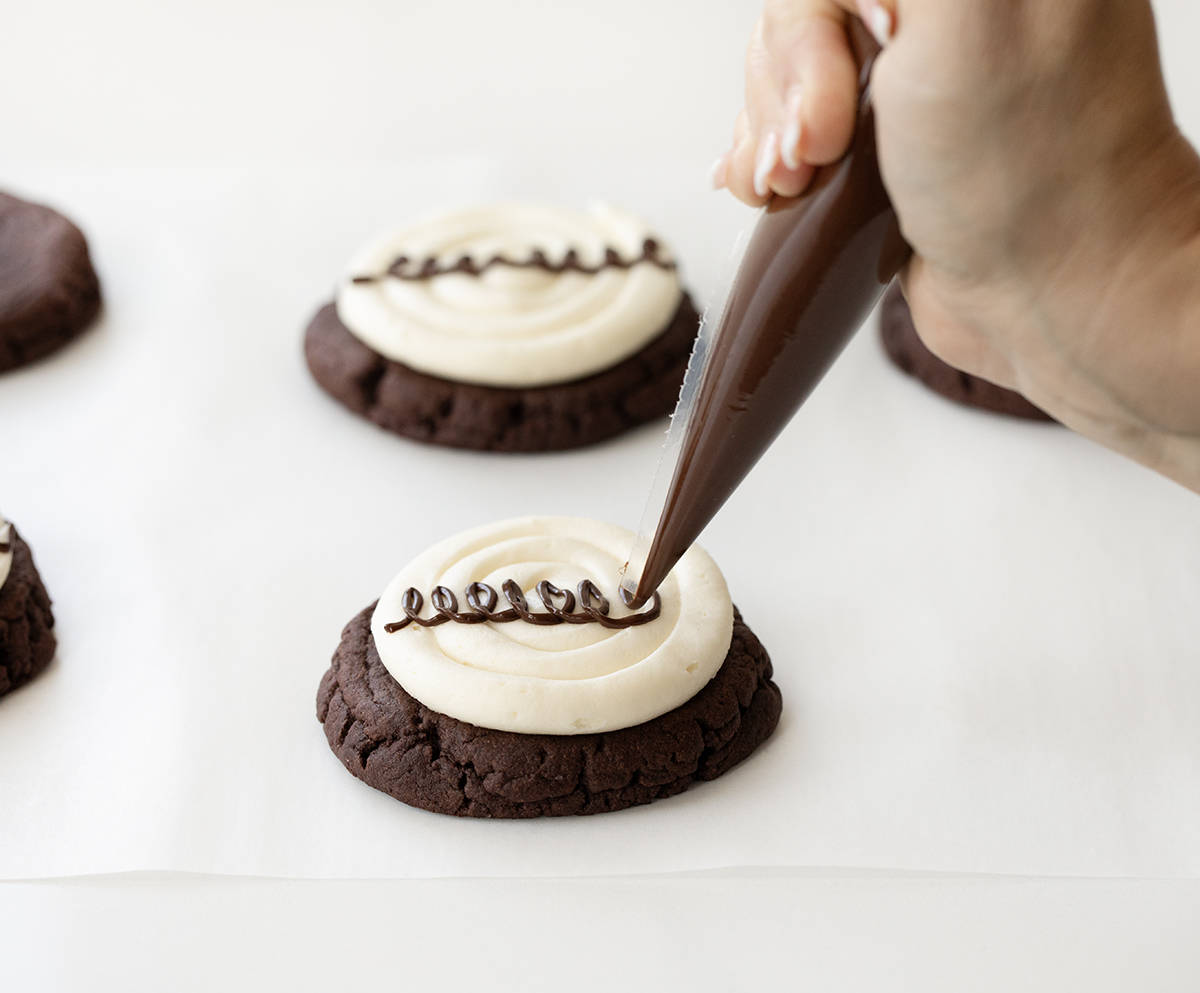 Make Ahead Marshmallow Dream Cookies
You can get a head start on these cookies in a couple of ways. One way is to mix the cookie dough together. Once the dough has been prepared, wrap it in plastic wrap or aluminum foil. Store the dough in the refrigerator for up to 2-3 days. When ready to make the cookies, let the dough sit out at room temperature for 10-15 minutes to soften it. Then, form the cookies and bake! The marshmallow buttercream can also be made in advance and stored in the refrigerator for up to a week!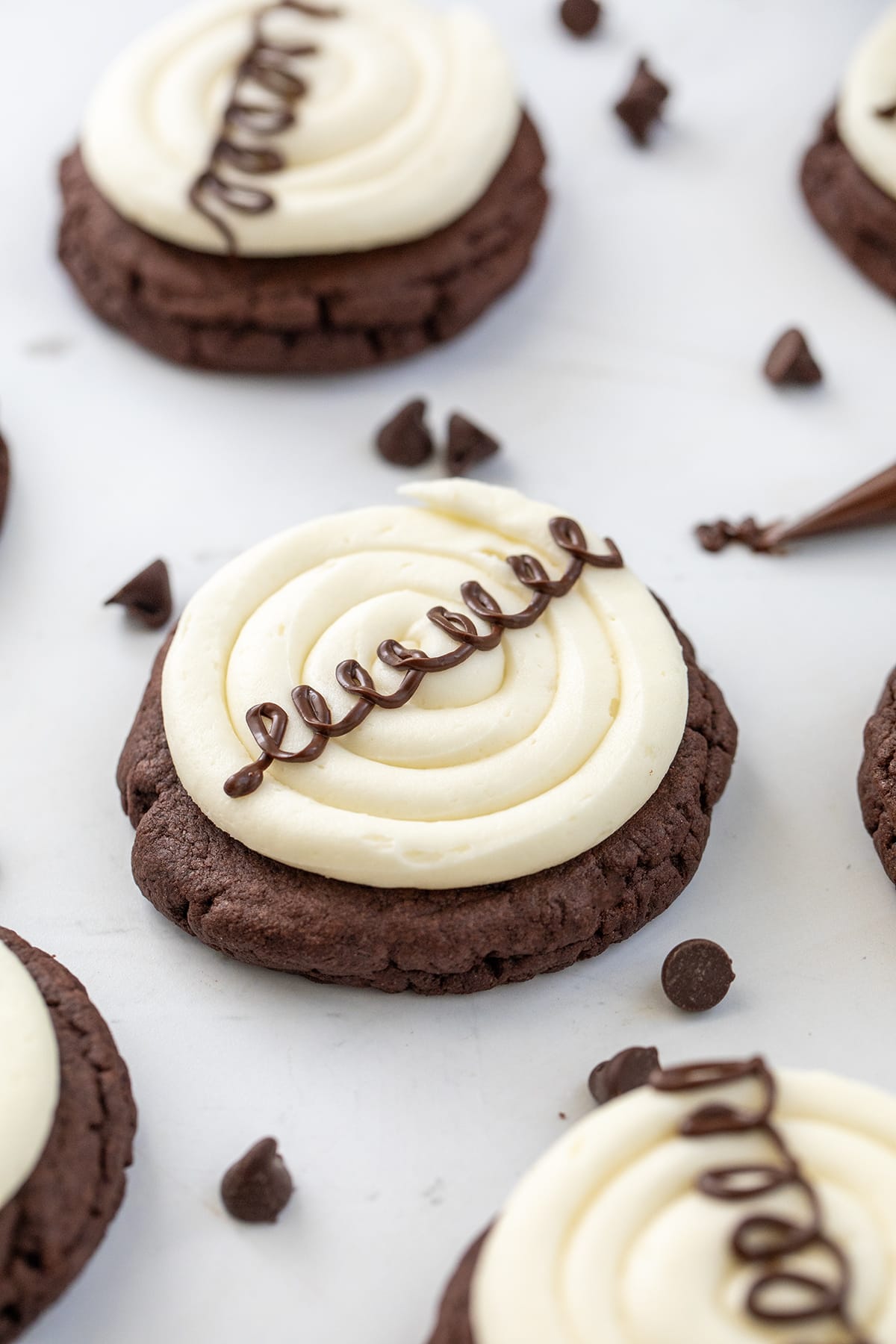 Can I Make Smaller Cookies?
Sure! These cookies are quite large, so you can certainly make them smaller. Use a smaller scoop or portion out less dough. When baking, watch the cookies carefully as baking times may need to be adjusted.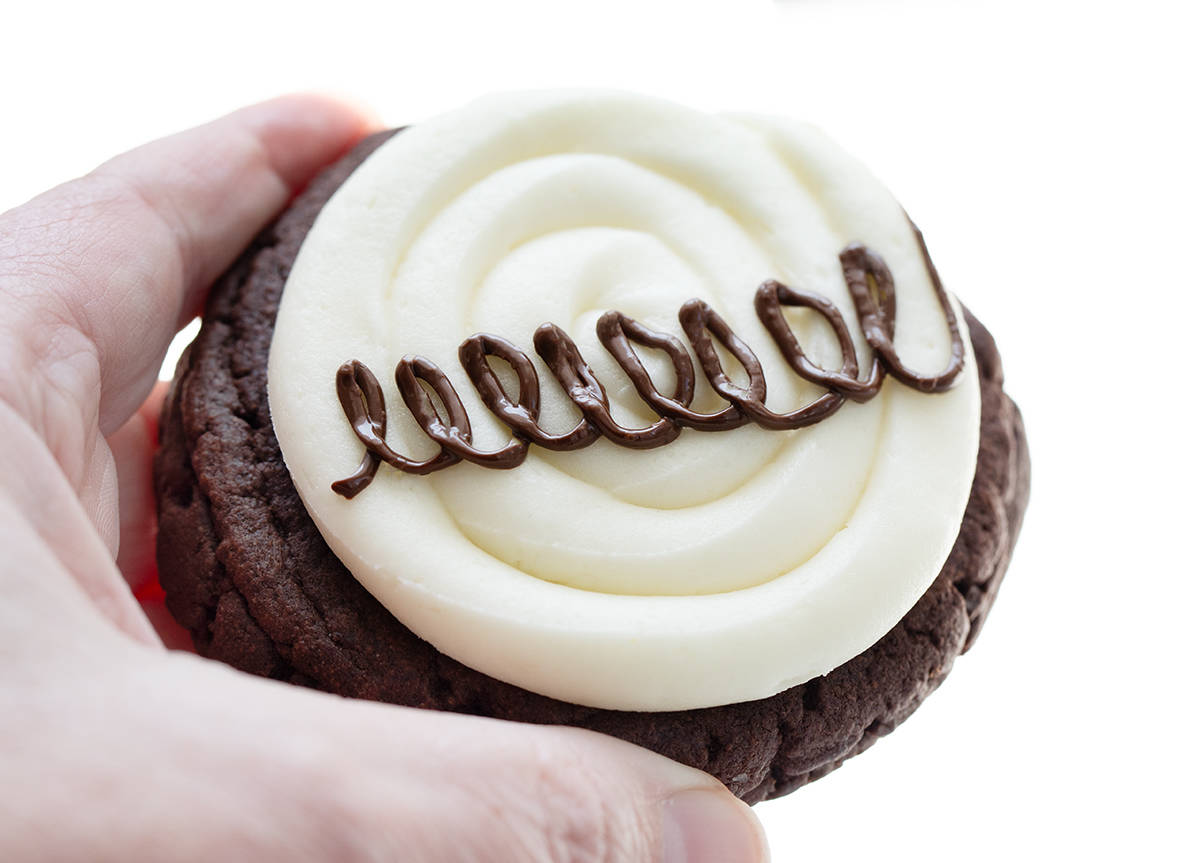 How To Store Marshmallow Dream Cookies
Room Temperature: Once frosted, marshmallow dream cookies should be stored in an airtight container at room temperature. They will last up to 2-3 days.
To Refrigerate: To store the cookies for longer than a couple of days, keep them in the refrigerator for up to a week.
To Freeze: Freeze the cookies with or without the frosting. First, let them cool completely. Then, freeze them in a freezer-safe container. If you prefer to freeze them with the frosting, place the cookies on a baking sheet, in the freezer until the cookies are frozen. Then, wrap the cookies in plastic wrap to store in the freezer for up to 2 months.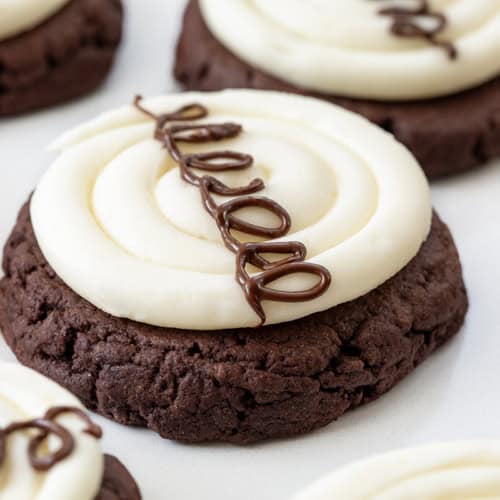 Marshmallow Dream Cookies
Marshmallow Dream Cookies are a delectable treat that starts with soft chocolate cookies topped with marshmallow buttercream and a drizzle of melted chocolate. It's like a Hostess chocolate cupcake in a cookie, perfect as a special treat for any occasion!
Ingredients
Chocolate Cookies
½

cup

(1 stick / 113 g) unsalted butter,

softened

½

cup

(102.5 g) shortening

1

cup

(200 g) granulated sugar

2

large

eggs,

room temperature

1

teaspoon

vanilla extract

2

cups

(250 g) all-purpose flour

1

cup

(118 g) Dutch-processed cocoa powder

2

tablespoons

cornstarch

1

teaspoon

kosher salt

½

teaspoon

baking powder
Chocolate Topping
½

cup

(91 g) semi-sweet chocolate chips,

melted
Instructions
Cookies
Preheat the oven to 325°F. Line a baking sheet with parchment paper and set aside.

In the bowl of a stand mixer with the paddle attachment, combine the butter, shortening, sugar, eggs, and vanilla. (You can also use a handheld mixer.)

Add the flour, cocoa powder, cornstarch, salt, and baking powder to the butter mixture. Mix until all ingredients are fully incorporated.

Using a ¼ cup (or 2 scoops of dough with a 2 tablespoon scoop), drop portions of dough onto the lined cookie sheet, about 2 inches apart. (If using two 2-tablespoon scoops, combine the scoops of dough into one large cookie.)

Use the bottom of a glass to gently flatten each ball of dough to ¼ to ½-inch thickness.

Bake for 12 minutes for a softer cookie, and up to 14 minutes for a firmer cookie.

Once baked, remove the cookies from the oven and allow them to cool on a wire rack while you prepare the toppings.
Marshmallow Buttercream
In the bowl of a stand mixer with the paddle attachment, cream the butter at medium speed until light and fluffy, about 2 minutes.

Add the vanilla extract and salt to the butter mixture.

Gradually mix in the confectioners' sugar, about ½ cup at a time. After all the sugar has been added, increase the speed to high for 2-3 minutes.

Remove the bowl from the stand mixer. Gently fold the marshmallow creme into the frosting by hand. The frosting can be used immediately or refrigerated until ready to use. This will make about 1 ½ cups buttercream.

When ready to use, add buttercream to a piping bag with a round tip. Pipe about 2 tablespoons onto the tops of each cookie in a circular pattern.
Chocolate Topping
To a medium microwave-safe bowl, add chocolate chips. Melt in 30-second intervals, stirring in between until smooth.

Drizzle melted chocolate in a swirling pattern on top of the marshmallow buttercream. Enjoy!
Did you make this recipe?
Thank you for making my recipe! You took pictures, right? Well go ahead and post them on Instagram! Be sure to mention me @iambaker and use the hashtag #YouAreBaker.
What the Test Kitchen had to say about this recipe: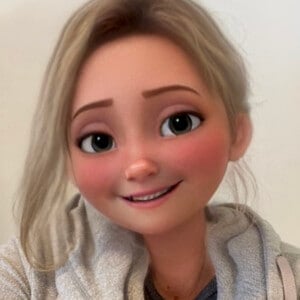 Autumn
This is an impressive and delicious cookie that really isn't difficult to make. A thick and cakey chocolate cookie on the bottom is rounded out by a sweet marshmallow buttercream. It looks as good as it tastes!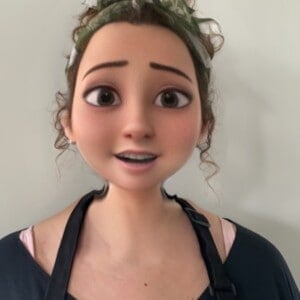 Rachael
Cakey cookie with marshmallow frosting and a chocolate swirl. Can't go wrong! This is a nice twist on a cookie version of a cupcake!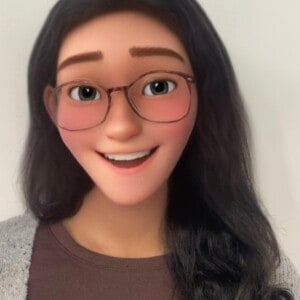 Bella
Chocolate and marshmallows! A great combination. This cookie is cakey and rich. Though, the marshmallow buttercream adds a lightness to the recipe. So good.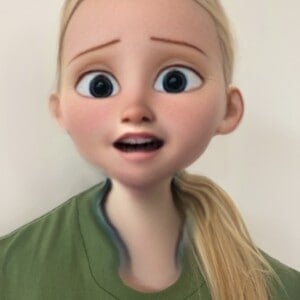 Annabelle
If you like cake-like cookies, you'll love this! It's sweet and fudgy, and the marshmallow buttercream is so good!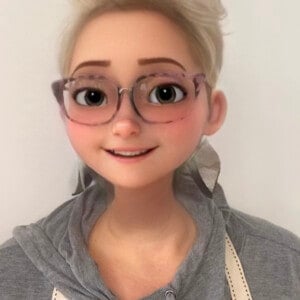 Selena
I loved the nod to a purchased cupcake! Super yummy rich cookie with a light marshmallow frosting was delightful!