Keep the summer vibe going with this Mojito Sangria. This crisp drink is the perfect party drink, but it is also a refreshing drink to have on hand for a relaxing evening on the deck or patio. Try my Summer Sangria or Frosted Lemonade for other thirst-quenching, don't want summer to end, drinks!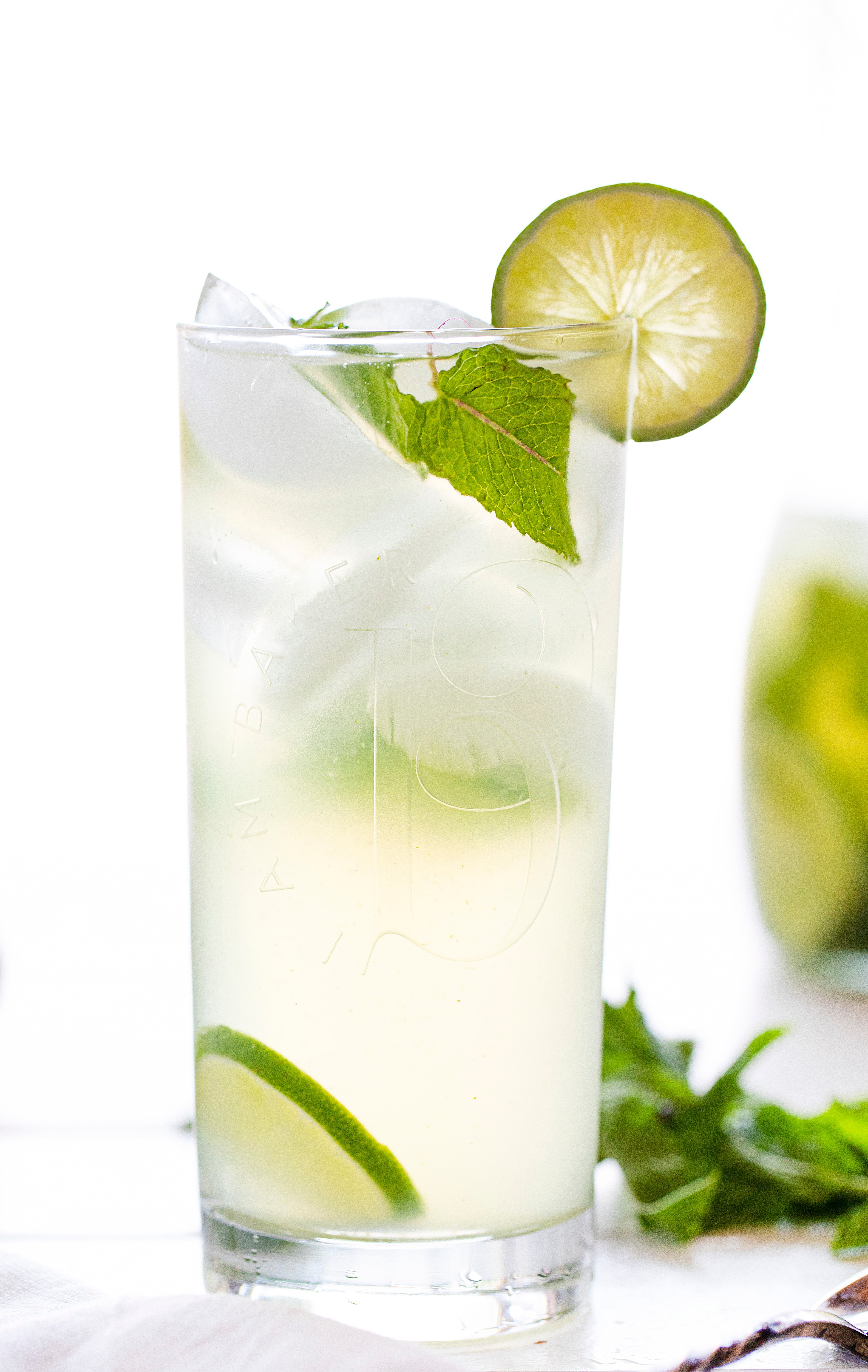 Mojito Sangria
There is nothing like a refreshing drink to offer guests at your next party or to enjoy after a long day. I picture myself sipping this lovely Mojito Sangria as the sun goes down, reflecting on a beautiful day. Since mint is known to be such a calming herb, it is no wonder a Mojito Sangria is a wonderful way to wind down or relax.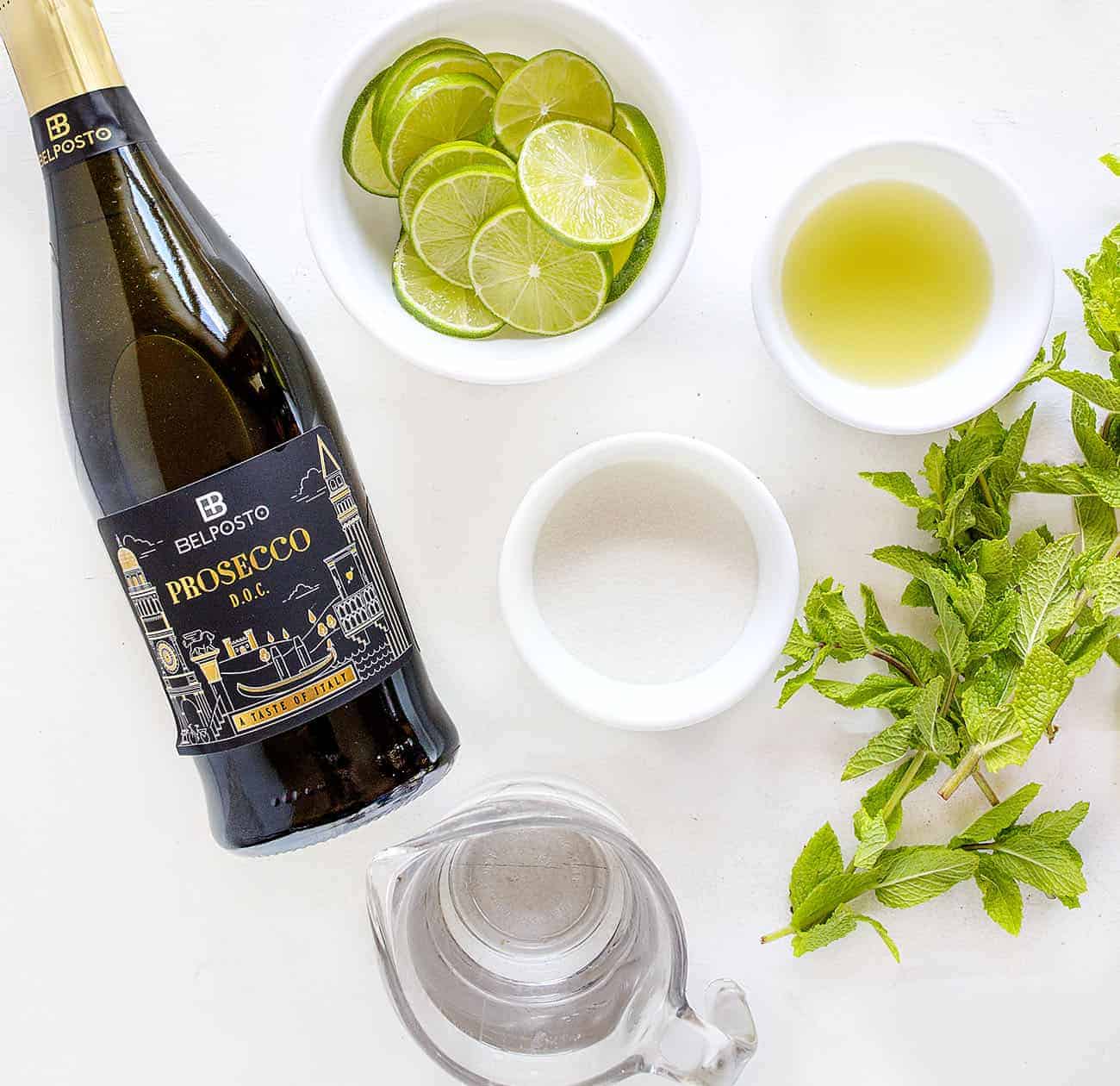 Mojito Sangria Recipe
The traditional Mojito recipe has five ingredients, and it is one of the most popular rum-based highball recipes. By simply adding Prosecco to the mix, you now have a Mojito Sangria! I know the traditional Sangria is made with red wine, but the drink has definitely been evolving over the past few years, with many recipes using white wine and even Prosecco in the drink.
So, I took the Classic Mojito and simply added Prosecco to the mix to create this easy, delicious drink.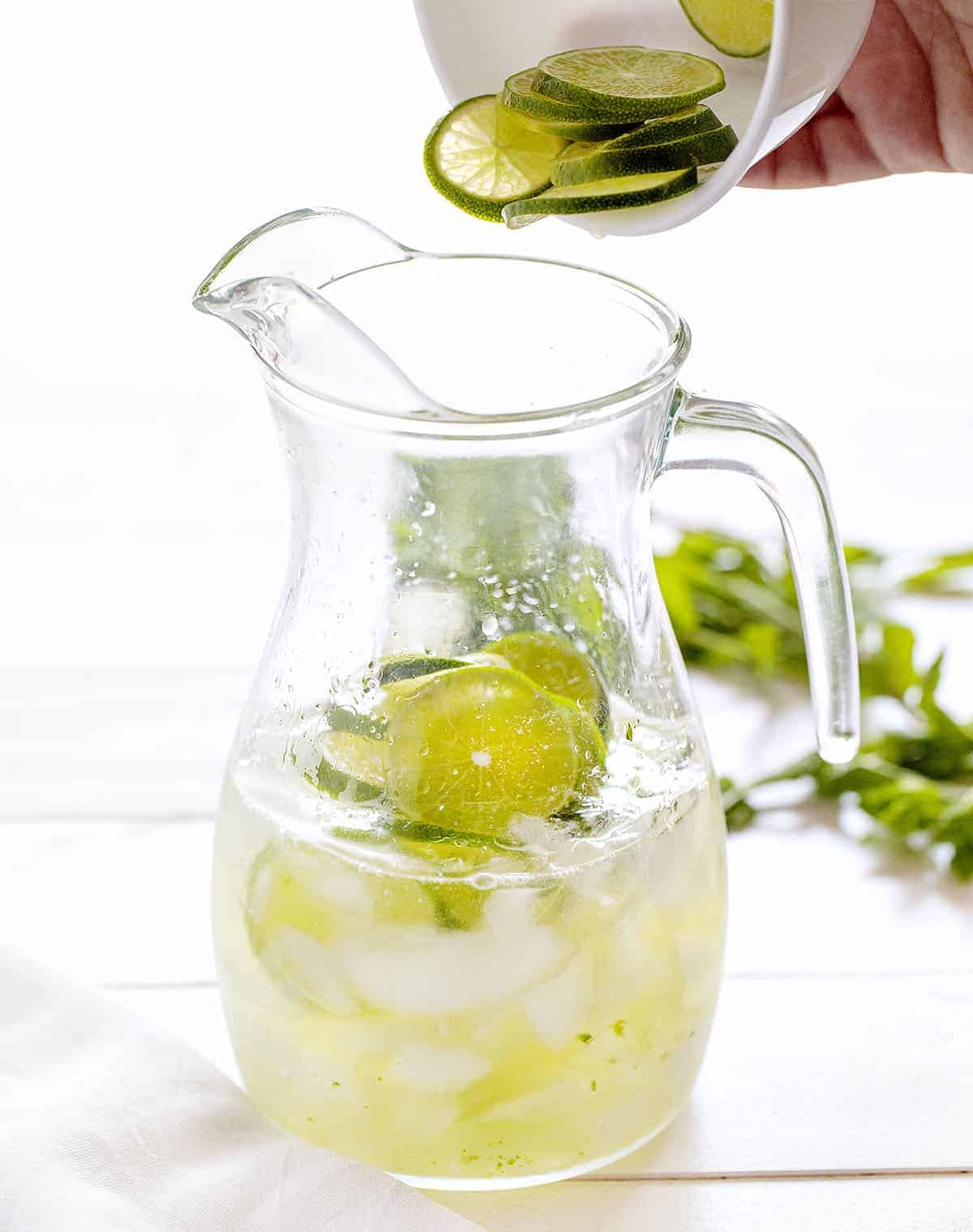 How to Make Mojito Sangrias
The first thing you have to do is muddle the mint. Muddle, you say? Yes. I am referring to the second definition of the word, not trying to confuse you (get it)? Anyway, when a recipe calls for herbs, fruits, or spices to be muddled, you take your trusty muddler and gently push down on your mint, in this case, to release the beautiful minty aroma and flavor. Note the word gently in the previous sentence. To muddle is not to get out all of your stress and mash the fruits and herbs to nothing. It means to press down and twist. Also, I recommend using a muddle with a rubber tip.
Now, what if you have all of your ingredients for the Mojito Sangria and realize you don't have a muddler? Have no fear! Simply use the end of a rolling pin or the end of a wooden spoon. You got this!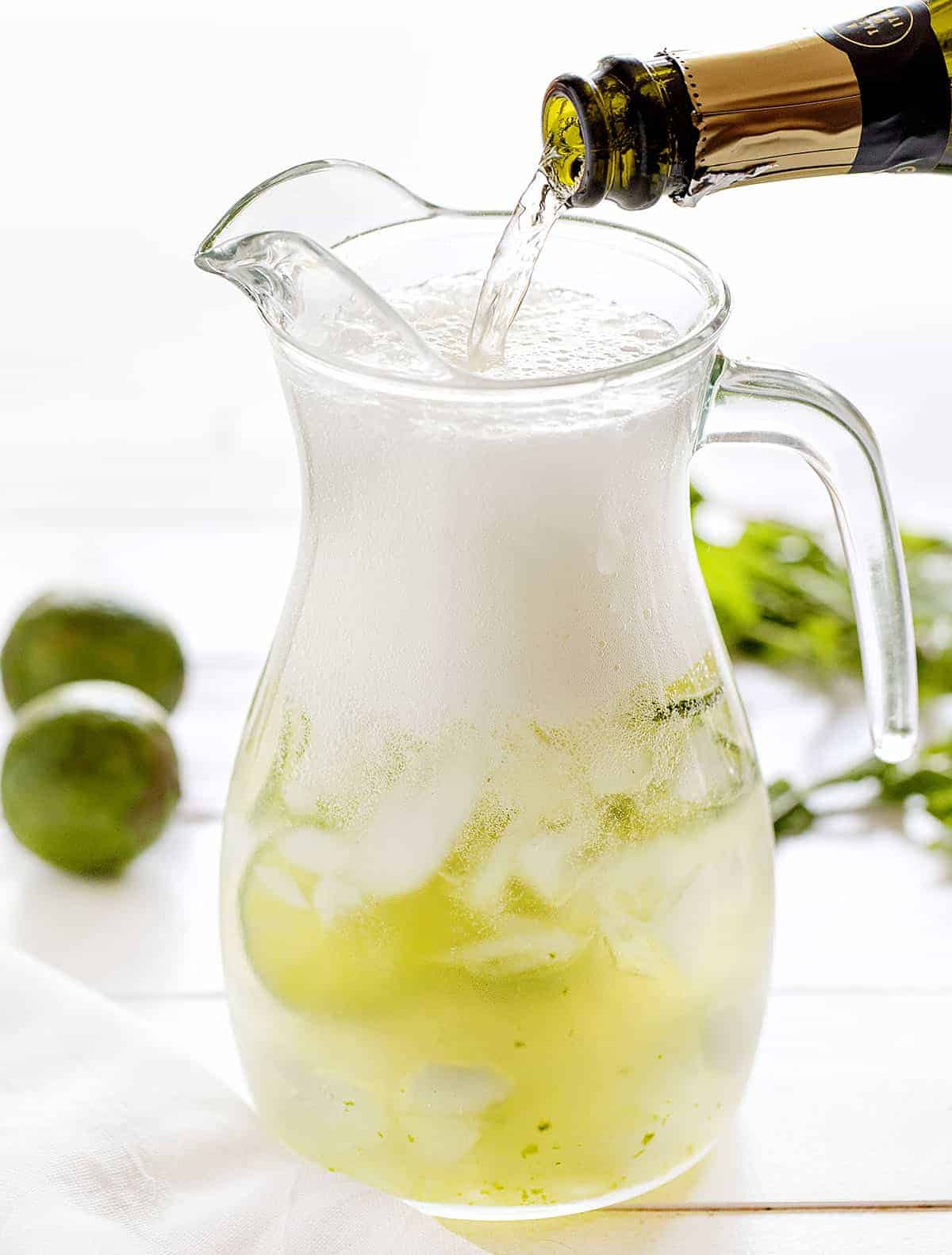 Mix your Drink
Once you have your mint muddled, the rest is simple! Mix all the ingredients together! That is it! Crazy simple, right? But, not everything has to be complicated, especially when life is complicated enough! I would put it all in a pitcher and let it chill for a couple of hours before serving. If you have to taste it right away, just to be sure it is perfect😉, pour yourself a glass of the Mojito Sangria over ice and sip away!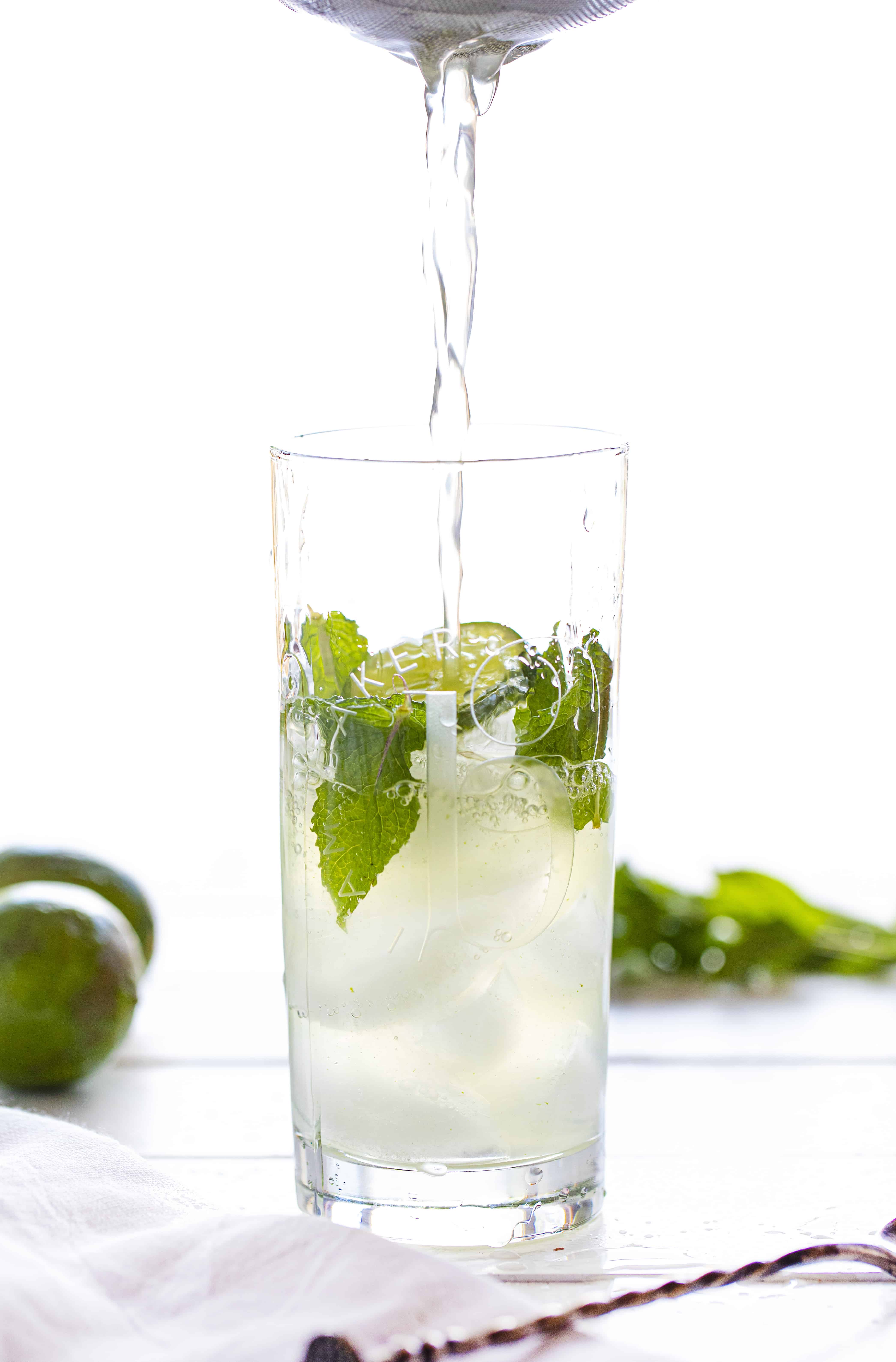 Are there Variations I can Try?
If Prosecco is not available, or you are just looking for a change of pace, there are alternatives to the sparkling wine that you can use for the Mojito Sangria. To keep the bubbliness, try branching out with some other carbonated beverages like Champagne, Cava, or even a Reisling wine.
Are you looking for a non-alcoholic Mojito Sangria? I recommend substituting the rum with a combination of grape juice and orange juice. As for the Prosecco, there are quite a few non-alcoholic champagne and sparkling wines to choose from. You could even use club soda, but you won't get the sweetness.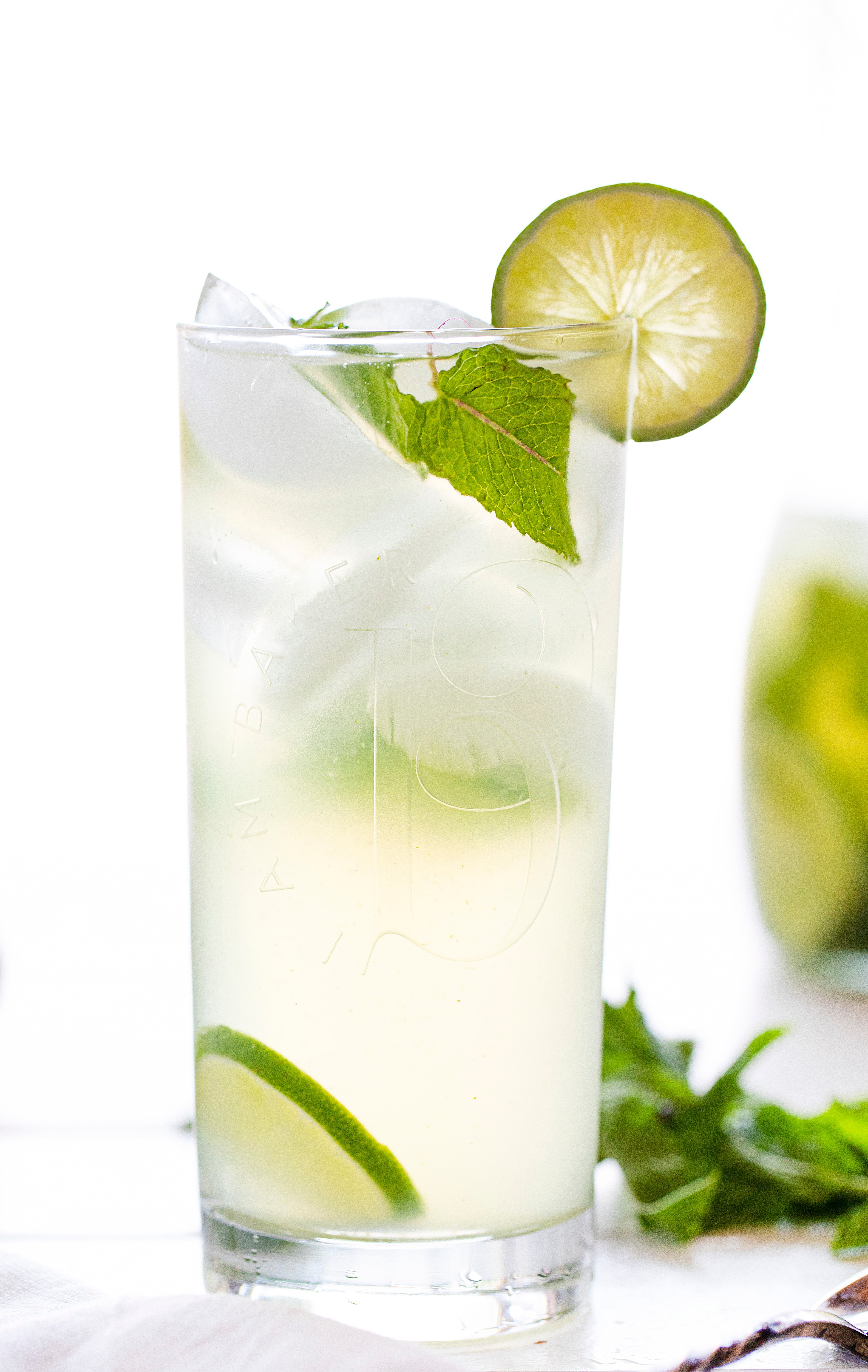 Are you Looking for More Tasty Beverages?
Whether you are craving a cocktail or a non-alcoholic beverage to enjoy, I have you covered. Try some of my refreshing favorites!
Strawberry Lavender Vodka Lemonade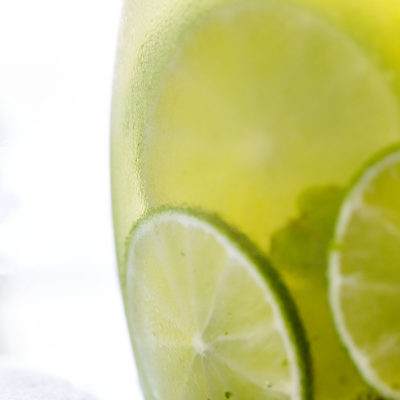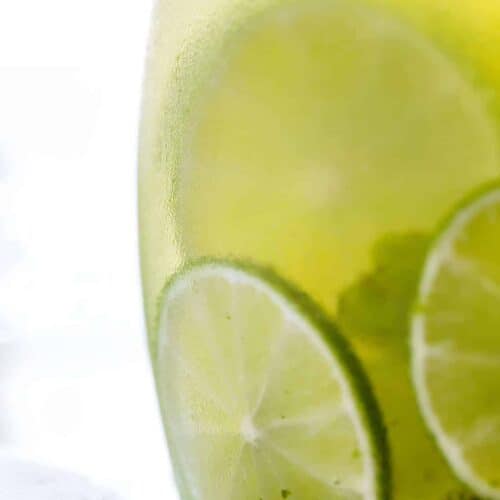 Mojito Sangria
Keep the summer vibe going with this Mojito Sangria. This crisp drink is the perfect party drink, but it is also a refreshing drink to have on hand for a relaxing evening on the deck or patio.
Ingredients
¼

cup

granulated sugar

¼ 

cup 

lime juice

20 - 40

mint leaves,

based on preference

1 

cup 

white rum

750 

ml 

sparkling white wine (Prosecco),

chilled

3 

limes,

sliced
Instructions
Muddle the mint.

Combine the lime juice, muddled mint, sugar, rum, limes, and sparkling wine in a large pitcher.

Serve in glasses over ice.
Did you make this recipe?
Thank you for making my recipe! You took pictures, right? Well go ahead and post them on Instagram! Be sure to mention me @iambaker and use the hashtag #YouAreBaker.