Finally! A Mother's Day Cake that anyone can do! Using an open star tip helps to create a beautiful technique but is easy enough for anyone to d0!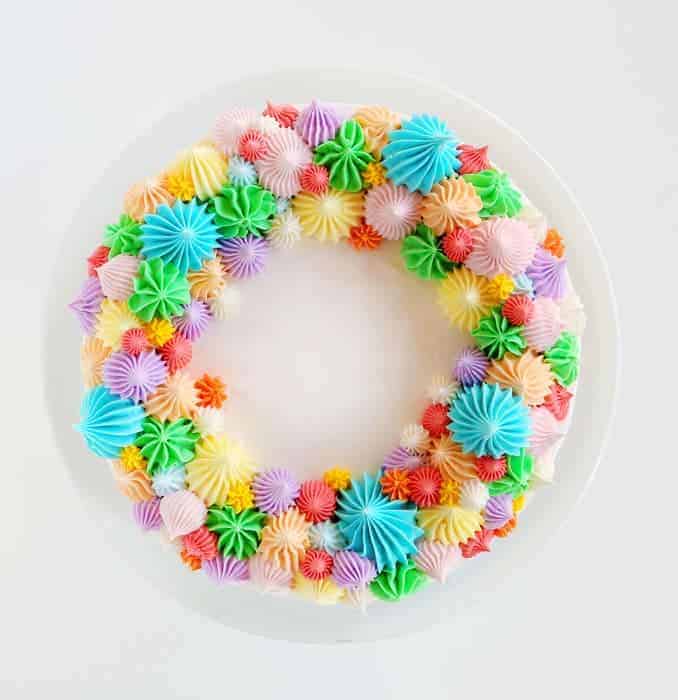 I recently make a Rainbow Open Star Tip Cake that people really seemed to like! One of the most common emails I got about this cake was, "How can I make this for Mother's Day?" I thought I would do a softer version of my original cake that would be a little more appropriate for a Mother's Day celebration!
To make this cake you will need:
Cake to decorate (I adore this Perfect White Cake recipe)
Buttercream recipe (I prefer Decorator' Buttercream for piping, but Crusting Buttercream also works quite well)
Food coloring – I used McCormick food coloring and loosely followed this chart that details how to achieve certain colors.
Decorator's tips: 16, 18, 22, 32, 172, 195, 2C, 4B, 8B, 9FT (this is simply a wide variety of the same style of tip- see how to store all of these tips HERE)
I also use a #4 tip to write "mom".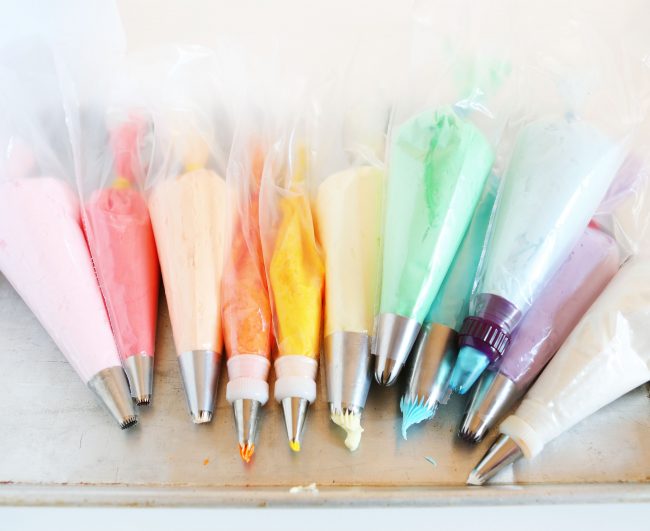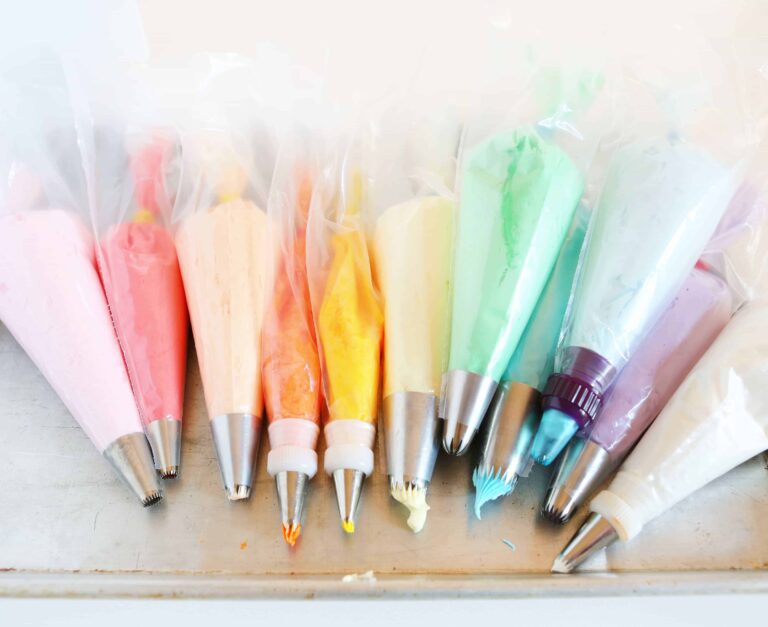 One difference with this cake and the original cake is I added a few larger open star tips like the 2C, 4B, and 8B. I wanted to add a few more colors and thought that the larger star tips would be better than the smaller tips.
One thing that makes a BIG difference in the overall time spent on this cake is how I use my tips. What I mean by that is, how I bag and how I clean up after using frosting in disposable pastry bags.
I like to "double bag" my frostings. Why do I do this?
If I run out of frosting I can easily drop in a bag of fresh frosting.
Clean up is easier.
If using a coupler set I can easily change tips. If not using a couple set I can easily create a new bag with the new tip and drop my frosting right in.
Here's how simple it is: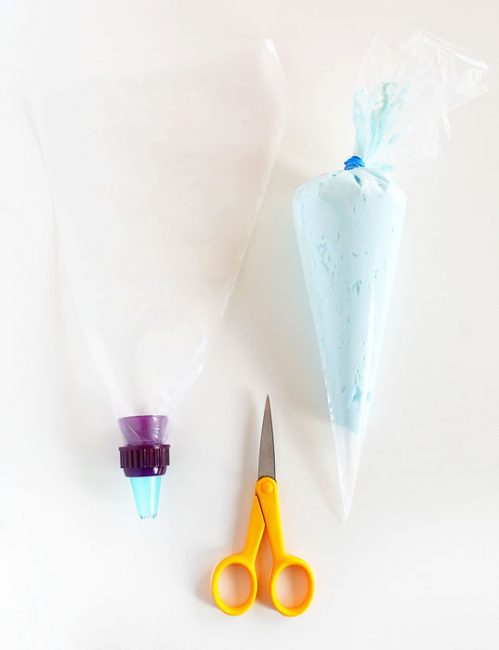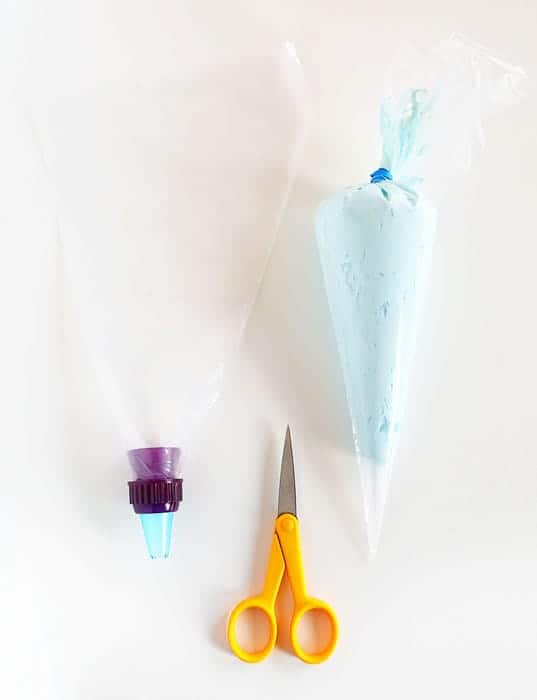 I fill a disposable pastry bag with my frosting.
In a separate bag, I add a coupler set with tip OR just the tip. (depending on the size of the tip)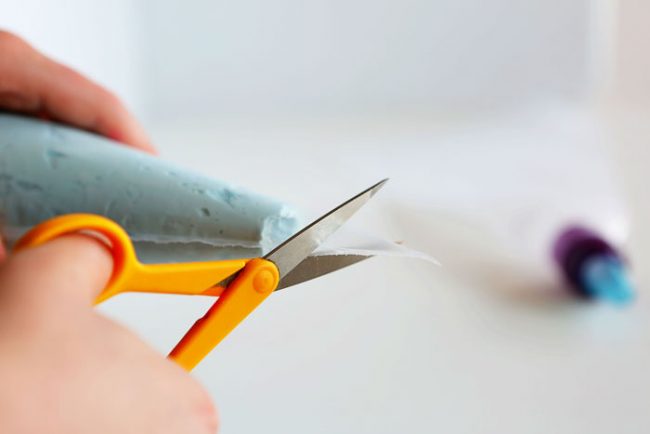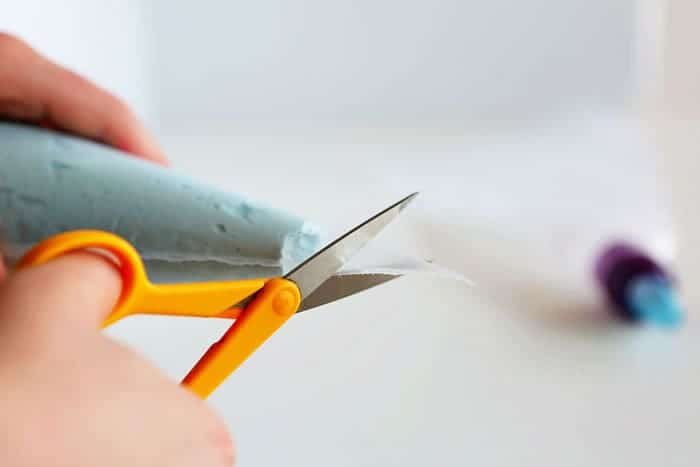 I then cut the tip off the bag with frosting. Make sure you cut an opening the is slightly bigger than the size of the tip. If the opening is not large enough the pastry bag could interfere with how to frosting comes out of the tip. (I hope that makes sense!)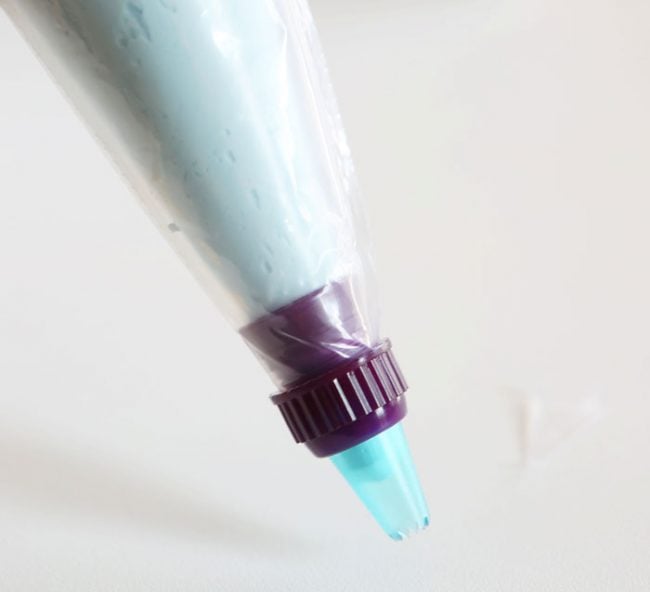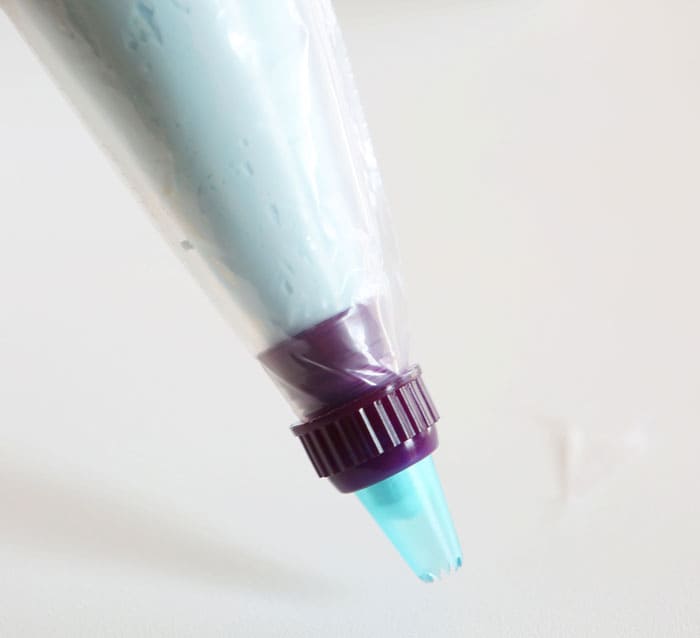 Simply drop the frosting bag into the bag with the coupler set. When the frosting runs out, simply remove the frosting bag and drop in a new bag. I often store my frosting right in the pastry bag to save time.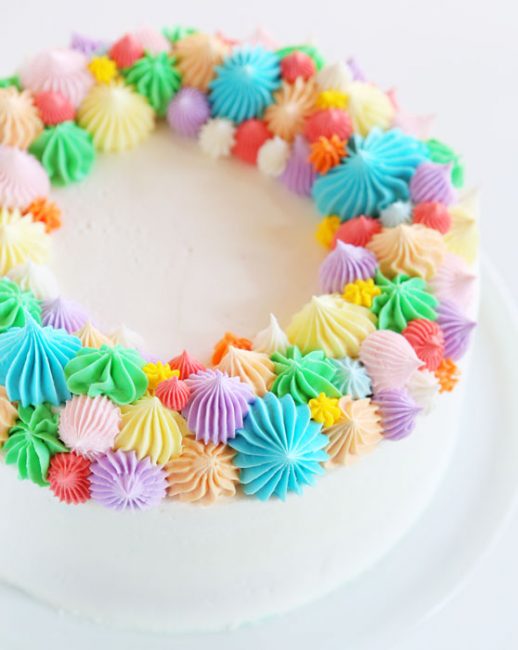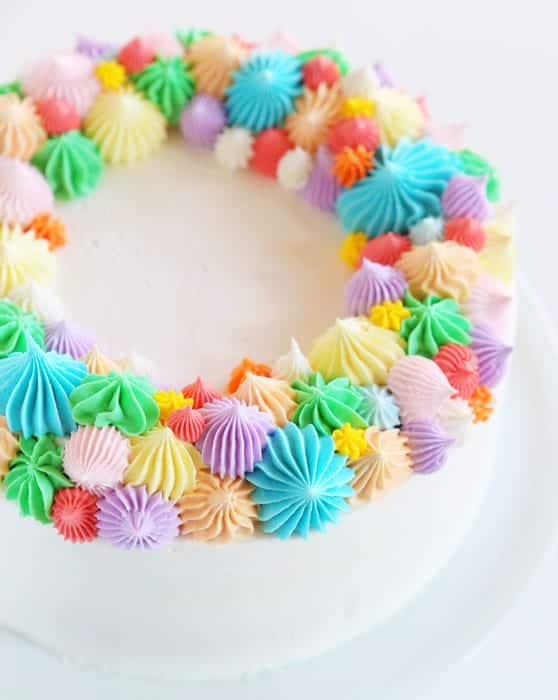 Ok! So now that we have the supplies ready how do you actually make this adorable cake? Spoiler: It's SO EASY!!

Another difference in this cake from the original Rainbow Open Star Tip Cake is the addition of the white frosting ring around the top that you see at the beginning of the video. I did this to create some varying height on the cake. (You can definitely leave this ring of frosting out if you prefer)
I think you can really tell on this image how dramatic and lovely the extra height is: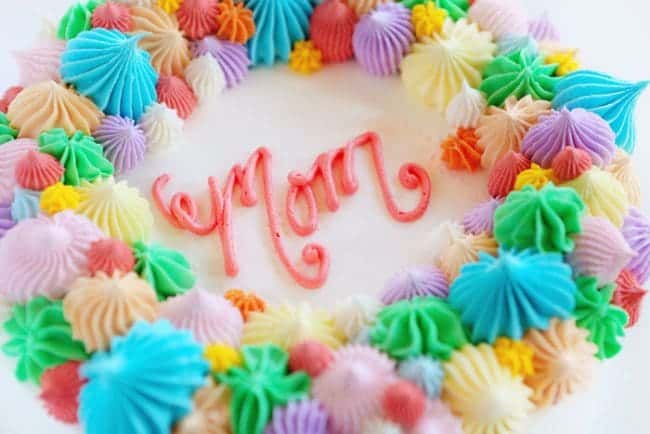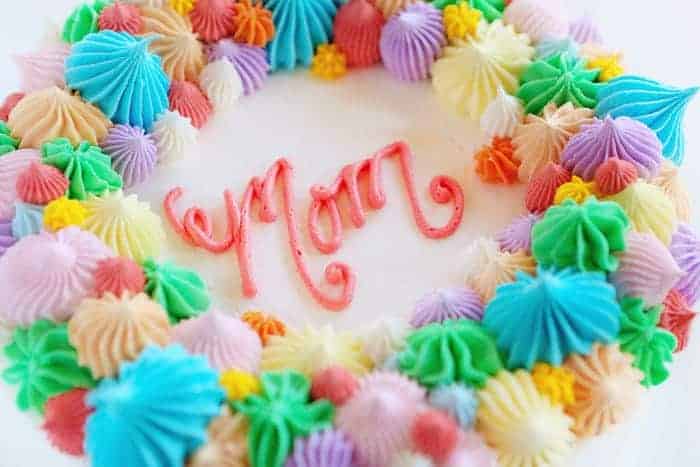 Ok, so the process for this cake is fairly easy!
Bake cake, cover in crumb coat, (here is a video of me adding a crumb coat) then go back and do your final "beauty" layer. Try and get the frosting as smooth as possible! I found that the contrast of the crisp, clean lines of the cake with the whimsical multi-colored buttercream "stars" is really quite impressive.
Color frosting and add it to pastry bags with open star tips in varying sizes.
Pipe dollops (stars) around the cake. Be sure to stop and look at the cake from different angle's to see if it looks even and symmetrical.
PRO TIP: Try using ODD (not even) bunches of dollops. If you look at the image below you will see that I used FIVE big blue star dollops. Research shows that odd (like 1, 3, 5, 7, 9) groupings are more visually appealing. 
You can use as little as 3 different decorating tips as well as add other varieties and styles. I would recommend a small, a medium, and a large tip. Instead of rainbow colors consider pink, yellow, and blue or even red, dark pink and a light pink. You could also add some round tips in for detail or a leaf tip for extra added fun.
I share more about decorator's tips and storage here.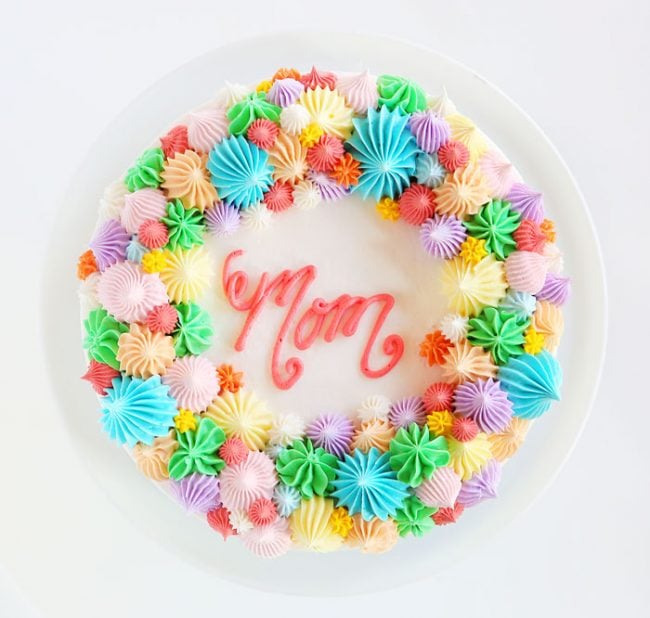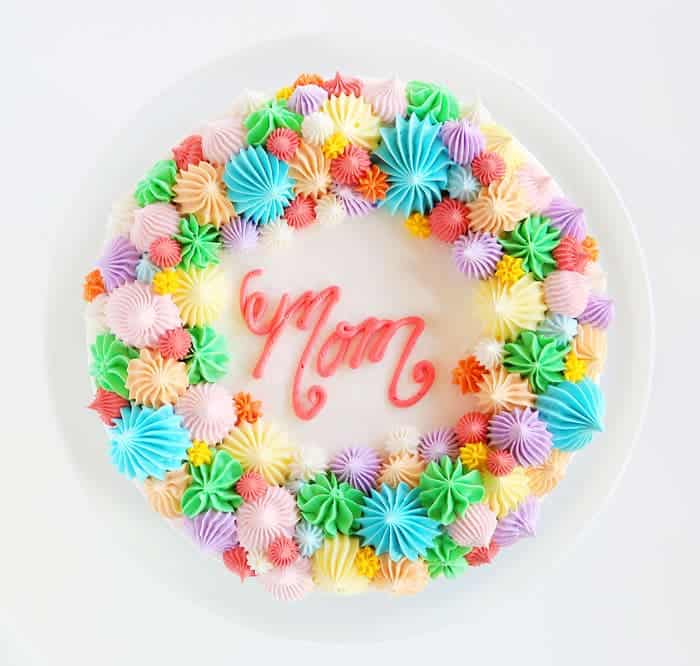 As I mentioned above, I just piped out "mom" using a #4 tip. I removed the star tip from my coupler set on the dark pink frosting bag and added the #4 tip.
This is a great way to make a Mother's Day Cake personalized for mom!!