It's safe to say that I am addicted.  Ever since I made Halloween Crack I have been thinking (dreaming) of making it again.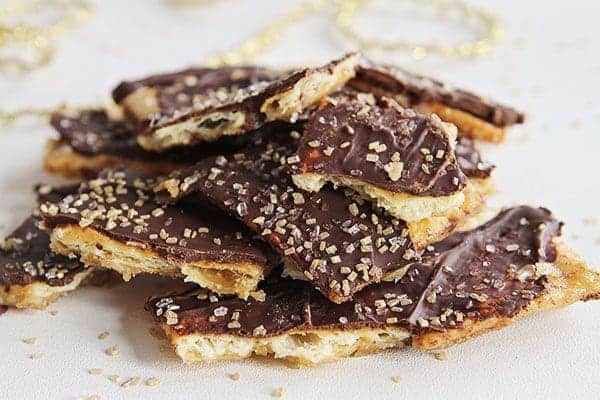 If you can eat just one piece and walk away then I want you to teach me your ways oh wise one.
The rich buttery caramel over crispy crackers and then covered in chocolate is just about enough to do me under.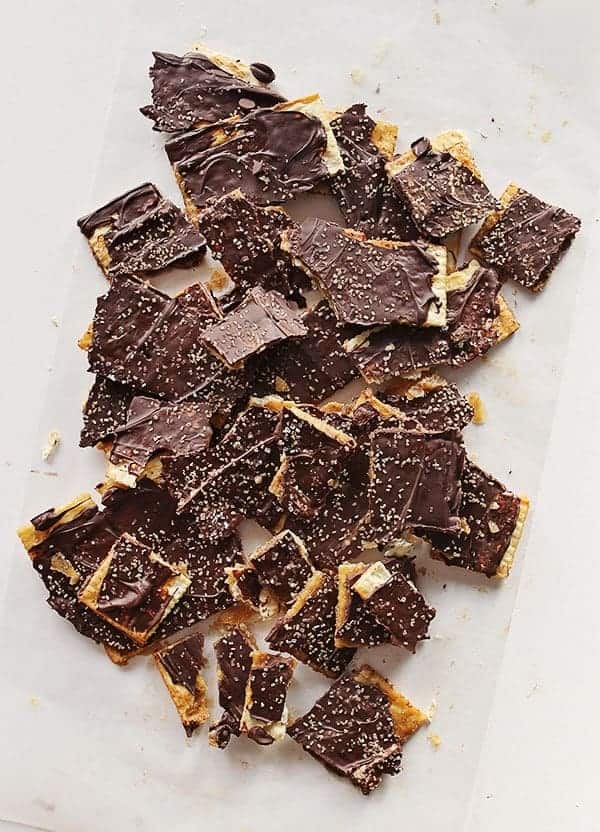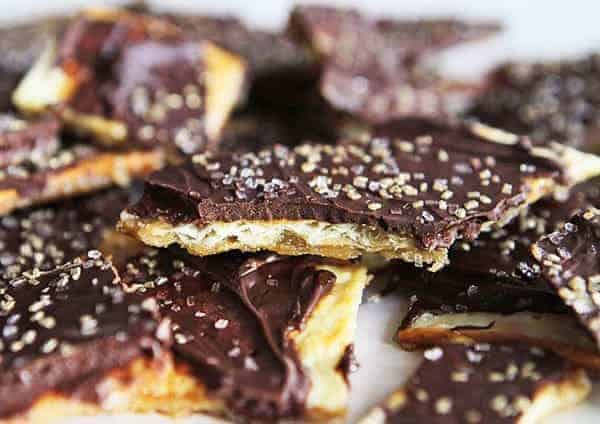 To make it socially acceptable for me to be making this I added some gold sprinkles.  You know, because if I make it seasonal its not just considered binge eating.  Right?
The sprinkles are easily found at most grocery stores!
This stuff is addictive.  Don't say I didn't warn you!  And be sure to invite me over for quality sampling.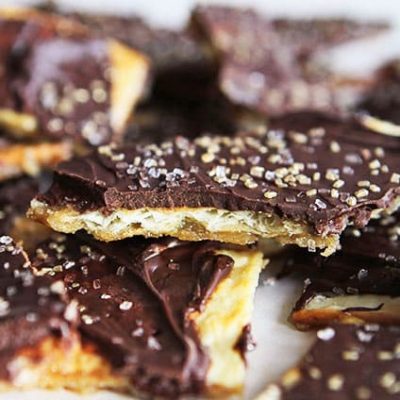 New Years Eve Crack
Its safe to say that I am addicted. Ever since I made Halloween Crack I have been thinking (dreaming) of making it again.
Ingredients
1 1/2

sleeves of saltine crackers

approximately

2

sticks

1 cup butter

1

c

packed brown sugar

1 1/2

c

chocolate chips

1/4

c

of holiday inspired sprinkles
Instructions
Heat the oven to 425 degrees. Prepare a baking sheet by lining it with aluminum foil and spraying the foil with nonstick cooking spray.

Arrange the crackers salt side down in a single layer on the baking sheet.

Place the butter and brown sugar in a small saucepan over medium-high heat. Stir while the butter melts, and bring the mixture to a rolling boil. (about 3-5 minutes) Remove from heat and carefully pour the sugar-butter mixture over the crackers on the baking sheet.

Bake the toffee crackers at 425 degrees for 3-5 minutes, until the toffee is bubbling all over. Carefully remove the pan from the oven.

Immediately sprinkle the chocolate chips on top of the hot toffee, and allow them to sit for one minute to soften and melt. Once softened, use an offset spatula to spread the melted chocolate over the entire surface of the toffee as evenly as possible.

Cover with holiday inspired sprinkles.

Freeze the pan for about 30 minutes. Once set, break into small uneven pieces by hand. Store uneaten saltine toffee in an airtight container for up to a week.
Did you make this recipe?
Thank you for making my recipe! You took pictures, right? Well go ahead and post them on Instagram! Be sure to mention me @iambaker and use the hashtag #YouAreBaker.